This recipe for confetti quinoa has a distinctive nutty flavor from the tri-colored quinoa. We love the vibrant colors of carrots, red peppers, green onions and parsley which adds the confetti look.
Quinoa is considered an ancient grain and was first cultivated more than 5,000 years ago. It was a staple food of the ancient civilizations of Andes of South America. This tiny seed has gained a revival in recent years and is available in:
Sold in packages at most United States markets, Europe and Canada

Bulk foods
Trader Joe's
Online through Bob's Red mill
Quinoa is Gluten-Free:
This curious grain has never been hybridized and it is not a true grain but a seed, although it is usually referred to as a grain and it is treated and cooked as a grain. Quinoa grows in many colors with white, red and black being the most accessible in our markets. The tiny quinoa seed is high in nutrition with all eight of the essential amino acids making it a complete protein with eight grams of protein in a cup of cooked quinoa. In addition to quinoa's many benefits is the fact that it is also gluten free which has added to its recent popularity.
Amazingly, this wonder grain is so packed with minerals, vitamins and antioxidants. It is not surprising that in 2013 the Food and Agriculture Organization declared it to be the international Year of Quinoa. In addition to all this information, Kris Gunnars at Nutrition Authority has a great info post on the health benefits of quinoa.
Ingredients in Our Confetti Quinoa:
We are using a tri-mix of the white, red and black grains. Adding fresh herbs, spices and vegetables bring a terrific flavor as well as a vibrant color to the dish. Because quinoa has a bitterness to the grain it requires an easy rinse-off in cold water before cooking. Quinoa is quick-cooking in just 10-15 minutes and this recipe is an ideal side dish for a change from pasta or potatoes.
The chopped vegetables have maintained a little crunch as we add them after the quinoa has cooked for 10 minutes. Residual heat while the quinoa is resting provides a perfect consistency to the vegetables.
Check Out These Other Side Dish Options: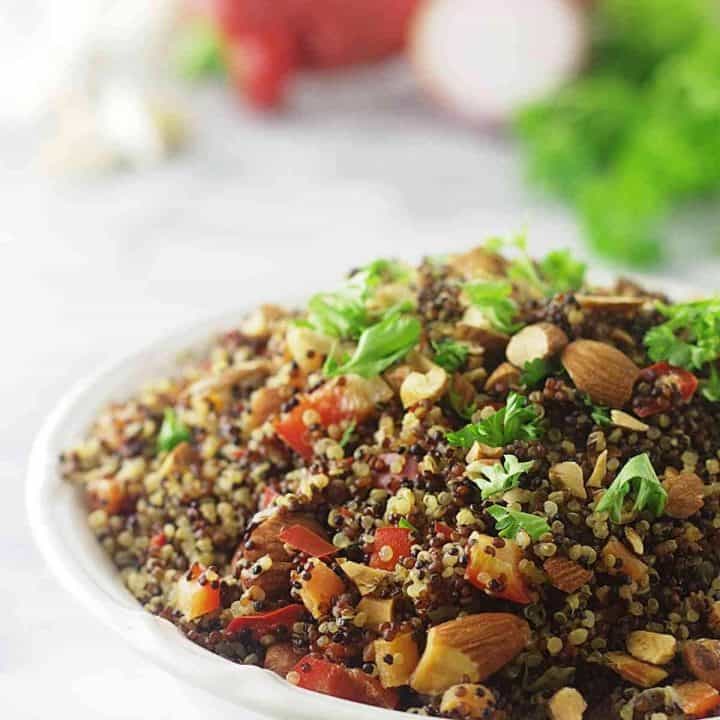 Confetti Quinoa
An easy side dish of confetti quinoa that has a distinctive nutty flavor from the tri-colored quinoa. The vibrant colors of carrots, red peppers, green scallions and parsley give it a confetti look.
Ingredients
1 cup tri-colored quinoa, or 1/3 cup each of red, white and black quinoa
1 tablespoon butter
1 tablespoon olive oil
1 garlic clove, grated or minced
2 tablespoons finely chopped shallots
1/4 teaspoon sea salt
1/8 teaspoon freshly grated black pepper
1/2 teaspoon ground cumin
1 1/2 cups chicken stock
1/2 cup chopped carrots
1/2 cup chopped red pepper
1/2 cup chopped scallion tops
1/2 cup chopped curly leaf parsley
1/4 cup chopped toasted almonds
Fresh parsley sprigs or chopped parsley for garnish
Instructions
Rinse the quinoa in a fine mesh strainer under cold water and allow to drain.
In a medium saucepan over moderate heat, melt the butter and oil together, add the quinoa and stir for 2-3 minutes to toast the grains/seeds. Add the garlic, shallots, salt,pepper and cumin. Stir to combine and cook for 30 seconds. Pour in the chicken stock, bring the pot to a boil, cover the pot and reduce the temperature to low. Cook for 10 minutes. Turn the heat off but leave the pan on the stove, and stir in the chopped carrots, red pepper, scallion tops, parsley and chopped almonds. Toss to combine, return the cover and allow to sit for 5 minutes. To serve, transfer to a serving dish and garnish with parsley.
Nutrition Information:
Yield:

6
Serving Size:

1
Amount Per Serving:
Calories:

185
Total Fat:

9g
Saturated Fat:

2g
Trans Fat:

0g
Unsaturated Fat:

7g
Cholesterol:

7mg
Sodium:

238mg
Carbohydrates:

20g
Fiber:

4g
Sugar:

3g
Protein:

6g
Nutrition information is a guideline only, is calculated automatically by third party software, and absolute accuracy is not guaranteed.