This roasted veggie quinoa bowl is a party of flavors and textures. Roasting the vegetables brings the sweetness out of them and concentrates the savory flavors. The toppings add texture, crunch, and variety while the creamy tahini cashew sauce pulls it all together.
Grain bowls are one of our favorite fun meals. Whether you're on a cleansing health kick or just want a delicious, filling meal, you can't go wrong with a grain bowl. This grain bowl is good ole clean eating at its best.
This meal is heart healthy, diabetic friendly, and a great way to eat your vegetables.
Cook the Veggies:
The thing I love about this grain bowls is the fast, easy prep. Chop the veggies and toss them on a baking sheet then stick them in the oven to roast. I spent less than 5 minutes prepping all the vegetables then the oven did the rest of the work.
Make the Quinoa:
While the veggies are cooking, start the quinoa. Quinoa has got to be the fastest grain to cook and it only takes two minutes to put the broth, quinoa, and salt in a pot and stick it on a stove. Quinoa takes just 15 to 20 minutes to cook and will be ready before your veggies are finished.
Make the sauce:
While the quinoa is cooking, you will have time to make the sauce. The tahini-cashew sauce is addictive. Using cashew milk makes it easy to give the sauce an extra boost of flavor without taking the time to soak and blend cashews.
The sauce comes together perfectly and it seriously only takes a few minutes. It adds a creamy-earthy-tangy flavor to the meal and is the highlight of the dish. But don't stop with this grain bowl. Use this sauce on everything! I found myself using it as a dip for veggies and putting it on my garden salad. It even goes well with grilled meat. Try it!
Build the Bowl:
Now, with the veggies and quinoa cooked and the sauce blended up nice and smooth, it's time to build your bowl. Put some quinoa in a bowl then dish up some veggies. There is no rule here. Put in as much as you want of each vegetable. If you love sweet potatoes, add some extra. If you're like my husband and you don't care for zucchini then don't put them in your bowl. Save them for me. I'll eat your zucchini, thank you.
Next, grab your toppings. You need the toppings. They add character, depth, and excitement to every bite. We used pickled red onions, roasted cashews, shredded nori, and micro greens. You can change it up, but we recommend that you use something pickled and something crunchy.
It doesn't take long to make the pickled red onions and they are really tasty. However, if you want to change things up then try some pickled ginger or some hot dilly green bean pickles. Heck, even sweet bread and butter pickles or these curried probiotic vegetables would be great. The zesty pickle flavor is so important. Trust me.
For the crunch factor, we used roasted cashews. You can't go wrong with any salty, roasted nut but you don't have to stick with nuts. You could use crunchy fried shallots, croutons, crisp slices of fresh carrots, or roasted chickpeas. The extra layer of texture pulls things together.
Finally, top it all off with that creamy tahini-cashew sauce and take a bite. Vegetables never tasted so good.
Watch our video and see how easy it is to make this healthy meal.
You might also like our roasted Garlic-Herb Mushrooms with Butternut Mash
0r our Kamut Grain Bowl with Roasted Chicken and Curry Sauce or our Ahi tuna Grain Bowl
CONNECT WITH SAVOR THE BEST!
Be sure to follow us on our social media accounts
Facebook | Twitter | Youtube | Pinterest | Instagram
If you make one of our recipes, snap a photo and tag it @savorthebest on Instagram and hashtag it #savorthebest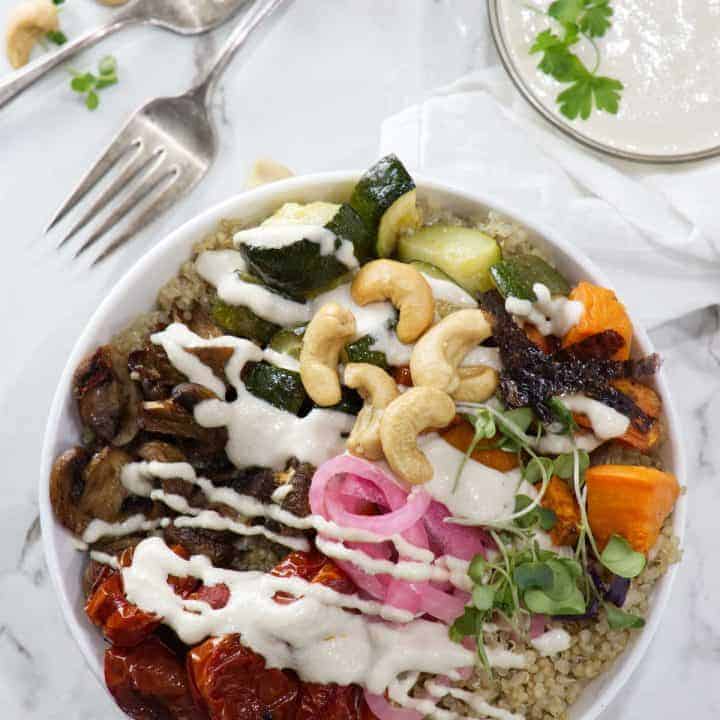 Roasted Veggie Quinoa Bowl with Tahini Cashew Dressing
This roasted veggie quinoa bowl is a delicious way to eat your vegetables. Roasting the vegetables brings the sweetness out of them and concentrates the savory flavors. The toppings add texture and variety while the creamy tahini cashew sauce makes a perfect finish.
Ingredients
For the Roasted Veggies:
1 sweet potato, peeled and cut into 1/2 inch chunks
12 ounces button mushrooms, cleaned and cut in half
1 zucchini cut into 1-inch chunks
2 cups cherry tomatoes
3 tablespoons olive oil
salt and pepper
For the Quinoa:
2 cups vegetable broth
1 cup quinoa, rinsed
1/2 teaspoon salt
Tahini-Cashew Sauce:
1/2 cup cashew milk
1/2 cup tahini
1/4 cup lemon juice
4 garlic cloves minced
1/2 teaspoon salt
Toppings:
Roasted cashews
Pickled onions
Shredded Nori (dried seaweed)
micro greens or chopped parsley
Instructions
For the Roasted Veggies:
Preheat oven to 425°F. Line a large sheet pan with parchment paper. Place the chunks of sweet potato, mushrooms, zucchini, and tomatoes in a single layer on the baking sheet. Drizzle with olive oil and sprinkle with salt and pepper.
Place in the preheated oven and bake for 35 to 40 minutes.
For the Quinoa:
Add the quinoa, broth, and salt to a medium saucepan. Bring to a boil then reduce the heat to low. Cover and simmer for 15 to 20 minutes. Set aside.
Tahini-Cashew Sauce
Place all the ingredients for the Tahini Cashew Dressing in the blender. Blend until smooth and creamy. If you want a thinner dressing, add more cashew milk until you have the desired consistency.
Assembling the Bowls:
Add the cooked quinoa to the bowls and top with the roasted veggies. Top with roasted cashews, pickled onions, and shredded nori. Drizzle with Tahini Cashew Dressing.
Notes
Since it takes longer for larger chunks of sweet potatoes to roast, cut the sweet potatoes smaller than the other vegetables so they all can roast for the same amount of time.
The nutrition count does not include the cashew-tahini sauce. This recipe makes 1-1/4 cups of sauce.Nutrition for 2 tablespoons of the cashew tahini sauce is as follows: Calories: 76, Fat: 6.5, Carbs.: 3, Fiber: 1.3, Protein: 2.3
Recommended Products
As an Amazon Associate and member of other affiliate programs, I earn from qualifying purchases.
Nutrition Information:
Yield:

4
Serving Size:

1
Amount Per Serving:
Calories:

298
Total Fat:

10g
Saturated Fat:

1g
Sodium:

700mg
Carbohydrates:

40g
Fiber:

5.9g
Sugar:

5g
Protein:

12.7g
DO YOU LOVE THIS ROASTED VEGGIE QUINOA BOWL WITH TAHINI-CASHEW SAUCE? TAG US!
If you made this or any of our other recipes we would love to see it. Snap a picture and tag @savorthebest on Instagram and hashtag it #savorthebest.