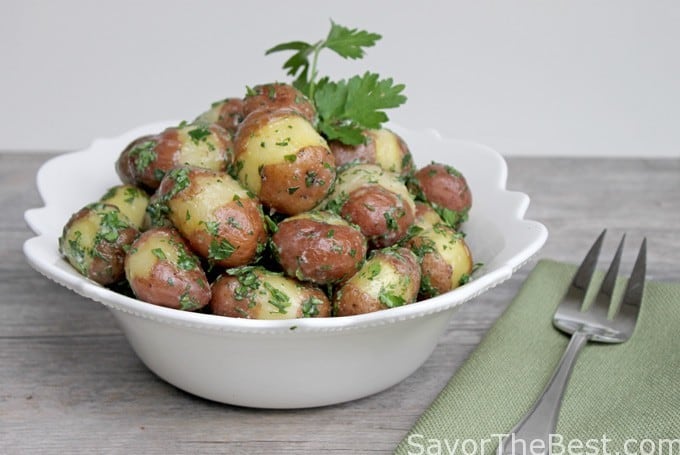 These parsley baby red potatoes make a nice side dish and a change from mashed or baked potatoes. There is a creaminess to the potatoes and the bright green parsley adds a fresh and delicious taste to an otherwise plain potato.
My dad was a big meat-and-potato man and potatoes would appear almost daily on our table in one form or another. Mom made some awesome fresh fried potatoes with a crisp golden crust that I drool about now when I think of them.
Mashed potatoes were always a big hit and any leftovers went into fried potato cakes. Plain boiled potatoes would be served with gravy and any leftover boiled potatoes would be included at another meal or a potato salad for lunch. Then there was potato soup. We had a lot of potato soup.
Growing up in a large family we usually had a garden every year and dad planted a wide variety of vegetables, including potatoes. I can remember helping dig the red potatoes in the Spring when they were still very small. Mom would boil them up and then douse them with butter, actually, it was margarine, then put fresh chopped parsley on them with salt and pepper.
I think it was parsley, anyway it was something green. Sometimes she would send us out to pick the 'spinach' growing next to the fence but we thought it was just weeds. She would also fix those little potatoes with green peas in a white cream sauce that was delicious. It has been years since I have had those potatoes with peas in a white cream sauce. So many good memories!
There is a community-supported men's shelter located in our area and recently our small bible/care group took a turn of providing the dinner to the 25 men that are living there.
We have about six couples in our group that meet every Tuesday evening and we planned out a meal of baked ham, parsley baby red potatoes, caesar salad, mixed beans, rolls with butter and brownies with ice cream for dessert. Each couple provided a component to the meal, and my assignment was this dish of parsley baby red potatoes which I roasted in the oven.
Thankfully, the home had a huge kitchen with a lot of counter-top space and two ovens. It was a great experience and fun working in the kitchen with the group. We enjoyed eating our meal at the tables with the men and getting acquainted with them. I know those guys enjoyed the meal as there was only a little salad left over.
These parsley baby red potatoes are easy to prepare and can be either roasted in the oven, boiled or steamed. When they are tender the butter, salt, pepper and chopped parsley are tossed together and served.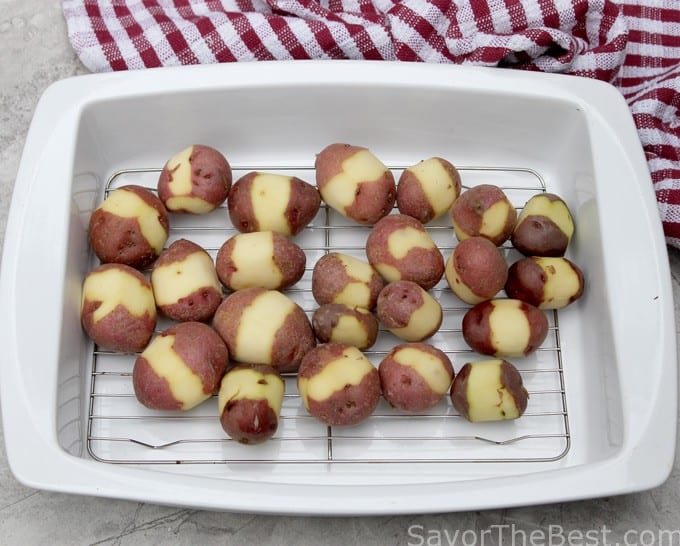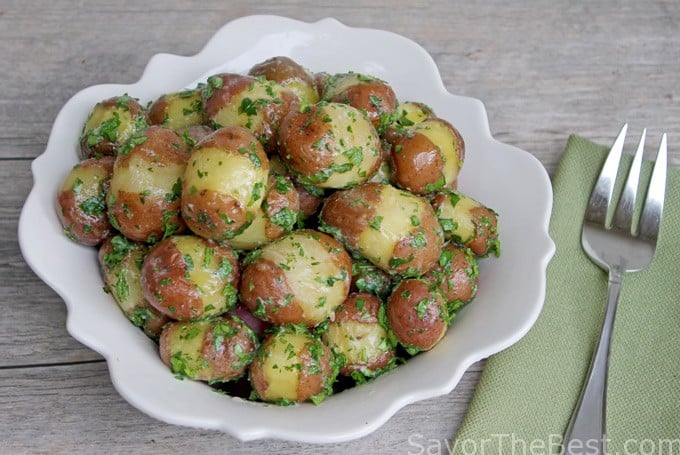 Did you make this recipe for parsley baby red potatoes? TAG US!
If you made this or any of our other recipes we would love to see it. Snap a picture and tag us on Instagram and Facebook.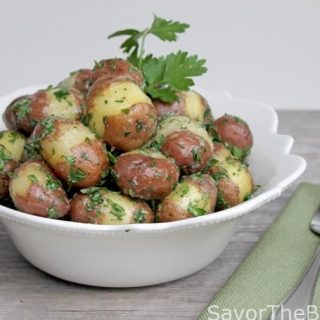 Parsley Baby Red Potatoes
Yield: 8-10 servings
Prep Time: 15 minutes
Cook Time: 45 minutes
Total Time: 1 hour
Parsley baby red potatoes make a nice side dish and a change from mashed or baked potatoes. There is a creaminess to the potatoes and the bright green parsley adds a fresh and delicious taste to an otherwise plain boiled potato.
Ingredients
3 pounds red potatoes
2 sticks butter
1 teaspoon salt
1/4 teaspoon ground black pepper
1/2 cup finely chopped fresh parsley
Instructions
Preheat oven to 375 degrees F°.
Rinse the potatoes under cold water and drain on a kitchen towel. With a sharp paring knife, remove a thin strip of the peeling from around each potato. Add the prepared potatoes to a 9"x12" oven-proof dish.
In a small saucepan over medium heat, add the butter and the salt. When the butter has melted, pour half of it over the potatoes and toss to coat each potato. Reserve the remaining melted butter until needed.
Transfer the dish of potatoes to the middle rack of the oven and roast for 40-45 minutes or until tender.
Remove the roasted potatoes from the oven, pour the reserved melted butter over the potatoes, add the pepper and chopped parsley and toss to combine.
Transfer to a serving dish and serve hot.
Nutrition Information:
Yield: 10
Serving Size: 1
Amount Per Serving:
Calories: 284
Total Fat: 19g
Saturated Fat: 12g
Trans Fat: 1g
Unsaturated Fat: 6g
Cholesterol: 49mg
Sodium: 375mg
Carbohydrates: 27g
Fiber: 3g
Sugar: 2g
Protein: 3g
Nutrition information is a guideline only, is calculated automatically by third party software, and absolute accuracy is not guaranteed.