Serve up a pot of steaming baked beans as a side dish with your end-of-the-summer cookout. With just a few simple ingredients and a long, slow, oven-bake, the humble bean is transformed into a savory pot of delicious Baked Beans. This is a true comfort food.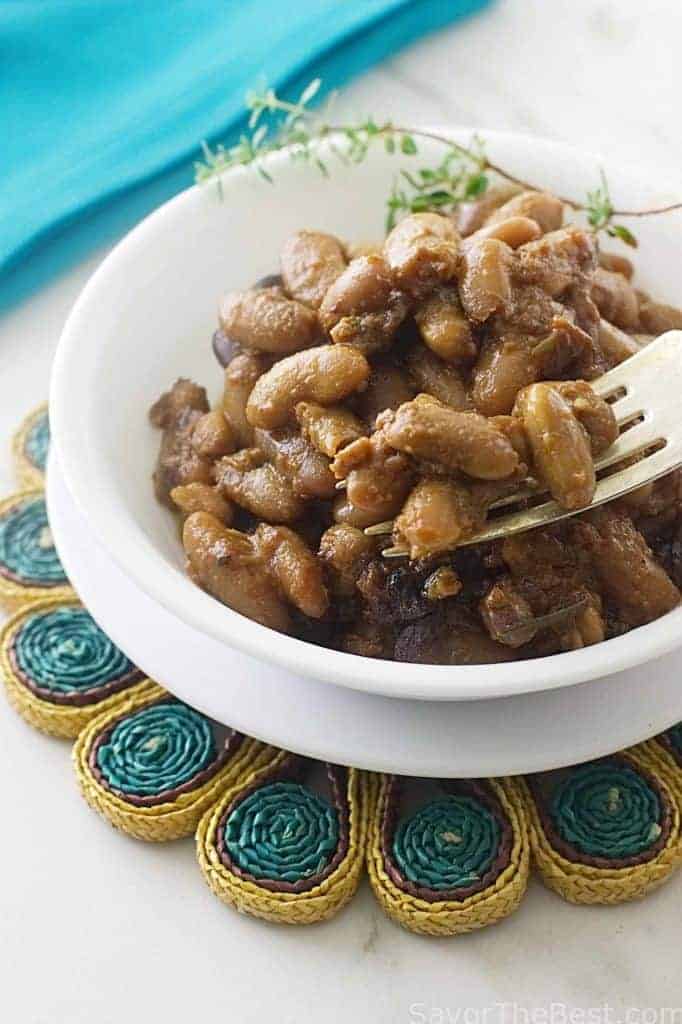 It is hard to believe that the end of the summer is upon us so soon! We haven't had nearly enough time in the sun and backyard cookouts. The Labor Day holiday is usually considered as the last big barbecue fling before settling into the next season.
Baked beans have been around since the covered wagon days with recipes handed down from our great-great grandmothers. We did not do barbecue cookouts when I was growing up and a pot of baked beans was a standard dish to take on a picnic with fried chicken, potato salad, chocolate cake and maybe a watermelon.
Dad and mom would load us kids and the picnic goodies in the car and we would drive until they saw a nice grassy spot to spread out a blanket. It all tasted so good!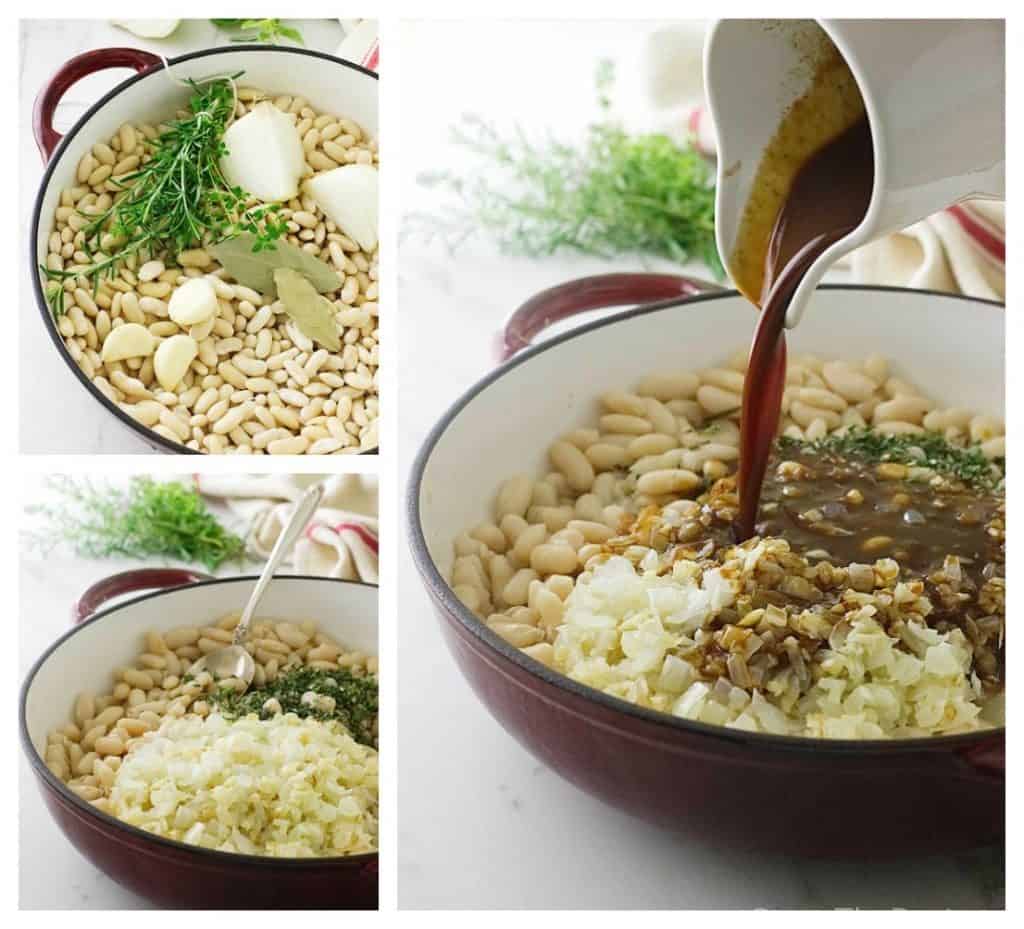 What kind of bean should you use?
Typically, we use a white bean like Great Northern for baked beans. We like the sturdiness of the Canellie beans which are similar to a Kidney bean.
You could also choose to use canned beans rather than the dry variety and skip the soaking and stove-top cooking portion of the recipe.
These baked beans start off with an overnight soak and then a stove-top cook with onions, garlic and fresh herbs. When the beans are just barely tender the cooking liquid is drained off and reserved. A mixture of molasses, brown sugar, mustard and the seasoning is blended with part of the reserved cooking liquid and poured into the beans.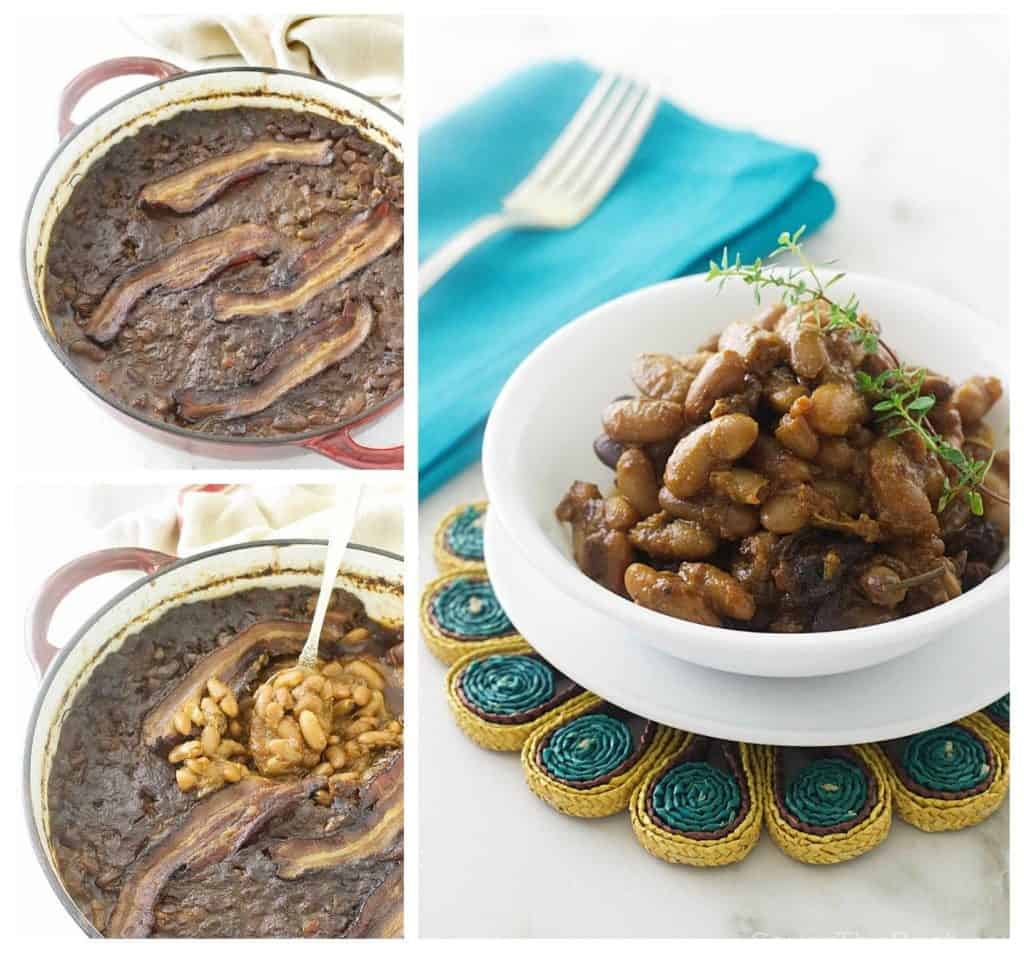 We baked the beans with the lid on for four to five hours in a low-temp oven. To keep them moist and saucy, we stirred a little of the reserved bean broth into the pot once in a while so they would not dry out. At the last hour when the beans are tender and delicious we added the bacon slices and sprinkled a bit of brown sugar over the top and baked them uncovered for another hour.
This recipe makes a big batch of savory baked beans. We are sure everyone will gobble it up at the next cookout. We plan to serve them along with barbecue ribs and nice green garden salad.
Yield: 12 servings
Baked Beans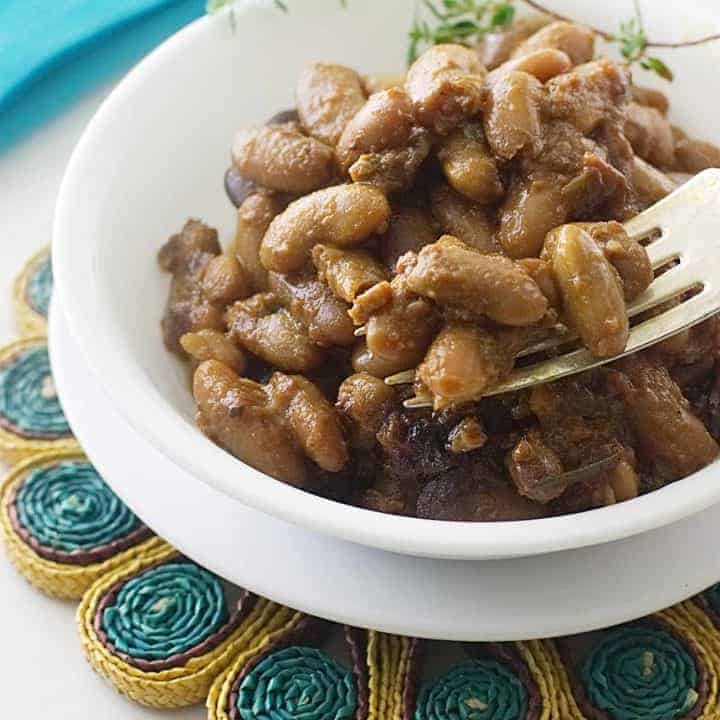 The humble bean is transformed into a savory and saucy pot of delicious Baked Beans. This is a true comfort food
Prep Time 10 minutes
Active Time 5 hours
Additional Time 6 hours
Total Time 11 hours 10 minutes
Ingredients
1 pound dried white beans such as Cannellini, Navy or Great Northern
1/2 yellow onion
3 garlic cloves
Fresh herb bouquet garni of rosemary, thyme, oregano
2 bay leaves
1 tablespoon olive or vegetable oil
1 1/2 large yellow onion, diced
2 tablespoons chopped fresh parsley
2 tablespoons chopped fresh rosemary
1 tablespoon chopped fresh oregano
1/2 cup unsulphured molasses
1/2 cup light brown sugar, divided
1 tablespoon Dijon mustard
1 tablespoon yellow mustard
2 tablespoons tomato paste
1 1/2 teaspoons sea salt
1/2 teaspoon freshly ground black pepper
4-5 slices bacon *(See Notes)
Instructions
Sort through the beans discarding any pebbles or dirt clumps, rinse the beans and add them to a large pot. Add enough cold water to cover the beans by 3 or 4 inches. Set the beans aside on the counter top and allow to soak for at least 6 hours, overnight is good. Check occasionally and add additional water if necessary as the beans will absorb up to about 3 times their size.
Drain the beans and add fresh water, covering the beans by several inches. Add the onion, garlic and fresh herb bundle. Bring to a boil, reduce the heat to low and simmer until the beans are tender, about 45-60 minutes, depending on the type of bean used.
Preheat the oven to 250°F
Remove the pot of beans from the heat and discard the onion, garlic and herb bundle. Drain the beans, reserving the bean broth. Transfer the drained beans to a Dutch oven or heavy bottomed pan with a lid.
Set a small skillet over medium heat and add the oil and when it is hot add the diced onion and cook, stirring frequently until soft. Transfer the onion and the chopped herbs to the Dutch oven containing the beans.
In a bowl or pitcher, combine the molasses, brown sugar, mustards, tomato paste, salt and pepper. Whisk in 2 cups of the reserved bean broth, stirring to combine. Pour over the beans and stir to combine.
Transfer the beans to the middle rack of the oven, and bake with the lid on for 4 hours until tender. Check the beans every 30 minutes, adding a little more of the water so they do not dry out.
After the beans have baked for 4 hours and are almost tender, arrange the bacon slices on the top and continue to bake, uncovered, for an additional hour. Taste for doneness and if tender, transfer from the oven and serve.
Notes
If you will be using canned beans for this recipe, skip to #4 in the directions
The bacon will release it's fat into the beans as it cooks. To reduce the amount of fat par-boil the slices in a pan of boiling water for 1-minute, drain and blot with a paper towel before arranging on top of the beans.
Nutrition Information
Yield
12
Serving Size
1
Amount Per Serving
Calories 235
Total Fat 3.5g
Cholesterol 7mg
Sodium 413mg
Carbohydrates 41.2g
Fiber 10g
Sugar 15g
Protein 11.2g
Nutrition information is a guideline only, is calculated automatically by third-party software, and absolute accuracy is not guaranteed.