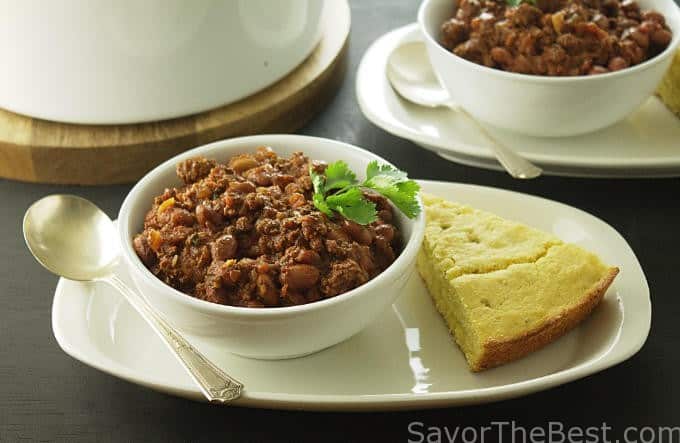 September is nearly gone and the days are turning cool and brisk. It is the sort of weather that makes me hungry for a bowl of chili beans with beef. And, I think I will stir up a batch of cornbread to go with it.
A few years ago on a cold stormy morning, I started a batch of chili beans and when I was about half finished making it the power went out and stayed out.
Luckily, we had the wood stove going and I finished putting in the rest of the ingredients and set it on the back of our wood stove where it remained until dinner time. Oh, yum, they were so good.
Everybody has a recipe for chili beans, some with beef and some without beans and some with both. How much heat is added to the dish is also according to their personal taste.
This recipe for chili beans has a nice bit of heat to it but it is not so hot that it distorts the flavors of the rest of the dish. The actual heat comes from two seeded and chopped fresh jalapeno peppers and one canned chipotle pepper, mashed to a paste.
If you like yours really hot just mash up another of those chipotle peppers.
There is a generous amount of lean ground beef here which, with the vegetables and savory herbs all lend an awesome flavor to the beans. I used dry beans cooked slightly underdone as they continue to cook while simmering and will not be 'mushy'.
Chili beans can be served as soon as they have finished their simmering and they are always better the next day when all the flavors have mingled together. This is a one-pot meal that can be made early in your day for an easy dinner and a bowl of these beefy chili beans will taste really good with a hot chunk of cornbread.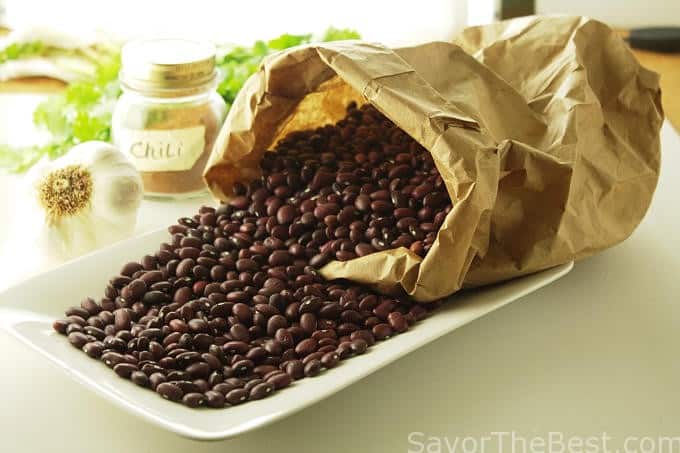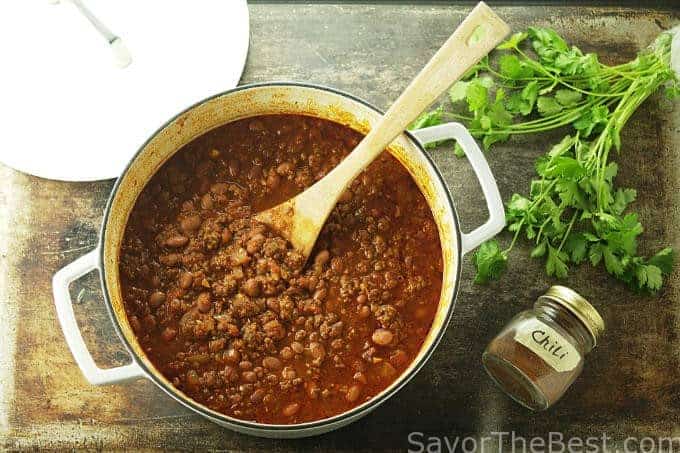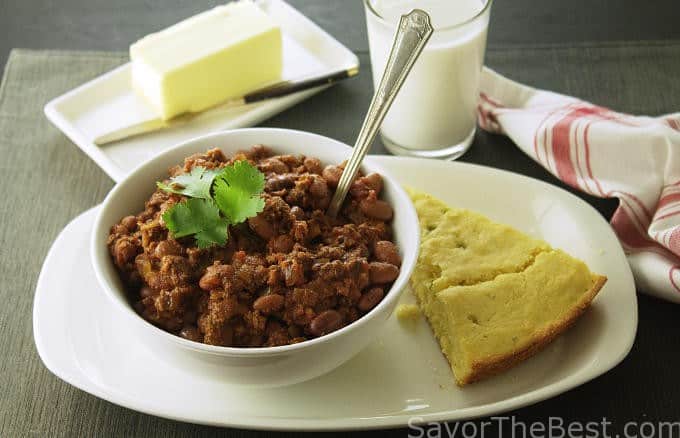 You might also like:
Beef Taco Salad in Tortilla Bowls
CONNECT WITH SAVOR THE BEST!
Be sure to follow us on our social media accounts
Facebook * Instagram * Pinterest * Twitter * Youtube
Did you make this recipe? We would love to hear from you. Drop us a comment below.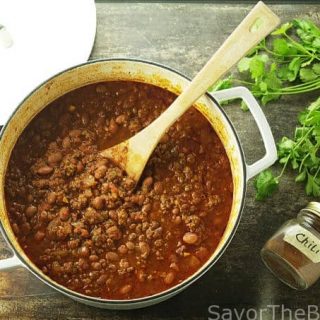 Chili Beans with Beef
Yield: 12 servings
Prep Time: 30 minutes
Cook Time: 2 hours
Total Time: 2 hours 30 minutes
This recipe for chili beans with beef has a nice bit of heat to it but it is not so hot that it distorts the flavors of the rest of the dish. There is a generous amount of lean ground beef which, with the vegetables and savory herbs all lend flavor to the beans.
Ingredients
1 pound dry red beans or 4 cans (14.5 ounces each) beans of choice
2 pounds lean (15%) ground beef chuck
1 teaspoon sea salt
1 large yellow onion, chopped
4 cloves garlic, crushed or finely chopped
2 green jalepeno peppers, seeded and chopped
1/2 cup chopped fresh cilantro
3 cans (14.5 ounces each) crushed tomatoes
1 can (6 ounces) tomato paste
1 canned chipotle pepper, mashed to a paste
2 cups water
1/4 cup chili powder
1 tablespoon dried oregano
2 teaspoons ground cumin
1 teaspoon salt
1 teaspoon ground black pepper
1 teaspoon smokey paprika
Fresh Cilantro sprigs for garnish
Instructions
Cook the red beans according to the manufacturers' directions, drain and reserve. If using the canned beans, rinse them under cold water and drain and reserve.
In a large dutch oven or soup pot over medium-high heat, add the ground beef breaking it up with a wooden spoon. Sprinkle the salt over the ground beef and cook until brown. Add the chopped onion, garlic and chopped jalepeno peppers and continue to cook until the onion is translucent. Add the cilantro, crushed tomatoes, tomato paste, chipotle pepper, water, chili powder, oregano, cumin, salt, pepper and paprika. Stir to combine well then stir in the reserved beans. Bring to a boil, reduce the heat to its lowest point, put a lid on the pot and simmer for 1-1/2 to 2 hours, taste for seasoning and adjust if necessary.
To serve, ladle into bowls and garnish with sprigs of fresh cilantro.
Notes
When opening a can of these hot chipotle peppers, if you find that you do not use all of them, spoon the remainder onto parchment paper and freeze it. After frozen, place them into a plastic bag and keep in the freezer. Thaw and use as needed.
Nutrition Information:
Yield: 12
Serving Size: 1
Amount Per Serving:
Calories: 216
Total Fat: 6g
Saturated Fat: 2g
Trans Fat: 0g
Unsaturated Fat: 4g
Cholesterol: 75mg
Sodium: 488mg
Carbohydrates: 13g
Fiber: 4g
Sugar: 2g
Protein: 29g
Nutrition information is a guideline only, is calculated automatically by third-party software, and absolute accuracy is not guaranteed.