This slow cooker turkey and beer chili with beans has a distinctive malty flavor from the beer that is complimented with zesty spices. Cooking this pot of chili in a slow cooker has two benefits. First, it is pretty much a hands-free one pot meal. Second, the flavors intensify as they cook all day in the slow cooker.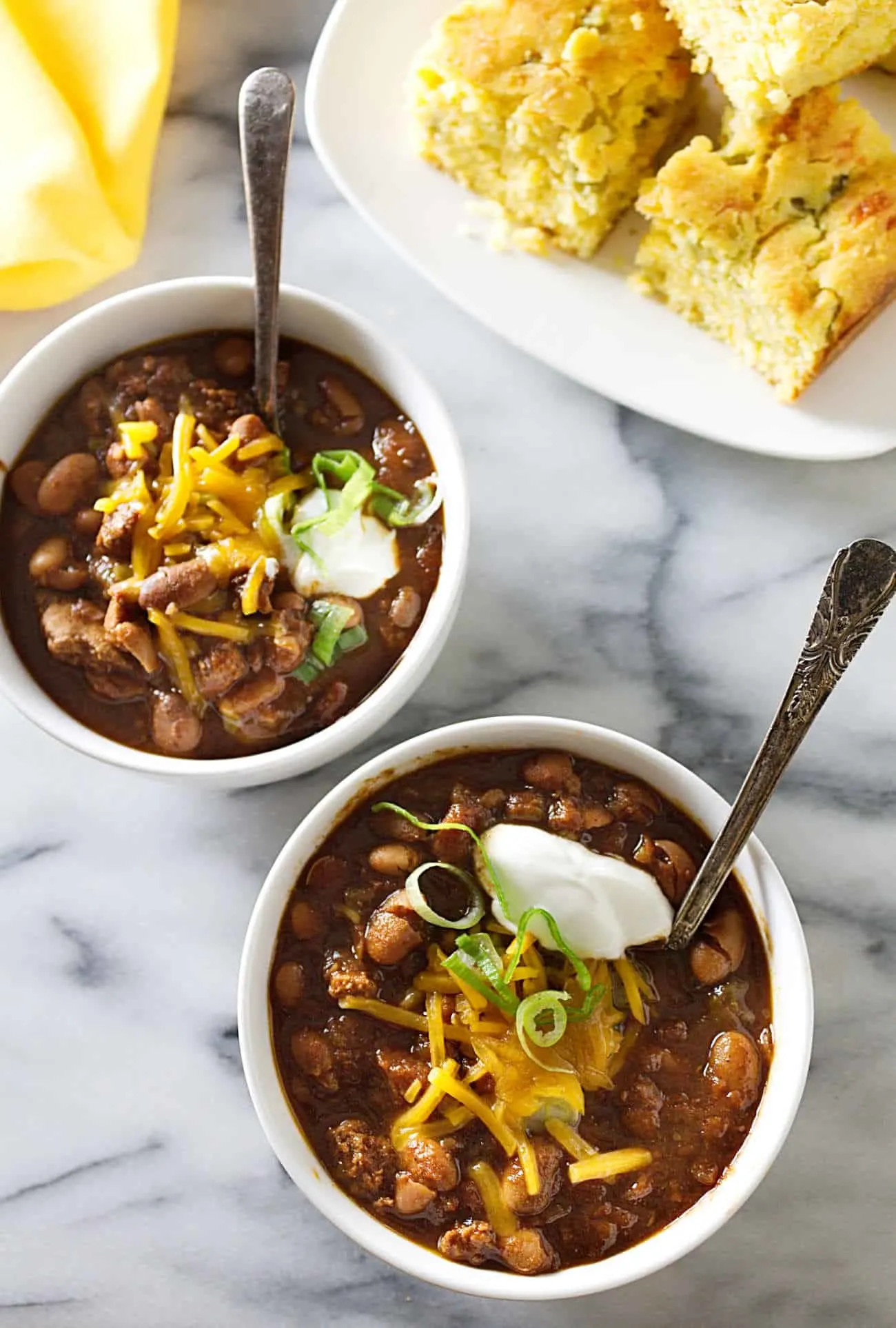 What's better on a cool afternoon than a thick hearty bowl of chili! This recipe has some amazing flavors that are guaranteed to be a crowd pleaser.

Dry Beans or Canned Beans
I like the convenience of canned beans but I tend to buy dried beans more frequently. Dried beans take up less storage space on my shelves and they are a lot more budget friendly. This recipe is perfect for canned beans.
However, if you don't have canned beans you can pre-cook the dry beans before adding them to the rest of the ingredients.
The reason you want to pre-cook your dry beans if you're not using canned beans is that acidic ingredients will prevent the beans from softening during the cooking process. Tomatoes and beer are both acidic, therefore, adding them to uncooked beans will prevent the beans from becoming completely tenderized.
As a side note, I also avoid salting my beans while they are cooking. Salting the beans at the beginning of the cooking time will make the beans less susceptible to absorbing water. Cooking the beans with salt also lengthens their cooking time and makes them tough.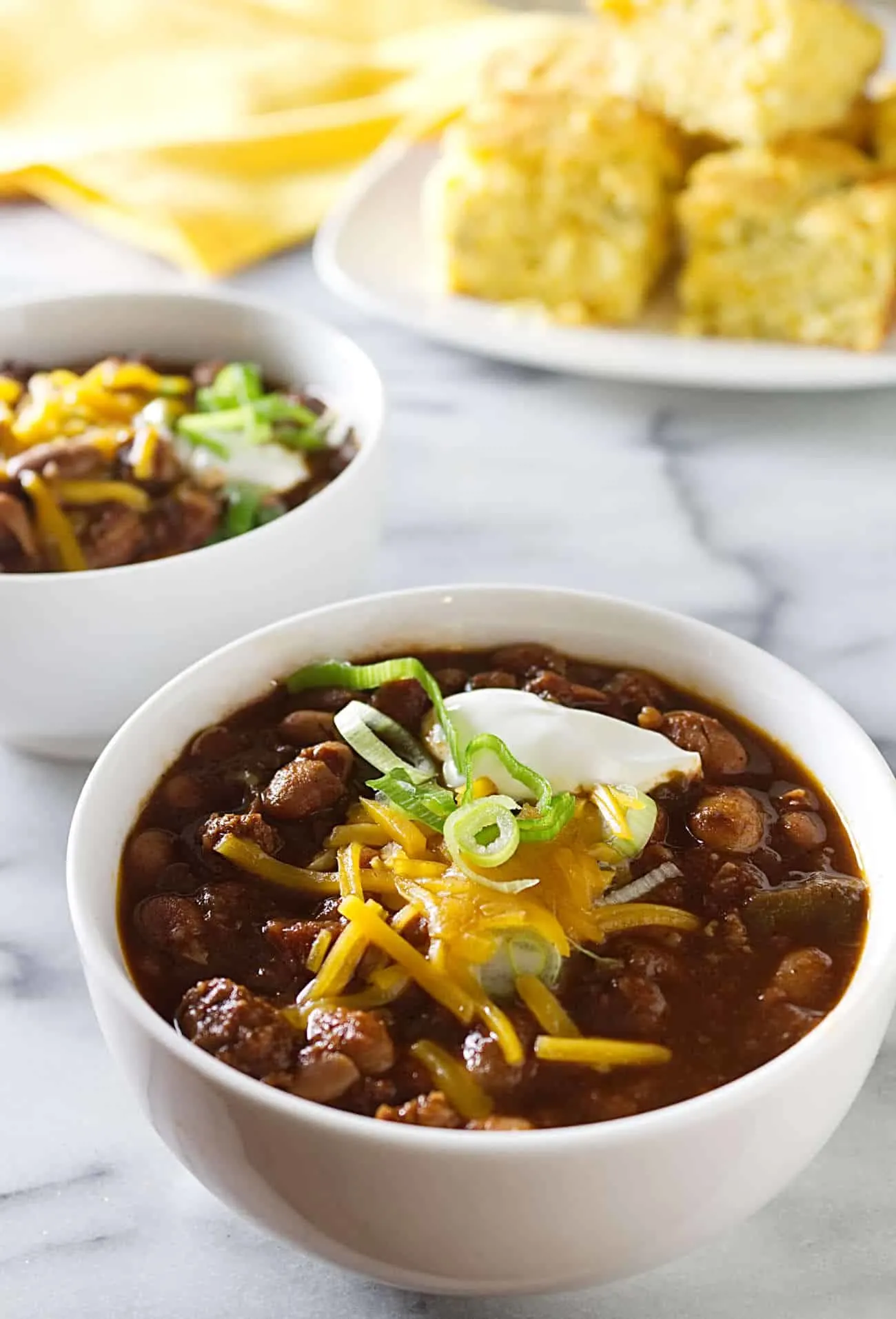 Why Cook With Beer?
I don't drink beer and I don't care very much for the taste but I do love what it does to add flavor to a dish. The beer adds an incredible depth of flavor in this chili and the maltiness in beer goes incredibly well with the spices. Beer is the perfect addition to a spicy chili and it turns ordinary into extraordinary.
When adding the beer the alcohol completely evaporates during the long cooking process so it is safe to serve to minors. You can change the flavor of this chili just by changing the type of beer you choose.
Light wheat beers will give it a more mellow malty flavor while a strong dark stout will give it a very assertive rich and earthy flavor.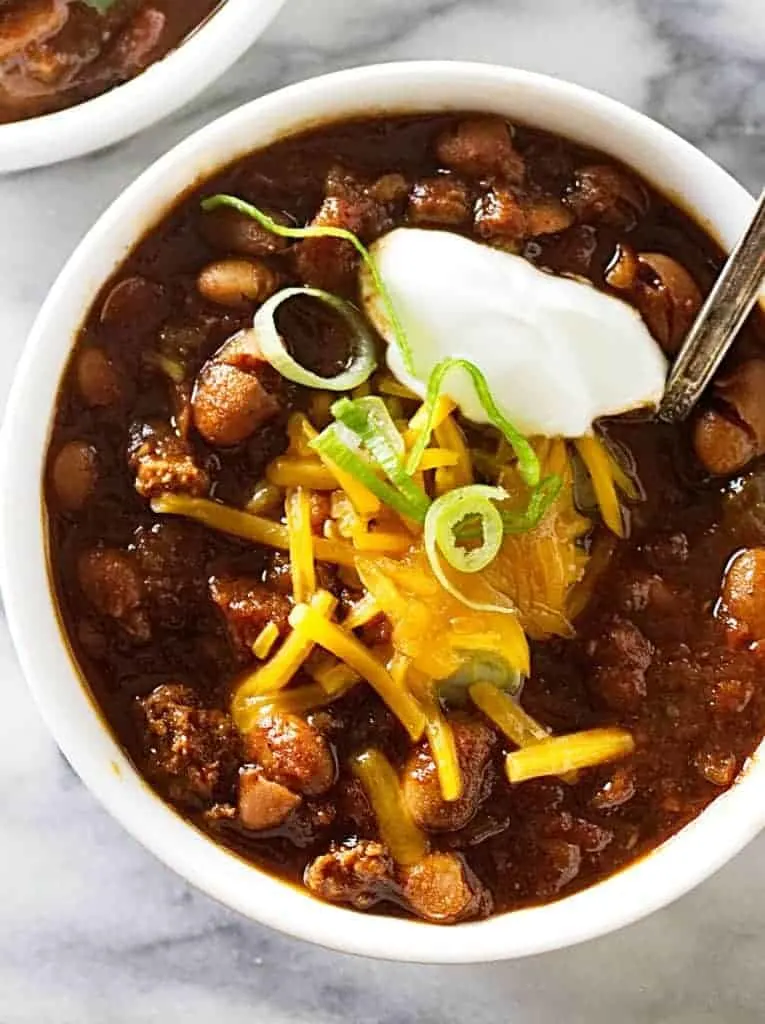 If you like chili beans you will love the zesty flavors in this recipe. Warm, buttered cornbread is a perfect accompaniment.
More Recipes You Might Like:
CONNECT WITH SAVOR THE BEST!
Be sure to follow us on our social media accounts
Facebook | Twitter | Youtube | Pinterest | Instagram
If you make one of our recipes, snap a photo and tag it @savorthebest on Instagram and hashtag it #savorthebest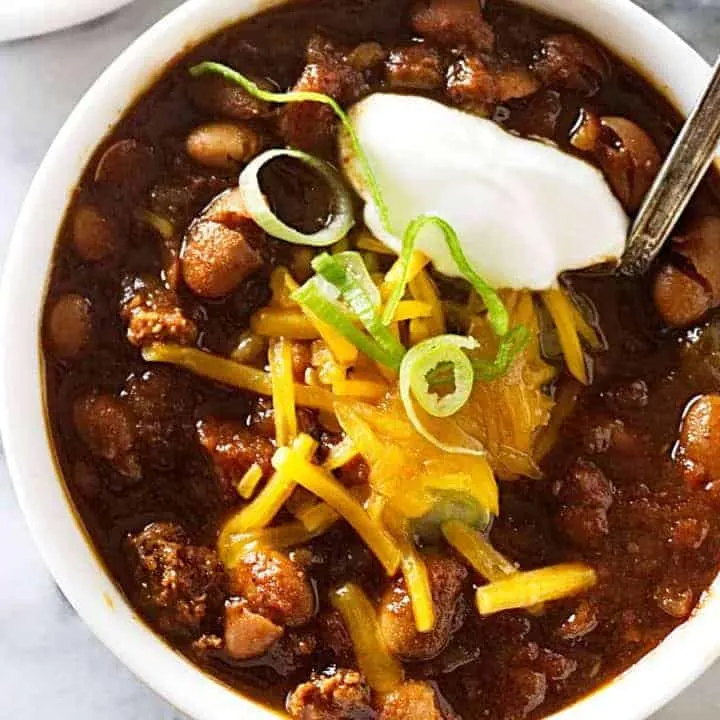 Slow Cooker Turkey and Beer Chili with Beans
Total Time:
8 hours
25 minutes
The zesty spices are complemented by the maltiness of beer in this slow cooker chili with turkey and beer.
Ingredients
5 Anaheim chili peppers
1 tablespoon olive oil
1 onion, diced
3 garlic cloves, minced
1 pound ground turkey
3 tablespoons chili powder
1 tablespoon cumin powder
2 teaspoons dried oregano
1/4 teaspoon ground cayenne pepper
2 cans pinto beans (or 1 cup dried pinto beans, cooked*)
1 (12 ounce) bottle of beer
1 cup water
2 bay leaves
2 (15 ounces each) cans stewed tomatoes
2 tablespoons tomato paste
1 teaspoon salt
Condiments
1 onion, diced
1 to 2 cups grated cheddar cheese
1 cup sour cream or Greek yogurt
1/3 cup chopped cilantro
Instructions
Pre-heat the oven to broil. Place the Anaheim chili peppers on a foil lined baking sheet and place them under the broiler for 5 to 7 minutes, turn them and broil the other side for another 5 to 7 minutes. The peppers will get blistered and charred looking. Place them in a bowl and cover it tightly with cling wrap. Set aside while you prepare the rest of the ingredients.
In a large saucepan, heat the oil over medium heat then add the onions. Cook the onions about 6 minutes or until they are soft. Add the garlic and cook for 1 to 2 more minutes. Add the ground turkey and cook for 5 to 6 minutes (stirring to break up the lumps) until the turkey is no longer pink.
Transfer the turkey mixture to a slow cooker. Remove the cover from the Anaheim peppers. By now they will have had time to sweat and loosen their skin. Pull off the stems then peal the skin off the peppers and remove the seeds. Chop the peppers coarsely and add them to the slow cooker. Add the chili powder, cumin, oregano, and cayenne to the mixture and stir well.
Add the beans, beer, water, bay leaves, tomatoes, and tomato paste. Cover and cook on low for 8-10 hours, or on high for 5-6 hours.
Remove bay leaves, stir in the salt, and serve with condiments on the side.
Notes
If you want to start with dried beans you will want to pre-cook the beans before adding them to the rest of the ingredients. Simply place them in a large pot and cover them with water. Bring the water to a boil then reduce to a simmer and cover them with a lid. Cook for about 1 hour or until they are tender. (If you add dry beans directly to the beer, the acidic environment will prevent the dry beans from becoming tender)
Recommended Products
As an Amazon Associate and member of other affiliate programs, I earn from qualifying purchases.
Nutrition Information:
Yield:

8
Serving Size:

1 cup
Amount Per Serving:
Calories:

257
Total Fat:

7g
Cholesterol:

46mg
Sodium:

458mg
Fiber:

6g
Sugar:

6g
Protein:

19g