Our easy No-Knead Focaccia Bread recipe results in a thick pan of soft, fluffy Italian bread that is perfect for sandwiches, sides, or served on its own! This focaccia recipe is a keeper- it's simple and very easy to adapt if you'd also like to add in other herbs or aromatics.
If you like this recipe you will also like our garlic and herb focaccia.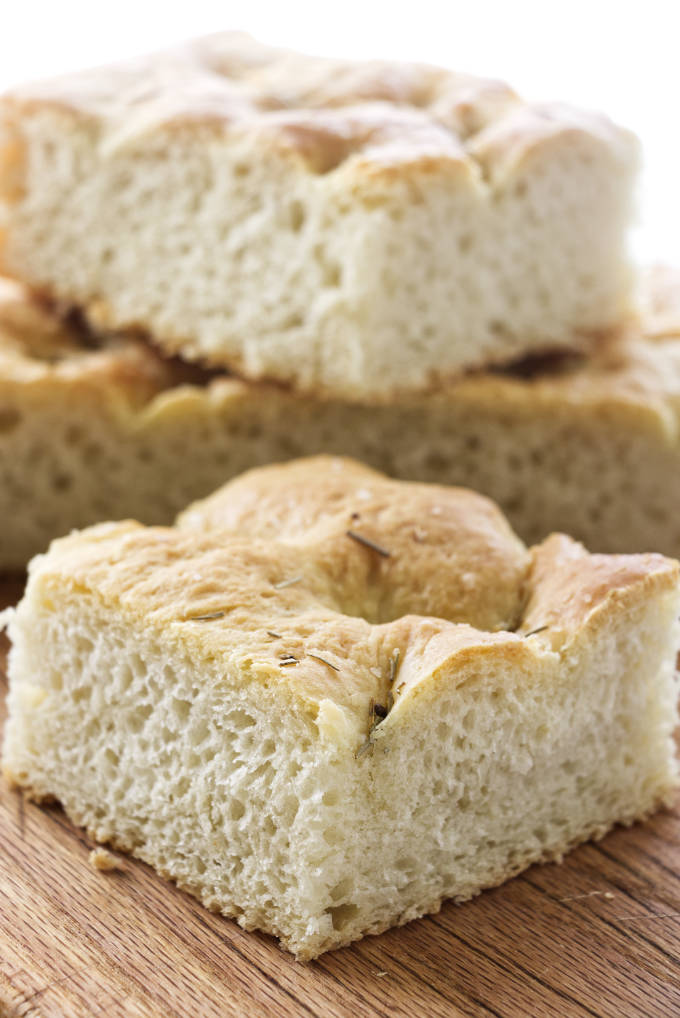 Why You'll Love This No-Knead Focaccia Bread Recipe:
Focaccia is an Italian bread that has so many uses! Slice it in half for sandwiches, enjoy thick servings with soups or salad, or cut small triangles or skinny breadsticks to dredge through olive oil.
With its pillowy-soft texture and and rich flavor, our no-knead focaccia is a dream. Plus, the process is one of the easiest homemade bread recipes you'll ever make! It takes five minutes to prepare, 30 minutes to bake, and only requires one proof.
The Ingredient List:
Our no-knead focaccia bread calls for only five ingredients! You will need:
All-purpose flour
Olive oil
Table salt (plus course salt for optional topping)
Instant yeast
Warm water
Dried rosemary, optional (dried herbs hold up better for baking and are less likely to burn than fresh herbs)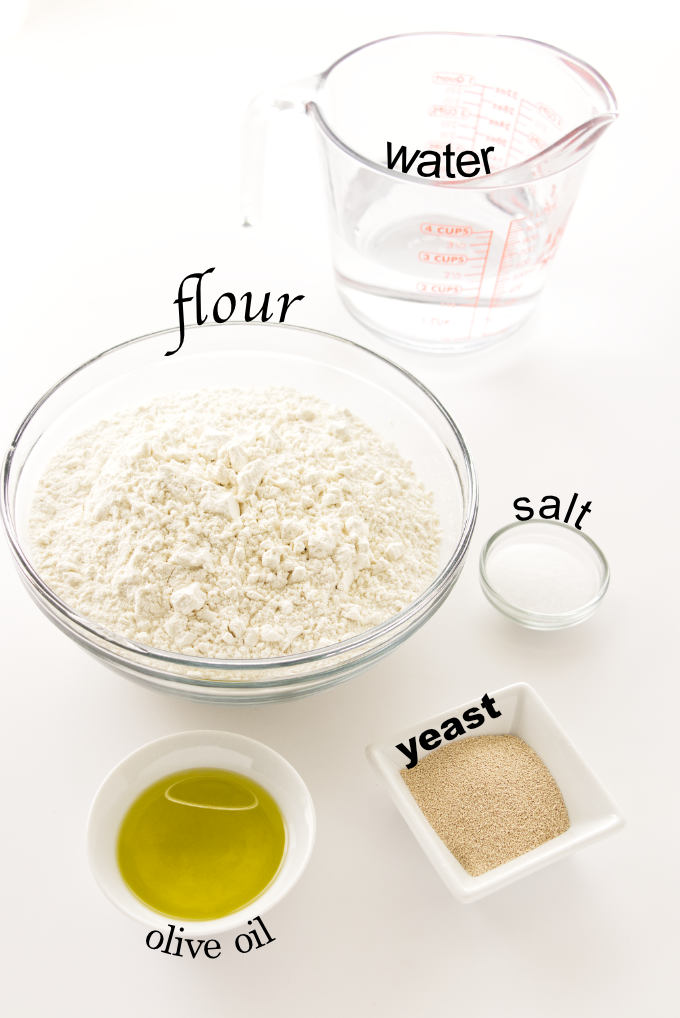 The Process:
Making and baking focaccia is even quicker than our other no-knead bread recipes! It takes minutes to prep the dough and the rest is a cinch.
Here's a brief look at how to make focaccia:
Make the dough: Coat a 9×13-inch pan with non-stick oil spray and set aside. In a mixing bowl, combine the flour, olive oil, salt, yeast, and water. Beat with an electric mixer for about a minute.
Let it rise: Transfer the focaccia dough into the oiled pan, cover it lightly with plastic wrap, and set it in a warm place in your kitchen. Let it rise for 1 hour.
Bake the focaccia: Preheat the oven to 375°F. Use your finger to gently press dimples into the surface of the dough. Drizzle olive oil over the top and sprinkle with rosemary and course salt. Bake for 28-30 minutes or until golden brown.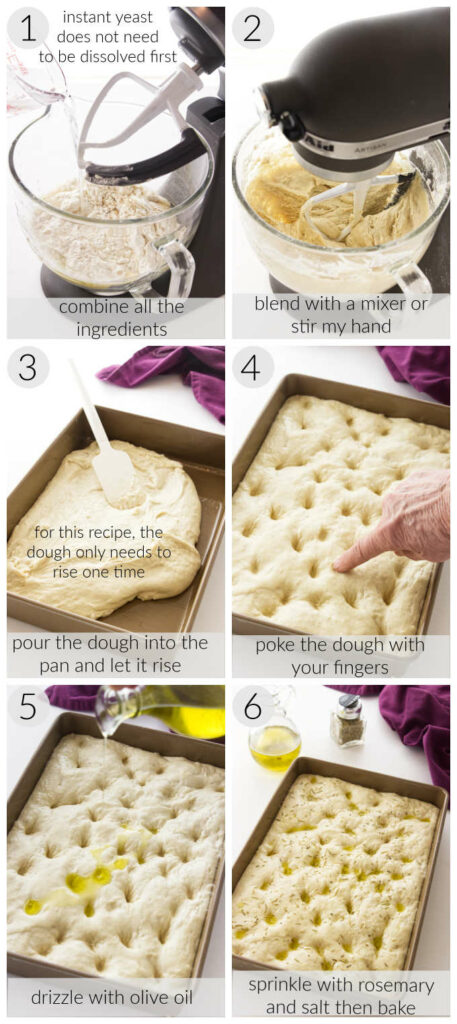 Why Do You Dimple Focaccia?
The dimples in the focaccia bread are not just for looks, they actually have a purpose. The indents help absorb the olive oil poured over the top of the focaccia bread.
They also help any flavorful add-ins sprinkled on top (like herbs or salt) settle into the top of the bread during the bake.
Tips For the Best No-Knead Focaccia Bread:
You can swap in bread flour for all-purpose flour for this focaccia recipe. If using bread flour, increase the amount of water by 2 tablespoons to 1/4 cup.
Make sure to use warm water, about 105°-110°.
Dried thyme, basil and oregano (or an Italian seasoning blend) are also delicious sprinkled over the focaccia. However, choose dried herbs over fresh herbs to prevent them from burning on top.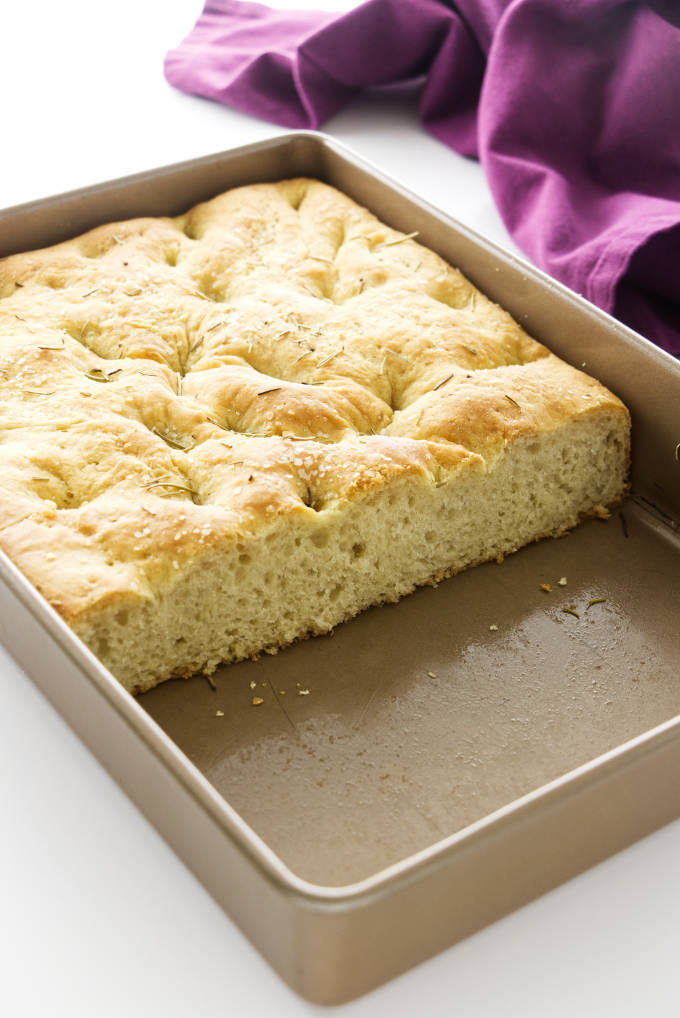 More No-Knead Bread Recipes To Try:
If you're a fan of this easy focaccia recipe (especially the fact that it's no-knead), we have a few other no-knead bread recipes you'll like!
Some of our favorites are:
Focaccia might sound elegant and fancy (like many Italian cuisines, right?), but it's actually quite simple! Our no-knead focaccia bread is easy enough for any bread baking beginner and the flavor is sure to impress.
We almost forgot to mention the final step of the focaccia-making process… when it's fresh from the oven and still nice and warm! Cut into that soft, bread-y goodness and ENJOY.
Best when slathered with butter, dredged through high-quality olive oil, or dipped into our Roasted Garlic Spread. You know, in case you need some ideas. 😉
Happy baking!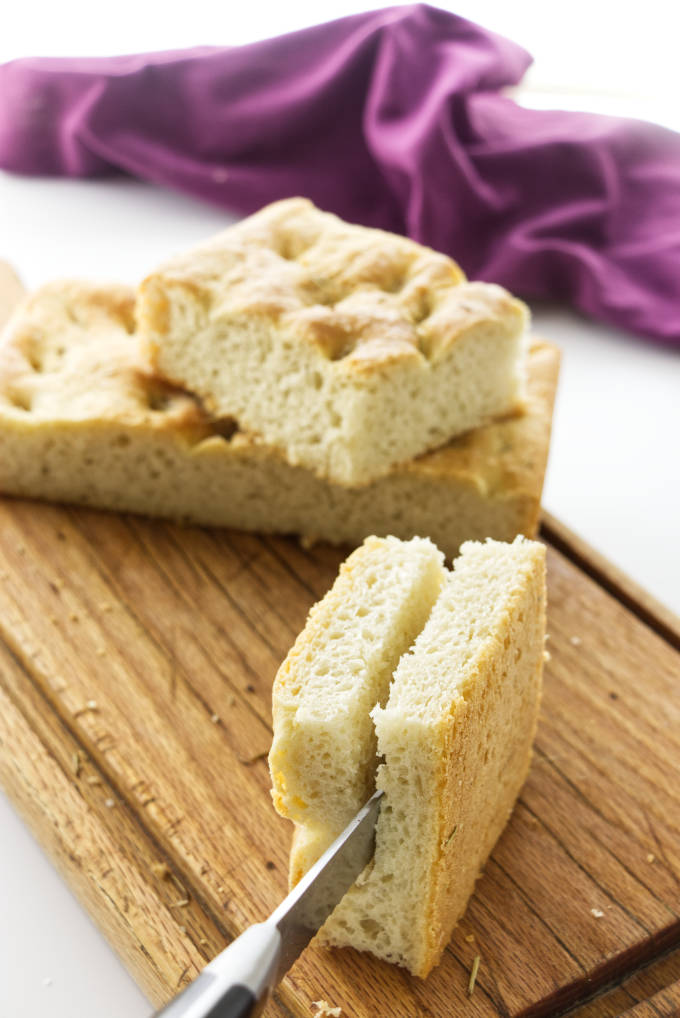 SOME OTHER RECIPES WE ARE SURE YOU WILL LOVE:
Garlic and Herb Focaccia Bread: A thin, crisp, cracker-like Italian focaccia bread infused with garlic and herbs. Serve this with a hot bowl of soup or enjoy as a snack with tangy cheese.
No knead cranberry walnut bread: Baking in a Dutch oven gives this lofty loaf of bread a crunchy crust but it is soft and pillowy inside! The cranberry and walnuts give it a gourmet touch!
Spelt Sourdough Bread: This is an easy, delicious sourdough bread made with the ancient grain spelt. The crusty loaf of is made in a covered Dutch oven.
Connect With Savor the Best
Please follow us on our social media accounts
Facebook * Instagram * Pinterest * Twitter * Youtube
Did you make this recipe? We would love to hear from you. Drop us a comment below.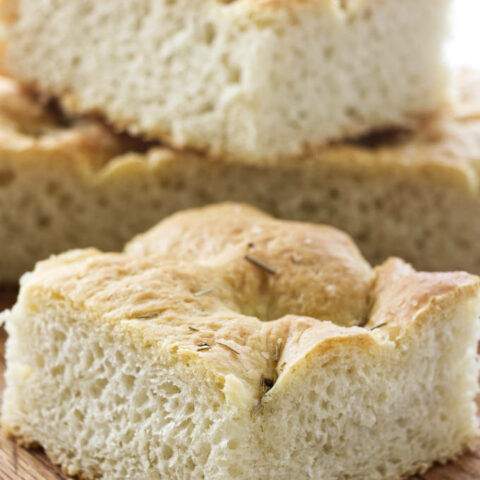 No-Knead Focaccia Bread
Yield: 12 Servings
Prep Time: 5 minutes
Cook Time: 30 minutes
Additional Time: 1 hour
Total Time: 1 hour 35 minutes
An easy, no-knead focaccia bread that makes a pan of soft, fluffy bread. This Italian focaccia bread is thick enough to cut large squares and slice in half for sandwiches. This recipe is a keeper!
Ingredients
4-3/4 cups (630 grams) All-Purpose Flour
4-1/2 tablespoons olive oil
2 teaspoon table salt
1-1/2 tablespoon (13 grams) instant yeast
2-1/4 cups warm water
Olive oil to drizzle at bake time
Coarse salt (optional)
Dried rosemary (optional
Instructions
Coat a 9x13-inch pan with non-stick oil spray. Set the pan aside.
In a large mixing bowl, measure the flour, olive oil, salt, yeast and water together and beat with an electric mixer for 60 seconds.
Transfer the the dough into the oiled pan, cover the pan lightly with plastic wrap and let rise at room temperature for 1 hour.
After the dough has been resting for 30 minutes, preheat the oven to 375°F
At the end of the 60-minute rise, gently press dimples in the surface of the dough with your finger.
Drizzle olive oil over the top to settle into the dimples. Sprinkle with rosemary and flaky salt, if using.
Bake the bread for 28-30 minutes until golden brown.
Remove from the oven and cool on a wire rack for 5 minutes. Serve warm or room temperature.
Notes
If bread flour is used, increase the water by 1/4 cup.
Use warm water of 105°-110°F
We used regular table salt in the dough
Choose dried herbs to sprinkle on top as fresh herbs are more likely to burn during baking.
Other options for hers are dried thyme, basil or oregano.
Nutrition Information:
Yield: 12
Serving Size: 1
Amount Per Serving:
Calories: 188
Total Fat: 4g
Saturated Fat: 1g
Trans Fat: 0g
Unsaturated Fat: 3g
Cholesterol: 0mg
Sodium: 406mg
Carbohydrates: 33g
Fiber: 2g
Sugar: 0g
Protein: 5g
Nutrition information is a guideline only, is calculated automatically by third-party software, and absolute accuracy is not guaranteed.