Roasting garlic magically transforms the flavor into a nutty, mellow flavor. This smooth, creamy Roasted Garlic Spread is addictive! Spread it on toasted baguette slices for a quick and easy appetizer. As if that isn't enough, you get a huge bonus with this recipe: infused roasted garlic oil! You will love all the things you can do with this recipe.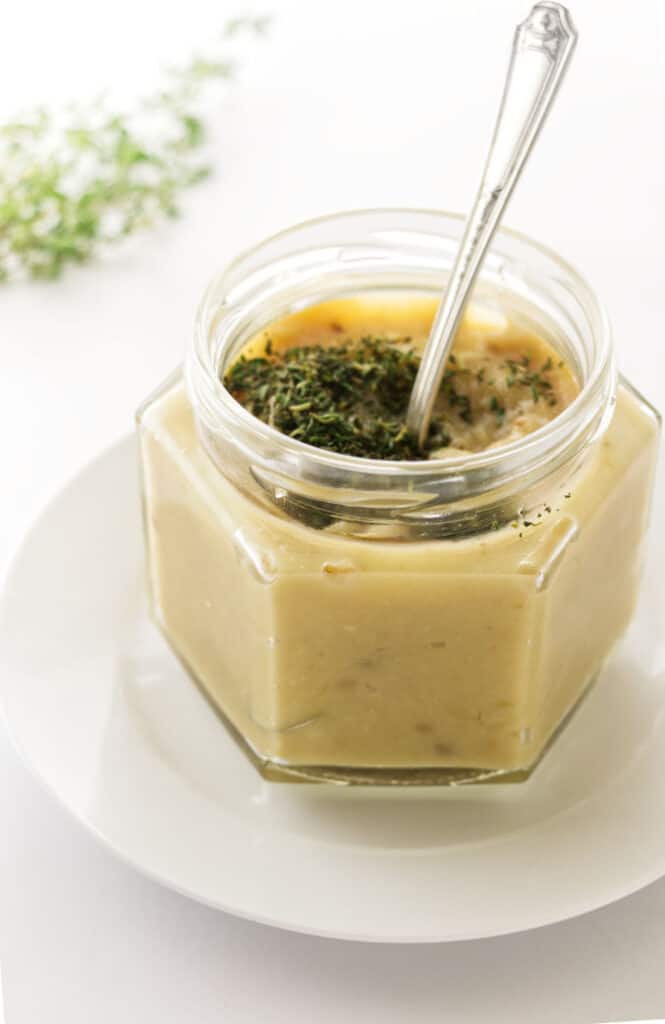 Roasted garlic spread is thick and smooth as butter with none of the sharp, peppery taste that is unique to raw garlic. It's a healthy and flavor-packed spread that you can use on so many things.
What you need to make this roasted garlic spread:
Just imagine the aroma that fills your kitchen as this garlic roasts! With only three main ingredients, garlic goes through an amazing flavor transformation when it is roasted.
Peeled garlic
Salt
Olive oil
Fresh thyme (optional)
You will need to peel four to six bulbs of fresh garlic for this recipe which can take a bit of time. Or you can make life easier like we did and buy a bag of pre-peeled garlic cloves. Fresh herbs adds another layer of flavor to this wonderful stuff!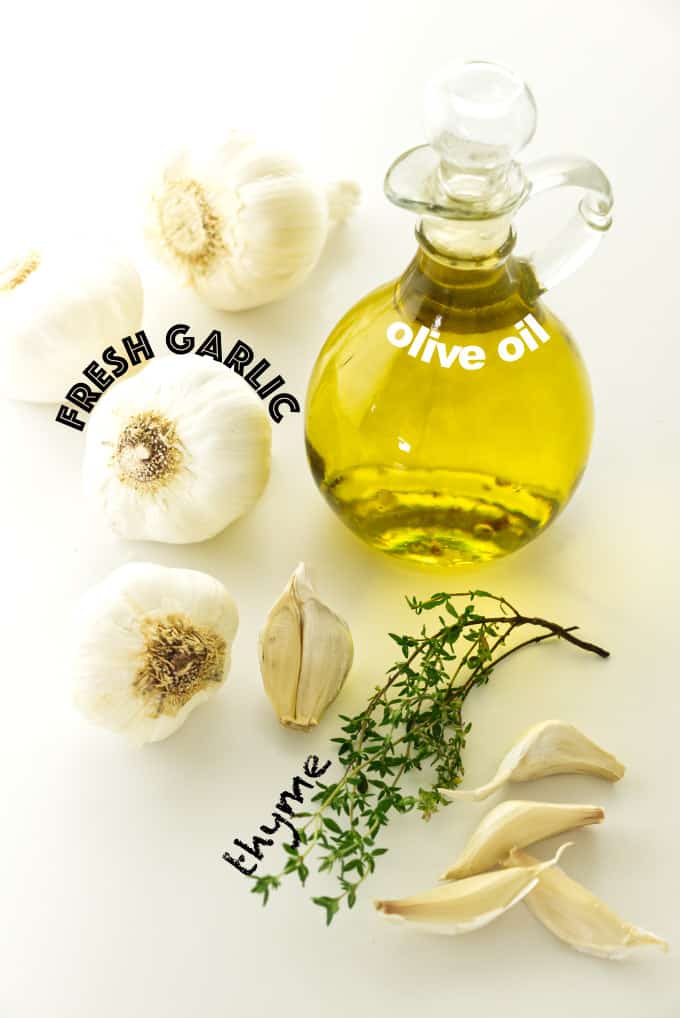 How to Make Roasted Garlic Spread:
Like we said above, this is a simple process, especially if you take the short-cut and use pre-peeled garlic cloves. Here's the quick run-down of how to roast the garlic.
Place the peeled garlic in an oven-proof casserole dish, toss with salt and cover the cloves completely in olive oil.
Cover the dish with foil and transfer the dish to the hot oven and roast until the garlic is tender and light golden in color.
Remove the dish from the oven and let it cool down. Once cool, strain the oil through a fine-mesh sieve set over a Mason jar. Save the oil and use it in future cooking projects.
Add the cooled roasted garlic cloves to a mini food processor or a blender, add a quarter cup of the roasted olive oil and process until smooth and creamy. Give it a taste and add additional salt if necessary. Transfer the roasted garlic spread into a dish. Stir in the thyme leaves if using.
The recipe makes almost two cups of roasted garlic spread. If you are not using it right away, or have some leftover, scroll on down to see how to store it properly.
Tips for success
It generally takes about 30-35 minutes to roast the garlic but the timing will vary depending on the size of the garlic cloves.
To test for doneness, remove a garlic clove and let it cool down a bit. When it is cool enough taste it to see if it still has a sharp taste. If it does, continue roasting the garlic. It will get mild and buttery when it is finished roasting.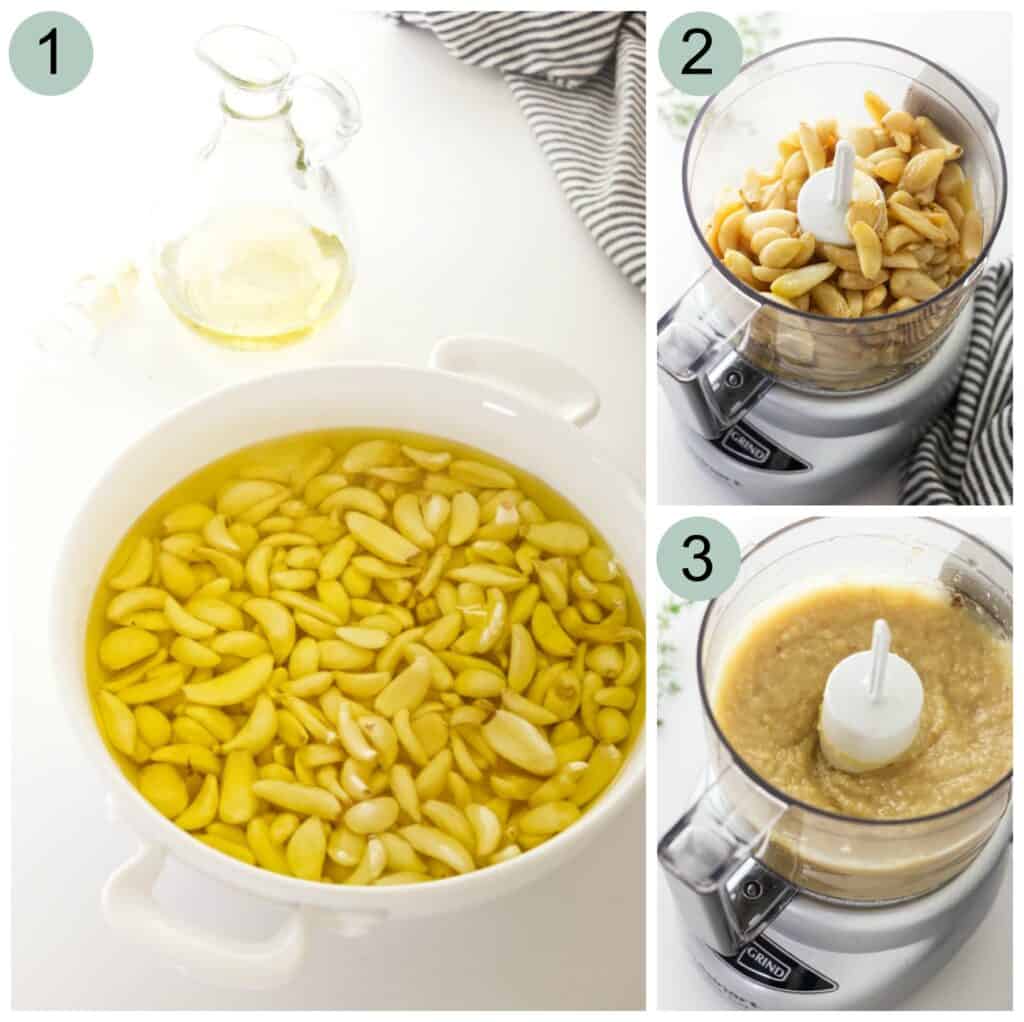 How do you use roasted garlic spread?
Set a dish of roasted garlic spread on your appetizer or cheese board with toasted baguette slices and just watch it disappear. We slathered it on our pizza crust then added mushrooms……Here are a few additional ideas to enjoy this ultra-creamy spread:
Spread it on crackers and top blue cheese.
Add it to potato salad.
Toss with hot pasta and bacon
Mix it with soft goat cheese for a dip
Add a dollop to a bowl of soup. Try it in this roasted cauliflower soup.
Stir into mashed potatoes.
Use it as a spread for sandwiches or slather it on toast.
Add it to butter to make roasted garlic compound butter.
Use the Roasted Garlic Oil Too!
This garlic spread has so many uses but the process of making it produces another flavorful component… Roasted garlic oil. Since you will be roasting the garlic in a bath of oil, it infused the oil with a ton of garlic flavor.
Don't throw that oil out! Use it to make salad dressings, saute your veggies, and use it in recipes like this Chimichurri sauce. I even fry my eggs in this oil. It adds a delicate garlic flavor to everything and nothing in this recipe gets wasted.
How long will roasted garlic spread keep?
This roasted garlic spread is best right after it is blended into a paste. Garlic spread should always be kept in the refrigerator. If you are not going to use the garlic spread right away, store it in a jar and cover it with a layer of olive oil with a tight lid and keep it in the refrigerator for 7 days.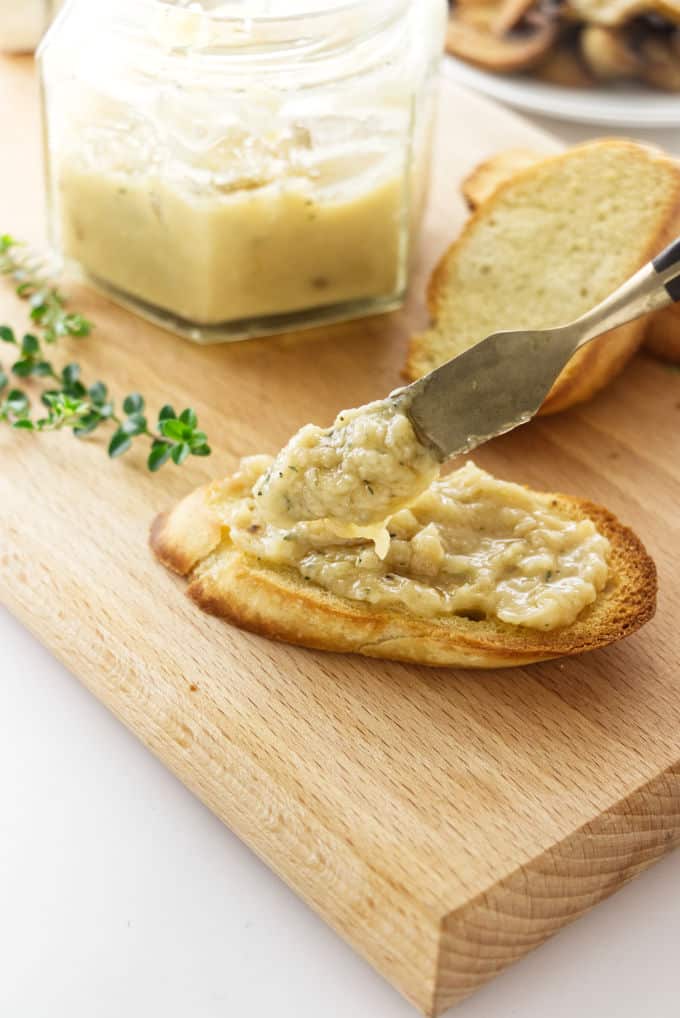 Can you freeze roasted garlic spread?
Yes, if keeping the garlic spread for longer than 7 days, transfer it to small 1/2 cup lidded containers and store in the freezer for up one year.
SOME OTHER RECIPES WE ARE SURE YOU WILL LOVE:
Herbed Olive Oil Dip: A quick and impressive Herbed Olive Oil Dip made with fresh herbs, garlic, and seasoning. Serve with crusty Italian or focaccia bread as dippers.
Fresh Mango Salsa: A vibrant Fresh Mango Salsa with a little kick from jalapeño and serrano chilies. Serve with chips as a dipper or as a topping to grilled fish or pork.
Hummus: A traditional Lebanese dip, made with mashed garbanzo beans, tahini, olive oil, garlic, and lemon juice. Serve with fresh vegetables, pita bread, or chips.
CONNECT WITH SAVOR THE BEST!
Facebook * Instagram * Pinterest * Twitter * Youtube
Did you make this recipe? We would love to hear from you. Drop us a comment below.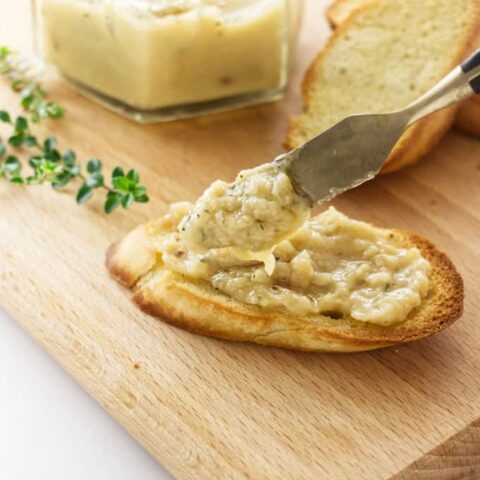 Roasted Garlic Spread
Yield: 1-1/2 cups
Prep Time: 5 minutes
Cook Time: 35 minutes
Total Time: 40 minutes
This smooth, creamy Roasted Garlic Spread is addictive! Roasting garlic magically transforms the flavor into a nutty, mellow flavor. Spread it on toasted baguette slices for a quick and easy appetizer.
Ingredients
2 cups peeled garlic cloves or 4-6 garlic heads
1/4 teaspoon fine salt
1-1/2 cups extra-virgin olive oil
1 tablespoon fresh thyme leaves (optional)
Instructions
Preheat the oven to 325°F
In an oven-proof casserole dish or pie plate, add the garlic and toss with the salt. Spread the garlic cloves in an even layer and add the olive oil until the cloves are completely submerged.
Cover the dish with foil and transfer to the oven. Roast for 30-35 minutes until the garlic is light golden in color and very tender.
Cool the garlic in the dish then strain the oil through a mesh sieve set over a bowl. Save the oil in a sealed container for other recipes.
Place the cooled garlic cloves in a food processor or blender. Add 2 to 4 tablespoons of the infused oil and process until smooth and creamy.
Add salt according to taste preference, transfer to a container and stir in the thyme leaves if using.
Notes
Check for tenderness after 30 minutes, the garlic should be tender and firm but no sharp 'bite' taste.
The longer the garlic is roasted the deeper the color becomes.
There is a lot of garlic flavor in the strained oil. Transfer it to a covered container and use in future cooking.
To store the roasted garlic spread, place it in a glass container, add a thin coating of olive oil and cover with an air-tight lid. It will keep 5-7 days in the refrigerator and up to six months in the freezer.
Nutrition value is calculated off blending 1/4 cup of the olive oil into the roasted garlic spread.
Nutrition Information:
Yield: 20
Serving Size: 1 tablespoon
Amount Per Serving:
Calories: 46
Total Fat: 3g
Saturated Fat: 0g
Trans Fat: 0g
Unsaturated Fat: 2g
Cholesterol: 0mg
Sodium: 29mg
Carbohydrates: 5g
Fiber: 0g
Sugar: 0g
Protein: 1g
Nutrition information is a guideline only, is calculated automatically by third-party software, and absolute accuracy is not guaranteed.