This is the best way to grill boneless, skinless chicken breasts. These techniques will give you a grilled chicken breast that is tender, plump and juicy. It is chicken done right.
And don't worry if the weather isn't cooperating. You can do this indoors or outside and you can apply these tips to a charcoal grill, propane grill, or an indoor grill pan. The steps are the same except for starting the fire. Read our tips to find out how to grill boneless chicken breast so it is juicy and tender.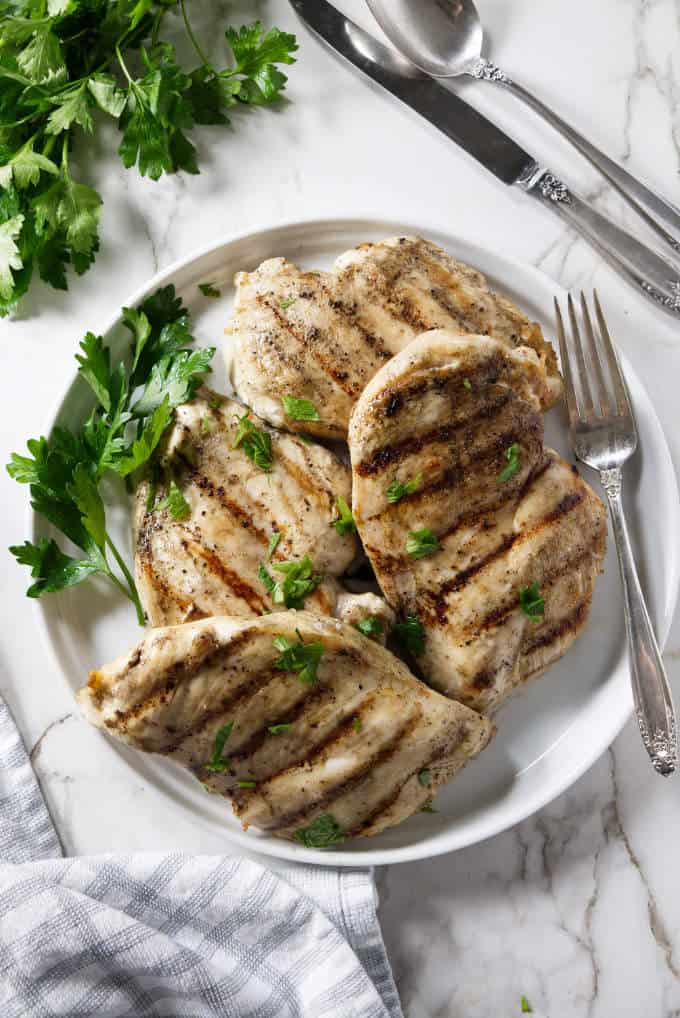 Chicken breasts get a bad rap. Since they are so lean, they can turn out dry and leathery very easily. Plus, since they vary in thickness, they cook unevenly so even if you get the thick end perfectly cooked, the thinner end will be dry and overcooked.
We have a foolproof method to perfect, juicy grilled chicken breasts. Every time! Check out our technique and follow our steps next time you grill chicken breasts.
Tips for tender juicy grilled chicken breasts:
Pound the chicken breasts so they are an even thickness. If they are uniformly thick, they will cook evenly so you won't have any areas that are overcooked and dry. Pounding them will also help tenderize the meat. Two bangs for your buck. We use a meat mallet but you could use a rolling pin, a heavy skillet, or a canned food item.
Brine the chicken breasts. When you brine chicken you're simply treating it with salt. You can add sugar, herbs and other aromatics to the brine but it is the salt that is oh-so-important. The salt in the brine solution helps the chicken retain moisture.
Set up two heat zones on the grill. Pile all the hot coals on one half of the grill and keep the other half empty. You will start cooking on the hot side. If the chicken starts to burn before it is finished or if the flames get out of control, you can move the chicken to the cooler side and use indirect heat.
Don't overcook the chicken. This is by far, the most important step. Over-cooking the chicken breasts will dry them out. The brine will help give you a little bit of a buffer if you do cook them a tad too long but it isn't comprehensive coverage.
Let the chicken rest before serving. If you cut into the chicken right after you take it off the grill, juices will seep out and turn your plump, juicy chicken into dry, chalky leather. When you let the chicken rest, the moisture will re-absorb back into the muscle fibers of the meat. More moisture = juicier chicken.
What about a marinade?
A marinade will serve the same purpose as a brine if there is enough salt in the marinade. The extra ingredients in a marinade will help infuse additional flavor into the chicken. If there is sugar in the marinade, the chicken will also brown easier (or in some cases, burn easier).
This recipe is for a simple wet brine of salt and water. It will give you chicken that tastes like …… chicken. We seasoned it with a little fresh cracked pepper and some olive oil (which also keeps the chicken from sticking to the grill). It's a no-frills grilled chicken breast that goes with anything on your plate.
If you want to jazz the flavor up then you can use the marinade in these grilled pineapple chicken kabobs or this lemongrass chicken satay. Each of the marinades have enough salt in them to plump the chicken and make it juicy. But if you just want to know how to grill boneless chicken breasts plain and simple, then skip the marinade and use a simple saltwater brine. Either way, you can't go wrong. It just depends on the flavor you want.
Should I use Kosher salt?
You don't have to use kosher salt in your brine. Table salt will work just as well as kosher salt but you will need a different amount because equal measurements are not the same in saltiness. As an example, one tablespoon of table salt is up to twice the amount as one tablespoon of Kosher salt. If you use table salt in the same portion as the kosher salt in the recipe, your brine will be way too salty.
Kosher salt has larger crystals so if you are measuring by volume, you will need to use more kosher salt than you would need if you use table salt.
Table salt and kosher salt are basically the same things. Sodium chloride. The difference is the size of the salt crystals and the additives. Some people detect a bitter taste from the iodine in table salt. If that is the case for you then stick to pure kosher salt which has no additives.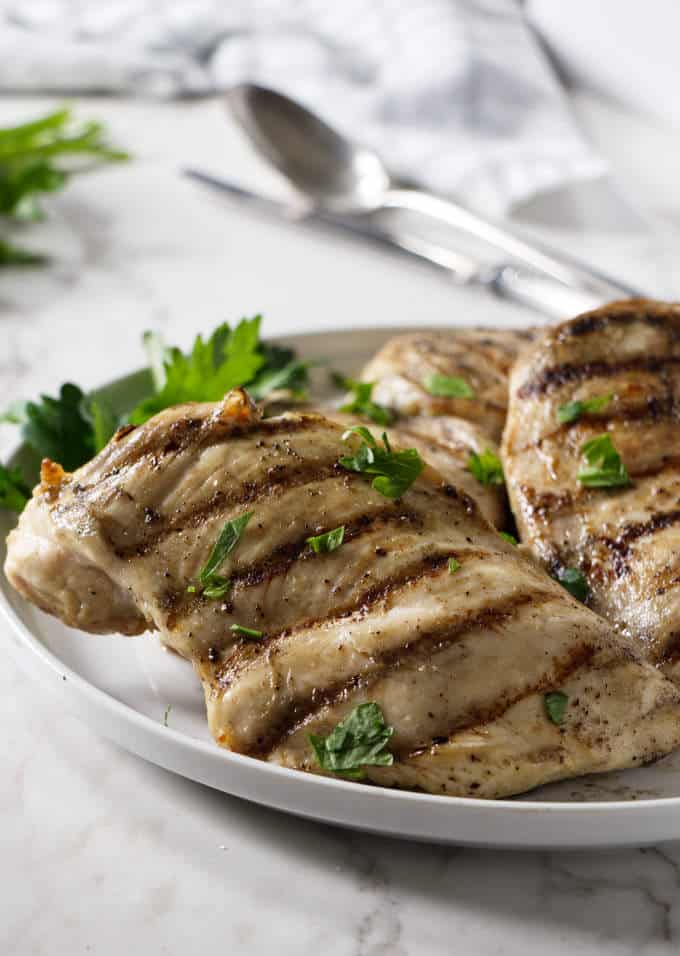 How long do you grill chicken breasts and how do you know when they are done?
For thinner boneless chicken breasts, it generally takes about 3 to 5 minutes on each side but it also depends on how hot the grill gets.
The most reliable method to know when chicken is finished cooking is to use an instant-read thermometer. Normally, I would tell you to cook any poultry to 165°F. After all, that is what the USDA guidelines have determined for food safety.
I'm going to tell you a better way and it doesn't deviate from the USDA food safety guidelines. If you cook the chicken breasts to 150°F and maintain that temperature for 3 minutes, you will achieve the same food pasteurization as a chicken breast that cooks to 165°F.
Not only will the chicken breast that you cook at the lower temperature be safe to eat, but it will also be juicier, plumper, and more tender.
That's because pasteurization (the process of killing bacteria to make food safe to eat) is not just about temperature. It involves a factor of both temperature and time. The USDA has a time-temperature table that outlines the guideline.
So I generally try to cook my chicken breasts between 150°F and 155°. If you cook it to 150° you need to hold the temperature there for a minimum of 3 minutes. However, if you cook it to 155°F you only need to hold it at that temperature for 50 seconds. To be clear, these time-temperature guides are based off a chicken breast that has a 7% fat content (which is pretty standard for chicken breast).
An extra consideration.
Now, there is a caveat. I mentioned above that pasteurization is a factor of time and temperature, however, there are other factors that can play a role, including the amount of fat in your meat. If you are immune-compromised, pregnant, or just squeamish about cooking your poultry to a lower temperature, then play it safe and cook it to 165°F.
I will say however that when you take the chicken off the grill and cover it to let it rest, there will be some carryover cooking. I have noticed as much as a 5° increase in temperature after removing the chicken from the heat.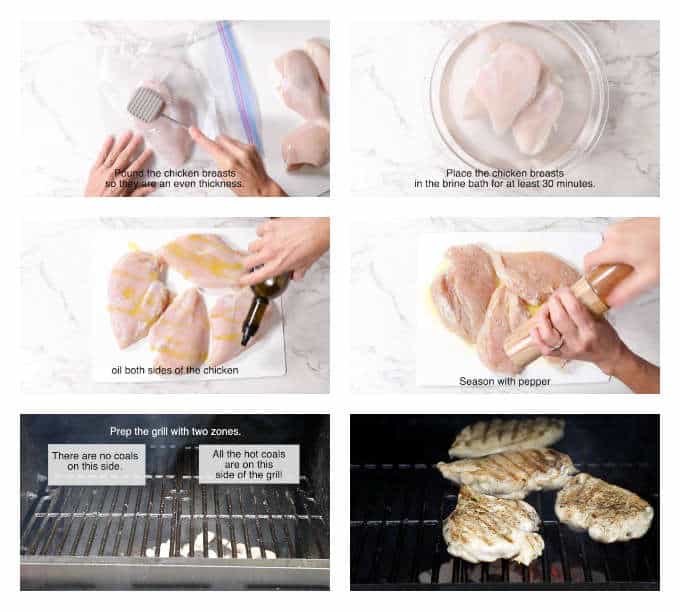 How to grill boneless chicken breasts on a gas grill:
If you have a gas grill follow the same steps and create two heat zones on the grill. One side should be medium-high and the other side should be at medium heat. If you don't have two temperature controls then simply turn the heat down partway through the cooking time.
What about an indoor grill pan?
If you use an indoor grill pan start with a hot grill pan on medium-high heat. After you get a good sear and golden brown color on both sides, turn the heat down to medium until the chicken is finished cooking.
What to serve with grilled chicken:
This simple grilled chicken recipe lets the flavor of the chicken shine. There aren't any extra flavorings other than salt, pepper, olive oil and, of course, the smokey, char-grilled flavor of the fire. It is delicious sliced over a green salad, piled into tacos, stirred into rice or placed between a couple of hamburger buns for an amazing chicken burger.
Try serving it with our zesty kimchee slaw or this bacon and blue cheese salad. Throw in a brown rice pilaf and some steamed veggies for a full meal.
Connect With Savor the Best:
Please follow us on our social media accounts
Facebook * Instagram * Pinterest * Youtube * Twitter
Did you make this recipe? We would love to hear from you. Drop us a comment below.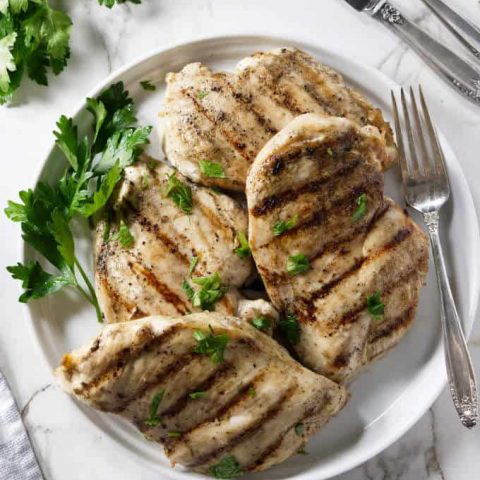 How to grill boneless chicken breasts
This is the best way to get perfectly juicy and tender chicken breasts. A simple brine of salted water will help the chicken breasts stay juicy and moist. Pounding the fat end even with skinny end will help the chicken cook evenly.
Ingredients
4 skinless, boneless chicken breasts
4 tablespoons regular salt or 6 tablespoons Kosher salt
2 quarts of cold water
2 tablespoons olive oil
Fresh cracked pepper
Instructions
Working with one chicken breast at a time, place the chicken breasts inside a large plastic bag. Use the flat side of a meat mallet and pound the thick end of the breast until it is the same thickness as the thinner end.
Pour the salt and water into a large bowl and stir to dissolve the salt. Place the pounded chicken breasts in the salty water, cover the bowl, and place in the fridge for at least 30 minutes.
Prepare your grill with two cooking zones. One side will have the hot coals while the other side will have no coals. The side without coals will be used for indirect cooking and give you more control over the grilling process.
Pat the chicken breasts dry and coat them with the olive oil then dust them with pepper.
Place the chicken breasts on the hot side of the grill and leave it there for 3 to 5 minutes until browned. Flip to the other side and cook for another 3 to 5 minutes until nicely browned. If the chicken browns too fast or a lot of flames shoot up, transfer the chicken to the cooler side of the grill and cook over indirect heat.
Use a meat thermometer to check for doneness (see notes) and place on a platter when finished cooking. Let the chicken sit at room temperature for 5 minutes before serving.
Notes
Try to start with the thickest chicken breasts you can find. If you choose chicken breasts that are 3/4 to 1 inch thick at the skinny end then you won't have to pound the thicker end very thin. The goal is to make them an even thickness, not to make pancakes out of them.
If you don't have a meat mallet you can use a rolling pin or a heavy skillet to pound the chicken breasts.
Cook the chicken breasts to a MAXIMUM internal temperature of 165°F, no hotter or they will dry out. Read our post to find out why we usually cook chicken breasts between 150°F to 155°F.
Letting the chicken breasts rest for 5 minutes after they finish cooking is an important step. If you cut into the chicken right away, the juices will seep out and make the chicken dry.
Recommended Products
As an Amazon Associate and member of other affiliate programs, I earn from qualifying purchases.
Nutrition Information:
Yield:

4
Serving Size:

1
Amount Per Serving:
Calories:

259
Total Fat:

11g
Saturated Fat:

2g
Trans Fat:

0g
Unsaturated Fat:

8g
Cholesterol:

102mg
Sodium:

15970mg
Carbohydrates:

0g
Fiber:

0g
Sugar:

0g
Protein:

37g
Nutrition information is a guideline only, is calculated automatically by third party software, and absolute accuracy is not guaranteed.