These grilled pineapple chicken kabobs are tender and juicy. A special marinade sauce infuses the chicken with flavor and tenderizes the meat. The grill adds an incredible layer of smokey-charred-flavor that can't be beat.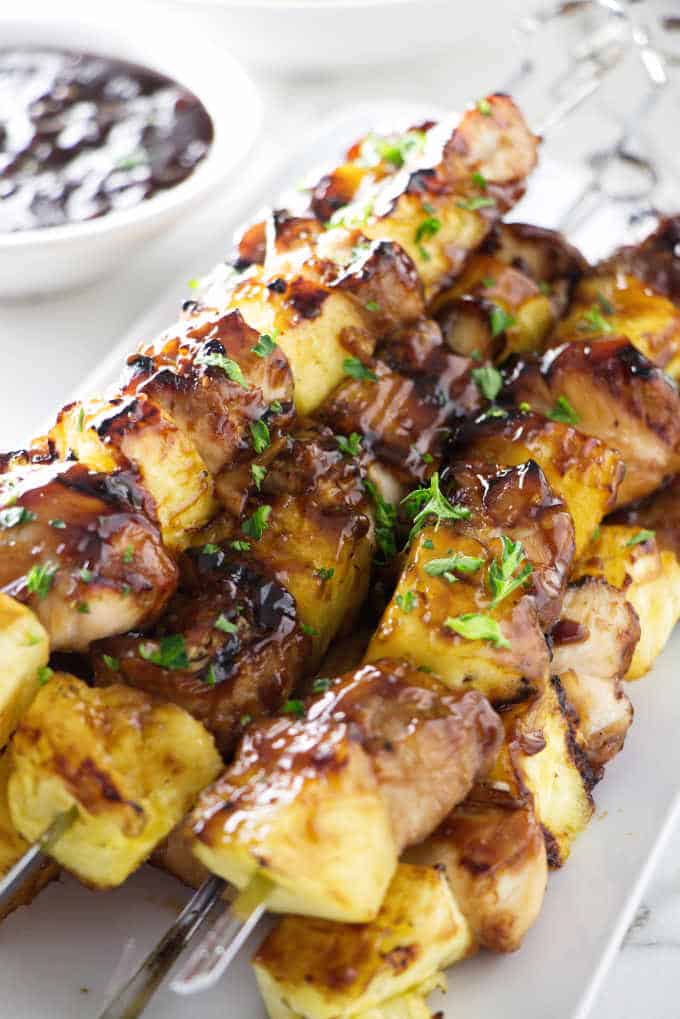 Grilled pineapple is amazing! It makes an incredible dessert that is low in fat and almost too easy to eat. But it is not just for dessert. Add it to something savory and you have a melody of flavors that will make you sing.
These grilled pineapple chicken kabobs are perfect for your summer cook-out. The sweet and savory blend of flavors blend well with the smoky char-grilled flavor from the fire. They are a taste of the tropics so my husband calls them Hawaiian chicken kabobs.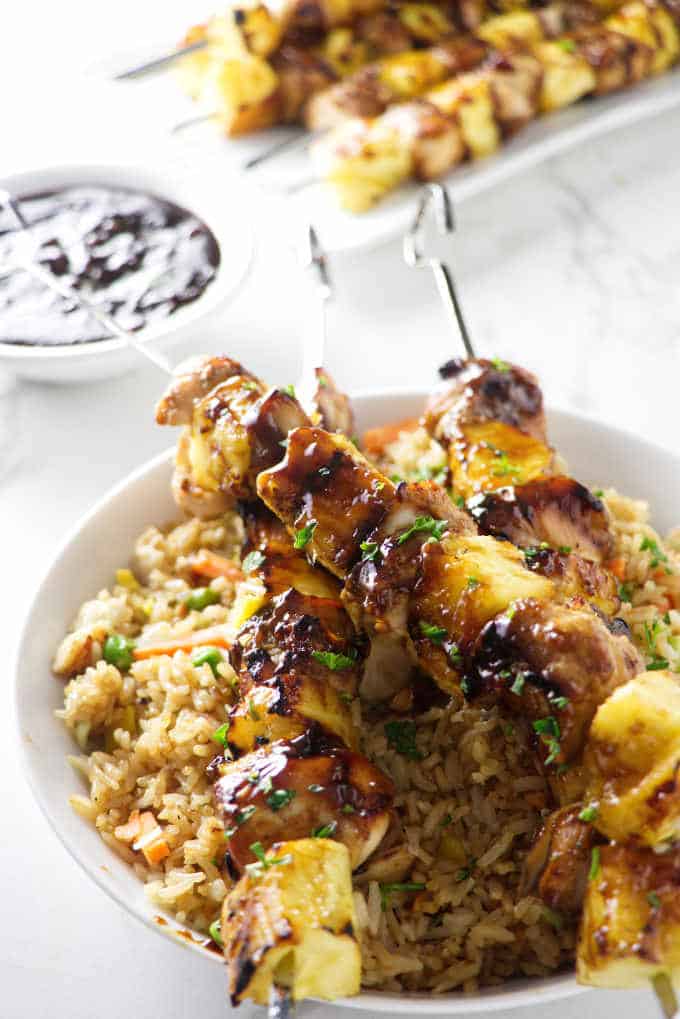 The chicken marinade:
The marinade is essential for keeping the chunks of lean chicken breast tender. It also gives the pineapple chicken kabobs a sweet-savory blend that makes them taste like Hawaiian chicken kabobs.
Since the chicken is already sliced into small pieces, you don't need to marinate it for very long. Twenty to thirty minutes is all you need to get the flavor-infused and to tenderize the meat. That's perfect timing while you heat the grill.
The glazing sauce:
Reserve a small amount of the marinade to make the glazing sauce. Add some orange juice and Worcestershire sauce to the marinade and cook it with some cornstarch to get it thick.
The thickened glazing sauce will cling to the pineapple chicken kabobs as you grill them, then you can serve the leftover sauce on the side.
About the kabob skewers:
We used these metal kabob skewers to make this recipe. They are re-usable and they do not burn up when you stick them on a hot fire. You can use wooden skewers but keep in mind that they will burn on the grill pretty easily.
If you soak the wooden skewers, they won't burn as easily. However, even if you soak them, they still burn, just not as quickly. The nice thing about the wooden skewers is that they can be tossed out. No worries about washing them.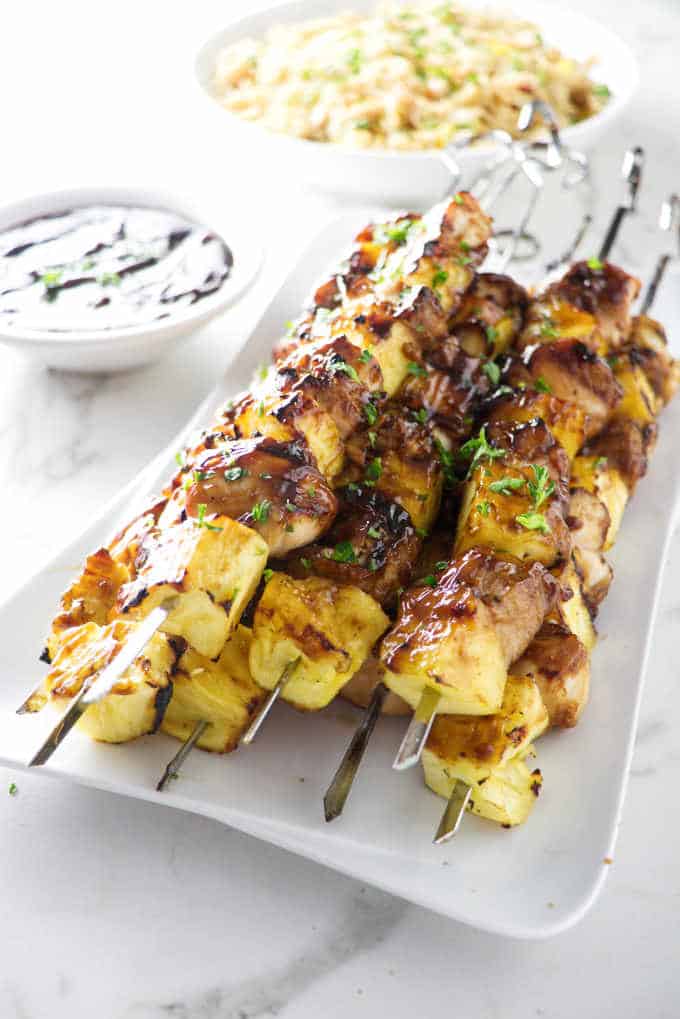 Tips for Grilled Pineapple Chicken Kabobs:
Cut the chicken so the pieces are the same size. That way they will cook at the same rate.

Marinate the chicken for at least 20 minutes to tenderize the meat and infuse it with flavor.

If you use wooden kabobs, soak the wooden sticks for at least 30 minutes to prevent them from burning on the hot grill.

Don't pack the pineapple and chicken on the kabobs too tightly.

Let the hot kabobs rest under a cover for 3 minutes before serving. It will seal the juices in and keep the chicken tender and juicy.
Can I bake these pineapple chicken kabobs in the oven instead?
If you don't want to light up the grill you can bake these pineapple chicken kabobs in the oven. Here are the tips for cooking these kabobs in the oven. You won't get that smokey-charred-fire-grilled flavor but they will still be absolutely delicious!
Preheat the oven to 425°F

Place the kabobs on a baking sheet in a single layer.

Bake in the center of the hot oven for

20 to 25 minutes.

Flip the kabobs over halfway through the cooking time to ensure even cooking.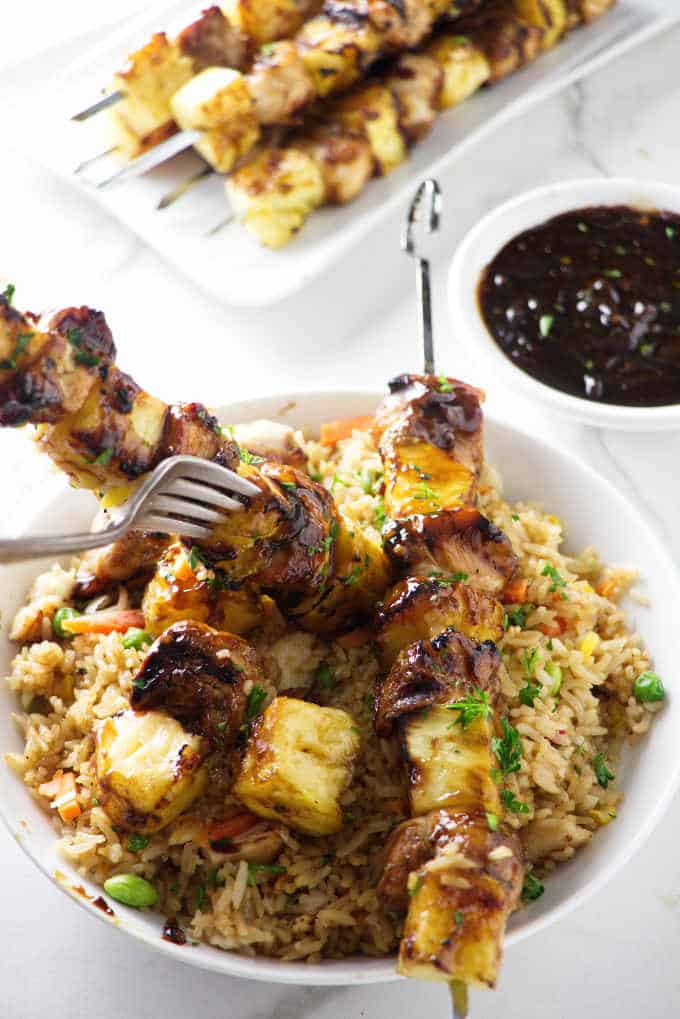 These kabobs are fast and easy to cook. Make it a quick meal and serve them with some Jasmine rice and a green salad. I had some leftover pork fried rice and it was an amazing combination with the grilled pineapple and chicken.
SOME OTHER RECIPES WE ARE SURE YOU WILL LOVE:
These grilled lamb kabobs get marinated in a mixture of fresh herbs, garlic, and lemon juice. The combination is perfect with lamb.
Grilled Mahi-Mahi with mango salsa looks like a luxe meal yet it is fast and easy. It comes together in 30 minutes and makes an incredible weeknight meal.
This grilled ribeye steak gets so much flavor from a marinade of sake and soy sauce. The longer you let it marinate, the better so plan ahead for this grilled steak.
CONNECT WITH SAVOR THE BEST!
Be sure to follow us on our social media accounts
Facebook * Instagram * Pinterest * Twitter * Youtube
Did you make these pineapple chicken kabobs? We would love to hear from you. Drop us a comment below.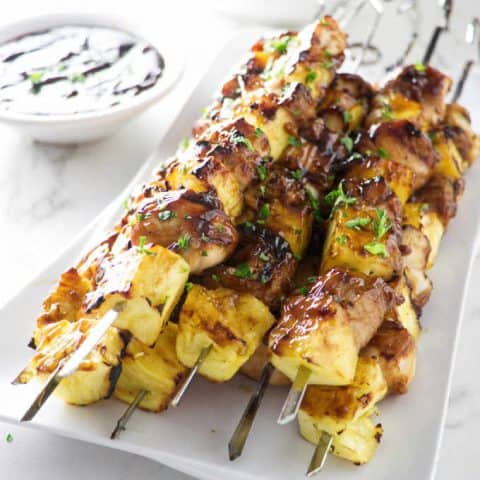 Grilled Pineapple Chicken Kabobs
Additional Time:
30 minutes
Fresh pineapple and juicy, tender chicken get cut into bite sized pieces and placed on kabobs then cooked on the grill It is a sweet and savory combination.
Ingredients
SUPPLIES
MARINADE
3/4 cup soy sauce
1/3 cup water
1/3 cup brown sugar
3 garlic cloves, finely minced
2 teaspoons freshly grated ginger
FOR THE SKEWERS
4 skinless, boneless chicken breasts
1 small pineapple cut into bite-size cubes or frozen pineapple chunks, thawed
FOR THE GLAZING SAUCE
1/3 cup of the reserved marinade
1/2 cup orange juice
1 teaspoon Worcestershire sauce
1/4 cup water
1 tablespoon cornstarch
Instructions
If you are using wooden skewers, soak them in water for at least 60 minutes.
Combine the soy sauce, water, brown sugar, garlic, and ginger.
Reserve 1/3 cup of the marinade to make a glazing sauce. Place the rest of the marinade in a shallow bowl or re-sealable plastic bag.
Slice the chicken breasts into bite-size chunks and place them in the soy marinade and let it sit for at least 30 minutes.
Make the glazing sauce:
Place the reserved marinade, orange juice, and Worcestershire sauce in a small saucepan or skillet.
Mix the water and cornstarch in a cup then pour into the saucepan. Bring to a boil and cook for 2 to 3 minutes until thick.
Cook the kabobs:
Prep your grill. The grill should be moderately hot (see below)
Remove the chicken from the marinade and thread the chicken and pineapple pieces onto the skewers.
Cook on the hot grill for 3 to 4 minutes then flip them and cook the other side for 2 to 3 minutes. Baste with the glazing sauce when you flip them over.
Transfer to a serving platter and cover with foil for 3 minutes before serving.
Notes
If your grill has a thermometer, it should read 350-375°F. If you don't have a thermometer, place your hand about 5 inches above the grate. If you can keep it there comfortably for about 6 to 7 seconds, your grill is hot enough.
The marinade is a crucial step for keeping your chicken pieces tender. You can marinate it overnight but you really only need 30 minutes. Just enough time to prep your grill and get some side dishes ready.
If the chicken pieces get browned too fast and the center is not cooked completely, move the skewers to a cooler zone on the grill until they are completely cooked.
Let the kabobs rest for 3 minutes before serving them. That will keep the chicken moist and tender.
Recommended Products
As an Amazon Associate and member of other affiliate programs, I earn from qualifying purchases.
Nutrition Information:
Yield:

8
Serving Size:

1
Amount Per Serving:
Calories:

238
Total Fat:

8g
Saturated Fat:

1g
Trans Fat:

0g
Unsaturated Fat:

6g
Cholesterol:

51mg
Sodium:

1990mg
Carbohydrates:

18g
Fiber:

1g
Sugar:

13g
Protein:

22g
Nutrition information is a guideline only, is calculated automatically by third party software, and absolute accuracy is not guaranteed.