Grilled Mahi-Mahi with Mango Salsa is a great dish for a week night dinner or a special gathering with friends. The spicy fresh mango salsa is sweet, zesty and perfect with this firm-flesh grilled mahi-mahi.
Don is breaking open a new bag of charcoal and firing up the barbecue. We are having Grilled Mahi-Mahi with Mango Salsa for dinner tonight. Mahi-Mahi is the Hawaiian name for a large fish fished from the tropical waters of the Pacific ocean. Mahi-Mahi is also called a dolphin fish but not the same sort of dolphin as "Flipper" which is a mammal.
We ate a lot of this fish while living in the Philippines where it is called Dorado. The flesh of the mahi-mahi is firm, somewhat like swordfish or tuna and can be prepared the same way.
Grilled Mahi-Mahi with Mango Salsa:
This is one of our favorite ways to prepare mahi-mahi. We gave it a short soak in a marinade of lime juice, garlic and cilantro then simply grilled it over charcoal.
While the mahi-mahi was soaking we started the charcoal and chopped up all the ingredients for some fresh mango salsa. We served fragrant basmati rice to complete our easy, peasy dinner.
We recently posted our recipe for fresh mango salsa which is not too sweet and has a little kick from the chilies. The sweet-tart-spicy salsa compliments the grilled mahi-mahi perfectly.
This grilled Mahi-Mahi with mango salsa is a fast and easy dinner. The huge flavors will have guests fooled into thinking you have been slaving on the meal all day. If the weather isn't right to grill outside then grab an indoor grill pan and cook the mahi-mahi inside. This is a meal you will want to have all year long so don't let the weather stop you.
Mahi-Mahi
The Hawaiian name for Mahi-Mahi literally means "strong-strong". With a name like that, you can get a pretty good idea what it is like trying to catch a Mahi-Mahi. This strong, fast fish can out-rival its fair share of sports fishers.
Not only is Mahi-Mahi prized for the sport of fishing, it is an incredible tasting fish. As we mentioned earlier, the meat is firm and holds up well to grilling. But it is such a unique flavored fish.
Mahi-Mahi is one of the milder tasting fish in the ocean. If you know someone who isn't a big fan of fish in general, have them try Mahi-Mahi. This grilled Mahi-Mahi with mango salsa recipe is the perfect place to start. The marinade and the mango salsa compliment the Mahi-Mahi without overpowering the flavor of the fish.
A Sustainable Fish
Mahi-Mahi is a sustainable fish. That means the fish on your plate has been taken from the ocean in a way that respects the environment. Fisheries take just enough fish to be consumed without depleting the population or harming the environment. If you're looking for a sustainable fish, Mahi-Mahi is a great choice.
Check out our video:
Watch our video and see how easy it is to make grilled Mahi-Mahi.
Our fresh mango salsa is so easy to make. It goes well with this Mahi-Mahi but it is great on any fish as well as chicken and pork.
Here are some other recipes you might like:
Grilled swordfish steak with lemon dill aioli sauce
We would love to hear from you. Have you tried any of our recipes? Drop us a comment below.
If you snap a photo of any of our recipes we would love to see them. Just hashtag it to #savorthebest on Instagram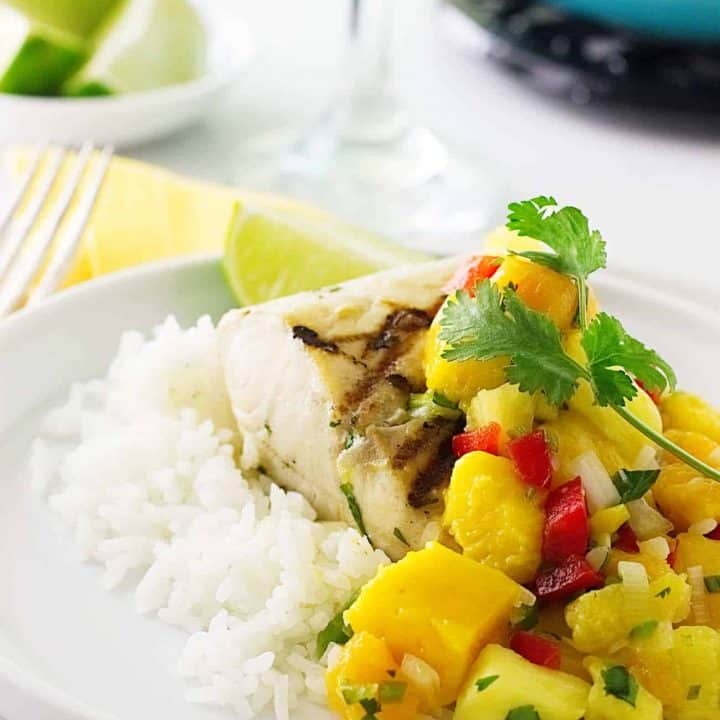 Grilled Mahi-Mahi with Mango Salsa
Yield: 2 servings
Prep Time: 20 minutes
Cook Time: 10 minutes
Total Time: 30 minutes
This recipe for grilled mahi-mahi with fresh mango salsa is a great dish for a week night dinner or a special gathering with friends. The spicy fresh mango salsa is sweet and zesty, perfect with this firm-flesh grilled mahi-mahi
Ingredients
2-garlic cloves, minced
2 tablespoons olive oil
2 tablespoons chopped fresh cilantro
2-3 limes, freshly squeezed
2-6-ounce fillets of mahi-mahi, fresh or frozen
½ teaspoon sea salt
Instructions
Whisk together the garlic, olive oil, cilantro and lime juice in a shallow dish and add the mahi-mahi fillets. Cover with plastic wrap and marinate for 15 to 20 minutes. (Alternatively you can add the marinade and fish fillets to a re-sealable plastic bag to marinate)
While the fish is marinating, prepare the barbecue with charcoal and lightly oil the grill. Place the fillets on the grill over a medium-hot bed of charcoal, season the fish with salt and pepper and grill five minutes on one side, carefully flip them over and grill for an additional four minutes or until the fish flakes easily with a fork. Served topped with ½ cup fresh mango salsa.
Notes
The mango salsa is not included in the nutrition count
Nutrition Information:
Yield: 2
Serving Size: 1
Amount Per Serving:
Calories: 258
Total Fat: 8.5g
Sodium: 165mg
Carbohydrates: 16g
Fiber: 2g
Sugar: 7g
Protein: 33g