This recipe for blackened mahi mahi is perfect for those busy weeknights when you're craving something healthy and flavorful but don't have much time to spare. With just a few simple ingredients and less than 20 minutes, you can whip up a meal that the whole family will love.
The fish is coated in a flavorful spice blend and cooked until it is chard and smoky on the outside and flaky and tender on the inside.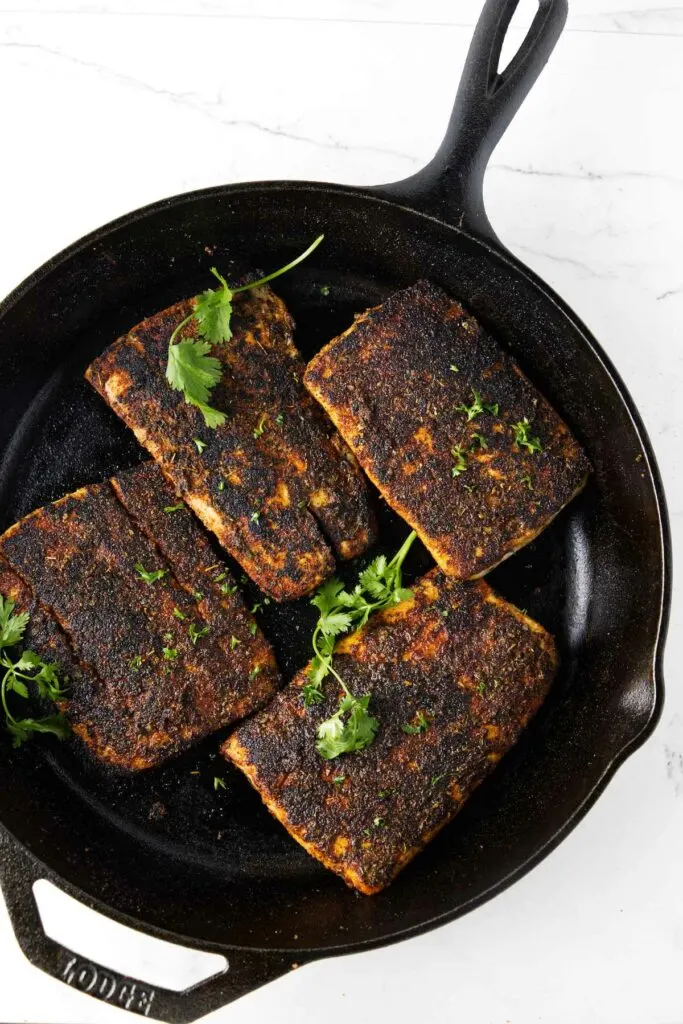 ❤️ Here is Why This Recipe Works
The blackening seasoning. This is a key ingredient in the recipe, giving the fish bold, smoky flavor.
A heavy cast iron skillet works great for this recipe because it can get very hot and it retains heat well.
The hot sear creates a nice charred crust on the outside of the fish, locking in moisture and flavor. It cooks the fish quickly and evenly while creating a nice, flavorful crust.
A pinch of sugar in the blackening seasoning helps enhance the Maillard reaction, producing a browned, flavorful crust that gives blackened mahi mahi its characteristic look and flavor.
This is an easy recipe that comes together quickly and uses minimal ingredients.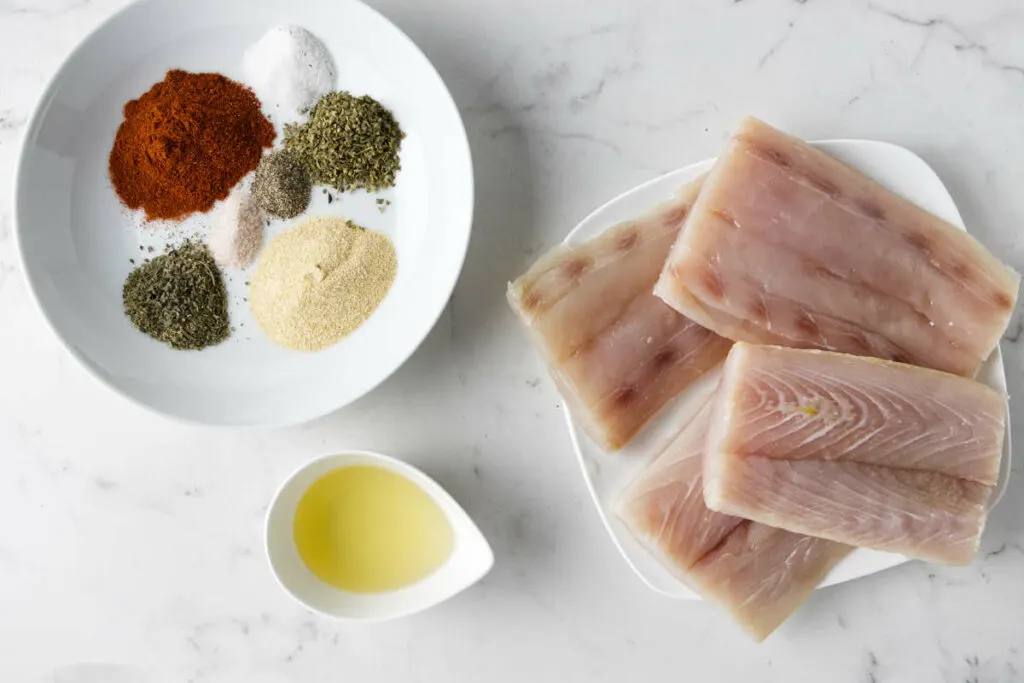 ? The Ingredients
Here is a list of the ingredients you will need for this recipe. Scroll down to the printable recipe card for all the details.
Mahi Mahi. You can use frozen or fresh mahi mahi. Make sure you thaw it if you are starting from frozen.
Vegetable oil. Use an oil with a high smoke point. Refined avocado oil, peanut oil, safflower oil, and canola oil, are a few good choices.
Blackening spice seasoning. You can make your own seasoning blend or purchase your favorite brand. We listed the spices in the recipe card if you want to make it yourself. You can also use our homemade Cajun seasoning, which is similar.
An optional ingredient in my blackening spice is espresso coffee powder. I love how the espresso powder compliments the spices in the blackening seasoning and gives the spices a deep, bold flavor.
?‍? How to Blacken Mahi Mahi
Here is a brief overview to get an idea of what to expect with this easy blackened mahi mahi recipe. Scroll down to the printable recipe card for all the details.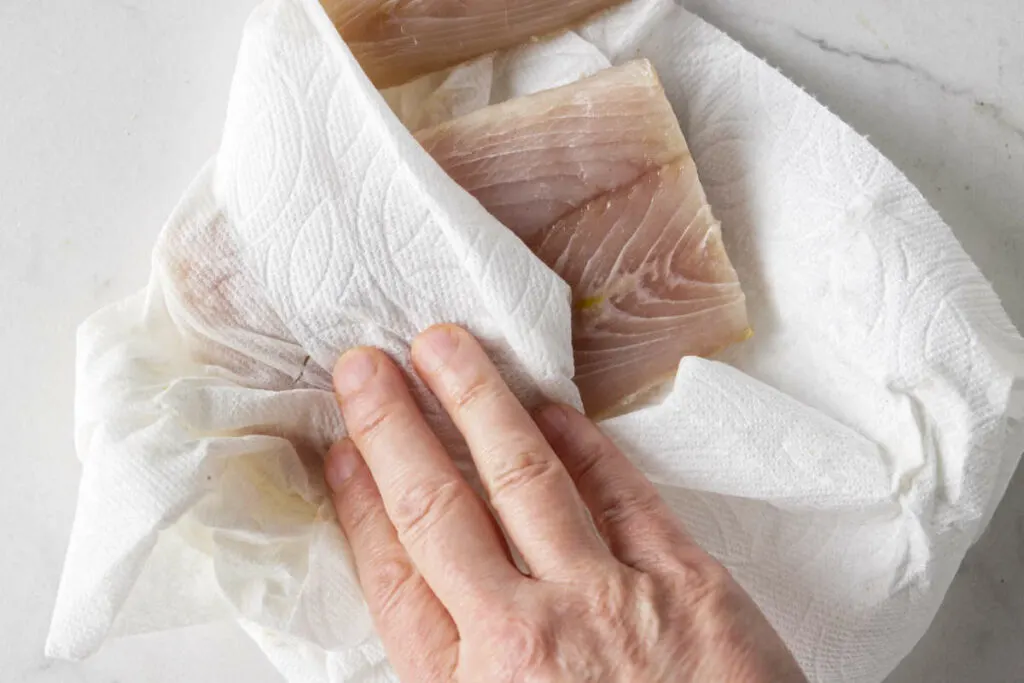 Pat the Mahi Mahi dry with paper towels. Drying the fish first will help the oil adhere.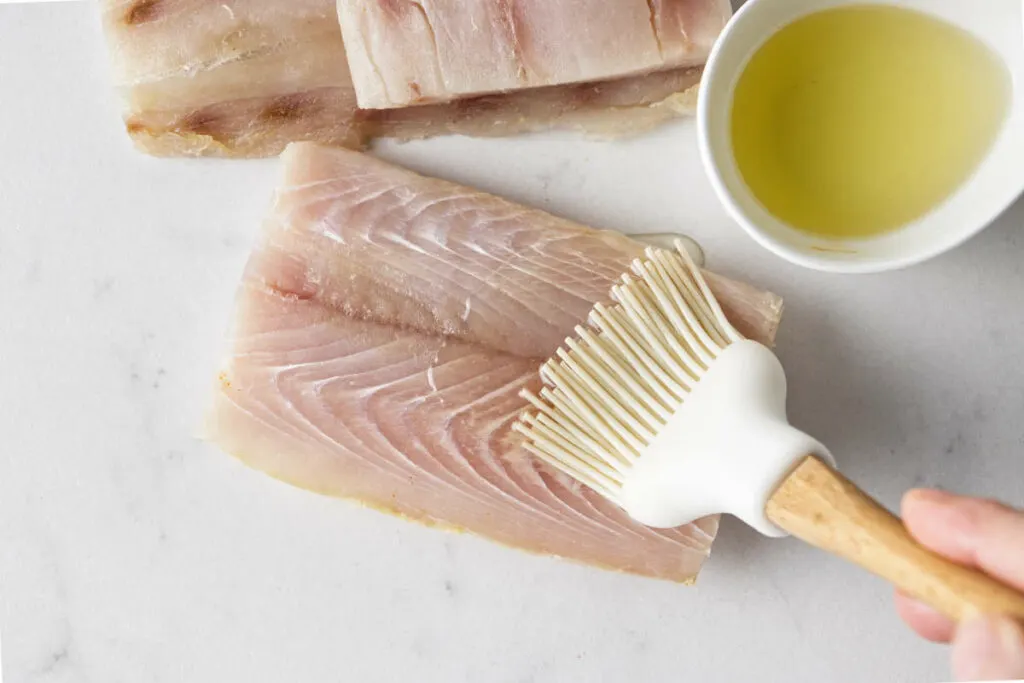 Use a silicone brush or pastry brush to coat the Mahi Mahi in oil.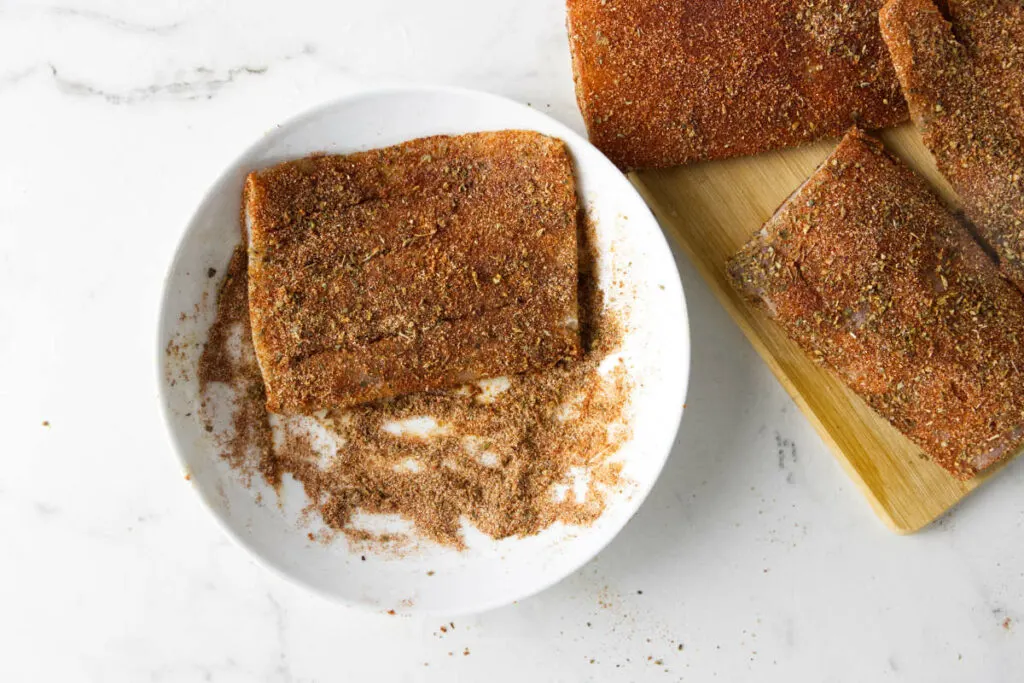 Combine the blackening seasoning in a wide shallow dish and dredge the fish in the seasoning. Press down on the fillets to get the spices to adhere.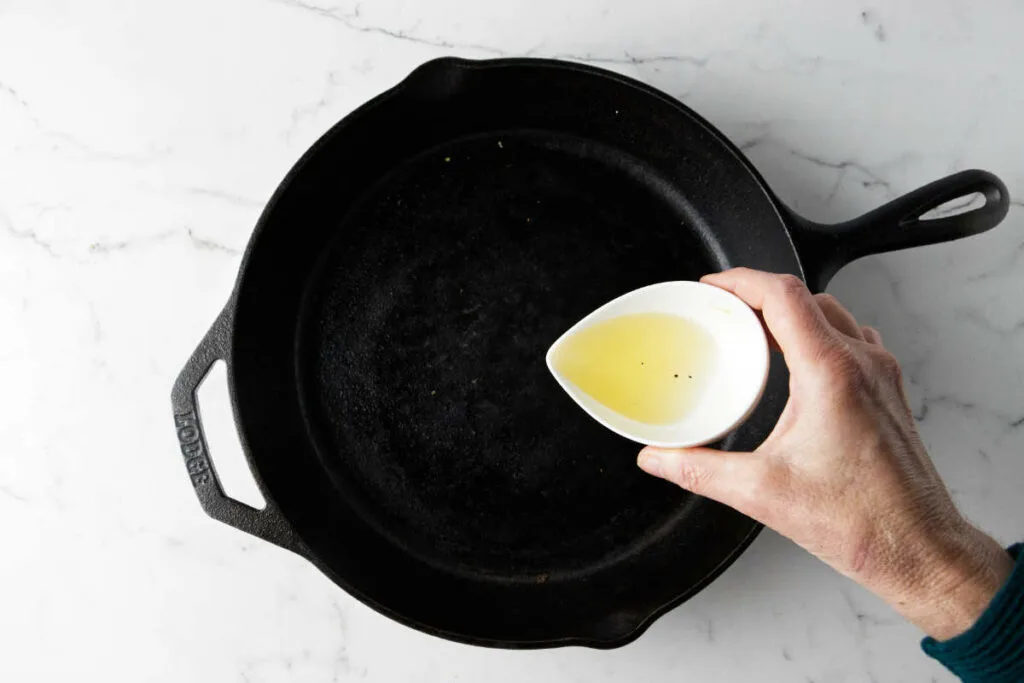 Get your skillet smoking hot, then swirl some oil around the hot pan (use a high smoke point oil).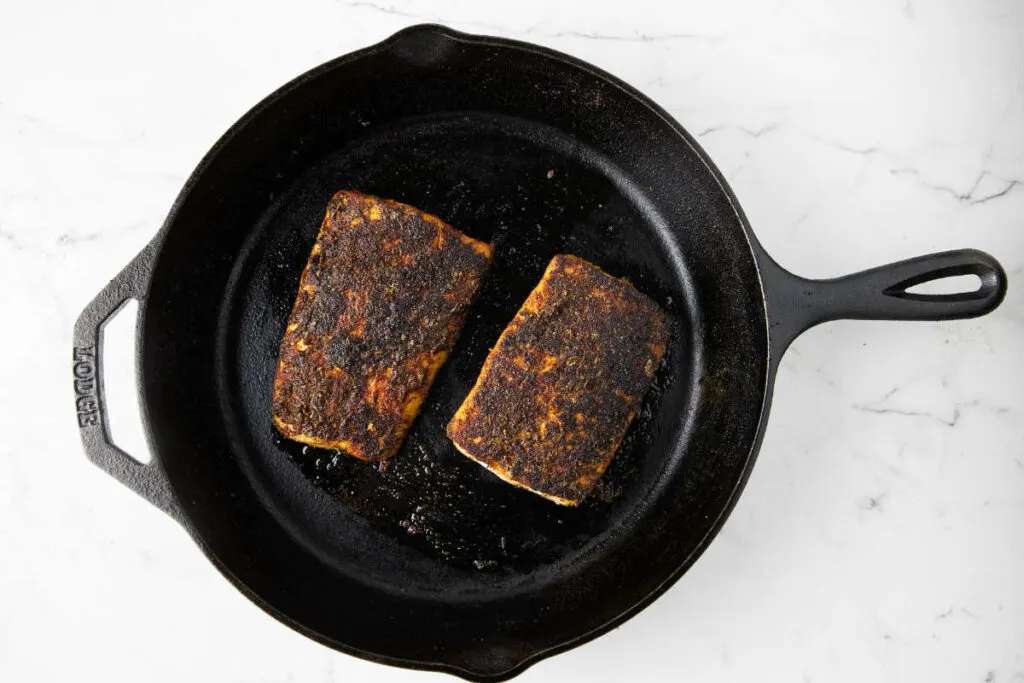 Place the fish filets in the hot skillet and sear on each side. The cooking time will vary depending on the thickness of the Mahi Mahi filets but typically takes 2 to 3 minutes per side.
Tips for Success
Don't overcrowd the pan. If you're cooking more than one fillet at a time, make sure to leave enough space between them so they can cook evenly.

Don't overcook the fish. Mahi Mahi is a lean fish, and it can dry out easily. Cook it until it is just opaque in the center and flakes easily. If you have an instant-read thermometer, cook it to an internal temperature of 145°F.

Adjust the seasoning to your liking. If you like spicy food, add more cayenne pepper to the blackening seasoning. If you prefer a milder flavor, reduce or omit the cayenne pepper.

Don't move the fish around too much. Once you've placed the fish in the pan, leave it alone for a few minutes so it can sear properly.

Use a high smoke point oil such as refined avocado oil, peanut oil, or sunflower oil.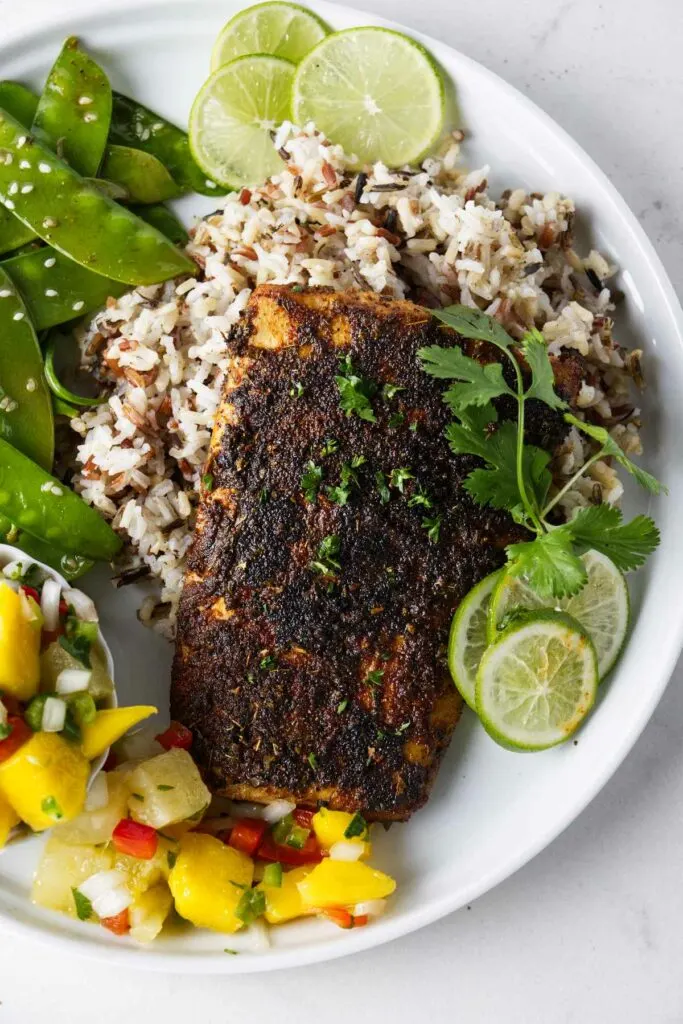 Serving Suggestions
Blackened mahi mahi is a flavorful and versatile recipe that goes well with various flavors. Here are some suggestions that will complement the bold flavors of the backend fish:
⏲ Storage and Reheating
Storage: Store leftover blackened Mahi Mahi in an airtight container in the fridge for up to 3 days.
Freezing: Let the fish cool down completely then place it in an airtight, freezer-safe container and freeze for 3-4 months. Thaw the fish overnight in the refrigerator
To reheat: Place in a preheated oven at 350 °F (or air fryer) for 3-8 minutes or until warm. You can also reheat it on the stovetop over medium heat, adding oil if needed to prevent sticking.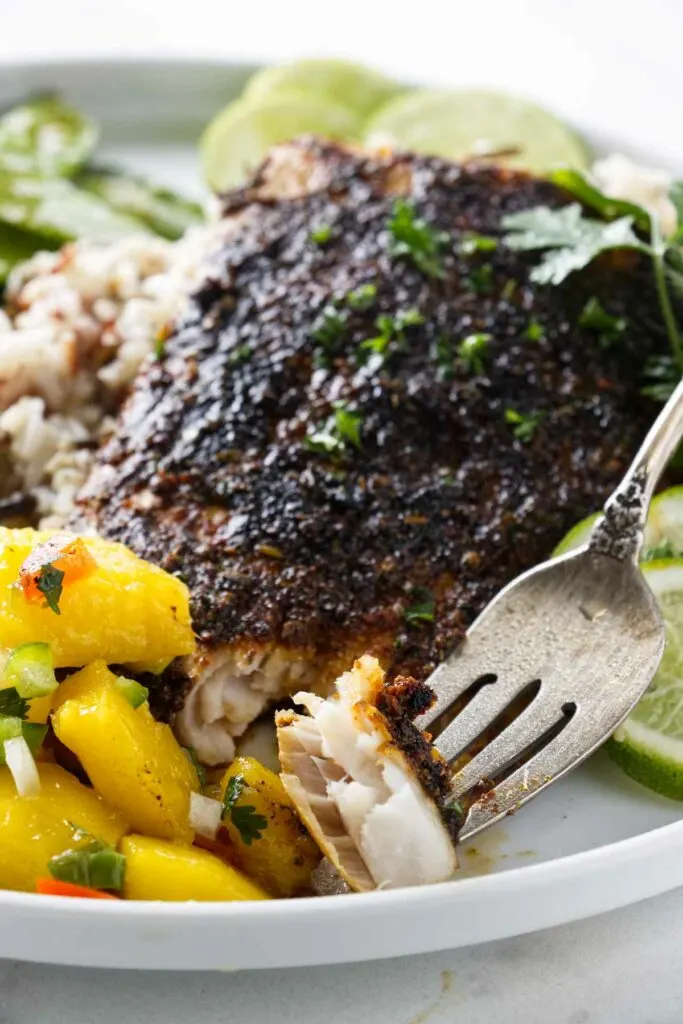 More Seafood Recipes
Whether you're looking for a quick and easy weeknight meal or a more elaborate dinner, you're sure to find something delicious on this site.
❓Frequently Asked Questions
What is meant by blackened fish?
Blackened fish is a cooking method that involves seasoning the fish with herbs and spices before cooking in a hot skillet until it develops a crispy charred crust. The technique creates an incredibly flavorful crust that seals in moisture and flavor.
Is blackened mahi mahi burnt?
No, blackened mahi mahi is not burnt. It is cooked over high heat until it develops a blackened crust, but the inside is still moist and cooked through.
What does mahi mahi taste like?
Mahi mahi is a mild-flavored, firm white fish. It has a sweet and delicate flavor that pairs nicely with strong flavors like herbs and spices. When cooked correctly, the flesh becomes flaky and delicious.
This recipe for blackened mahi mahi is a quick and easy weeknight meal that your whole family will love. With just a few ingredients, you can create a delicious dish that packs in bold flavors and loads of nutrition.
⭐️ Helpful Tools
Some of the following are affiliate links. We may receive a small commission if you click on these links and purchase something. You don't pay any extra, but it will help us keep the lights on.
♥️ More Recipes You Will Love:
Seafood stew: This hearty stew has a variety of fish, shellfish, and vegetables. It's a great dish to serve for a crowd.
Baked crab cakes: These crab cakes get baked instead of fried for a healthier spin on a classic dish. Serve them with lemon dill aioli and lemon wedges.
Shrimp and Corn Chowder: This hearty soup is loaded with shrimp, corn, and potatoes. It's a delicious and comforting chowder.
Blackened Halibut is a fast and easy dinner. Serve it with red pepper soup or elephant garlic spears and a crisp green salad for a healthy meal.
Connect With Savor the Best:
Please follow us on our social media accounts
Facebook * Instagram * Pinterest * Youtube * Twitter
Did you make this recipe? We would love to hear from you. Drop us a comment below.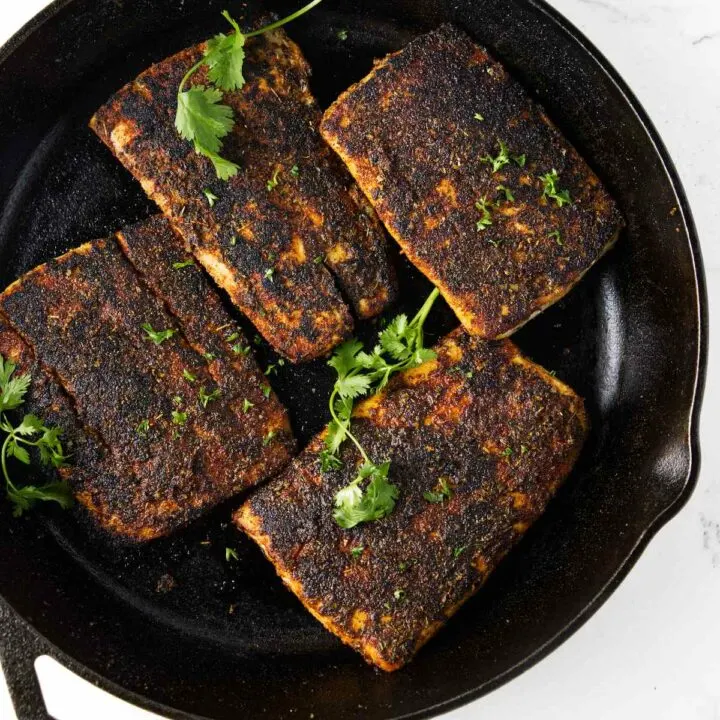 Blackened Mahi Mahi
This blackened mahi mahi comes together in less than 20 minutes. The fish gets a flavorful crust from the blackening seasoning and a char in the hot skillet. Serve it with a side of coleslaw or rice for a delicious or use it in fish tacos.
A heavy cast-iron skillet works great with this recipe because you can get it very hot, and it retains heat well. High heat gives the fish that beautiful charred exterior, while the even heat distribution ensures that the fish cooks evenly throughout. The smoky cajun spices and the crisp crust complement the tender, flaky fish perfectly, making it a crowd-pleasing dish.
Ingredients
4 Mahi Mahi fillets (about 6 ounces each)
2 tablespoons vegetable oil
Blackening Spice Mixture
1 tablespoon garlic powder
1 tablespoons smoked paprika
2 teaspoons dried thyme
2 teaspoons onion powder
2 teaspoon dried oregano
2 teaspoons salt
1 teaspoon black pepper
1 teaspoon brown sugar
1 teaspoon espresso coffee powder
¼ teaspoon cayenne pepper (double if you like it spicier)
Instructions
Place a large cast iron skillet over high heat for several minutes until it gets smoking hot. Turn on the kitchen vent or open the windows to allow for proper ventilation.
Pat the Mahi Mahi fillets dry with a paper towel then coat them in oil.
Combine the blackening seasoning in a wide shallow dish (smoked paprika, garlic powder, oregano, thyme, sugar, salt, pepper, and cayenne).
Transfer the fish to the spice mixture and coat both sides of each fish fillet. Press down on the fillets to get the spices to adhere.
When the skillet looks smoking hot, add a tablespoon of oil and swirl it around. Place the fillets in the hot skillet and sear for 2 to 3 minutes on each side.
Notes
If you are using frozen fish, thaw it completely before beginning.
Reduce the cayenne pepper or omit it entirely if you don't want the fish to be too spicy and hot.
If you use store-bought blackening spice, you will need about ¼ cup of seasoning.
The cooking time will vary depending on the thickness of the mahi mahi filets. If the filets are less than ¾ inches thick, reduce the searing time to 90 seconds per side, then check for doneness with a fork.
Use oil with a high smoke point for this recipe, and make sure the kitchen is well-ventilated.
Nutrition Information:
Yield:

4
Serving Size:

1
Amount Per Serving:
Calories:

260
Total Fat:

9g
Saturated Fat:

1g
Trans Fat:

0g
Unsaturated Fat:

7g
Cholesterol:

149mg
Sodium:

1242mg
Carbohydrates:

6g
Fiber:

2g
Sugar:

1g
Protein:

39g
Nutrition information is a guideline only. It is calculated automatically by third-party software, and absolute accuracy is not guaranteed.