This salad is the best coleslaw for pulled pork sandwiches. The key to this recipe is in the dressing. It's mayonnaise and vinegar-based dressing with a touch of honey and Dijon mustard. The dressing is what makes this coleslaw special.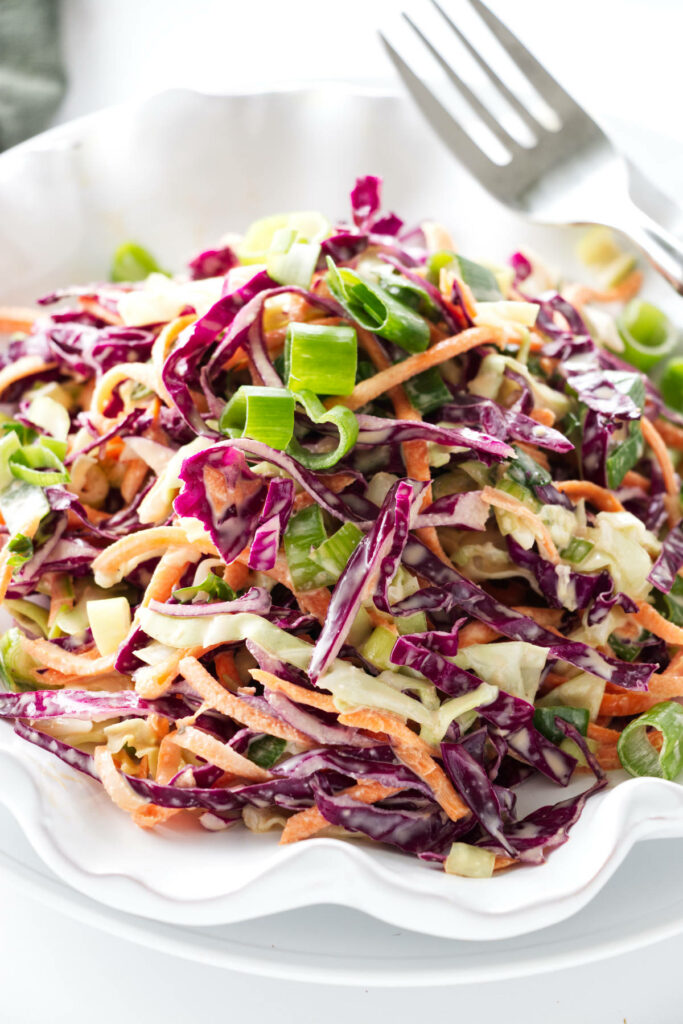 A vibrant rainbow mixture of green and purple cabbage, bright orange carrots, and green onions give this slaw a festive presentation.
If you are looking for a spicy type of coleslaw for that special dish you are preparing you will love our Chipotle Coleslaw, the creamy mayo dressing with its smoky, spicy flavor will wake up those taste buds! And for a new and exciting Asian-style coleslaw you will want to try our Korean Kimchi Slaw which is a wonderful fusion of flavors.
Here is Why This Recipe Works
The cabbage adds a crunchy texture and the carrots add a bit of sweetness.

This coleslaw is easy to make and is a great way to use up any leftover cabbage.

The Dijon mustard gives the coleslaw a bit of a tang, and the honey helps balance the flavors.

Pulled pork sandwiches are the perfect way to enjoy this coleslaw, but it would also be great as a side dish.
If you plan to make pork sandwiches with this salad, try our chipotle pulled pork or slow-roasted pork shoulder.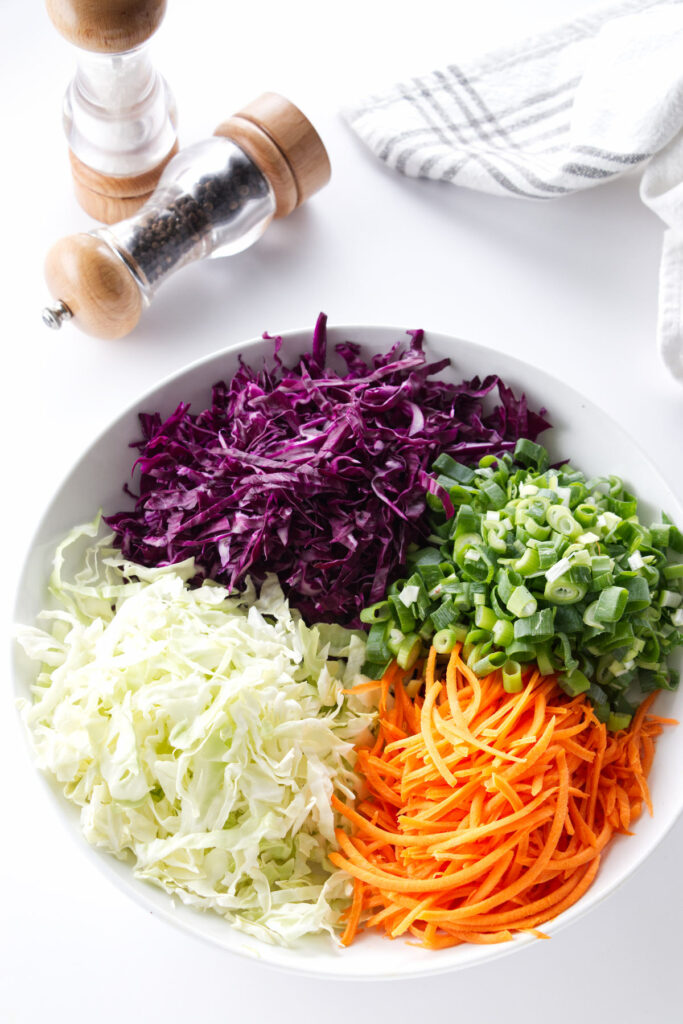 The Ingredients
Here is a list of the ingredients you will need for this recipe. Scroll down to the printable recipe card for all the details.
Mayonnaise. You can also try our lemon dill aioli instead of mayonnaise if you want to play around with the flavors.

Apple cider vinegar. You can substitute white wine vinegar or lemon juice.

Garlic cloves. We think fresh garlic gives the slaw a better flavor than dried garlic powder.

Dijon mustard. Dijon mustard gives the slaw a bit of a tangy and spicy flavor.

Honey. A bit of sweetness balances the vinegar and brings all the flavors together.

Salt and black pepper

Cabbage. We used green and purple cabbage.

Carrots. Add color and a hint of sweet crunch.

Green onions. The green onions give the slaw a bit of a zing
This recipe is easy to adapt by adding additional herbs and spices. You can add celery seed, cumin, thyme, onion powder, and chopped cilantro. If you want to give it a tropical spin, add 3 tablespoons of Maui Wowee Hawaiian rub (which is pretty delicious with pulled pork).
How to Make It:
Here is a brief overview to get an idea of what to expect with the recipe. Scroll down to the printable recipe card for all the details.
Before you start, prep all the veggies. Slice the cabbage and green onions and shred the carrots.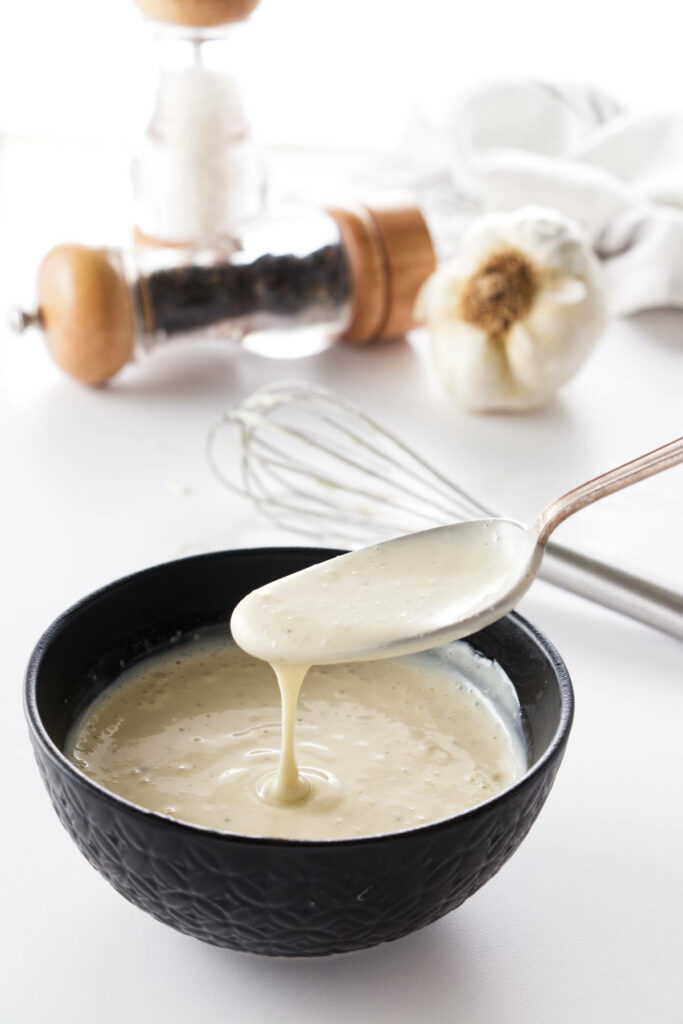 Combine all the ingredients for the dressing in a dish. Whisk well to combine.
Tip: If you want to make the dressing in advance, mix it in a jar, cover it, and store it in the fridge.
How to Cut Cabbage for Coleslaw
Wash the outside of the cabbage and remove any tattered or wilted leaves.

Cut the cabbage in quarters down the center of the core and cut out the core.

Use a sharp knife to slice the cabbage. The thinner you slice it, the finer the shreds will be.
If you want to save some time, you can purchase pre-cut, shredded cabbage in most grocery stores.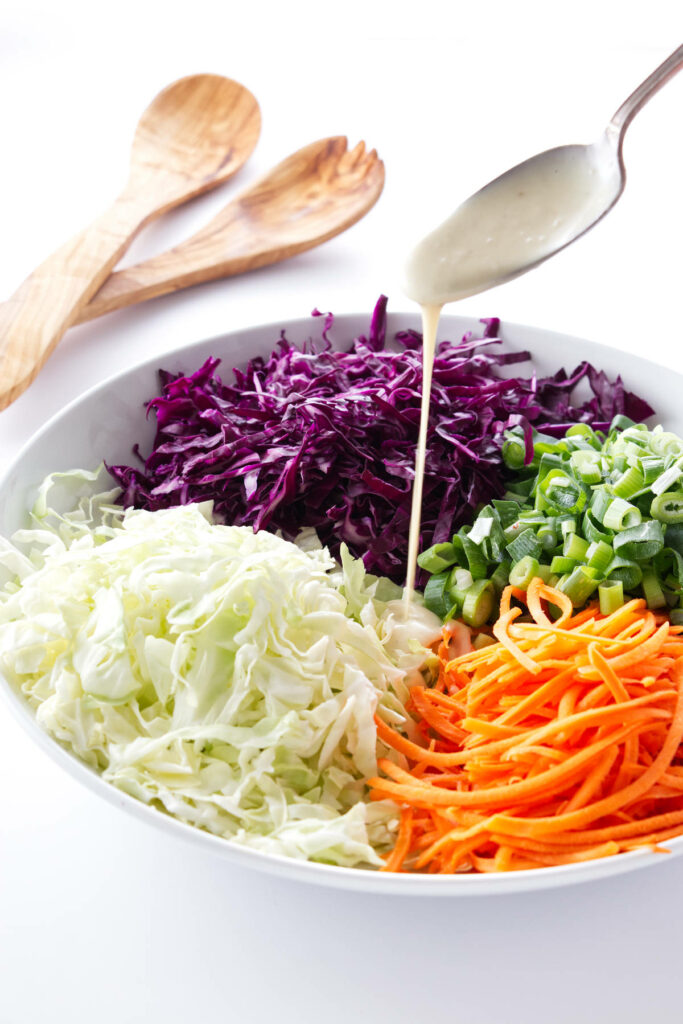 Add the veggies to a large bowl and toss them with the dressing.
Tip: Use only enough dressing to lightly coat the slaw. You can always add more later if you like.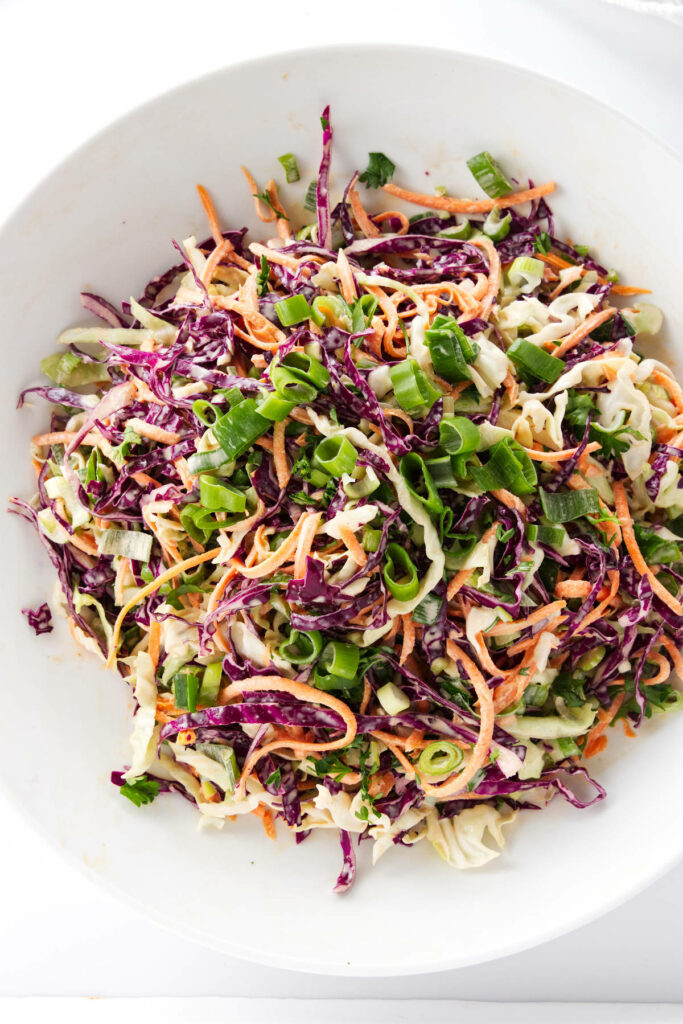 Tips for Success
To save time, you can use a large bag of pre-grated coleslaw from the produce section at the store.

Slicing your own cabbage by hand is much more economical than a bag of mix.

You can use a mandoline or a food processor if you want uniform slices.

Use a stick blender to make a quick, smooth dressing, or just use a hand whisk.

If you like your coleslaw crisp and fresh, do not toss the salad with the dressing until you are ready to serve the slaw. We think a crisp, crunchy slaw is the best coleslaw for pulled pork sandwiches.

Some people like their coleslaw a bit more on the wet side, so if that's your preference, go ahead and toss it all together and let it marinate in the fridge for several hours.

If you let the slaw marinate, it will release its juices and get watery. You can drain the juices off.

Another way to minimize watery coleslaw is to let the cabbage brine in a sugar and salt solution. CooksIllustrated inspired this tip. They let cabbage brine for an hour but we found that 5 to 10 minutes will release plenty of juices without changing the texture of the cabbage.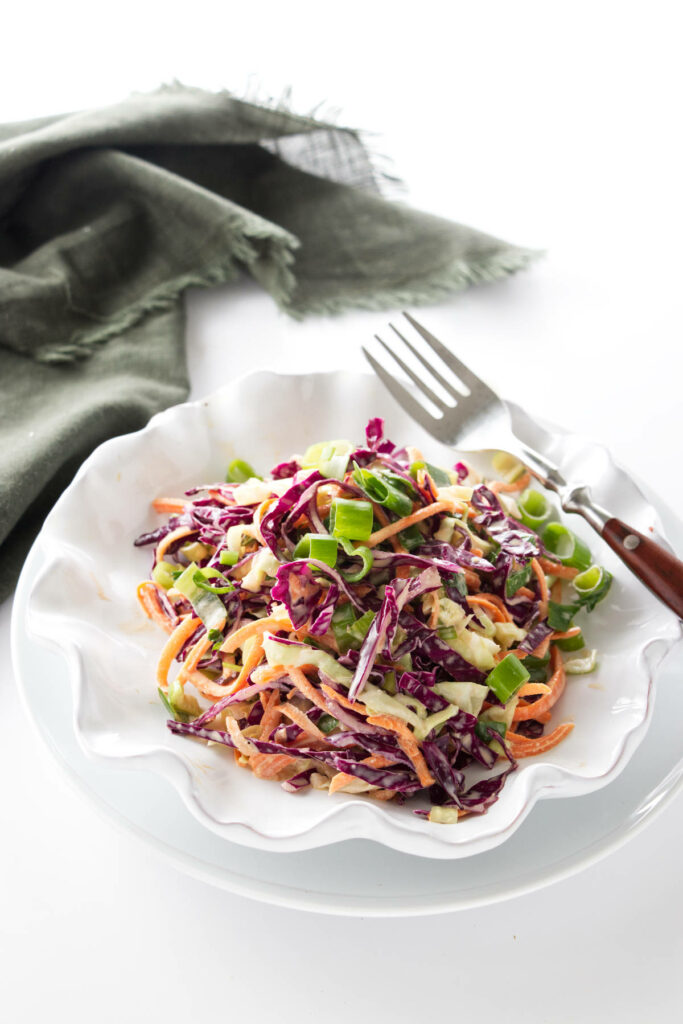 Frequently Asked Questions
How do you keep coleslaw from getting watery?
You can keep the dressing separate from the cabbage mixture. The longer the vegetables sit in the dressing, the more water they will release. If you don't want a watery slaw, toss the vinaigrette just prior to serving it.

Another tip is to brine the cabbage for a few minutes. A simple brine of sugar and salt will release some of the juices in the cabbage. If you brine the cabbage, you will need to rinse and dry it before making the slaw.
Is it best to make coleslaw the day before?
That depends on how you like your coleslaw. If you mix the slaw with the dressing the day before, the flavors will develop more, however, it won't be as crisp and it will get watery.
Can you freeze coleslaw?
We do not recommend freezing this coleslaw. The mayonnaise and the vegetables will get watery when you thaw them and they will lose that crisp, crunchy bite that we all love about coleslaw. You are better off freezing leftover cabbage after you blanch or cook it, like our red cabbage with apples.
This is the best coleslaw for pulled pork. It is the perfect addition to any summer cookout or picnic. This coleslaw is easy to make and convenient to prep in advance. Plus it is economical, healthy, and nutritious!
Helpful Tools
Some of the following are affiliate links. If you click on these links and purchase something, we may receive a small commission. You don't pay any extra but it will help us keep the lights on.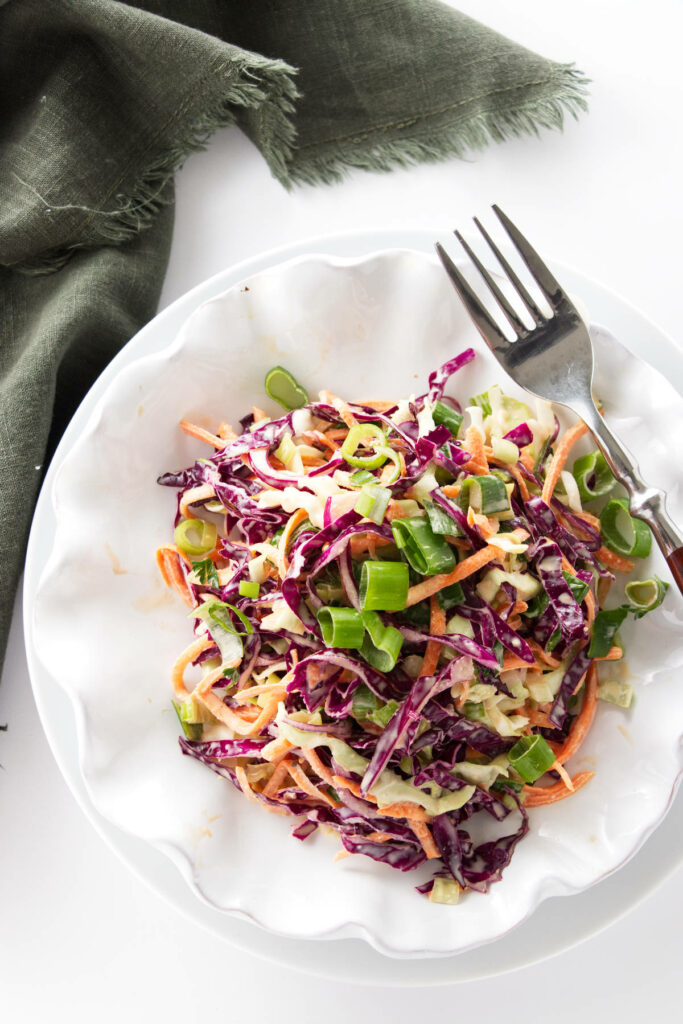 Some Other Recipes We Are Sure You Will Love:
Sauteed Glazed Rainbow Carrots will make a colorful statement on your dinner table! Cooked on the stovetop with a sweet marmalade this will be a side dish that you will have on repeat!
Oven Roasted Root Vegetables is one of the easiest methods of cooking vegetables. The roasting brings out the natural sweetness of the vegetables and they caramelize as they roast.
This healthy, unique Spicy Moroccan Carrot Salad has a medley of flavors representative of the Moroccan cuisine. A dressing made with Greek yogurt and preserved lemons are the perfect complement to the sweet-spicy flavors in the salad.
Connect With Savor the Best:
Please follow us on our social media accounts
Facebook * Instagram * Pinterest * Youtube * Twitter
Did you make this recipe? We would love to hear from you. Drop us a comment below.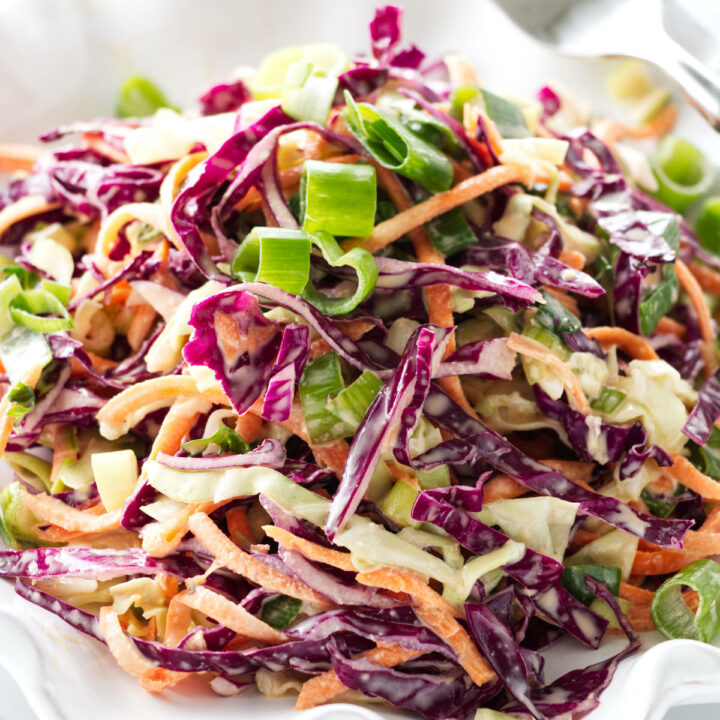 Best Coleslaw for Pulled Pork
This is the Best Coleslaw for Pulled Pork, made with shredded carrots, white and red cabbage plus green onions all mixed with a creamy, tangy dressing. This is the perfect coleslaw to pile on a pulled pork sandwich or as a side dish at your backyard BBQs.
Ingredients
For the Coleslaw Dressing:
1/2 cup mayonnaise
3 tablespoons apple cider vinegar
2 garlic cloves, grated or minced
2 teaspoons Dijon mustard
1 tablespoon honey
1/2 teaspoon salt
1/4 teaspoon black pepper
For the Coleslaw Mix:
2 cups shredded green cabbage
2 cups shredded purple cabbage
Optional: 2 teaspoons each of sugar and salt for a brine
2 cups shredded carrots
1 cup sliced green onions
Instructions
For the Coleslaw Dressing:
Add all of the ingredients to a dish and whisk together until smooth and creamy.

Optional Step: Brine the Cabbage
Place the shredded cabbage in a colander and sprinkle it with 2 teaspoons of sugar and 2 teaspoons of salt. Toss the cabbage to coat it well. Let it sit for 5 to 10 minutes then rinse it with cold water.
Place the cabbage in a salad spinner and spin it dry, or spread it out on a kitchen towel and blot it dry.

For the Coleslaw Mix:
Combine the shredded cabbage, carrots, and green onions in a large bowl and toss with enough of the dressing to coat lightly. You may not need all of the dressing. Taste and season as desired.
Notes
Brining the cabbage in sugar and salt first will draw out some of the moisture in the cabbage and help prevent watery coleslaw. Make sure you dry the cabbage thoroughly after you rinse the brine off.
If you chose to brine the cabbage, 5 to 10 minutes will release some extra liquid without changing the crunchy consistency of the slaw. You can let it sit in the brine longer if you want a less crisp coleslaw.
For a quick, smooth dressing add the ingredients to a wide-mouth canning jar and use the stick blender for 30 seconds.
For uniform shredding use the slicer blade attachment to your food processor for the cabbage and the shredder attachment for the carrots.
A large bag of prepared coleslaw mix can be substituted.
Recipe Variations
Add 1 teaspoon each of celery seed, onion powder, and thyme.
Add 2 teaspoons of dried cumin and a handful of chopped cilantro.
For a tropical spin, add 3 tablespoons of Maui Wowee Hawaiian rub.
Nutrition Information:
Yield:

8
Serving Size:

1
Amount Per Serving:
Calories:

197
Total Fat:

17g
Saturated Fat:

3g
Trans Fat:

0g
Unsaturated Fat:

14g
Cholesterol:

6mg
Sodium:

281mg
Carbohydrates:

10g
Fiber:

3g
Sugar:

6g
Protein:

2g
Nutrition information is a guideline only, is calculated automatically by third-party software, and absolute accuracy is not guaranteed.