With barbecue season in full swing, we love having a delicious side dish that pairs well with the flavor of summer. Our chipotle coleslaw recipe is an exciting twist to traditional coleslaw, and it makes a terrific side salad for a crowd or backyard party.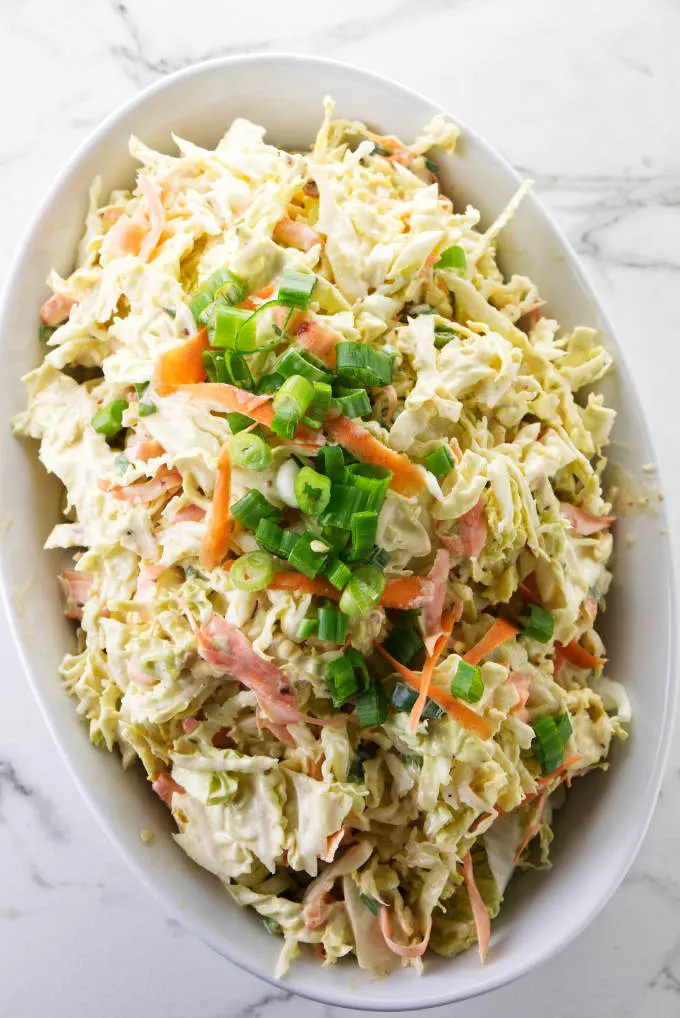 The smooth coleslaw sauce has just a splash of spice and a hint of smoky flavor from the chipotle. It pares so well with the crunch of crisp vegetables and makes a great side dish that goes with big flavors like pork ribs and Santa Maria tri tip. This recipe will elevate your summer barbeque and potluck fare to new levels.
What We Love About Chipotle Coleslaw:
This salad recipe isn't just for summer barbecues, but it's an excellent side for easy indoor dinners like crockpot chicken or even shrimp tacos. It also makes a delicious lunch the next day served up with a tri tip sandwich.
Feel free to vary how much chipotle pepper you add so that the spice suits your taste.
It goes well with BBQ
Adjust the spice level to your liking.
It is an easy side that compliments all your favorite recipes.
A potluck dish to stand out in a crowd.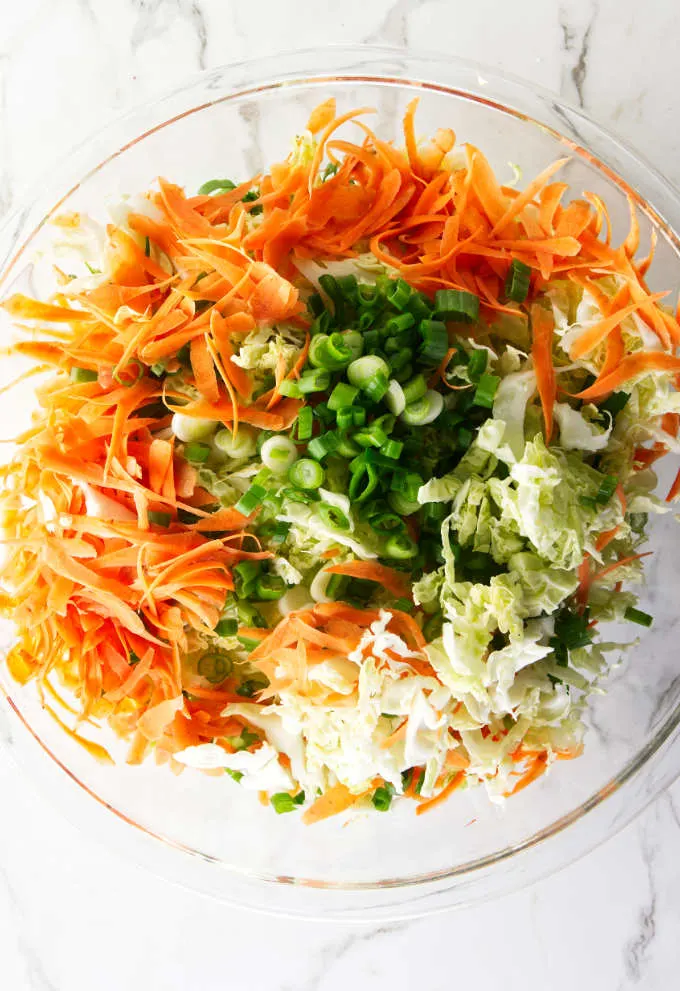 The Ingredients:
Mayonnaise. Store-bought, or homemade. You can also use Miracle Whip for a slightly different flavor if that's what you have on hand.
Sour Cream. Rounds out the mayonnaise, adds a bit of tang and mellows the spice from the chipotle pepper.
Fresh Garlic Cloves. Using fresh garlic instead of dried garlic will give the dressing a bit more zip.
Onion Powder, cumin, salt, and pepper. These spices will add to the complexity of the dressing.
Lime Juice. Aside from flavor, the lime juice helps balance the heat from the peppers.
Honey. This will bring out the sweetness in the vegetables and round out the flavor.
Chipotle Peppers. The peppers come in a small can with adobo sauce. Make sure you do not use the whole can of peppers.
Cabbage. You can shred your own or purchase a bag of pre-shredded cabbage. Use different colors to brighten up the coleslaw like green, red, savoy, or napa cabbage.
Carrots. Shredded.
Green Onions. Thinly Sliced.
How to Make Chipotle Coleslaw:
Combine mayonnaise, sour cream, minced garlic, onion powder, cumin, salt, pepper, lime juice, honey, and chopped chipotle peppers in a small bowl to make the sauce.
Combine cabbage, carrots, and green onions in a large bowl.
Stir in ¾ cup of coleslaw sauce. Ensure the vegetables are completely coated, then add more sauce to taste.
Your chipotle coleslaw is ready to serve! By the way, if you already have some chipotle aioli on hand then you can use that instead of the mayo and chipotle peppers.
Helpful Tips:
Adjust the Heat:
You only need to use one to two chipotle peppers depending on your target heat level.
One pepper will give the coleslaw a smokey, mildly spicy zip. Two peppers will give the chipotle coleslaw a medium-hot spicy level. If you really like to turn up the heat, add three peppers for a very spicy coleslaw.
You can freeze leftover canned chipotle peppers for up to 6-months.
Dress it Up:
This recipe makes a sizeable amount of coleslaw dressing in case you buy an extra-large cabbage or prefer your coleslaw extra saucy. After you mix the chipotle dressing, only add 1/2 to 3/4 of it to the salad. After you stir it all in then you can decide if you want to add more.
Use Leftover Dressing:
For leftover dressing, store in an airtight container in the fridge for up to 5 days. Use as a condiment for sandwiches, tacos, burgers, or more coleslaw! Be careful freezing the coleslaw dressing, as mayonnaise tends to break down when frozen.
Frequently Asked Questions.
Can you freeze coleslaw?
We do not recommend freezing this coleslaw. The mayonnaise and the cabbage will get watery when you thaw them. The cabbage will also lose that crisp, crunchy bite that we all love about coleslaw. You are better off freezing leftover cabbage after you blanch or cook it, like our red cabbage with apples.
Can you make coleslaw in advance?
Once you mix in the sauce, it is best to eat the coleslaw within an hour or two to ensure it stays crunchy. You can prepare the vegetables and sauce separately then refrigerate them for 3-5 days. Combine them when you are ready to serve.
Why did my coleslaw get watery?
Coleslaw will get watery if you store it too long after the dressing gets mixed with the cabbage. Coleslaw is best eaten right away or within a few hours after you make it. If you want to prepare it in advance, do not combine the dressing with the cabbage until you are ready to serve it.
What can I use if I can't find chipotle peppers?
You can substitute one teaspoon of dried chipotle powder if you cannot find canned chipotle peppers.
I don't like spicy. Can I take out the chipotle peppers?
Sure thing! Or, you can start with half of a chipotle pepper and a little of the adobo sauce from the can. Chipotle peppers are not the spiciest peppers out there, but the spice can add up quickly if you use too many. Their prominent flavor is smokiness, which adds a delicious depth to this coleslaw.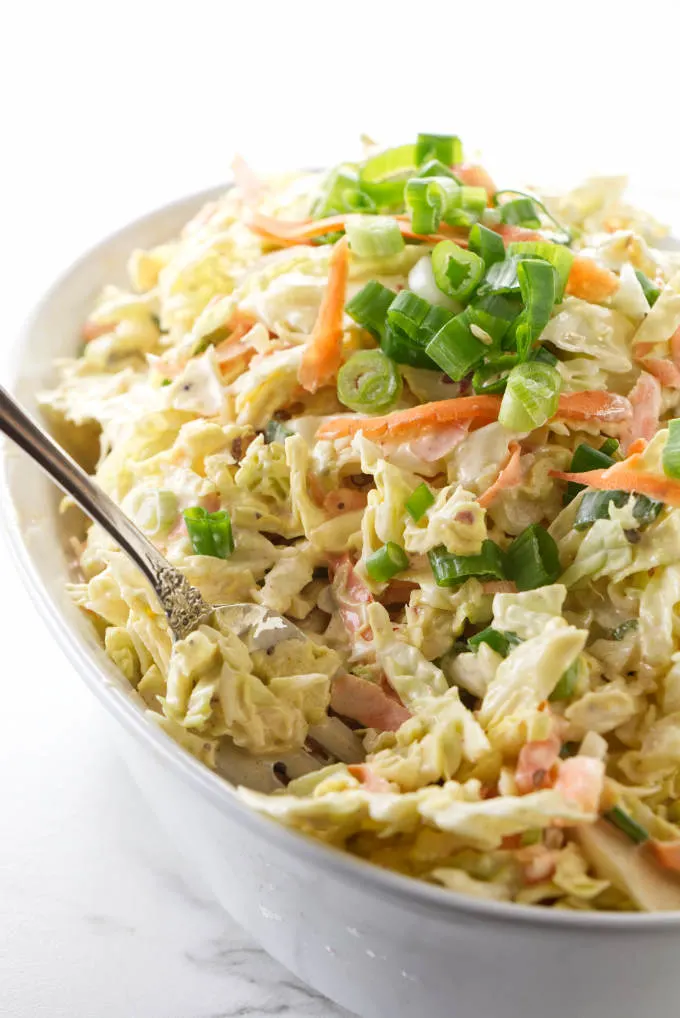 Helpful Tools
Some of the following links are affiliates. If you click on these links and purchase something, we may receive a small commission. You don't pay any extra but it will help us keep the lights on.
Some Other Recipes We Are Sure You Will Love:
Our chicken chipotle pasta salad is another great side dish for all your summer barbecues.
These raspberry chipotle bbq pork ribs are fall-off-the-bone tender and taste amazing. The sweet and spicy barbecue sauce hits the spot.
This chipotle black bean soup n is the best way to use a package of dried beans. It makes a great starter soup or main meal for a hearty lunch.
Connect With Savor the Best:
Please follow us on our social media accounts
Facebook * Instagram * Pinterest * Youtube * Twitter
Did you make this recipe? We would love to hear from you. Drop us a comment below.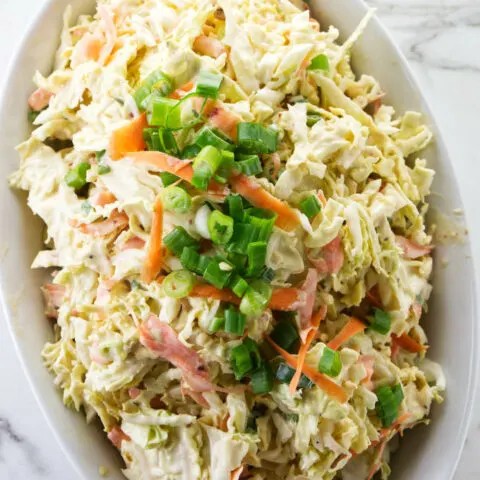 Chipotle Coleslaw
This coleslaw has an extra kick from the spicy, smokey flavor of chipotle peppers. It is perfect on fish tacos, pulled pork sandwiches or as a side to your favorite BBQ.
Please don't use the whole can of chipotle peppers. You can store leftover peppers in the freezer.
Ingredients
3/4 cup mayonnaise
1/2 cup sour cream
3 garlic cloves, minced
1 teaspoon onion powder
1/2 teaspoon cumin
1/4 teaspoon salt
1/4 teaspoon pepper
3 tablespoons lime juice
1 tablespoon honey
1 to 2 chipotle peppers* from a can, finely chopped
1 cabbage, shredded (about 6 to 7 cups)
2 carrots, shredded
5 to 6 green onions, thinly sliced
Instructions
In a small mixing bowl, combine the mayonnaise, sour cream, minced garlic, onion powder, cumin, salt, pepper, lime juice, honey, and chopped chipotle peppers.
In a large bowl combine the shredded cabbage, carrots, and green onions. Stir about 3/4 of the chipotle dressing into the cabbage mixture. When the cabbage is completely coated in the dressing, you can decide if you want to stir in more.
Serve right away.
Notes
Do not use the whole can of chipotle peppers. One pepper will make the coleslaw have a smokey, slightly spicy zip. Two peppers will give it about a medium-hot spice level. If you like your food really spicy, you can use 3 peppers but it does get pretty spicy with 3 peppers.
Store the unused chipotle peppers in the freezer for up to 6 months.
The dressing makes enough for a large batch of coleslaw. If you use a smaller head of cabbage you will not need to use all of the dressing. Extra dressing will store in the fridge for 5 days (use it on sandwiches, tacos, salads, and burgers).
If you don't plan to eat the coleslaw right away, store the dressing separately from the veggies then mix them together when it is time to serve the dish. Coleslaw will lose its crunch and get watery if it sits too long.
Nutrition Information:
Yield:

8
Serving Size:

1
Amount Per Serving:
Calories:

197
Total Fat:

18g
Saturated Fat:

4g
Trans Fat:

0g
Unsaturated Fat:

14g
Cholesterol:

17mg
Sodium:

213mg
Carbohydrates:

8g
Fiber:

1g
Sugar:

5g
Protein:

1g
Nutrition information is a guideline only, is calculated automatically by third-party software, and absolute accuracy is not guaranteed.