The dog-days of summer are over and the days are getting cooler and shorter.  But that doesn't mean our summer has come to an end.  There is still time for one last backyard barbecue.   We are doing up some Easy Barbecue Pork Ribs with a little heat and a lot of flavor. 
Many years ago, our friend and neighbor, Jim, shared his method of cooking ribs that produce juicy, tender and succulent ribs that are to die for.  First, they are cooked in the oven, low and slow for a couple hours and then transferred to a low-heat grill, sauced up and grilled.  That sounds easy enough, right?  It really is!
The dry rub we are using on these ribs is our own combination of flavors.   It is pretty basic with all the standard spices but with a dash of chipotle powder to give it some heat.  And, we love the unique flavor that the smoky paprika brings to the party.  Give the ribs a good rubbing over both sides so they get those awesome flavors into all the nooks and crannies.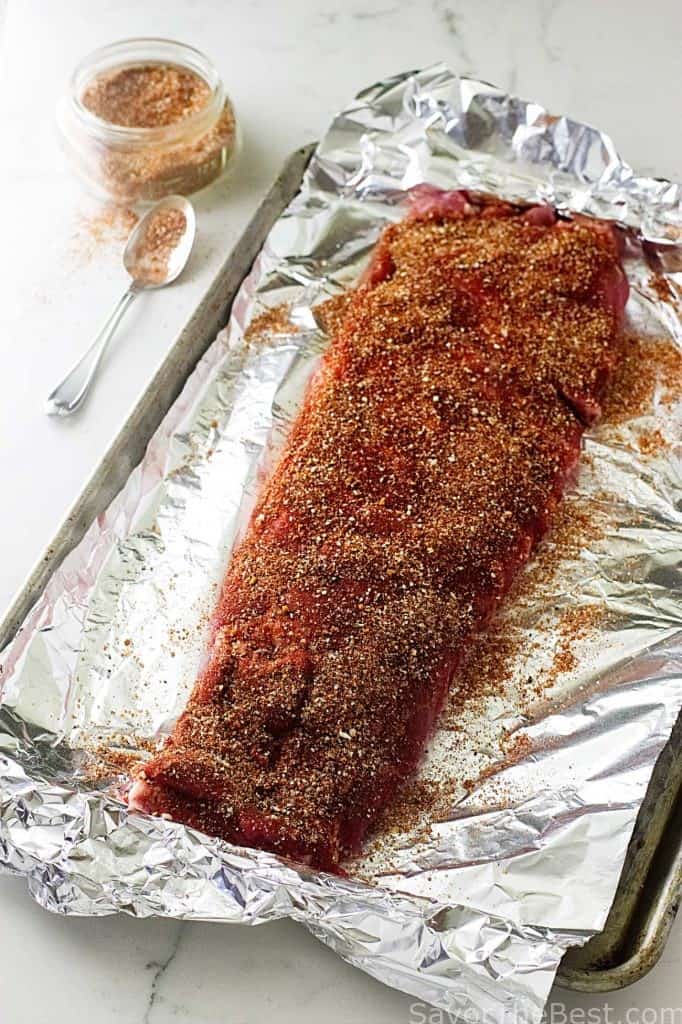 Everybody and their uncle has a preferred barbecue sauce whether homemade, store-bought or store-bought and doctored up.   We suggest that you use whatever sauce you like best for your ribs.   
Have you ever tried, unsuccessfully, to remove the silvery papery membrane on the underside of the ribs?  This is how to do it.  Just slip a dinner knife between the membrane and a rib bone at one end of the rib slab.  Stretch the membrane loose and up until it tears.  It is slippery so hold it with a paper towel and just peel it off.  
Sprinkle both sides liberally with the rub mix to get some flavor in there.  Wrap the slab of ribs in foil.   Crimp the foil edges together and place onto a baking sheet.   Transfer the baking sheet to a preheated 250°F oven for two-one-half hours until tender.  But not so tender they are falling off the bone!  You need those bones to hold on to while you munch up these ribs.  No forks allowed!
Just before the oven time was up we prepared a charcoal grill to a medium heat.  Unwrapped the ribs, lightly slathered one side and transferred them to the grill and grilled it for five minutes. The top side was sauced and flipped over for a five-minute grilling.  We repeated the saucing and grilling one more time watching for a deep brown crust to form on the ribs.  It is important to not get the grill too hot as once the sauce goes on the ribs, the sugar in it will begin to burn if the heat is too hot.
These ribs are finger-licking good!  We served these easy barbecue pork ribs with yummy baked beans.
Ideas for Salad Sides:  Butter Lettuce, Strawberries and Cocoa Nibs,  Heirloom Tomato Salad with Aged Goat Cheese    Roasted Baby Beet Salad with Feta Cheese
Easy Barbecue Pork Ribs
Yield 6 Servings
Easy Barbecue Pork Ribs with a little heat and they pack a lot of flavor!  Tender and succulent ribs that are finger-licking good.  First they are cooked low and slow for a couple hours in the oven.  Next they are transferred to a low-heat grill, sauced up and grilled.
Ingredients
1 rack pork spareribs, about 2 1/2 pounds
To Make the Dry Rub:
1 tablespoon Kosher salt
1 teaspoon ground black pepper
1 teaspoon ground white pepper
1 tablespoon garlic powder
1 tablespoon onion powder
1/4 teaspoon chipotle powder
1 teaspoon ground mustard seed
2 tablespoons brown sugar
2 tablespoons smoked paprika
For the Barbecue Sauce:
8 to 12 ounces barbecue sauce—your favorite
Instructions
Preheat the oven to 250°F
Remove the silvery membrane from the underside of the ribs by sliding a table knife between the membrane and a rib bone.  Pry the membrane up, stretching until it tears.  Holding one end of the membrane with a paper towel, peel off the membrane and discard.
In a small dish or canning jar, add the dry rub ingredients and combine thoroughly. 
Place the rack of ribs on a large sheet of aluminum foil and liberally coat each side of the ribs.  Place another sheet of foil on top of the ribs and seal the two sheets of foil together by crimping them tightly at the edges.
Set the foil covered ribs on a large baking sheet and transfer to the center rack of the oven and bake for 2  1/2 hours.  Remove from the oven and partially unwrap the foil to check for doneness.  Insert a fork into the meat between the bones at the thickest part of the ribs. If it slides in easily with little or no resistance your ribs are done.   If there is resistance, re-cover with the foil and give them another 15 to 30 minutes more oven time.  When ribs are tender, remove from the oven and allow to rest while the grill is being prepared.
To grill the ribs:
Prepare the grill for a medium heat.
Remove and discard the top sheet of foil and brush the exposed side with a light brushing of the barbecue sauce.  Transfer the ribs to the grill with the sauced side down and brush the exposed side with a light coating of the sauce.  Grill for 3-5 minutes and flip the ribs over and grill another 3-5 minutes.  Repeat this process once more, saucing and grilling until desired degree of color has been achieved being cautious that they do not burn.
To Serve:
Remove the ribs from the grill, cut between the ribs into serving pieces and enjoy. 
Notes
Ribs are meant to be eaten by holding on to the bone.  If the ribs are so done they are 'falling of the bone' they are over cooked.  
These ribs can be enjoyed in the dead of winter when the outdoor grill is covered with snow.  Simply slather on the sauce and finish them under the broiler.
Serve these easy barbecue pork ribs with grilled corn on the cob, baked beans and a crisp green salad.
Courses Main
Cuisine American
Nutrition Facts
Serving Size 2 Ribs
Amount Per Serving

Calories 599

% Daily Value

Total Fat 45.6 g

70%

Saturated Fat 15.1 g

76%

Cholesterol 151 mg

50%

Sodium 1738 mg

72%

Total Carbohydrates 19.2 g

6%

Dietary Fiber 1.3 g

5%

Sugars 13.3 g

Protein 30.7 g

61%
* Percent Daily Values are based on a 2,000 calorie diet. Your daily values may be higher or lower depending on your calorie needs.