We always love food on a stick and these savory Grilled Lamb Kofta Kabab Sandwiches will kick up your taste buds and put a smile on your face. They are spicy! They are juicy! They are awesome!
What is Kofta?
In the Lebanese cuisine, Kofta refers to spicy ground meat. You can cook the meat in the oven, skillet or on the grill. The mixture can be formed into patties or meatballs or shaped into a cylinder-log, impaled on a one-inch flat metal skewer and grilled.
We are grilling our 'logs' on wooden skewers and using ground lamb in our recipe. If you are not a lamb lover, ground beef or pork will be delicious.
The ground lamb is infused with an awesome blend of spices, chopped fresh parsley and onion. We shaped the lamb mixture into six, eight-inch logs and inserted a wooden skewer in the center, right down the length of it and put them on the charcoal grill. We grilled these babies for about eight minutes to a medium doneness, rolling them every couple of minutes for even grilling.
Tahini Yogurt Sauce:
To complete these incredible-tasting sandwiches we made an easy tahini-yogurt sauce in our mini-food processor. This creamy sauce, has a tangy-lemon flavor that is a perfect compliment to the spices in the lamb.
Set out the condiments of lettuce, mint leaves, and cucumber sticks on a plate along with warm pita bread. The Lebanese Garlic Sauce and the Tahini-Yogurt sauce are served in small dishes so everyone can put their own sandwich together.
Make your sandwich:
First, we slathered a warm pita bread with our Lebanese Garlic Sauce and added fresh mint leaves, lettuce, and cucumber sticks.
Then we nestled a juicy kabab on the bed of lettuce mix, and we dressed it up with the tahini-yogurt sauce and wrapped the warm pita bread blanket around it.
This is so good you just might want seconds!
So…. forget the grilled hamburgers and be adventurous! Serve these Grilled Lamb Kofta Kabab Sandwiches instead. They are tender, juicy, spicy and so perfect for a summer lunch or dinner. Yum…..
Check out these recipes: Lemongrass Chicken Satay or our "to die for" Grilled Lamb Kabobs and this A-M-A-Z-I-N-G Labneh-Middle East Fresh Yogurt Cheese
CONNECT WITH SAVOR THE BEST!
Be sure to follow us on our social media accounts
Facebook | Twitter | Youtube | Pinterest | Instagram
If you make one of our recipes, snap a photo and tag it @savorthebest on Instagram and hashtag it #savorthebest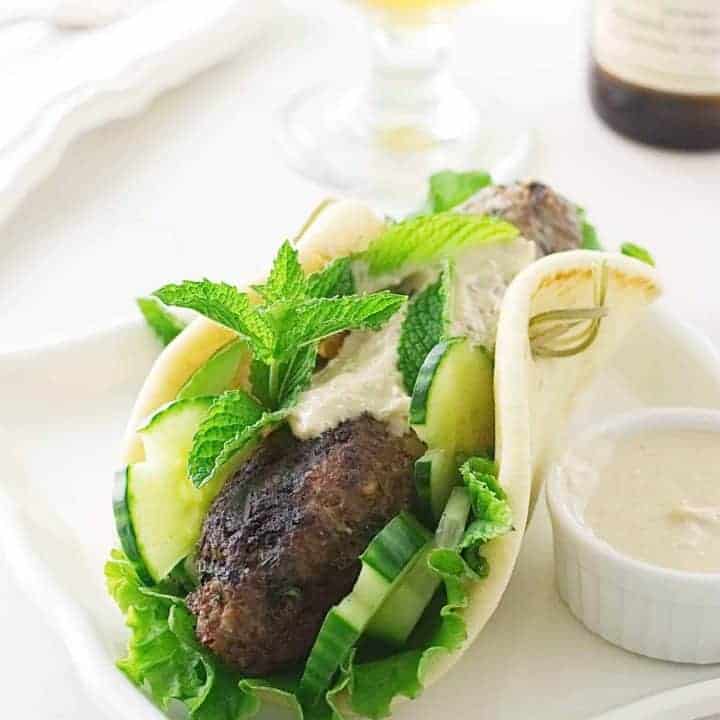 Grilled Lamb Kofta Kabab Sandwiches
Yield: 6 servings
Prep Time: 20 minutes
Cook Time: 10 minutes
Total Time: 30 minutes
Food on a stick! These savory Grilled Lamb Kofta Kabab Sandwiches in warm pita bread will kick up your taste buds and put a smile on your face.
Ingredients
For the Spice Mixture:
1 tablespoon Aleppo pepper
2 teaspoons coriander seeds
1 teaspoon black peppercorns
1/4 teaspoon ground cinnamon
1/4 teaspoon sea salt
1/8 teaspoon finely ground white pepper
For the Kofta Mixture:
1/2 cup coarsely chopped fresh parsley
1/2 cup diced yellow onion
2 pounds ground lamb
1 teaspoon sea salt
For the Tahini-Yogurt Sauce:
1/2 cup tahini paste
1/4 cup freshly squeezed lemon juice
1 tablespoon olive oil
1 clove garlic, grated
1/2 teaspoon sea salt
1/2 cup yogurt
To Assemble the Sandwiches:
6 Pita breads
1/2 cup Lebanese Garlic Sauce
Lettuce leaves
1/2 cup chopped mint leaves
1/2 cup julienned cucumber
mint leaves and thin cucumber slices for garnish
12 appetizer picks
Instructions
Preheat the oven to 200°F Wrap the pita bread in foil and keep warm in the oven while preparing the kababs.
Start the outdoor charcoal grill and allow to burn to medium heat. (see Notes)
Soak 6 long wooden skewers in a pan or jar of water until ready to use
Combine the spice mixture in a spice or coffee grinder and process to a fine grind. Transfer to a small dish and reserve.
In a large shallow bowl, add the parsley, onion, ground lamb and the spice mixture. Stir the mixture together to combine completely, do not over mix. Divide the meat mixture into 6 equal portions. Shape each portions into an 8-inch long cylinder and insert a skewer lengthwise. Place the the kabab on a baking sheet and repeat shaping the remaining portions of the lamb mixture.
Brush the kabobs lightly with oil and place the on the grill. Cook the kabobs about 8-10 minutes, turning them every 2 or 3 minutes so all sides are browned and cooked according to your preferred doneness.
To make the Tahini-Yogurt Sauce:
Combine the tahini paste, lemon juice, oil, garlic and salt in a blender. Process until smooth, then add the yogurt and pulse to combine. Transfer to a dish. (Note) This sauce can be made in advance, it will keep 2-3 days refrigerated.
To assemble the sandwiches:
Remove the warm pita bread from the oven and place one on a work surface. Spread about 1 tablespoon of the garlic sauce on the pita bread and add portions of the lettuce, mint leaves and cucumbers. Slide a kabob off the skewer, add more mint leaves cucumber slices and fold the pita bread together. Place an appetizer stick in each side of the sandwich. Transfer to a serving plate and proceed making the remaining sandwiches.
Pass the remaining tahini-yogurt sauce to the guests to add as desired.
Alternatively, place the platter of cooked kababs on the table with all the condiments and sauces and allow each guest to assemble their own sandwich.
Notes
When mixing the ground lamb with the spices, do not over-mix or it will become dense and dry.
These Grilled Lamb Kofta Kabab Sandwiches are very satisfying as a main entree. The kabab can be sliced lengthwise and assembled for 2 servings if additional sides are being served .
If using a gas grill set the heat to medium or medium high
The tahini-yogurt sauce can be made in advance, it will keep in the refrigerator for a day or so.
The tahini-yogurt sauce can be thinned with a tablespoon of water if desired.
Easy way to soak the wooden skewers: Fill a quart jar with water and insert the skewers
Nutrition Information:
Yield: 6
Serving Size: 1
Amount Per Serving:
Calories: 615
Total Fat: 25g
Saturated Fat: 6g
Cholesterol: 137mg
Sodium: 950mg
Carbohydrates: 42g
Fiber: 4g
Protein: 53g