Highlights of our trip to Whistler, BC, Canada……
Last month Don and I took a four-day mini vacation to Whistler, BC, Canada just to get away and kick back from our daily grind. We had not been to Whistler since before the 2010 Winter Olympics and was curious to see the changes.
It is only a two to three hour drive from our house to the US/Canada border but then it takes almost an hour to get through downtown Vancouver and about another hour on to Whistler.
Just as anticipated, the Whistler Village and surrounding areas had grown immensely with huge hotels, sports shops, boutiques, spa massage shops, restaurants and pubs.
We spent one entire day walking the village and didn't even see the half of it. We did lunch at a little crepe shop called Crepe Montagne where they do just crepes, savory and sweet and later in the day stopped at Hatley's Botiques for a gelato. By the end of the day we were glad to get back to our condo unit to put our poor feet up and have a glass of wine.
On our second evening, we had made reservations at the iL Caminetto di Umberto restaurant in Whistler Village. It was intended as a belated celebration for my birthday in February which we had postponed due to weather conditions.
We went all out with appetizers, wine and dessert. Don ordered the rack of lamb which wasn't really a surprise to me since he loves lamb. What was a surprise though, was the mint pesto that was served with it. Delicious! So much better than mint jelly, which he loves and I hate. I promised him that I would fix a grilled rack of lamb with mint pesto for him at home.
On our last day in Canada, I fixed a picnic lunch and we went off visiting three waterfalls. After a 20 minute drive to get to the park, it was only a short walk to Brandywine Falls which was spectacular falling into a deep canyon.
Next, we wanted to see Nairn Falls which was a 1.2k easy-walk trail through the woods and along the river to the viewing site. But our favorite was Alexander Falls. It features a magnificent view of the 150-foot high waterfall and there is a parking area/viewing site right in front of it.
It is in a smallish park where we found a very private picnic table and had our lunch. The weather was warm and sunny that day and it was perfect for a picnic.
We returned home to Washington on Friday and the only downer of the entire vacation was on the return trip. When we got almost to the boarder crossing I went to get the passports and realized I had left them and all my undies in the top drawer of the bedroom dresser. We had to turn around and make another trip back to Whistler. It made a long day!
So, fast-forward to this past weekend when our son Burl, his wife Gillian and our three-and- one-half year old grandson, Sheamus came to visit. Don had found a cute little red peddle car for Sheamus and was anxious to give it to him. I grilled up the lamb and made the mint pesto. Don and Burl decided to open one of their wonderful, saved-for-a-special-occasion, home crafted wines. It was a 2001 Zinfandel and was one of the first wines made in their hobby-venture. It was aged to a nice rich, deep color and was absolutely wonderful. They said that there may still be a couple more bottles in hiding. I hope!
A View of the Village
A Great Place For Dinner
Alexander Falls, Whistler, BC, Canada
Grilled Rack of Lamb
Mint Pesto
Yum……So delicious!
2001 Zinfandel Home-Crafted Wine
Sheamus' Little Red Peddle Car
Yield: 4 servings
Grilled Rack of Lamb with Mint Pesto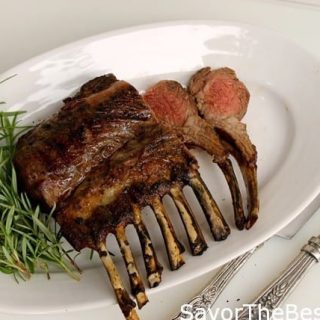 Rack of lamb, grilled to perfection with a crisp outer crust and juicy-medium rare. This is paired with a mint pesto that compliments the lamb perfectly.
Prep Time 15 minutes
Cook Time 18 minutes
Total Time 33 minutes
Ingredients
1 Australian or New Zealand, 8-bone rack of lamb, about 1 to 1-1/2 pounds
1 teaspoon kosher salt
For the Mint Pesto:
1 cup fresh mint leaves (about 1 ounce)
4-6 basil leaves
2-4 oregano leaves
1 small clove garlic
1/4 cup freshly grated Parmesan cheese
1/4 teaspoon kosher salt
1/3 cup olive oil
Instructions
Sprinkle the lamb with the salt and set aside while the grill and coals are heating up.
Prepare the grill:
Put some newspaper in the chimney and add the charcoal, light the newspaper and when most of the charcoal turns grey, dump it out in the bed of the grill and spread out the coals. While you wait for the coals, prepare the pesto.
For the Mint Pesto:
Place the mint, basil and oregano leaves in a mini-food processor, add the pine nuts, garlic, parmesan cheese and salt. Process until well blended. With the food processor running, slowly drizzle the oil until you get the consistency you desire.
Put the grate fairly close to the coals, sear the lamb quickly over a hot fire then drop the heat to let the center roast. This will give a nice crisp crust. A thermometer (instant-read thermometer if possible) inserted into the center should registers 135 to 140 degrees for medium-rare, 15 to 18 minutes.
Remove the lamb from the grill, tent it with foil and set it aside to rest for 10 minutes before serving.
After lamb has rested, cut ribs apart between the bones, arrange on a serving plate and serve with mint pesto on the side.
Nutrition Information
Yield
4
Serving Size
1
Amount Per Serving
Calories 446
Total Fat 32g
Cholesterol 113mg
Carbohydrates 3g
Protein 35g
Nutrition information is a guideline only, is calculated automatically by third-party software, and absolute accuracy is not guaranteed.