Braised fennel is a delicious and unique side dish that goes with almost anything. The tender, flavorful bulbs take on a mildly sweet flavor as they cook while soaking up the flavors from the braising broth. This simple recipe offers a change from your usual side dish, and you can easily double it to feed a large crowd.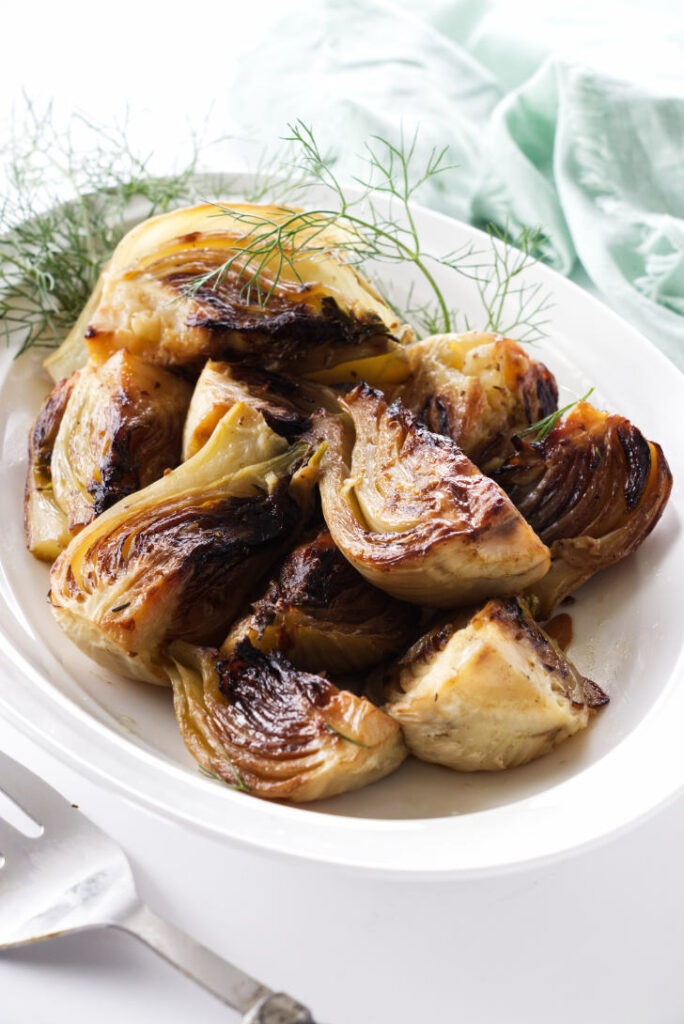 This is a great dish to use large fennel bulbs since the cooking process makes the fennel quite tender. Smaller fennel bulbs are more tender than the larger ones and are great for salads. Try using raw fennel in our beet salad or our grapefruit and fennel salad.
Here is Why This Recipe Works
Browning the fennel in the skillet caramelizes the sugars in the vegetable and enhances the natural sweetness.

Toasting the Anise seeds intensifies the flavor.

Wine and chicken broth create a flavorful braising liquid that soaks into the fennel as it cooks.
Braising is a cooking technique that involves searing meat or vegetables in a hot pan before simmering them in a flavorful liquid. This creates a tender, juicy dish with complex flavors.
You can braise meat like our wine braised short ribs, fruit like our pork and apples, and vegetables. If you have an Instant Pot try our braised green beans.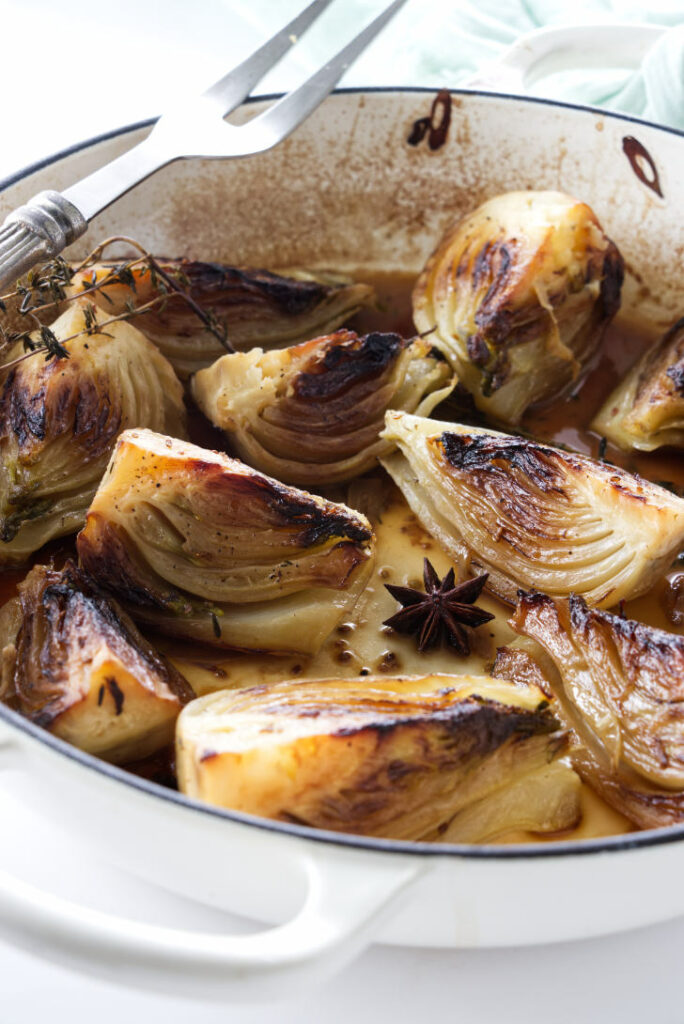 The Ingredients
Here is a list of the ingredients you will need for this recipe. Scroll down to the printable recipe card for all the details.
Fennel bulbs
Garlic cloves
Anise seeds
Salt and pepper
Chicken broth
White wine
Fresh thyme
Star anise
Golden balsamic vinegar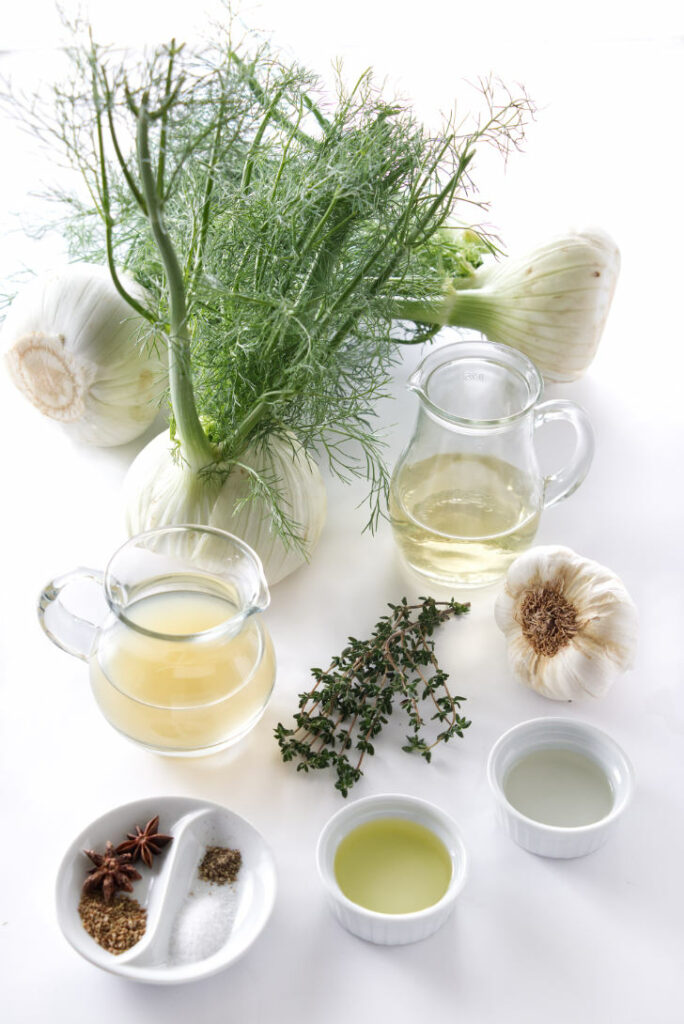 How to Make It
Here is a brief overview to get an idea of what to expect with the recipe. Scroll down to the printable recipe card for all the details.
Toast the anise seeds and set them aside.
Slice the fennel bulbs into quarters.
Brown the fennel in a hot skillet then saute the garlic.
Add the herbs, seasoning, and braising liquid to the baking dish.
Cover the dish and transfer to the oven. Bake until tender.
To serve, drizzle with balsamic vinegar and garnish with the leftover fennel fronds.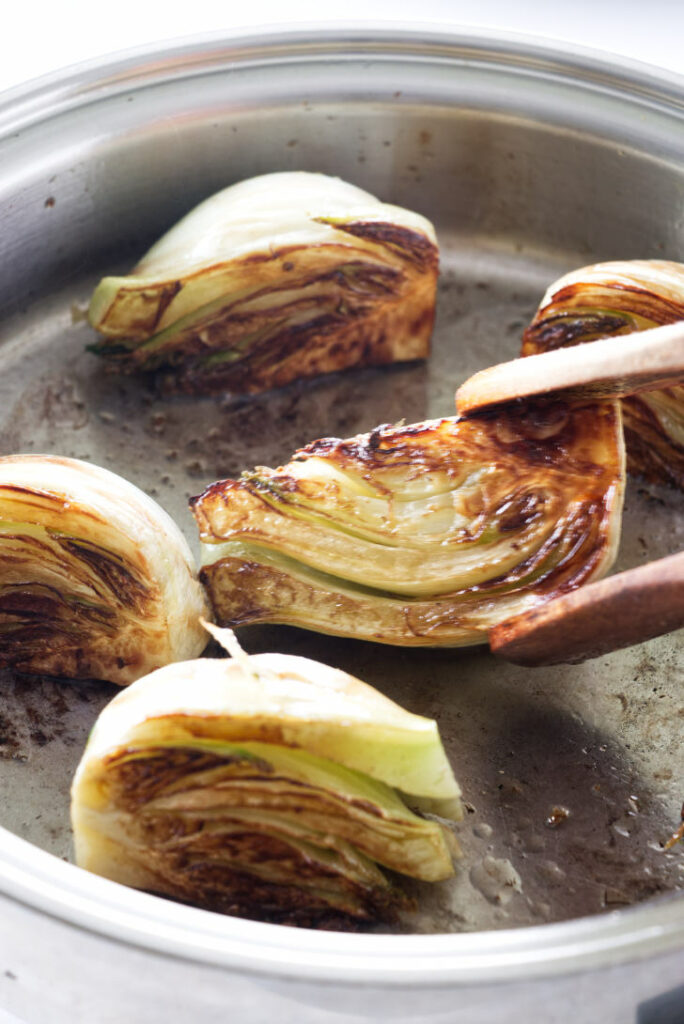 Tips for Success
Save the feathery fronds of the fennel for a garnish.

Leaving the core attached when you slice the fennel bulb will help hold the wedges together.

When you brown the fennel bulbs, don't crowd the pan. Cook them in batches and let them get caramelized before you braise them.

You can use a mandoline slicer or a garlic slicer for thin slices of garlic,

Increase the chicken broth if you don't want to add wine to the braising liquid.

You can substitute White Modena vinegar (Trader Joe's) or rice vinegar for the golden balsamic vinegar.

When selecting fennel, look for crisp, firm, white bulbs and no brown spots. The fronds should be bright green and fresh-looking. Avoid bulbs that are wilted or have soft spots.

Top the braised fennel with a sprinkle of Parmesan cheese for a salty contrast of flavors.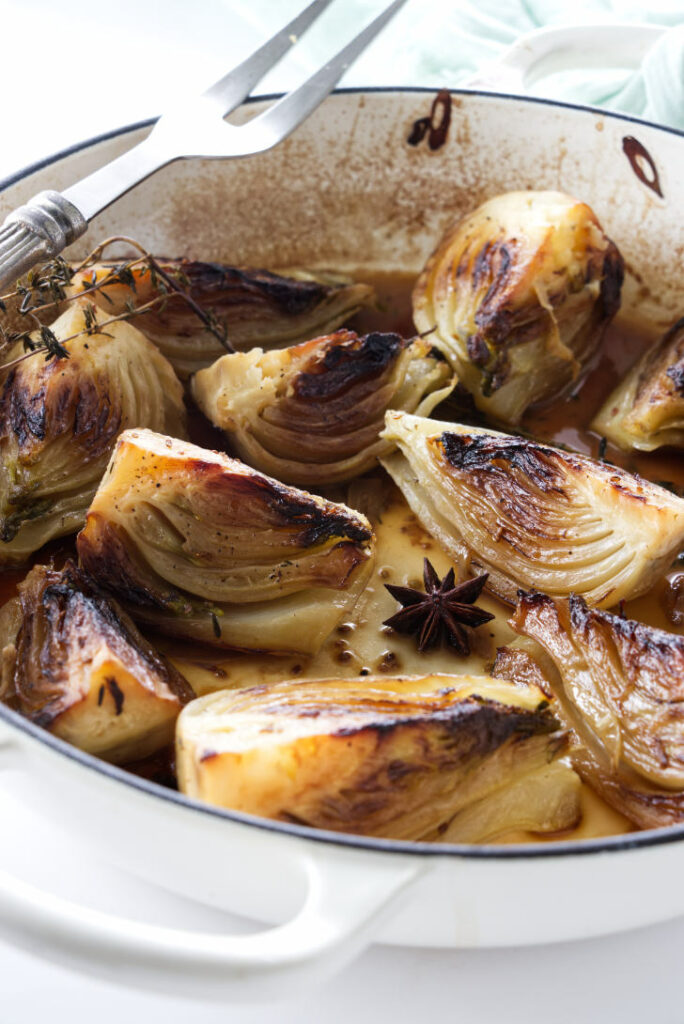 Frequently Asked Questions
What is fennel?
Fennel is a perennial herb that grows above ground. It has long stalks similar to celery that feather out into wispy fronds. The long stalks are edible but have a tough fibrous texture. However, the fronds are terrific to use as a garnish and seasoning.
You can eat fennel raw or cooked, and it has a mild licorice flavor.
What does braised fennel taste like?
Braised fennel has a mild, sweet flavor and a licorice-like taste. It is crunchy like celery when it is raw, but it becomes soft and tender when you braise it.
How long does fennel last in the fridge?
Fennel will last in the fridge for up to a week. To store the fennel, wrap it in a damp paper towel and place it in the refrigerator.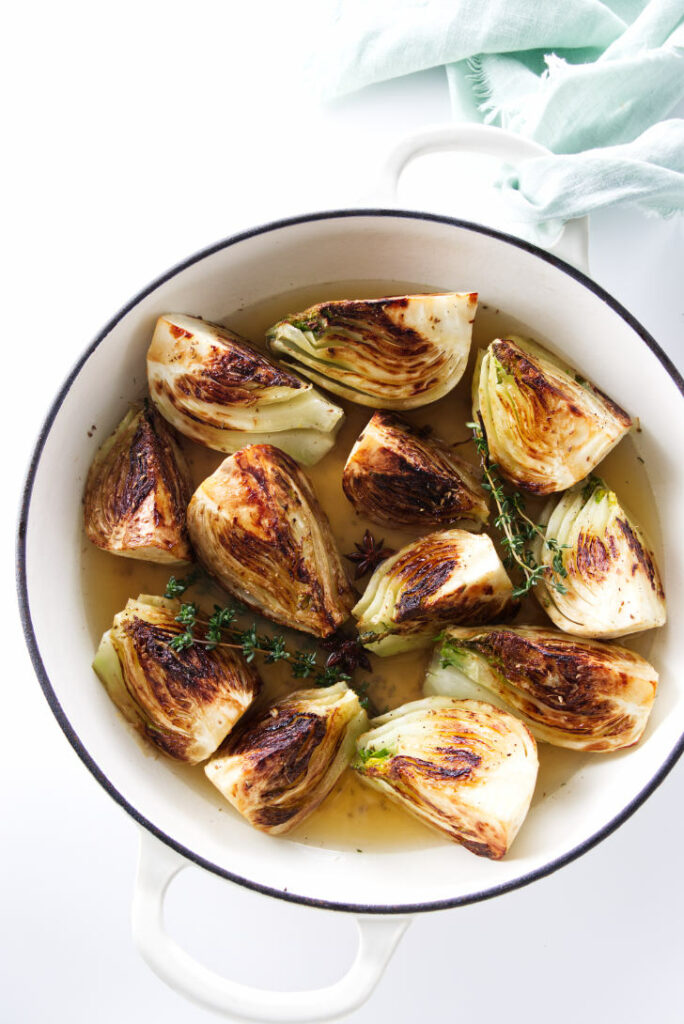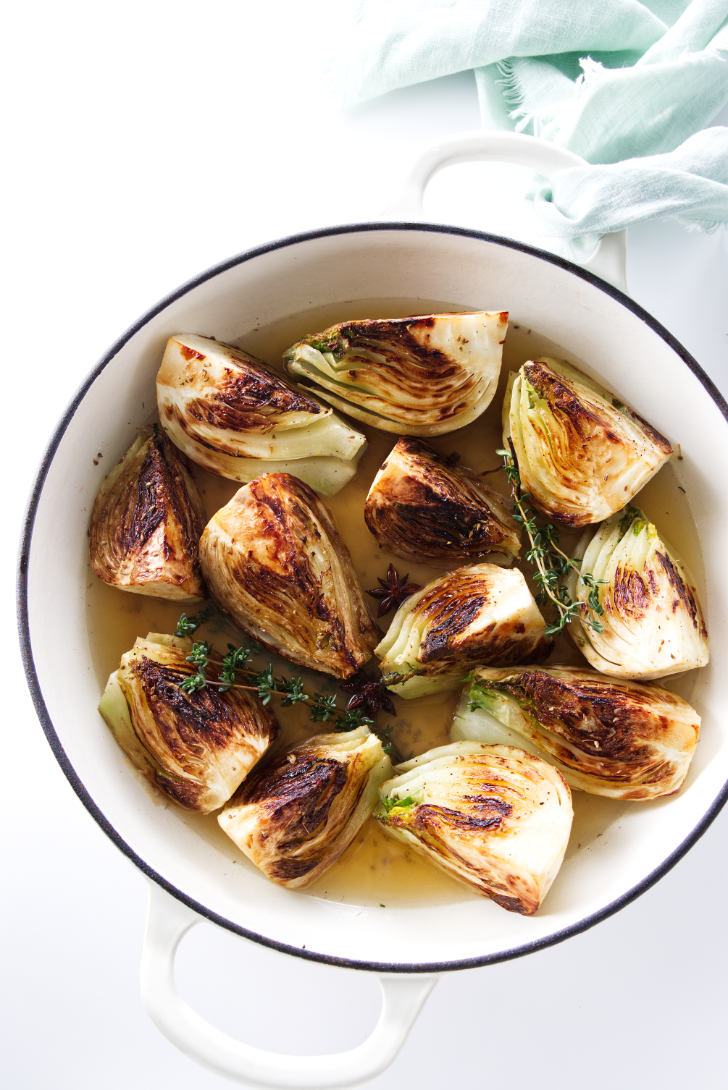 This savory side dish of braised fennel goes well with any dish. Cooking the fennel gives it a mild flavor and makes it soft and tender. Add a sprinkle of Parmesan cheese to the dish when you take it out of the oven for an extra layer of flavor.
Helpful Tools
Some of the following are affiliate links. If you click on these links and purchase something, we may receive a small commission. You don't pay any extra but it will help us keep the lights on.
Some Other Recipes We Are Sure You Will Love:
Our cider braised pork shoulder makes a great Sunday dinner. Serve it with a large batch of mashed potatoes, a crisp side salad, and roasted root vegetables. Finish dinner with a decadent chocolate truffle cake.
Our braised pork shanks cook until they get so tender they practically fall off the bone. They cook in braising liquid that turns into a delicious gravy. Perfect for drizzling over ricotta mashed potatoes. Serve it with our Moroccan carrots and sauteed beet greens. Finish dinner with crispy chocolate cookies.
Our ale braised bratwurst cooks with sauerkraut and apples for a full meal deal. All you need is a slice of crusty sourdough bread and some molasses cookies for dessert.
Connect With Savor the Best:
Please follow us on our social media accounts
Facebook * Instagram * Pinterest * Youtube * Twitter
Did you make this recipe? We would love to hear from you. Drop us a comment below.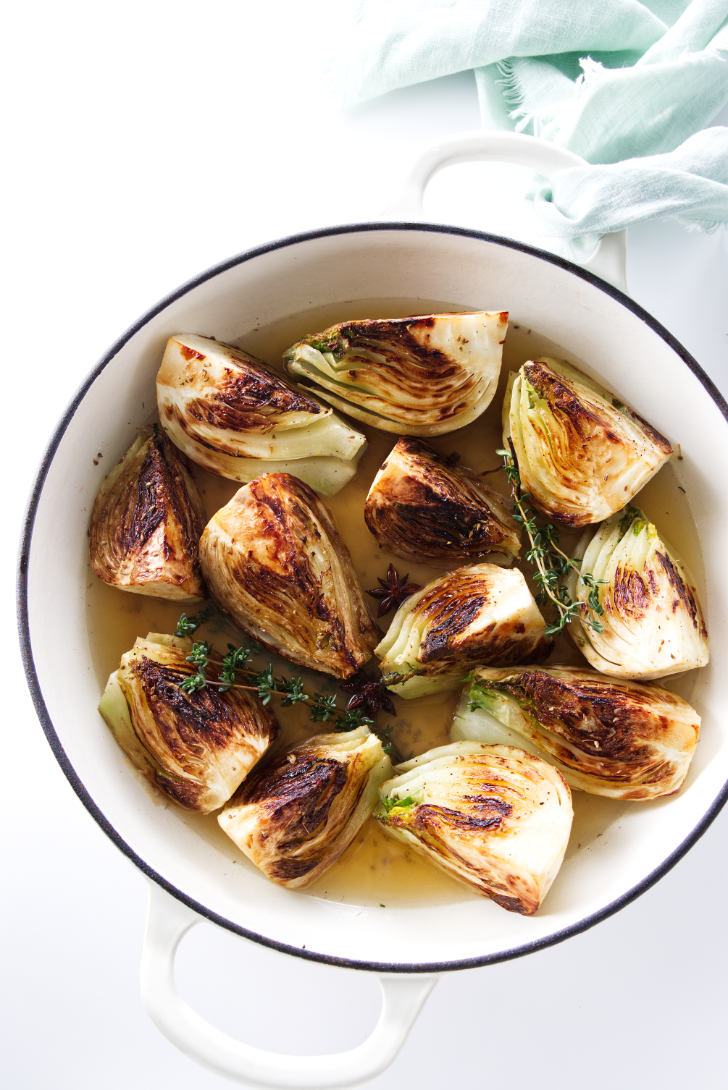 Braised Fennel
Total Time:
1 hour
15 minutes
Fennel is an underrated vegetable that is delicious when braised. It takes on a sweet and rich flavor when cooked with aromatics, and makes a great side dish for almost any meal.
Ingredients
1/2 teaspoon dry anise seeds
3 large fennel bulbs
2 tablespoons olive oil
4 garlic cloves, thinly sliced
1/2 teaspoon salt
1/8 teaspoon ground black pepper
1 cup chicken broth
1/2 cup dry white wine
2-3 sprigs of fresh thyme
2 star anise
2 tablespoons golden balsamic vinegar
Reserved fennel fronds for garnish
Instructions
Preheat the oven to 325°F
Place a skillet over medium heat and toss the anise seeds in the dry skillet. Stir constantly for 60 to 90 seconds or until fragrant and toasted. Remove from the skillet, crush, and set aside for later.
Cut the feathery leaves off the fennel bulbs and set them aside. Slice the fennel bulbs into quarters, leaving some of the core attached to keep the fennel from falling apart.
Add the oil to a skillet set over medium heat. When the oil is hot, place the fennel quarters, cut side down. Cook the fennel quarters until lightly browned, 2-3 minutes. Flip the fennel over and cook for 1-2 minutes.
Remove the skillet from the heat, add the slices of garlic and allow to cook in the residual heat until fragrant, then transfer to a baking dish or oven-proof skillet.
Sprinkle the surface of the fennel with the toasted fennel seeds, salt, and pepper.
Pour the wine and chicken broth into the pan, around the edges, not directly on the fennel. Tuck the thyme sprigs and star anise into the liquid.
Cover the dish with foil or a lid and transfer to the oven. Cook in the oven for 60 to 75 minutes or until the core of the fennel is tender.
Remove from the oven, transfer to a serving dish, drizzle the balsamic vinegar over the fennel and garnish with the leftover fennel fronds.
Notes
Brown the fennel quarters in batches so you don't crowd the pan. They will get a better char on them if you don't crowd them in the skillet.
You can use a mandoline slicer or a garlic slicer for thin slices of garlic,
If you don't want to add wine to the braising liquid, increase the chicken broth.
White Modena vinegar (Trader Joe's) or rice vinegar can be substituted for the golden balsamic vinegar.
Optional toppings: Grated Parmesan, preserved lemon slices, or finely sliced fresh basil.
Recommended Products
As an Amazon Associate and member of other affiliate programs, I earn from qualifying purchases.
Nutrition Information:
Yield:

6
Serving Size:

1
Amount Per Serving:
Calories:

67
Total Fat:

4g
Cholesterol:

7mg
Sodium:

270mg
Carbohydrates:

1g
Protein:

4g
This recipe was first published on October 6, 2014. We updated the photos and added some helpful tips.