Ah, the classic pairing of bratwurst with sauerkraut—a dish that instantly transports you to a German beer garden or a bustling Oktoberfest celebration. This recipe honors that iconic duo, offering a blend of smoky sausage and tangy sauerkraut, all effortlessly cooked to perfection.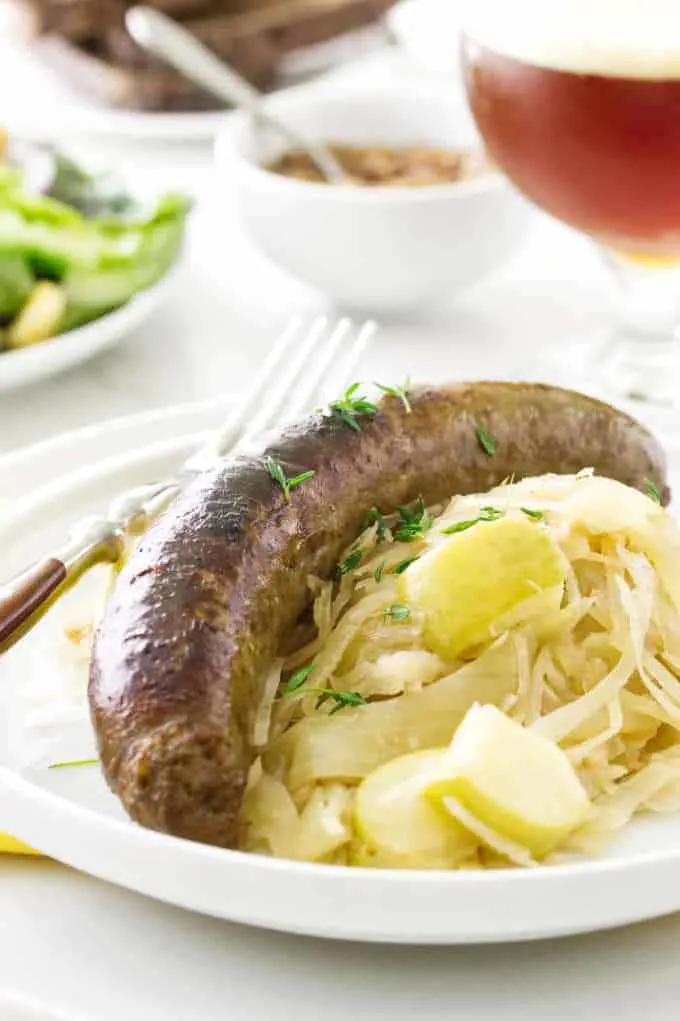 Celebrate Oktoberfest with this Ale Braised Bratwurst and Apple Sauerkraut. A mildly spicy bratwurst braised in a malty Scotch ale and served with a German style sauerkraut and chunks of tart apples.
Our locally-made brats are bursting with flavor from fresh herbs and spices then braised in a malty ale. They are served on a mound of sweet-sour apple sauerkraut and lots of tangy, grainy mustard.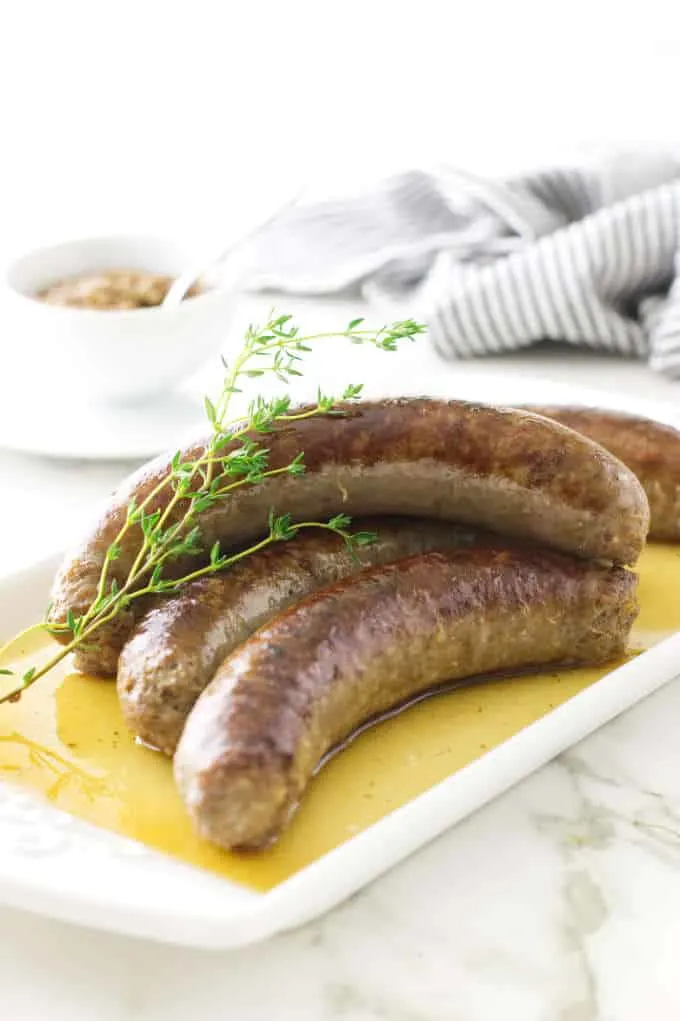 When Is The 2018 Oktoberfest?
Oktoberfest is the most famous beer festival in the world! Each year, people travel to Munich, Germany to experience this Bavarian festival. The 2018 Oktoberfest runs from September 22nd until noon on October 7th.
Our Oktoberfest trip:
The year was 2009 and it was late September. Don and I were enjoying a European vacation on a river cruise down the Rhine river.
Our trip began in Amsterdam and ended seven days later in Basel, Switzerland. Each morning the boat stopped at a different town along the river where we had the entire day to explore. And eat! But one of the days was reserved for a long, lazy trip down the Rhine river with our own Oktoberfest!
The river-boat staff put on quite an Oktoberfest for us with the men wearing lederhosen and the ladies dressed in quaint, puffy, white blouses and vibrantly colored skirts.
It was a fun event with beer glasses overflowing with sudsy froth and glasses of every kind of red and white wine.
And the food! Long tables groaning with the weight from platters of good German food. There was a vast array of hot and cold sausages, meats, bread, cheeses, cold cuts, fruits, and vegetables. Plus, huge, soft-salty, pretzels, and desserts galore. There was live Oomph music, singing and dancing and a great good time!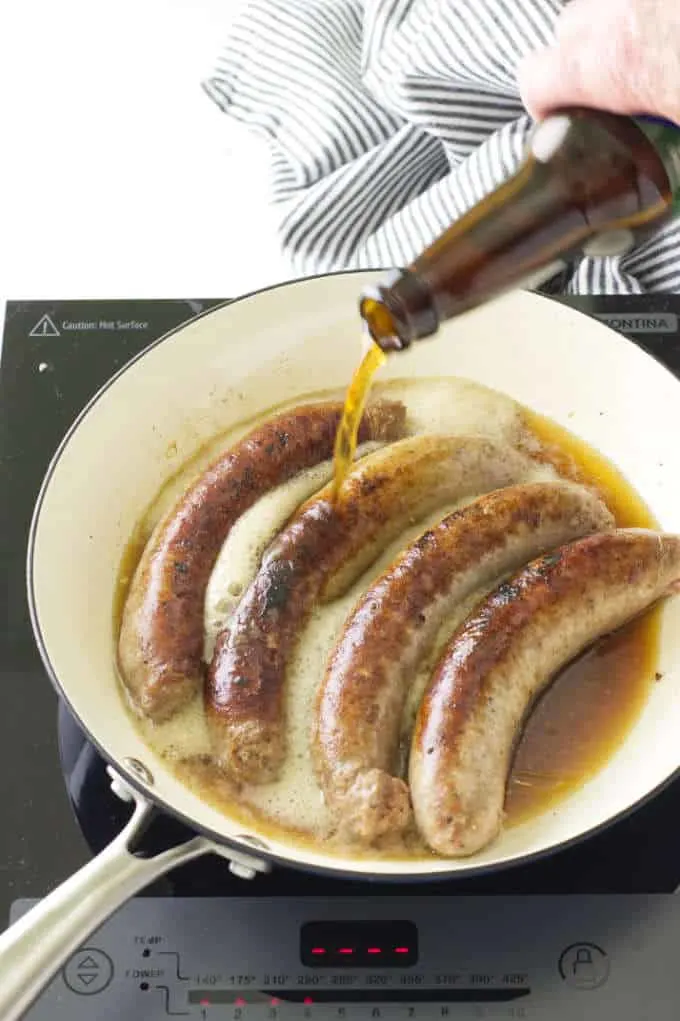 About Wurst:
Wurst is a German specialty family of sausages and cold cuts. They are a huge part of the German cuisine. They are a mixture of ground meats, spices and seasonings, stuffed into casings and twisted off at lengths to form sausages.
The casings consist of either natural or artificial material. There are four types of wurst with each type having their own subdivisions, local variations and names:
Rohwurst: Cured and smoked by the butcher. no cooking required

Bruhwurst: Smoked and scalded by the butcher, eaten as-is or reheated

Kochwurst: Smoked and well cooked by the butcher. Americans generally call this cold cuts

Bratwurst: Sold raw by the butcher and must be pan-fried
What Ingredients Are In Our Bratwurst?
A local butcher's market makes up these large brats using ground pork, salt/pepper, onions celery and mace. They are stuffed into eight-inch natural casings and sold raw.
They will need to be cooked before eating.
What is Sauerkraut?
Sauerkraut is a salted and fermented cabbage. Fermented foods are probiotic foods with many health benefits.
When buying sauerkraut select it from the refrigerated section in either the heavy plastic bags or glass jars. The ingredients should only list cabbage, salt and water. No vinegar or preservatives!
Avoid the tin-can variety as the canning process kills off the good health benefits. The tin-can sauerkraut is what my mom used to serve us and I remember how much I disliked it.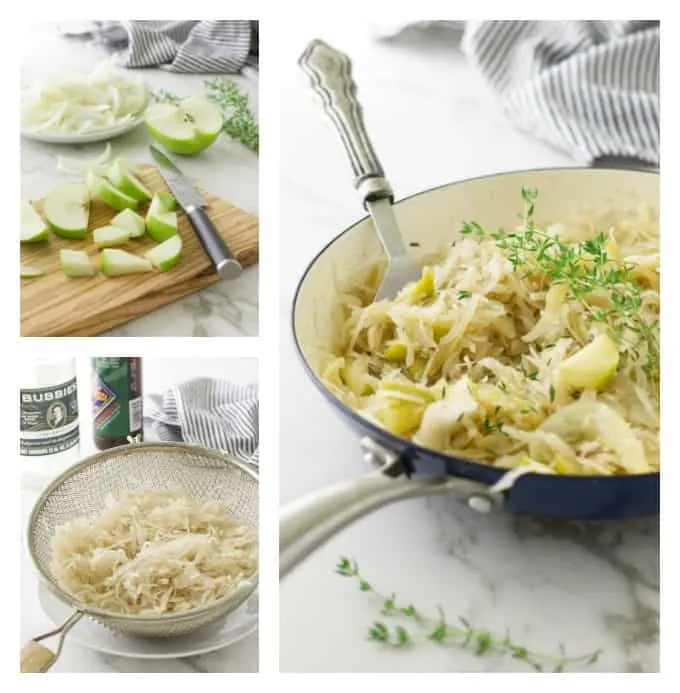 How to make Ale Braised Bratwurst and Apple Sauerkraut:
Those fat bratwursts are raw and need thorough cooking. Give them a good browning in a little oil. You are looking for a nice rich color on them.
Next, add an entire bottle of Scotch ale. You can choose another type of beer if you want but this Scotch ale has a nice malty taste and it is not bitter.

I am not a beer-lover but this Scotch ale tasted good to me. The bratwurst should cook slowly in the ale on a low simmering heat to keep the brats from splitting.

While the brats are simmering away, add the sliced onion to a skillet and sauté them until translucent.

Next, stir in the chunks of apple, caraway seed, brown sugar and lemon juice and cook until the apples are tender but still firm.

Add the drained sauerkraut and toss with the onions and apples. Remove the skillet from the heat, cover and let the sauerkraut warm from the residual heat.
By the time the sauerkraut is warmed the brats will be finished cooking.
Plate up a mound of the apple sauerkraut with a steaming hot bratwurst and some spicy whole-grain mustard. Add a green salad on the side and slices of black pumpernickel bread and a frothy glass of brew!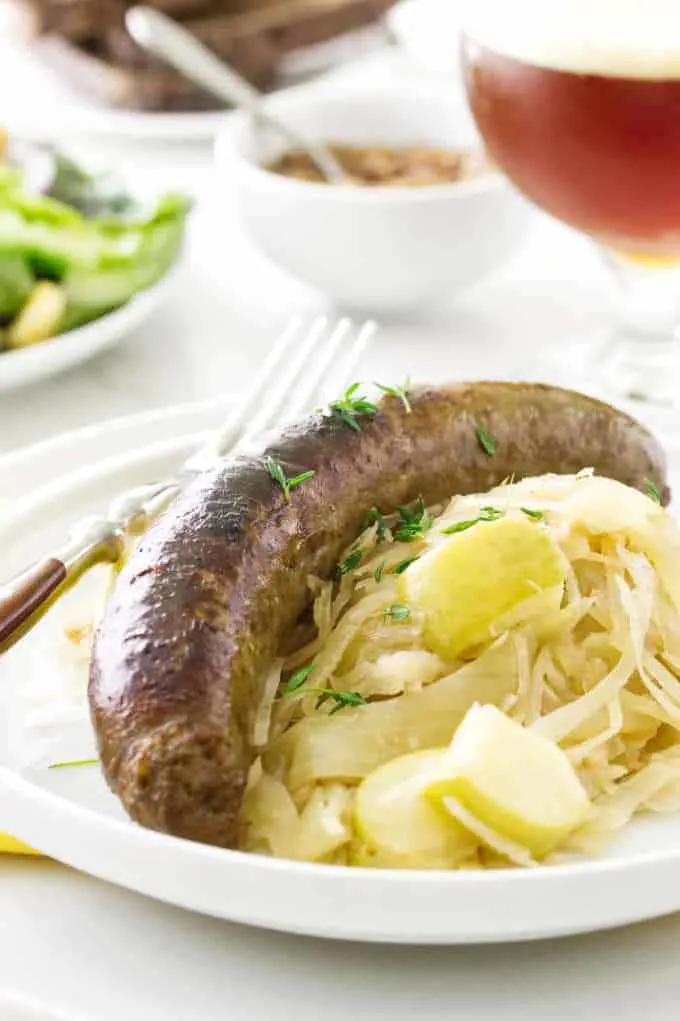 So, if you can't get to Munich, Germany for their annual Oktoberfest then create your own feast with this ale braised bratwurst and apple sauerkraut.
More German Recipes We Are Sure You Will Love:
Connect With Savor the Best:
Please follow us on our social media accounts
Facebook * Instagram * Pinterest * Youtube * Twitter
Did you make this recipe? We would love to hear from you. Drop us a comment below.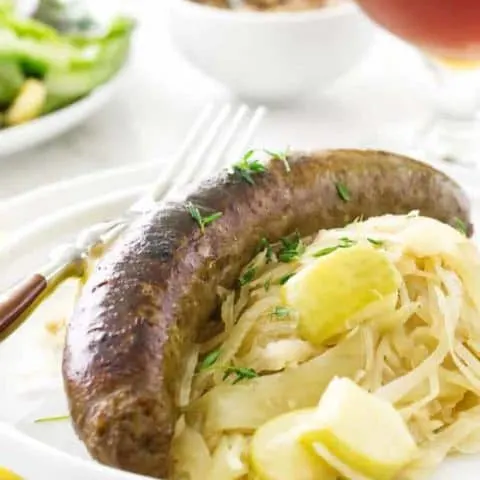 Ale Braised Bratwurst and Apple Sauerkraut
A mildly spicy bratwurst braised in a malty Scotch ale and served with a German style sauerkraut and chunks of tart apples.
Ingredients
2 Tablespoons olive oil
4 Bratwurst (fresh)
1 12-ounce bottle Ale
1/4 cup butter
1 pound yellow onions, sliced
1 Granny Smith Apple, halved, cored and cut into chunks
1 tablespoon caraway seeds
1/4 cup packed light brown sugar
1/2 lemon, juiced
1 tablespoon fresh thyme leaves
1 quart sauerkraut, (in a bag or jar, not canned) well drained
Stout-style mustard
Thyme sprigs for garnish
Instructions
Heat the oil in a large skillet set over medium heat. Add the bratwurst and brown well, turning with tongs. Use tongs so you do not puncture the bratwurst with fork tines.
Pour the ale into the skillet, reduce the heat to low, partially cover with a lid and simmer until most of the liquid has evaporated about 15 minutes. Do not boil as the bratwurst will split.
Meanwhile, prepare the apple-sauerkraut. Melt the butter in a large skillet set over medium heat. Add the onions, and cook, stirring often, for 5 minutes.
Stir in the apple chunks, caraway, brown sugar, lemon juice, and thyme. Cook an additional 5 minutes. Turn off the heat and add the sauerkraut tossing with the apples and onions.
Cover with a lid and allow to sit until the sauerkraut is heated through and the flavors have melded. 10-15 minutes.
Transfer the sausages to individual plates (whole, or cut into diagonal slices, spoon the apple sauerkraut alongside and a spoonful of the mustard.
Serve with carrots and horseradish sauce
Notes
Only simmer the bratwurst in the beer, boiling will cause the skins to split.
Use tongs to turn the bratwurst, if they are pricked with a fork they will shrink in size.
Cook the onions until they are soft and translucent.
Cut the apples into about 1-inch pieces and cook only until slightly tender.
Do not cook the sauerkraut as it will destroy the probiotic enzymes.
Allow the residual heat from the onions and apples to warm the sauerkraut
Recommended Products
As an Amazon Associate and member of other affiliate programs, I earn from qualifying purchases.
Nutrition Information:
Yield:

4
Serving Size:

1 Brat, 1 Cup Sauerkraut
Amount Per Serving:
Calories:

479
Total Fat:

25.9g
Saturated Fat:

8.8g
Carbohydrates:

31g
Fiber:

8.9g
Sugar:

24.9g
Protein:

17.2g