What could be better than a home-cooked dinner of delicious Beer-Simmered Bratwurst to celebrate the annual Oktoberfest?
When my husband was in the Army he spent a year in Germany where he became well acquainted with bratwurst. October usually stirs up those memories with an attack of bratwurst and sauerkraut cravings. I have made a fine dinner of beer-simmered bratwurst and sauerkraut to celebrate this Oktoberfest.
Your kitchen will have the most wonderful aroma as these brats simmer along in the pot of beer, herbs and spices.This is an easy entrée for a busy weeknight dinner.Just open and heat up a jar of sauerkraut and roast up some veggies while the bratwurst is simmering.
WHAT IS BRATWURST?
Wurst is a German specialty family of sausages and cold cuts. They are a huge part of the German cuisine. They are a mixture of ground meats, spices and seasonings, stuffed into casings and twisted off at lengths to form sausages. The casings consist of either natural or artificial material. There are four types of wurst with each type having their own subdivisions, local variations and names:
Rohwurst: Cured and smoked by the butcher. no cooking required

Bruhwurst: Both smoked and scalded by the butcher, eaten as-is or reheated

Kochwurst: Smoked and well cooked by the butcher.Americans generally call this cold cuts.

Bratwurst: Sold raw by the butcher and must be pan-fried.
WHAT INGREDIENTS ARE IN BRATWURST SAUSAGES?:
A local butcher's market makes up these large brats using ground pork, salt/pepper, onions celery and mace. They are stuffed into eight-inch natural casings and sold raw. They will need to be cooked before eating.
HOW TO PREPARE BEER-SIMMERED BRATWURST:
The word 'Brat' actually means pan-fried.And to prevent the casing from splitting while being pan-fried they are first simmered in a liquid until fully cooked.
The sausages are simmered in a good quality beer, seasonings and fresh herbs for about 20-minutes.When they reach an internal temperature of 160°F, they are removed from the beer-simmering pot and allowed to cool.
Oil is brushed on each sausage, then they are dusted with seasoned flour and pan-fried in a skillet to a beautiful brown.
IDEAS TO SERVE WITH BEER-SIMMERED BRATWURST:
Sauerkraut

Mashed Potatoes

Inside a toasted hoagie roll
Whatever you choose to serve with this beer-simmered bratwurst, be sure to include a good whole-grain mustard. The tangy-sweet taste is marvelous with these rich sausages.
Beer-Simmered Bratwurst is an easy, uncomplicated recipe to prepare, although it is not 'diet friendly'.But, you need this in your life for at least one meal during the annual Oktoberfest.You can always 'diet tomorrow'….:)
More Recipes for Oktober Fest: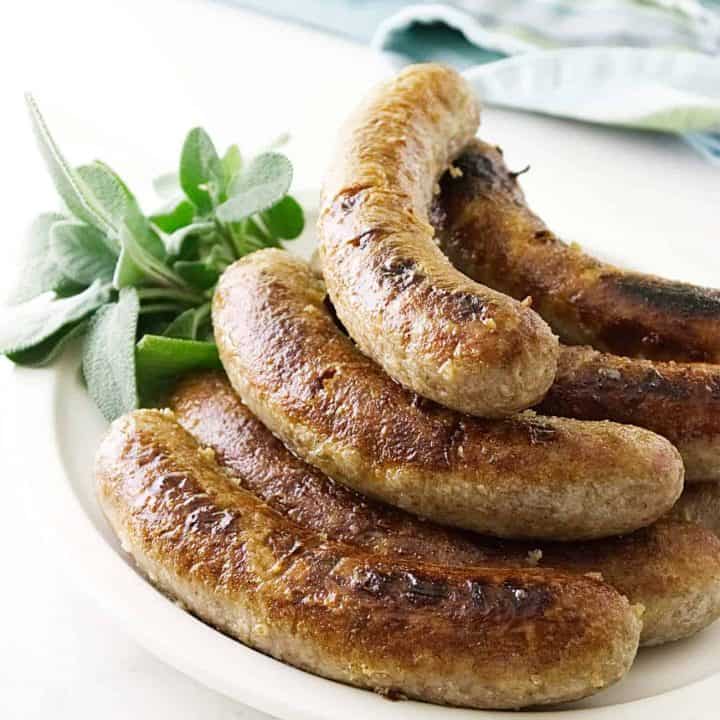 Beer-Simmered Bratwurst
Beer-Simmered Bratwurst seasoned with caraway and sage is an easy recipe for an Oktoberfest meal and served with a whole-grain mustard.
Ingredients
3 bottles of beer, I used St. Pauli Girl German beer
1 teaspoon ground caraway seeds
3 tablespoons chopped fresh sage
1 bay leaf
8 links of fresh raw bratwurst
1 cup all-purpose flour
1/2 teaspoon sea salt
1/4 teaspoon freshly ground pepper
1/4 cup coconut or olive oil
whole-grain mustard for serving
Instructions
In a heavy dutch oven or pan with a lid, add the beer, caraway seed, chopped sage and bay leaf. Bring to a boil over medium-high heat then reduce it to simmer and add the bratwurst. Put the lid on the pan and allow to simmer.
After the pan has been simmering for 20 minutes, check the temperature with an instant read or probe-type thermometer and continue simmering and checking the temperature until the bratwurst have reached an internal temperature of 160°.
Transfer the bratwurst to a plate and allow them to cool.
While the bratwurst is cooling, add the four, the salt and pepper to a shallow dish and reserve and when the bratwurst has cooled enough to handle, lightly oil each one and dust them in the reserved flour.
Over medium-high heat, add the coconut oil, or olive oil to a skillet and working in batches, add half of the flour-dusted bratwurst, turning them with tongs to brown on all sides. When the bratwurst are browned, transfer them to a plate and cover them with foil while browning the remaining bratwurst.
Notes
This was served as the main course in a meal with sauerkraut, potatoes and carrots. They may also be served as a sandwich with hoagie rolls and sauerkraut and pickles.
Nutrition Information:
Yield:

6
Serving Size:

1
Amount Per Serving:
Calories:

289
Total Fat:

8g
Saturated Fat:

3g
Trans Fat:

0g
Unsaturated Fat:

5g
Cholesterol:

10mg
Sodium:

328mg
Carbohydrates:

29g
Fiber:

1g
Sugar:

1g
Protein:

6g
Nutrition information is a guideline only, is calculated automatically by third party software, and absolute accuracy is not guaranteed.