Sauerbraten (German-style pot roast) is a classic comfort food for the Autumn season. Take an inexpensive cut of meat and turn it into a tender, delicious dinner.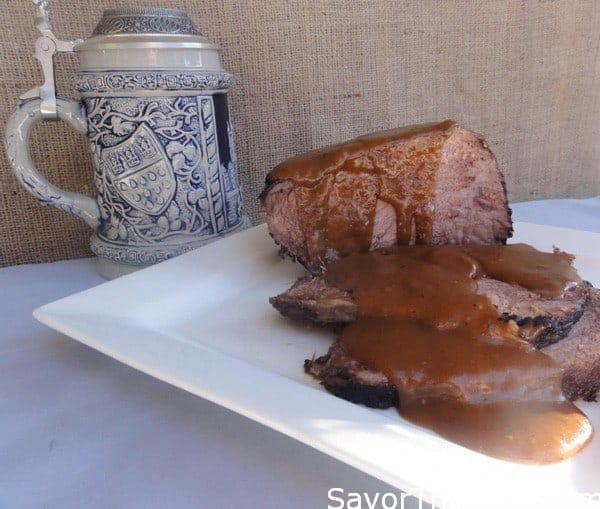 In September of 2009, Don and I took a trip to Europe which included a boat cruise down the Rhine River. We had planned this trip a year in advance and as our departure time drew near we were so excited.
The river cruise began in Amsterdam where we saw the famous windmills. It went through Germany where we saw fairy-tale castles; and on through France where we took a land trip through the Alsace wine country and then back on the river with the finale 8 days later in Basel, Switzerland.
While in Germany and browsing through a quaint little hamlet we stopped for lunch in a pleasant looking restaurant and ordered a traditional German meal of sauerbraten.
Sauerbraten is actually German-style pot roast but it is marinated for 4-5 days in wine, vinegar and spices then roasted with vegetables and served with a rich brown delicious sauce made with the pan drippings and gingersnaps. Yes, gingersnaps!
When we returned from our trip to Europe the whole family gathered at our house to hear all about our adventure and I prepared sauerbraten as well as German hot potato salad, and red cabbage.
Today, I will share my recipe for the sauerbraten that is included in the Germany issue of my Time Life Foods of the World Series.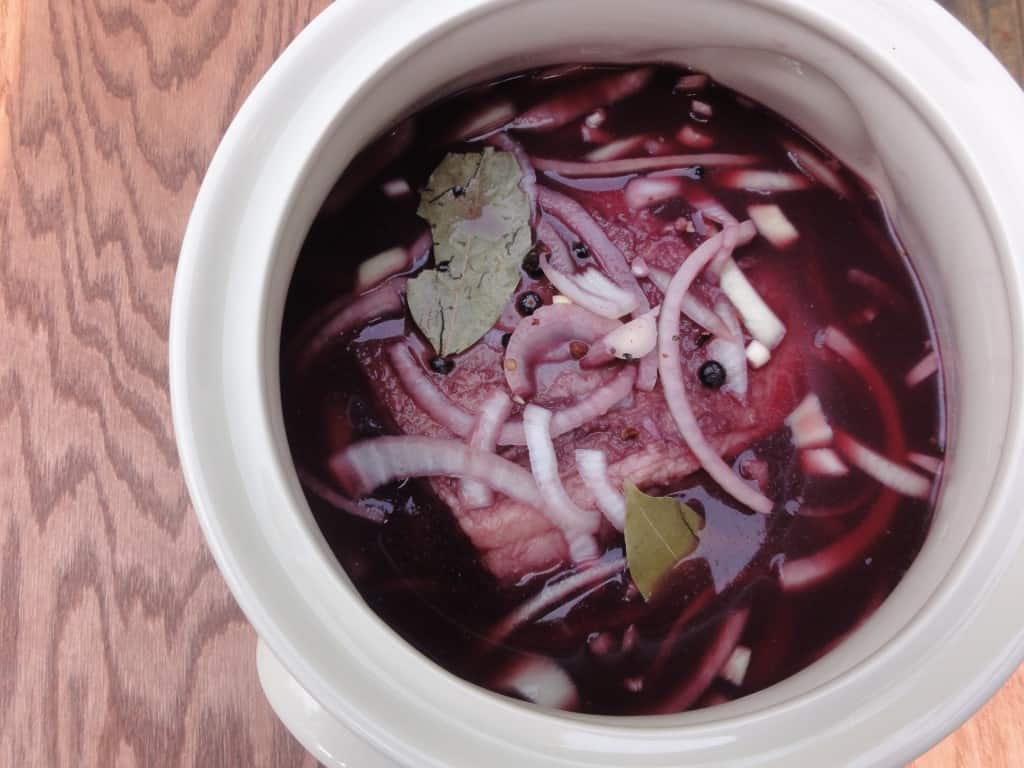 Some other recipes we are sure you will love:
Ale Braised Bratwurst with Apple Sauerkraut
CONNECT WITH SAVOR THE BEST!
Be sure to follow us on our social media accounts
Facebook | Twitter | Youtube | Pinterest | Instagram
If you make one of our recipes, snap a photo and tag it @savorthebest on Instagram and hashtag it #savorthebest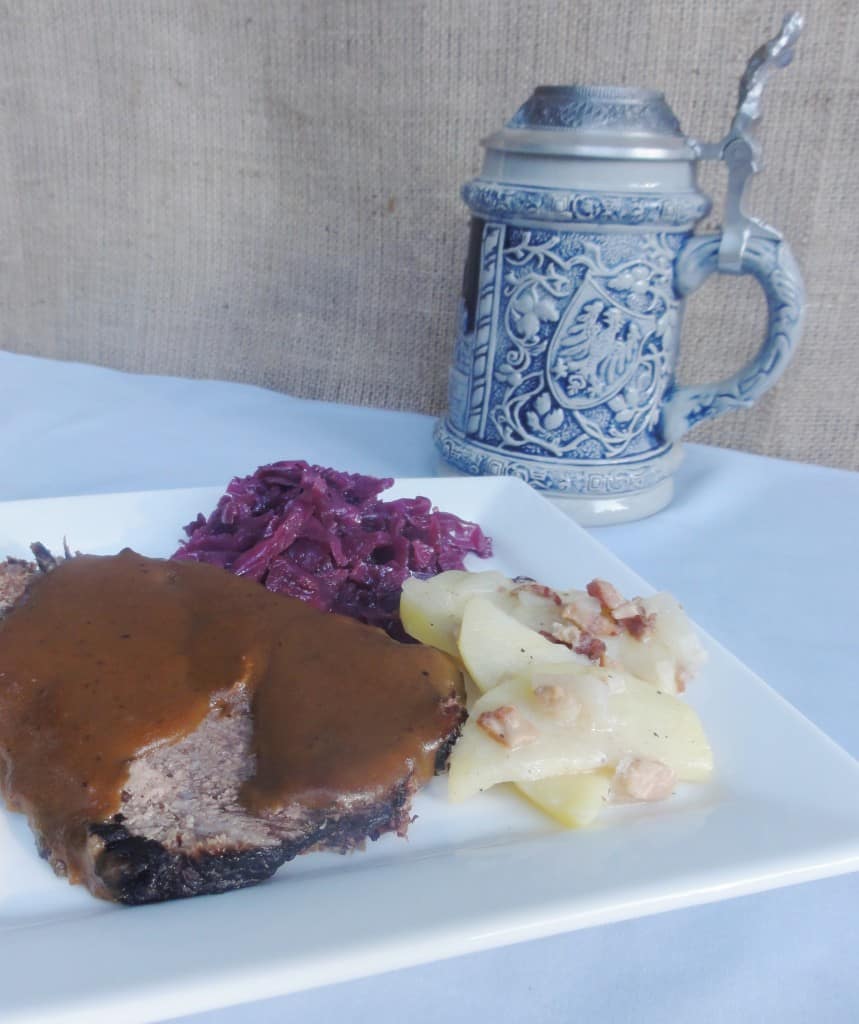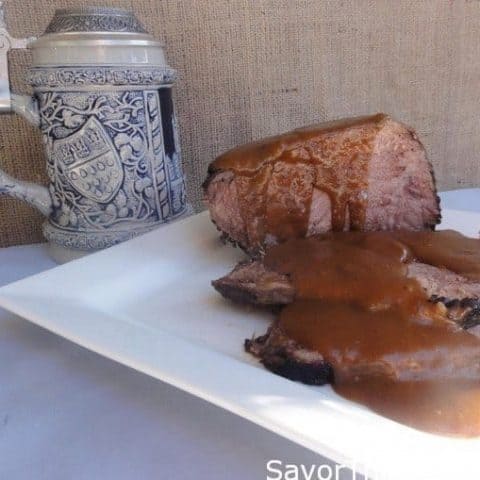 Sauerbraten (German Style Pot Roast)
Yield: 8 servings
Prep Time: 1 hour
Cook Time: 3 hours
Total Time: 4 hours
Sauerbraten (German Pot Roast) is a traditional beef pot roast that has been marinated in wine and vinegar, onions and spices for several days and then roasted with a mix of vegetables.
Ingredients
1/2 cup dry red wine
1/2 cup red wine vinegar
2 cups cold water
1 medium sized onion, peeled and thinly sliced
5 black peppercorns and 4 juniper berries*, coarsely crushed with a mortar and pestle
2 small bay leaves
4 pounds boneless beef roast, preferably top or bottom round or rump, trimmed of fat
3 tablespoons peanut oil
1/2 cup finely chopped onions
1/2 cup finely chopped carrots
1/4 cup finely chopped celery
2 tablespoons flour
1 cup beef broth or water
½ cup gingersnap crumbs
*Omit juniper berries if unable to find
Instructions
In a 2 to 3 quart saucepan, combine the wine, vinegar, water, sliced onion, crushed peppercorns and juniper berries, and the bay leaves. Bring this marinade to a boil over high heat, then remove it from the heat and let it cool to room temperature. Place the beef in a deep crock or a deep stainless steel or enameled pot (avoid plastic, aluminum and cast iron) just large enough to hold it comfortably and pour the marinade over it. The marinade should come at least halfway up the sides of the meat; if necessary, add more wine. Turn the meat in the marinade to moisten it on all sides. Then cover the pot tightly with foil or plastic wrap and refrigerate for 5 days, turning the meat over at least twice a day.
Preheat the oven to 350 degrees
Remove the meat from the marinade and pat it completely dry with paper towels. Strain the marinade through a fine sieve set over a bowl and reserve of the liquid, you will need at least 5 cups. Discard the spices and onions.
In a heavy 5 quart flameproof casserole, add the peanut oil over moderate heat until it begins to sputter. Add the meat and brown it on all sides, turning it frequently and regulating the heat so that it browns deeply and evenly without burning. This should take about 15-20 minutes. Transfer the meat to a platter, and pour off and discard all but about 4 tablespoons of the fat from the casserole.
Add the chopped onions, carrots and celery to the fat in the casserole and cook over moderate heat, stirring frequently, for 5-8 minutes, or until they are soft and light brown. Sprinkle with the flour and cook, stirring constantly, for 2 or 3 minutes longer, or until the flour begins to color. Pour in 2 cups of the reserved marinade and ½ cup of water and bring to a boil over high heat. Return the meat to the casserole. Cover tightly and transfer to the oven and cook in a preheated 350 degree oven for 2 to 2-1/2 hours, or until the meat shows no resistance when pierced with a sharp knife. Transfer the meat to a heated platter and cover with foil to keep it warm while you make the sauce.
Pour the liquid left in the casserole into a large measuring cup and skim the fat from the surface. You will need 3 cups of liquid for the sauce. If you have more, boil it briskly over high heat until it is reduced to that amount; if you have less, add some of the reserved marinade. Combine the liquid and the gingersnap crumbs in a small saucepan, and cook over moderate heat, stirring frequently, for 10 minutes. The crumbs will disintegrate in the sauce and thicken it slightly. Strain the sauce through a fine sieve, pressing down hard with a wooden spoon to force as much of the vegetables and crumbs through as possible. Return the sauce to the pan; taste for seasoning and let it simmer over a low heat until ready to serve.
To serve, carve the meat into ¼ inch slices and arrange the slices attractively in overlapping layers on a heated platter. Moisten the slices with a few tablespoons of the sauce and pass the remaining sauce separately in a sauce-boat.
Nutrition Information:
Yield: 8
Serving Size: 1
Amount Per Serving:
Calories: 501
Total Fat: 19g
Carbohydrates: 3g
Protein: 69g