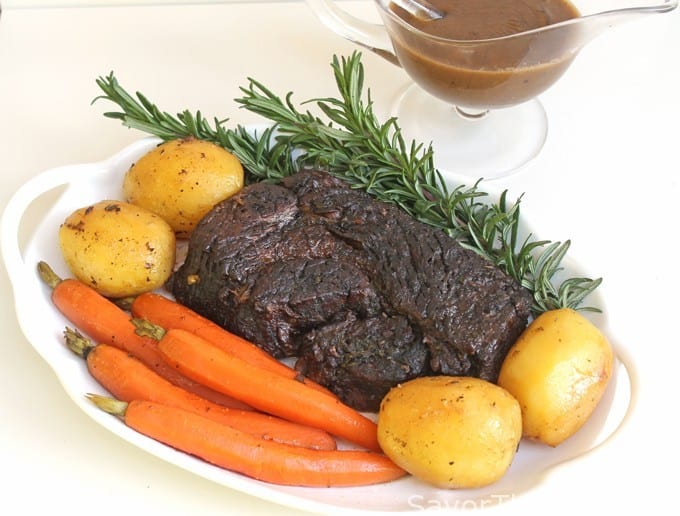 We had our first snow-fall of the season during the night and woke up with some white stuff all over the ground. Not a lot but just a light dusting. What a good day to do a slow-cooking herbed pot roast for dinner.
I remember how I enjoyed my mom's pot roasts when I was growing up, she made a lot of pot roasts for our Sunday dinner and the potatoes would have a deep, dark crust on the bottom from the drippings in the pot and there would be lots of carrots and onions. She would always, always have a bottle of ketchup on the table to top off that delicious beef and to this day I have to have ketchup with my pot roast. It is a must! Good old comfort food.
In my opinion, the cut of beef that is the best for this recipe is a chuck roast. It has a lot of flavor and lends well to a long slow roasting, and it is a fairly inexpensive cut of beef. The chuck roast was what mom used also.
I don't recall mom using fresh herbs in her pot roasts or, for that matter I don't remember her using fresh herbs in any of her cooking. That is one of the differences in our cooking styles and I like to keep some herbs growing on the back deck for easy access.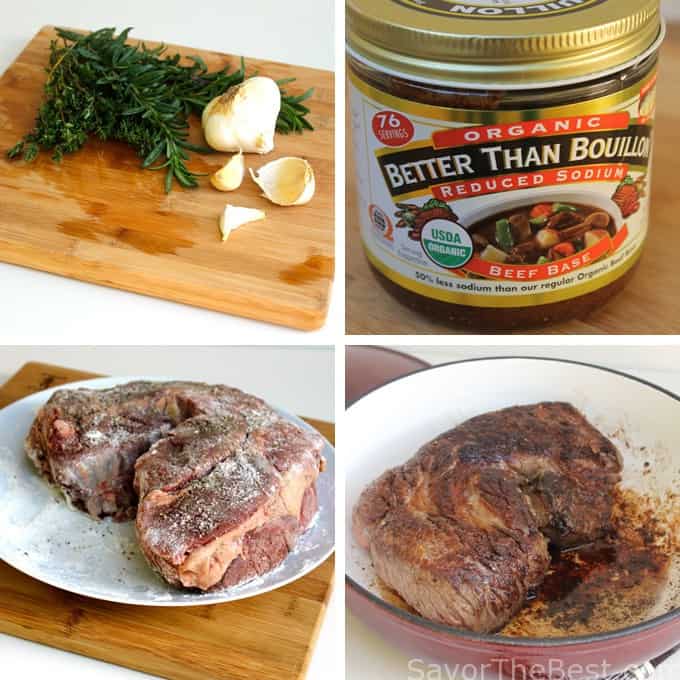 This hunk of beef is dusted with flour, salt and pepper. Then it is browned nicely in a skillet with a little coconut oil and transferred to a heavy-bottomed pot with a lid. I added a little red wine and a couple tablespoons of beef paste mixed with water to the pot, some minced garlic, fresh thyme and rosemary and a couple of bay leaves.
The pot is then oven-roasted at a low 275°F for three hours or more. When it is tender, the potatoes and carrots are added and back to the oven for another 45 to 50 minutes until the vegetables are tender. There will be enough drippings left in the roasting pot for a delicious sauce to be served with the meal.
If you are not familiar with beef paste, it is a product that is available in most grocery stores under several different brands but the one I like the best is Better Than Bullion. Beef paste is a concentrated form of beef stock but not the same as bullion cubes. It is much more flavorful and doesn't have all that salt that is common in bullion cubes. If you can't find a beef paste then canned beef stock would be a good substitute.
While this herbed pot roast is in the oven Don is in the garage putting our studded snow tires on the car so I will be able to get out of the icy driveway.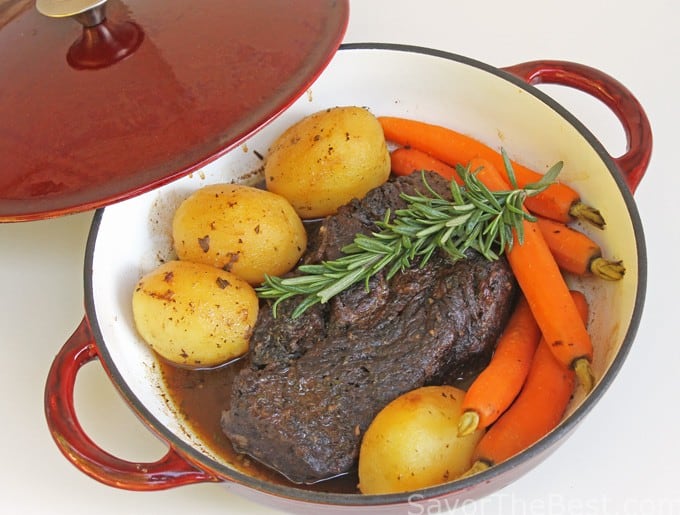 CONNECT WITH SAVOR THE BEST!
Be sure to follow us on our social media accounts
Facebook * Instagram * Pinterest * Twitter * Youtube
Did you make this recipe? We would love to hear from you. Drop us a comment below.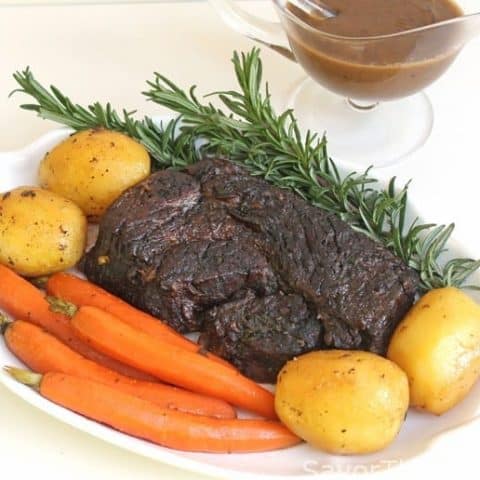 Herbed Pot Roast
Yield: 8 servings
Prep Time: 20 minutes
Cook Time: 4 hours
Total Time: 4 hours 20 minutes
A savory pot roast seasoned with fresh rosemary, thyme and garlic. An old-time comfort food that is always enjoyed.
Ingredients
One 3-pound chuck roast
1/4 cup all-purpose flour
1/2 teaspoon kosher salt
1/4 teaspoon freshly ground black pepper
3 tablespoons coconut or avocado oil
1/2 cup red wine, optional
3 cups water
2 tablespoons beef paste such as Better Than Bullion
1 tablespoon fresh rosemary, finely chopped
1 tablespoon fresh thyme, finely chopped
4 cloves garlic, minced
4 to 6 whole carrots, peeled
4 to 6 whole Yukon Gold potatoes, peeled
For the sauce:
pan drippings
soft butter
flour
Instructions
Preheat the oven to 275 degrees F.
In a dinner plate or pie plate, mix the flour, salt and pepper together. Add the beef to the flour to coat each side, including the edges.
Heat the oil in the skillet, over medium-high heat. Add beef to the pot, searing and browning it on both sides and the edges. Transfer the beef to a lidded, heavy-bottom pan or a Dutch oven and add the red wine, if you are using it.
In a quart-sized bowl, add the 3 cups of water and stir in the beef paste. Add the mixture to the pot with the beef, it should cover the roast about halfway. Add the rosemary, thyme, garlic and bay leaves. Put the lid on the pot and transfer it to the middle rack of the oven and roast for 3 hours for a 3-pound roast. Add carrots and potatoes to pan. Cover and bake an additional 1 hour or until vegetables are tender.
Remove the meat and the vegetables to a serving plate and cover with foil to stay warm while making the sauce.
For the sauce:
Discard the bay leaves and measure the drippings from the roasting pan and add it to a small sauce pan. For every one-cup of liquid, mix in a small bowl, 1 tablespoon each of flour and soft butter to a smooth paste with the back of a spoon or a spatula. Bring the drippings in the sauce pan to a boil over high heat, remove it from the heat and whisk in the butter-flour paste until completely melted. Return the pan to the heat and simmer briefly until thickened. Transfer the sauce to a serving container and serve with the pot roast.
Notes
The butter-flour paste used in this recipe known as beurre manié, is an ideal last minute thickener for sauces. For each cup of liquid for the sauce, mix 1 tablespoon each of soft butter and flour to a smooth paste with a spoon or rubber spatula.
For a thicker sauce increase the portions to 1 tablespoon butter and 2 tablespoons of flour.
This beurre manié sauce is meant to be used immediately, do not boil the sauce, simmer briefly to cook the flour. Over-cooking or reheating will cause the sauce to break down and thin.
Nutrition Information:
Yield: 8
Serving Size: 1
Amount Per Serving:
Calories: 544
Total Fat: 31g
Saturated Fat: 13g
Trans Fat: 2g
Unsaturated Fat: 16g
Cholesterol: 148mg
Sodium: 316mg
Carbohydrates: 42g
Fiber: 4g
Sugar: 3g
Protein: 38g
Nutrition information is a guideline only, is calculated automatically by third party software, and absolute accuracy is not guaranteed.