Cassoulet with duck, sausage and pork is a truly delectable culinary experience that will not take you three days to prepare as with a classic French cassoulet recipe!
Duck confit, sausage, pork and white beans are slow-simmered with herbs, aromatics and vegetables to create a hearty and flavor-packed meal. Each serving of this delicious, stew-like dish is even more tasty with a slice of rosemary bread to sop up that broth-y goodness.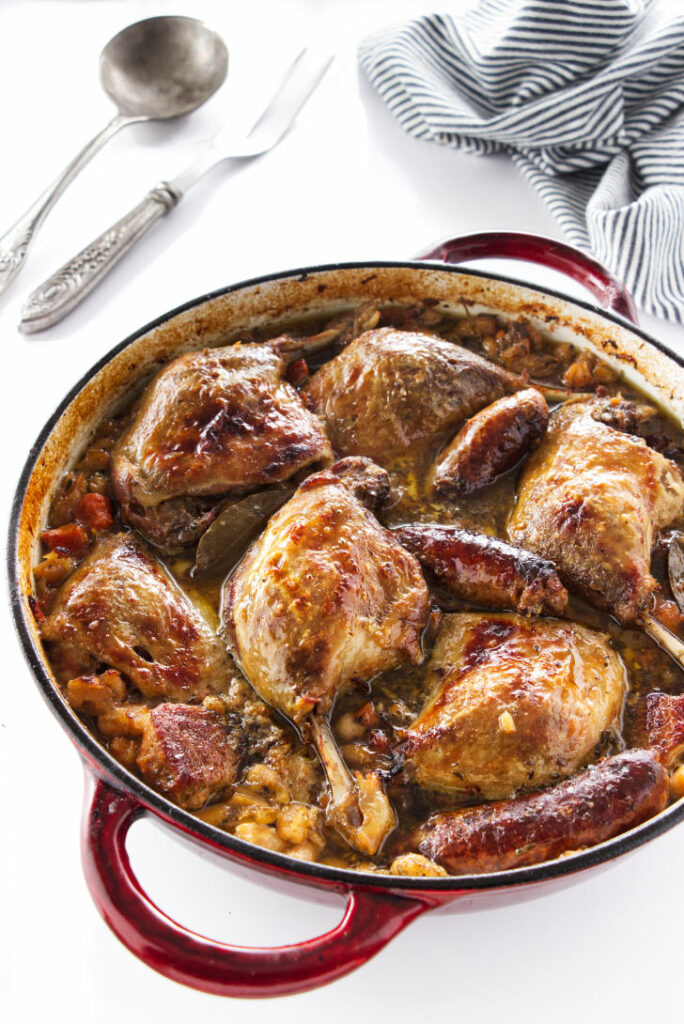 What is Cassoulet?
Cassoulet is a French stew traditionally made with white beans, duck, pork, sausage, and lamb. It gets its name from the casserole dish. Authentic French cassoulet is usually pretty time-consuming and has since transformed from a simple stew to a more elevated, complex dish to prepare.
Similar to our Lamb Shank Cassoulet, our version speeds up the process yet maintains many of the same ingredients and flavors of authentic French cassoulet. This easy cassoulet recipe results in a cozy, French-inspired stew with bold flavor.
One of the great things about this recipe is that it perfectly suits any occasion, whether you're entertaining guests or preparing a casual meal for the family.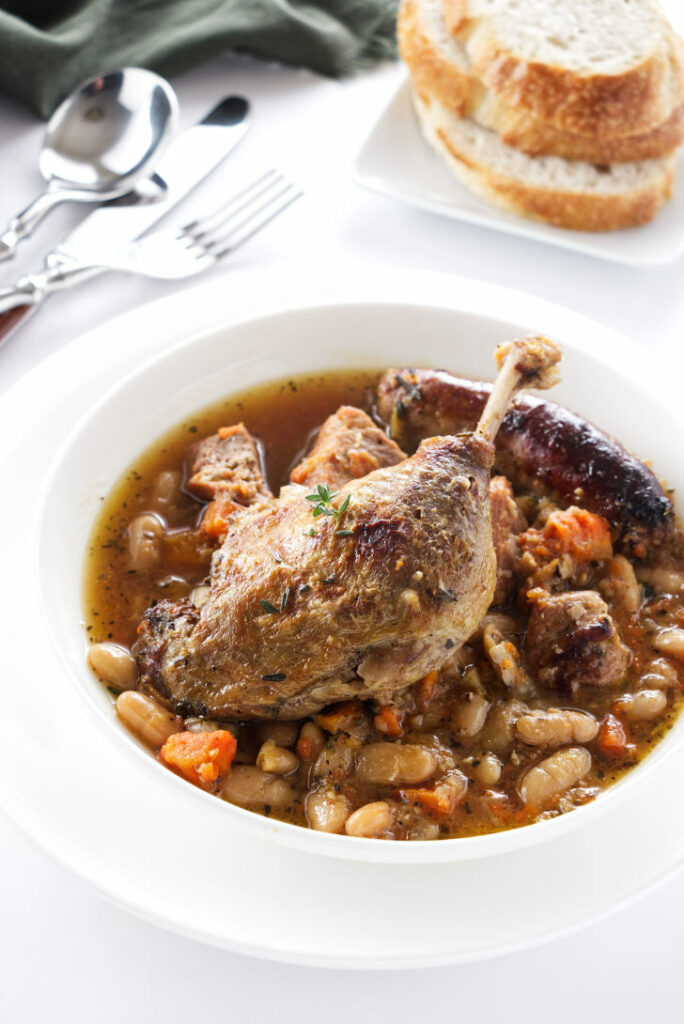 Why this Cassoulet Recipe Works
Duck cassoulet is quite possibly one of the best stews you'll taste. The combination of meats imparts an incredible flavor to the stew that soaks into the tender beans and veggies.
Cooking it low and slow is the key here to getting maximum flavor. And luckily, you won't have to wait days to enjoy a piping hot bowl of it.
Why you will love this French cassoulet:
It is rich and broth-y, with tender meat and an unmatched flavor.
This easy cassoulet recipe is simple enough for a novice.
It is a healthy, hearty, homestyle meal that works for any occasion.
Ingredients for Cassoulet
While this cassoulet with duck isn't exactly an authentic French cassoulet recipe, it still calls for many of the same ingredients that you would find in a traditional cassoulet.
To prepare it, you will need:
Broth- A combination of chicken broth and duck broth work best!
Pork- Three kinds of pork, to be exact! You will need salt pork (or pork belly), pork garlic sausages and pork tenderloin.
Vegetables- Carrots, fennel bulb and onion (studded with garlic) is the yummy veggie combo that will infuse lots of flavor into your cassoulet.
Herbs and seasonings- You'll need Herbs de Provence, salt, black pepper, bay leaves, chopped rosemary and fresh thyme.
Duck confit- We like to use the duck meat from our easy sous vide duck legs recipe for the best results. However, if you cannot prepare duck that way or you'd like to simplify the recipe, you can usually find duck confit in the frozen meat section of most grocery stores.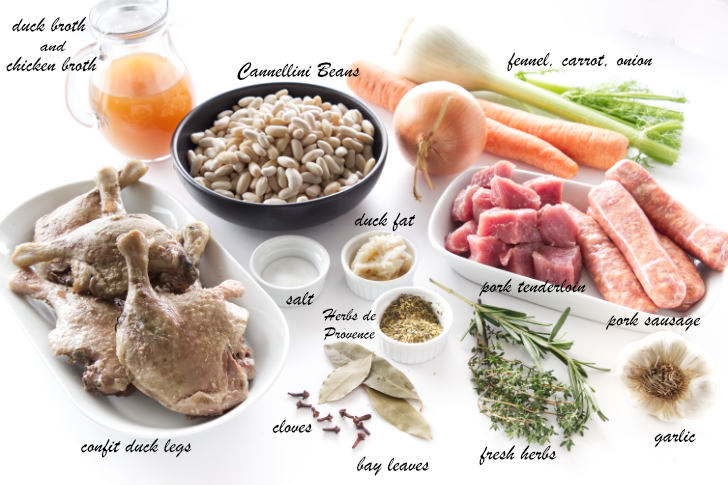 How to Make French Cassoulet
This cassoulet with duck and pork is a pretty simple process that will take about 4 hours to prepare once the beans have soaked.
Keep in mind that you will need to soak the dried beans for at least 8 hours so we recommend doing this the night before and letting them soak overnight.
Here's how to make duck cassoulet (scroll to the bottom of the page for the full printable recipe card):
Soak and cook the beans: Let the dried beans soak for about 8 hours.
Cook the pork: Brown the salt pork in the duck fat. Transfer to a plate, then brown the sausages and set those aside. Next, brown the pork cubes in two batches and add them to the plate.
Add the vegetables: Sautè the veggies then add the drained beans and seasonings. Pour the chicken and duck broth into the pot, then nestle the clove-studded onion into the mixture. Cook until the beans are al dente.
Cook the cassoulet: Stir in the sausages and pork cubes. Cover the pot and cook at 300°F for 2 hours. Remove the onion, then lay the duck legs on top. Cover the pot and return to the oven to bake.
Broil the duck legs: Remove the lid from the pot and brush the duck legs with olive oil. Place it under the broiler and cook until the duck legs are golden brown and the skin is crisp.
Note: If you'd like to add extra flavor to this easy cassoulet recipe, add 1/2 cup white wine to the sauteed veggies. Let it cook for 1 minute to burn off the alcohol, then proceed with adding the broths.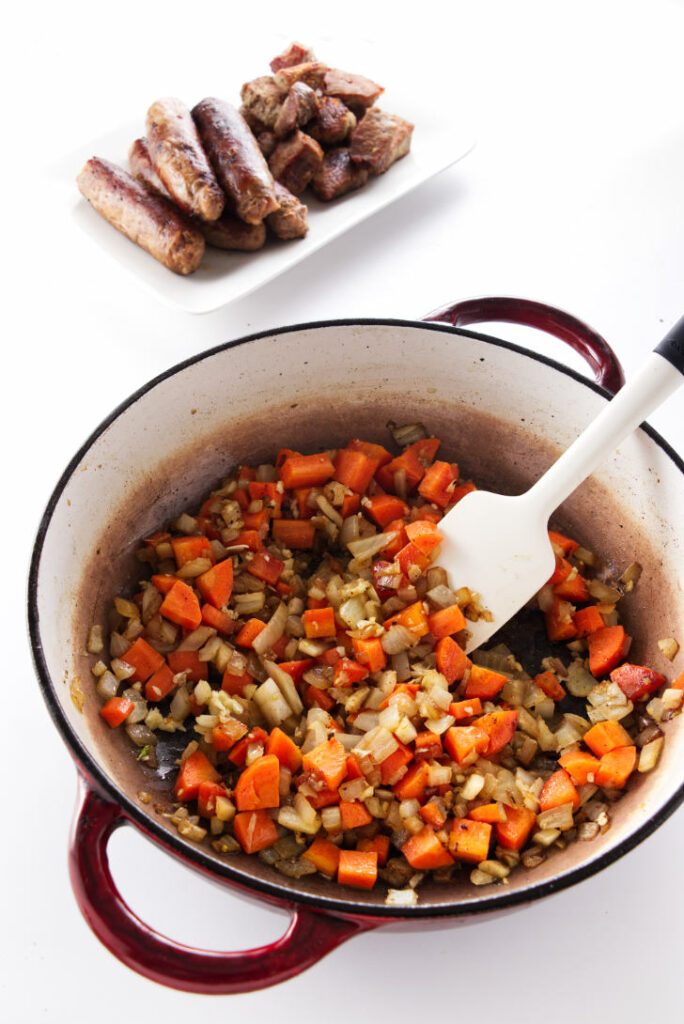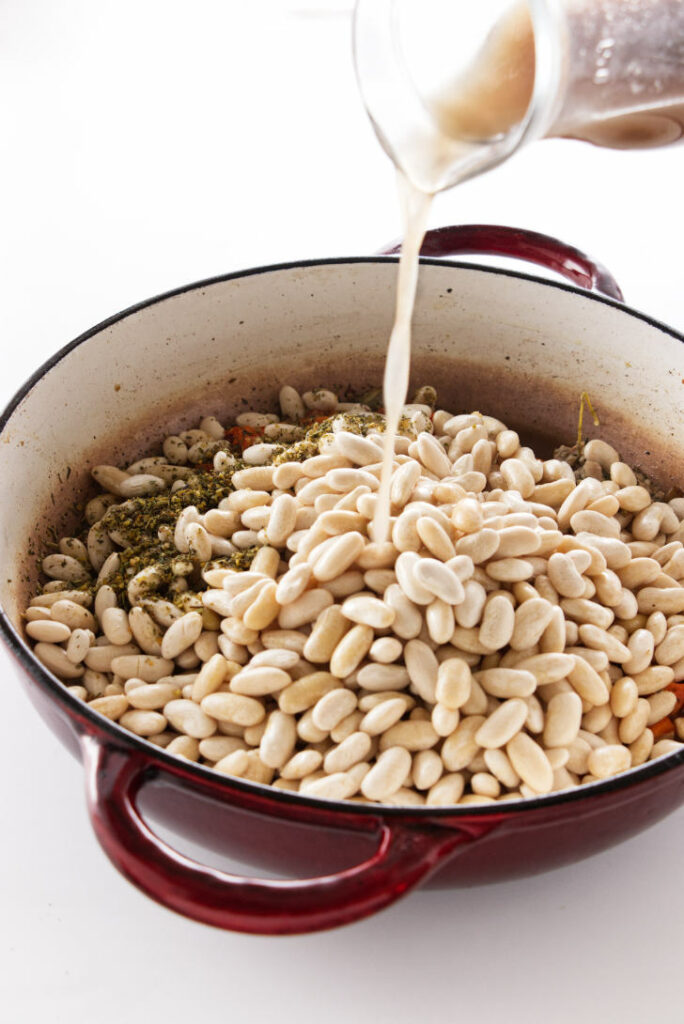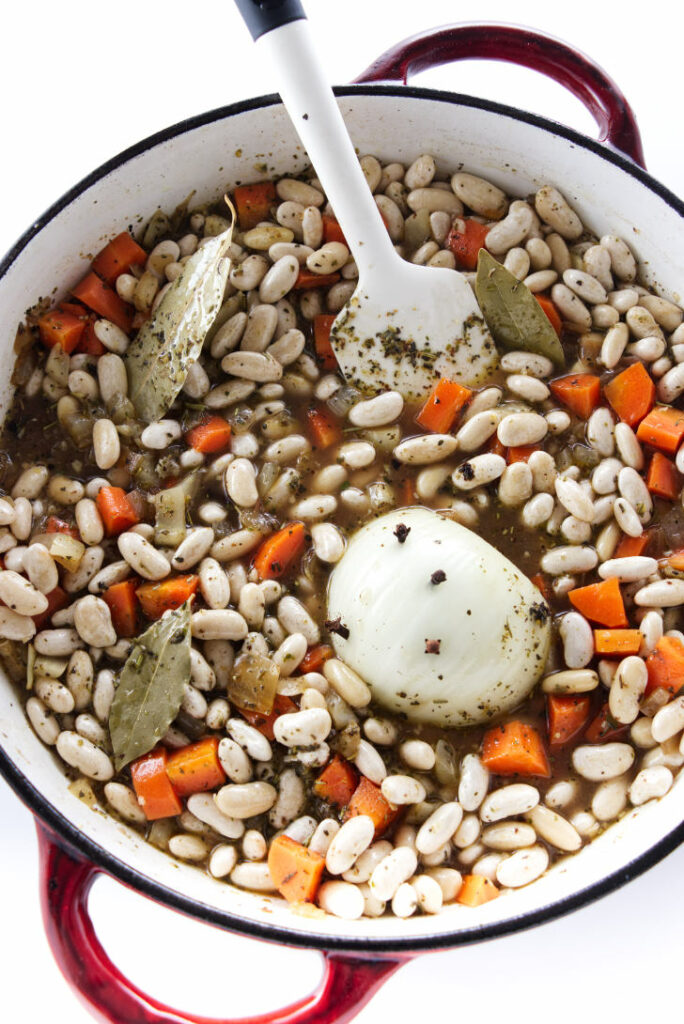 Frequently Asked Questions
Should cassoulet be soupy?
Cassoulet should be thick with a slight amount of brothiness that you can easily sop up with a slice of crusty bread. The perfect cassoulet texture isn't quite "soupy," but is best described as having the consistency of stew.
Is cassoulet better the next day?
Cassoulet is delicious immediately but the flavors do meld over time. Because of this, you can rest assured that cassoulet will have even better flavors one or two days after it is prepared.
How do I reheat the cassoulet?
You can reheat individual servings of cassoulet in the microwave. To reheat the entire cassoulet, you can place the dish in the oven at 300°F until it is heated through.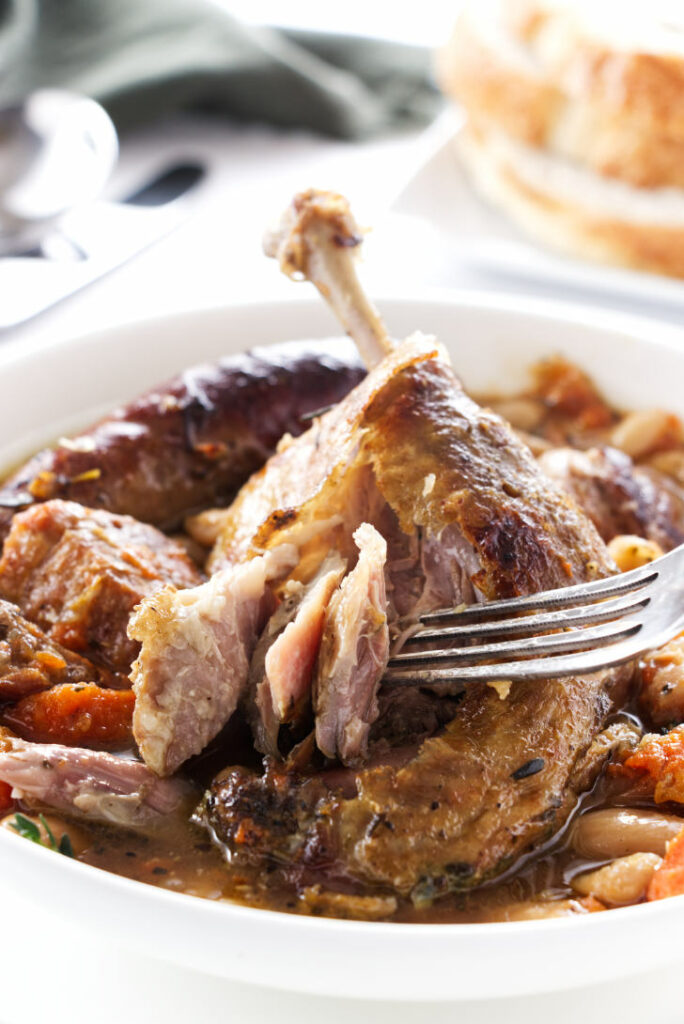 What to Serve with Cassoulet
This French-inspired stew might be unmatched when it comes to flavor, but it has at least one thing in common with other stews. It is best served with BREAD. 😉
Here are a few ideas for what to serve with our cassoulet:
Some Other Recipes We Are Sure You Will Love:
Whole Roasted Chicken with Vegetables is a simple, one-pan supper that's great for entertaining or a relaxing Sunday evening with the family. The skin on this chicken is crisp, and the flesh is tender and flavorful. Along with the chicken, little potatoes, carrot chunks, and onion halves roast and are bathed in the pan juices.
We all need a repertoire of one-pot meals and this Penne Arrabiata with Smoked Sausage: is a keeper! A rich tomato-based, spicy sauce with fresh parsley and basil is tossed with penne pasta, smoky sausage, and Kalamata olives. Serve it with an easy wedge salad.
This luscious, juicy Sous Vide Rack of Lamb has been coated with a mash of garlic and chopped fresh rosemary, which adds tremendous flavor. The sous vide cooking method is simple to use and consistently produces excellent results.
Connect With Savor the Best:
Please follow us on our social media accounts
Facebook * Instagram * Pinterest * Youtube * Twitter
Did you make this recipe? We would love to hear from you. Drop us a comment below.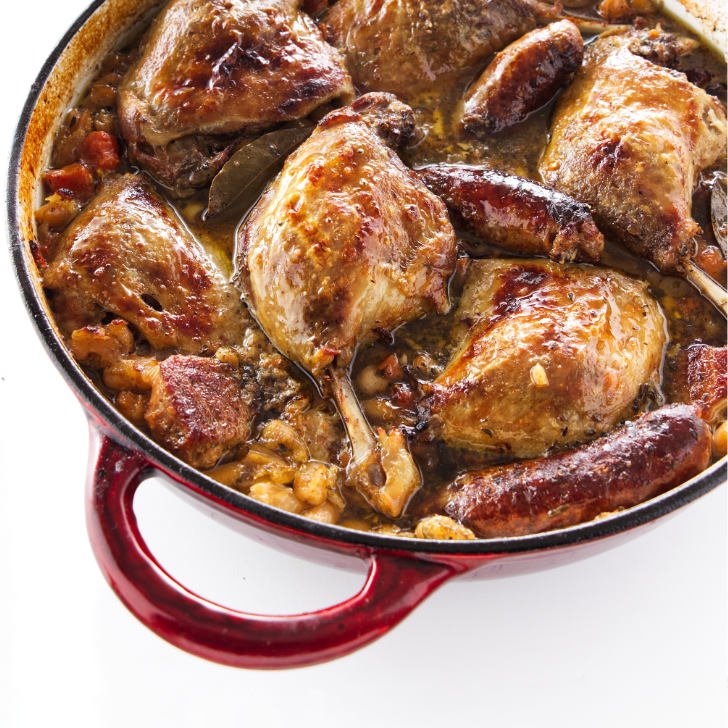 Cassoulet with Duck, Sausage and Pork
Cook Time:
3 hours
30 minutes
Our recipe for cassoulet will not take three days to prepare as with the classic French cassoulet. This duck cassoulet is made with duck confit, sausage, pork, and white beans. The ingredients are slowly simmered to bring out their rich flavors, This hearty dish is great for entertaining or for casual family meals.
Ingredients
1 pound Cannellini Beans
3 tablespoons duck fat or vegetable oil
8-ounces of salt pork cut into 1/2 inch cubes
4 pork garlic sausages
8 oz. pork tenderloin, cut into 1-inch slices
2 carrots, diced
1 fennel bulb, trimmed and chopped
1/2 onion, chopped
8 garlic cloves, grated or minced
1 tablespoon Herbs de Provence
3 bay leaves
2 teaspoons salt
1/4 teaspoon freshly grated black pepper
4 cups chicken broth
2 cups duck broth
1/2 onion, studded with 6 cloves
6 Sous Vide confit duck legs
1 tablespoon freshly chopped rosemary
1 tablespoon fresh thyme leaves
Instructions
For the Beans:
Place beans in a large pot and cover with cold water. Soak the beans for 8 hours or overnight.
Drain the beans, then cover them with 2-inches of cold water and bring them to a boil over medium-high heat, cook for 10 minutes. Drain and reserve.
Make the Duck Cassoulet:
In a 6-qt. Dutch oven or large braiser set over medium-low heat, add half of the duck fat. When the fat melts, add the cubes of salt pork. Stir occasionally to brown on all sides. Transfer to a plate and reserve.
Prick the sausages in several places to keep them from splitting. Add the sausages to the pot turning until well brown on all sides. Remove to the plate and reserve.
Add half of the pork tenderloin cubes to the pan and sear them until brown. Place them on a plate and continue browning the remaining pork cubes.
Melt the remaining fat/oil in the pan, then add the carrots, fennel, chopped onion, and garlic. Sauté for 1-2 minutes.
Add the drained beans, Herbs de Provence, bay leaves, salt, and pepper.
Pour the chicken and duck broth into the pot, and stir to combine. Nestle the clove-studded onion into the mixture,
Bring the pot to a boil over high heat, then reduce the heat to medium-low, cover and simmer for 45 minutes or until the beans are tender to the al dente stage.
Preheat the oven to 300°F.
Stir in the browned sausages and pork cubes. Cover the pot and transfer to the oven. Cook for 2 hours.
Remove the pot from the oven, and discard the clove-studded onion. Lay the duck legs on top of the cassoulet, snuggling them lightly into the juices but leaving them partially exposed. Cover the pot and return to the oven for 20 minutes for the duck legs to heat through.
Transfer from the oven, remove the cover, and brush the exposed duck legs lightly with olive oil. Turn the oven to broil and cook until the duck legs are golden brown and the skin is crisp, about 5-6 minutes.
Transfer from the oven, garnish with chopped rosemary and thyme leaves. Serve immediately directly from the pot with crusty bread.

Notes
We used our Sous Vide Duck Legs for this recipe but most grocery stores will stock duck confit in the frozen meat section.
Pork belly can be substituted for the salt pork.
For extra flavor add 1/2 cup of white wine to the sauteed vegetables, cooking for 1 minute to burn off the alcohol, then proceed with adding the chicken and duck broth.
Recommended Products
As an Amazon Associate and member of other affiliate programs, I earn from qualifying purchases.
Nutrition Information:
Yield:

8
Serving Size:

1
Amount Per Serving:
Calories:

817
Total Fat:

56g
Saturated Fat:

18g
Trans Fat:

0g
Unsaturated Fat:

34g
Cholesterol:

202mg
Sodium:

4750mg
Carbohydrates:

25g
Fiber:

6g
Sugar:

3g
Protein:

54g
Nutrition information is a guideline only, is calculated automatically by third-party software, and absolute accuracy is not guaranteed.