If you are looking for new ideas to serve for a special occasion you should make our recipe for roasted duck breast with ginger-rum sauce. Duck breast is a rich, dark meat and is often served with a sweet fruit sauce to balance out the richness of the meat. Our ginger-rum sauce pairs beautifully with this tender, juicy duck breast.
Ducks spend a lot of time in cold water. They stay insulated with a thick layer of fat just beneath the skin to keep them warm. The ducks we using in this recipe are White Peking domesticated ducks and do not have that wild, gamey taste that wild ducks will have.
If you want a wild duck I guess you will have to go hunting. My one and only experience with wild duck was that it tasted 'fishy' since that was their diet.
Duck breast is found on high-end restaurant menus along with high-end prices of $25 and up, per serving. But….you can create this tender, rich, delicacy in your own kitchen at a very reasonable price.
You can find whole ducks, duck breasts and duck legs in the frozen meat section of most grocery stores. We bought these two six-ounce each, individually packaged duck breast for less than $7 each and we splurged on a $15 bottle of good Syrah wine to boot!
Ginger Rum Sauce
The ginger-rum sauce is savory-sweet with a little garlic, fresh ginger, ginger preserves and a touch of golden rum. All the alcohol in the rum gets boiled out as the mixture reduces to a slightly thick syrup.
A small amount of cream added to the sauce gives it a smooth consistency. Because the ginger-rum sauce will take longer to cook than the roasted duck breast we prepared it first and kept it covered on a back burner to stay warm.
You could actually make the sauce in advance. Just refrigerate it, then do a re-heat just before the duck is ready to serve.
Preparing the duck breast:
Cooking a duck breast is not any more challenging than cooking a steak. Just to look at the uncooked underside of a duck breast it even looks like a steak. And, like a good steak, duck breast is best cooked to a rosy pink. It can be a challenge though to achieve that perfectly crisp, golden skin without over-cooking the lean breast meat.
How to get crisp skin:
The key to getting the skin nice and crisp is to first score the skin with a sharp knife so the fat is released during searing and crisps up quickly. It is surprising how much fat will bubble up and that fat has a lot of flavor.
Save the rendered fat left in the skillet and use it wherever you would use bacon drippings. The grocery stores actually sell small tubs of duck fat. It's priceless!
After the duck breasts are brown and crispy, drain the fat off and flip the breasts over. Next, transfer the skillet to the hot, preheated oven.
We roasted the duck breasts to a medium-rare at 135°F on an instant-read thermometer. The duck breasts were transferred to a cutting board and covered with foil for a five-minute rest before slicing it and serving.
To serve these delicacies, we spooned a puddle of the ginger-rum sauce on two plates and added one sliced duck breast to each plate.
We served this roasted duck breast with fresh asparagus and red quinoa. And a glass of Syrah wine. Yum….:)
You might also like:
CONNECT WITH SAVOR THE BEST!
Be sure to follow us on our social media accounts
Facebook | Twitter | Youtube | Pinterest | Instagram
If you make one of our recipes, snap a photo and tag it @savorthebest on Instagram and hashtag it #savorthebest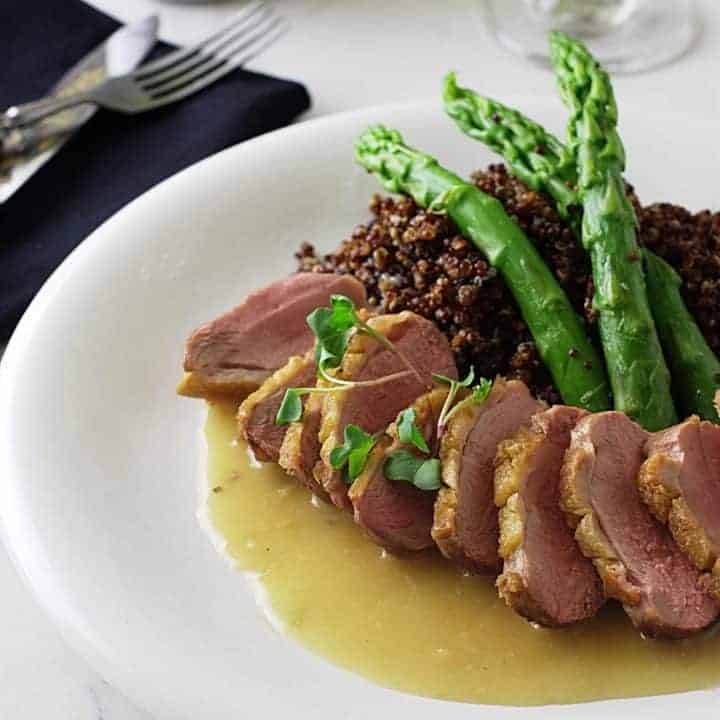 Roasted Duck Breast with Ginger-Rum Sauce
Yield: 2 servings
Prep Time: 30 minutes
Active Time: 45 minutes
Total Time: 1 hour 15 minutes
Roasted duck breast with ginger-rum sauce. The breast is tender and juicy while the sweet-savory sauce pairs well with the rich duck breast.
Ingredients
FOR THE RUM GINGER SAUCE:
1 tablespoon olive oil
2 garlic cloves, grated or minced
2 tablespoons grated fresh ginger
1/2 cup ginger preserves
1 cup chicken stock
1/2 cup rum *(See Notes)
1/4 cup heavy cream
2 tablespoons heavy cream
Salt and freshly ground white pepper
FOR THE ROASTED DUCK BREAST
2 duck breasts of 6 oz. each
Salt and freshly ground black pepper
Instructions
For the Ginger-Rum Sauce:
In a small saucepan set over medium heat, add the olive oil and when it is warm add the garlic and ginger and cook until the garlic is fragrant but not brown, about 30 seconds.
Add the chicken stock, rum and ginger preserves, bring to a boil stirring to melt the preserves. Lower the heat to medium low and cook, reducing the sauce to a thick sauce, about 20-25 minutes. Stir in the cream and add salt and pepper to taste. Cover and reserve while preparing the duck breast.
For the Roasted Duck Breasts:
Preheat the oven to 425°F
Score the skin on each duck breast, diagonally, turn and slice again in a crisscross pattern. Sprinkle each breast on the skin side with salt and pepper, rubbing gently, working the salt into the cuts. Sprinkle the underside with salt and pepper.
Heat a cast iron skillet or other heavy oven-proof skillet over medium-high heat until hot but not smoking. Add the duck breasts, skin side down. Cook until the skin is well browned and the fat has rendered, about 5 minutes. You will see a lot of fat bubbling out around the breasts. Pour off the fat, flip the breasts to skin side up and transfer to the middle of the oven. Roast the duck breast until they have reached an internal temperature of 135°F on an instant read thermometer, about 8 minutes. *(See Notes)
Remove the skillet from the oven and transfer the duck breasts to a cutting board, tent with foil and let rest for 5-minutes, then slice diagonally.
To serve, spoon a puddle of the sauce onto each of two warm plates and arrange the slices of one duck breast on each plate.
Notes
I used the golden, light colored rum for this sauce, the dark-colored rum can be substituted. This will make approximately one cup of sauce. Nutritional Values for 1/4 cup - 183 cals, 6g fat
The USDA recommends cooking duck breasts to an internal temperature of 170°F to ensure that any harmful bacteria are killed, but since we prefer the meat medium-rare, we cook it to only 135°F. To our taste, that yields the perfect degree of doneness.
Recommended Products
As an Amazon Associate and member of other affiliate programs, I earn from qualifying purchases.
Nutrition Information:
Yield: 2
Serving Size: 1 breast
Amount Per Serving:
Calories: 343
Total Fat: 18g
Saturated Fat: 4.9g
Cholesterol: 231mg
Sodium: 143mg
Protein: 41.6g