These roasted Cornish Game Hens have a crispy, golden brown skin while the meat is tender, juicy and delicious.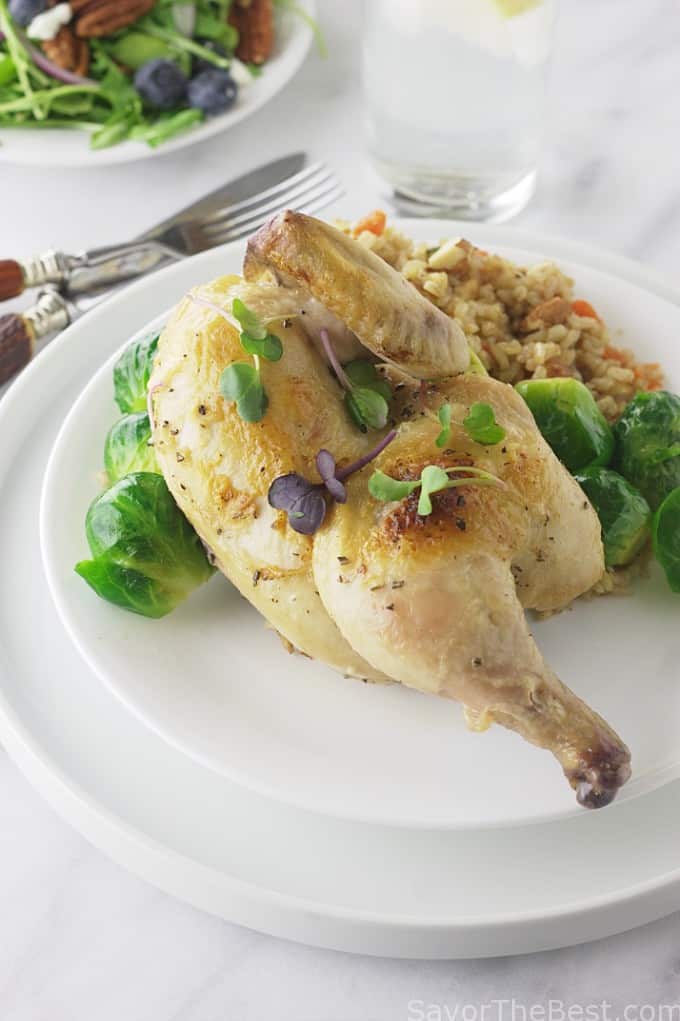 Cornish Game Hens have been on my 'to do' list for quite some time. After watching the recent KCTS cooking program giving the instructions for crispy roasted Cornish Game Hens I elevated them to the top of the list.
This is not a difficult recipe but it does take a little pre-planning as the birds are salted and refrigerated overnight. They roast to a crisp, golden brown and are juicy and tender.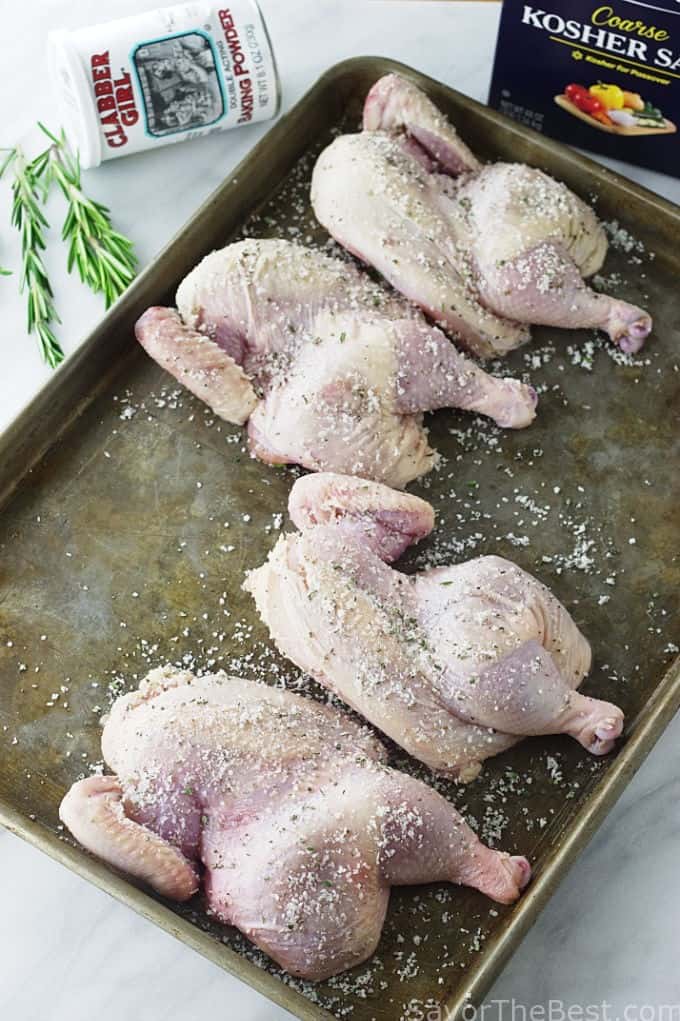 At first look, these Cornish Game Hens appear to be out-of-reach expensive but they cost about $3.50 each and they are an often overlooked meal option. Cornish Game Hens make an elegant entree for either a special dinner event or a week night dinner. They are easy to prepare, they are tender and absolutely delicious.
They also make a nice change from regular chicken because they are so tiny and cute. However, they are chickens.…28 day old chickens. Cornish Game Hens usually weigh between one-and-a half to two pounds each and although it is assumed that one whole bird is a serving, I have found that half of a bird is an idea portion when served with a side dish and a salad.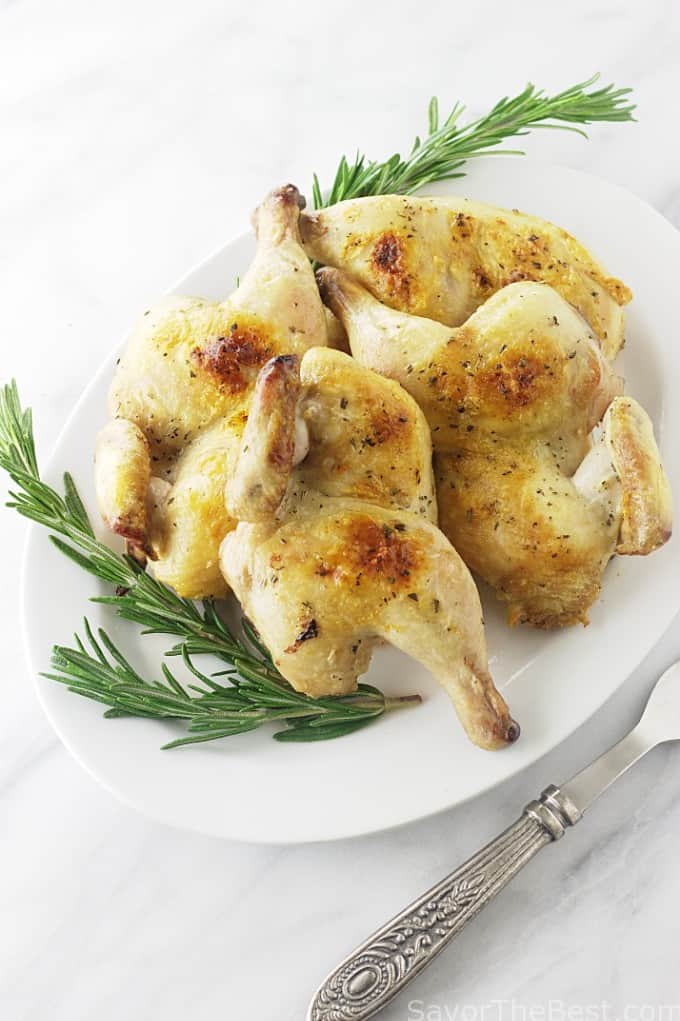 Cornish Game Hens can be cooked the same as you would cook any chicken, roasted, baked, grilled or stuffed. I'm not sure about fried game hen though. 🙂
To prepare these Cornish Game Hens for roasting we have used the spatchcock method which removes the backbone so the bird lays flat. The birds are salted with kosher salt on the bony side but for the skin side, baking powder is mixed with the salt-herbs and rubbed onto the skin.
The baking powder serves as a drying agent to dry the skin out, making it roast up crispy. They roast for 15 minutes in a hot 500°F oven with another 5 minutes under the broiler.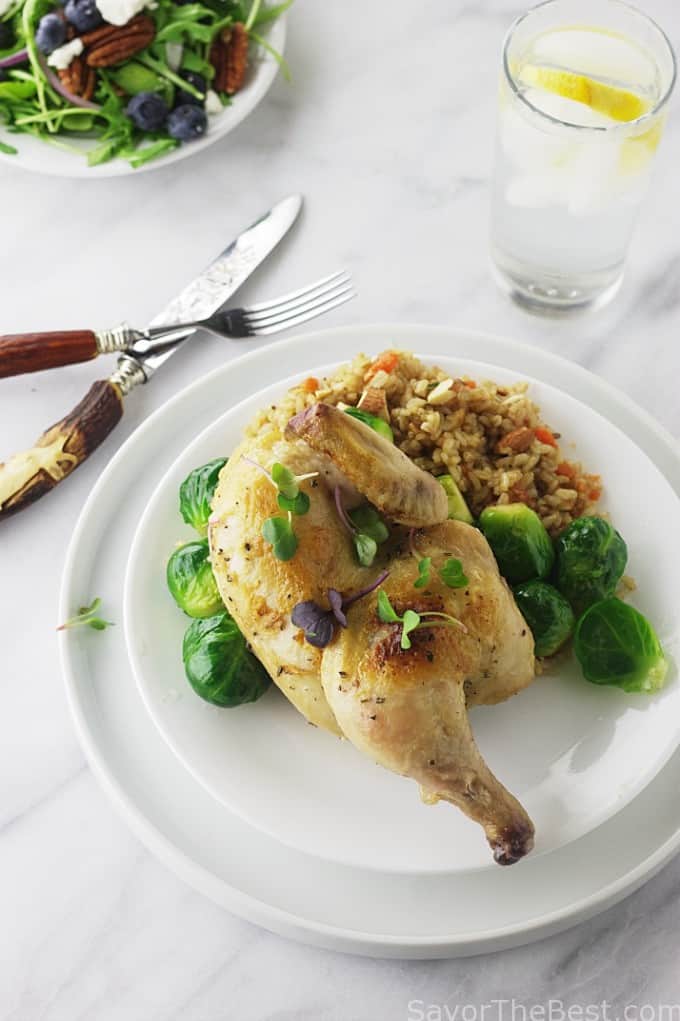 We served these crispy roasted Cornish Game Hens with a side dish of sprouted brown rice pilaf, sautéed brussels sprouts and a green salad.
Easy chicken recipes:
Garlic Chicken with Smokey Paprika
Cast Iron Chicken with Root Vegetables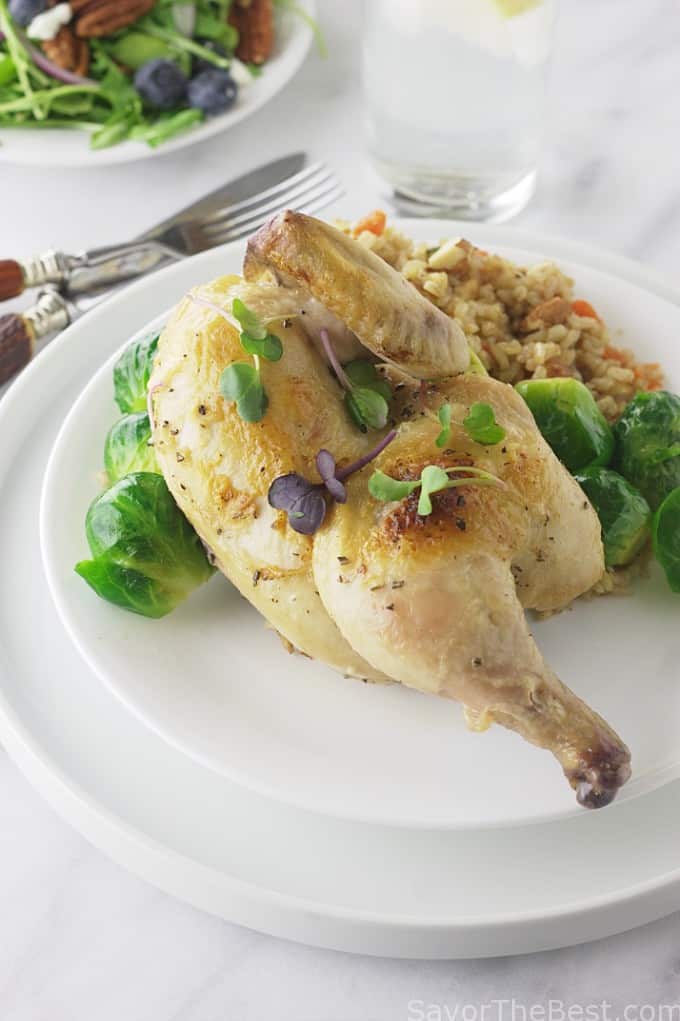 CONNECT WITH SAVOR THE BEST!
Be sure to follow us on our social media accounts
Facebook * Instagram * Pinterest * Twitter * Youtube
Did you make this recipe? We would love to hear from you. Drop us a comment below.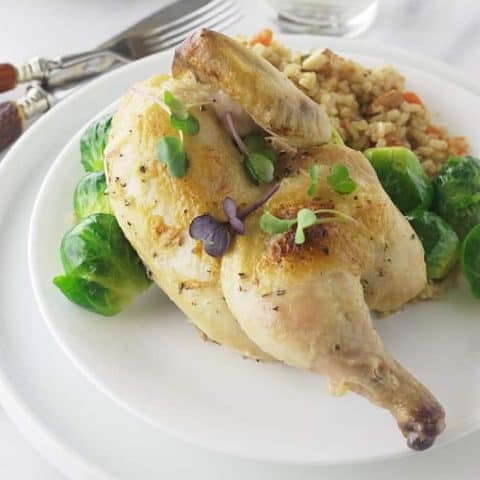 Roasted Cornish Game Hens
These roasted Cornish Game Hens have a crispy, golden brown skin while the meat is tender, juicy and delicious. They are prepared for roasting with the 'spatchcocked' method and dry-brined overnight before roasting.
Ingredients
2-Cornish Game Hens, 1-1/2 pounds each
1 tablespoons kosher salt, divided
1 tablespoon chopped fresh rosemary
1/4 teaspoon oil
1/2 teaspoon baking powder
Instructions
With a pair of kitchen shears, cut along both sides of the back bone of each hen. Remove and discard the backbone. Turn the hen over, splayed out flat with the skin side up. With your hands, apply pressure directly to the top of the breast, flattening the hen as much as possible. With a sharp knife, cut the hen in half, directly through the center of the breast bone.
Slip your fingers between the skin and flesh of the legs and the breast, loosening the skin. Using a skewer or ice pick, prick both the legs and breast area to allow the fat to flow out as it cooks.
With paper towels, pat both sides of the hens dry. In a small dish, mix the salt and rosemary together, turn the hens boney side up and sprinkle with half of the salt-rosemary mix, then turn the wing tips under.
To the remaining salt-rosemary mix add the oil and mix together thoroughly. Add the baking powder and mix well to combine. Rub the mixture on the skin side of the game hens, transfer them to a sheet pan and refrigerate to dry out for at least 4 hours, preferably overnight.
When ready to roast the cornish game hens:
Preheat the oven to 500°F and place a baking sheet in the oven for 15 minutes to heat.
Remove the game hens from the refrigerator and brush lightly with vegetable cooking oil and sprinkle with black pepper. Add the game hens, oiled skin side down, onto the piping-hot baking sheet. Transfer the baking sheet to the oven and roast for 15 minutes. Remove them from the oven and immediately turn the oven to BROIL.
Flip the game hens over, skin side up, and return the baking sheet to the oven and broil them for 5 minutes more to a crispy, golden brown and they register 160°F on an instant read thermometer.
Serve immediately.
Nutrition Information:
Yield:

4
Serving Size:

1
Amount Per Serving:
Calories:

336
Total Fat:

24g
Saturated Fat:

7g
Trans Fat:

0g
Unsaturated Fat:

15g
Cholesterol:

168mg
Sodium:

1729mg
Carbohydrates:

0g
Fiber:

0g
Sugar:

0g
Protein:

29g
Nutrition information is a guideline only, is calculated automatically by third-party software, and absolute accuracy is not guaranteed.