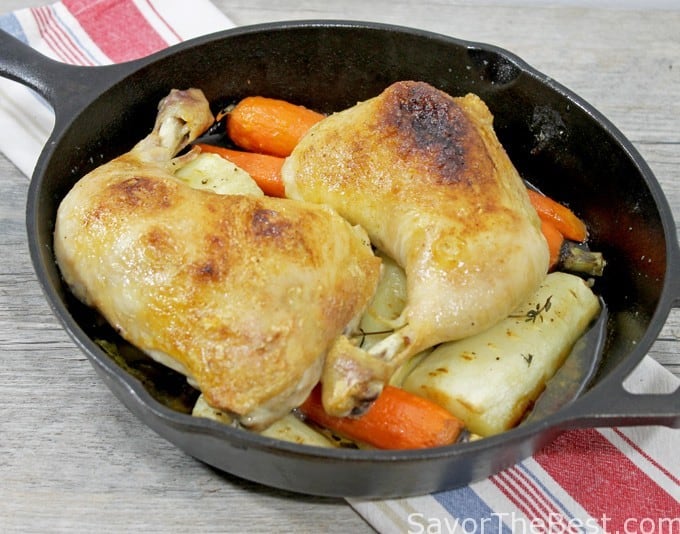 What is easier than roasted chicken for a Sunday dinner! With just the two of us I used these chicken thighs and legs along with some carrots and parsnips to make cast iron roast chicken with root vegetables.
I had intended to do this recipe with half of a chicken and had examined a package with a split chicken thinking that one-half would be just right for Don and myself. But apparently, I picked up the wrong package from the poultry case.
I was a little surprised and disappointed when I got home and saw that it was thighs and legs instead of a split chicken. My bad, but, that is okay, I can adjust.
Don and I have been suffering with a yukky head cold and this is the first day I even felt like cooking something. I am so thankful for a freezer with lots of soup!
This chicken was pretty easy to put together, just some carrots, parsnips, garlic and herbs in my cast iron skillet, a dash of white wine, some seasoning and the chicken on top. A green salad finished it off, and we have leftovers for another meal!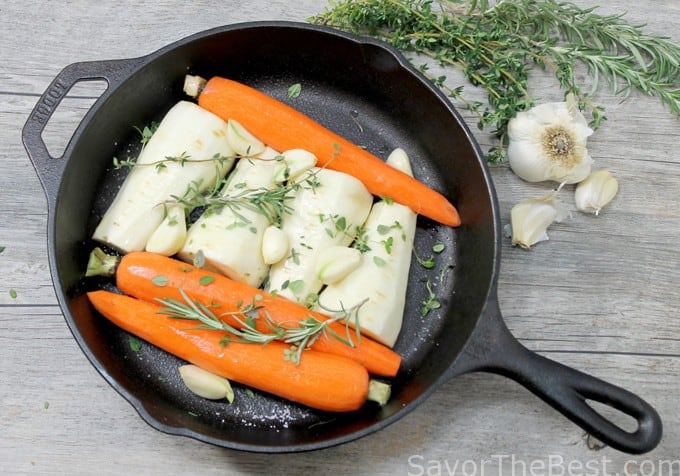 Carrots, parsnips, garlic and fresh herbs.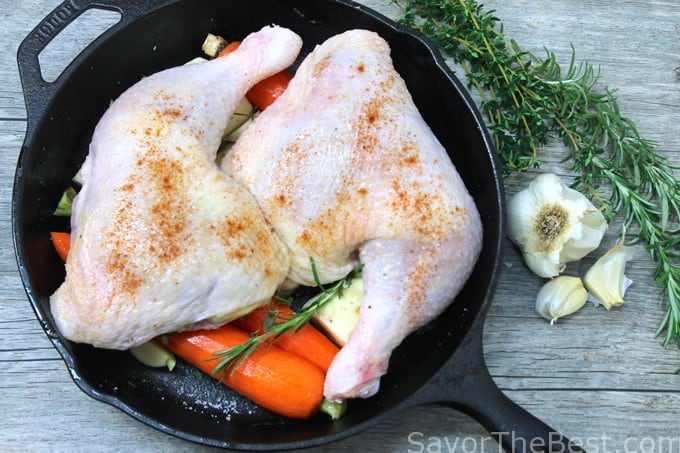 Seasoned chicken thighs ready for the oven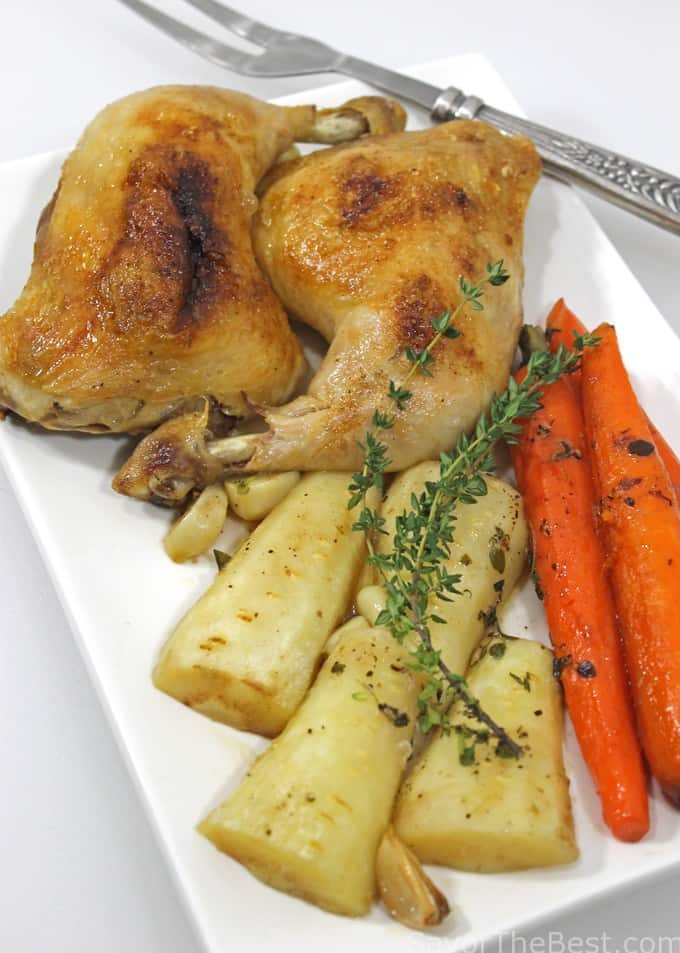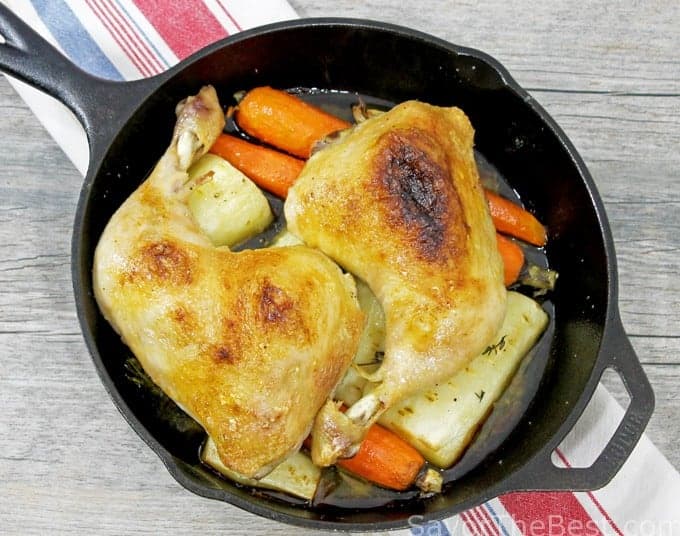 CONNECT WITH SAVOR THE BEST!
Be sure to follow us on our social media accounts
Facebook * Instagram * Pinterest * Twitter * Youtube
Did you make this recipe? We would love to hear from you. Drop us a comment below.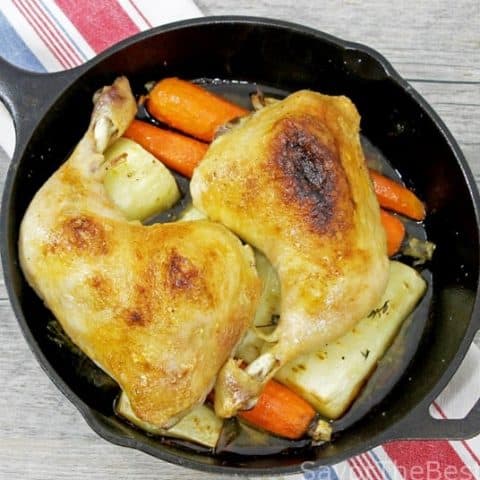 Cast Iron Roast Chicken with Root Vegetables
Yield: 4 servings
Prep Time: 15 minutes
Cook Time: 45 minutes
Total Time: 1 hour
An easy one-pot dinner of roast chicken, carrots, parsnips, garlic and herbs. The chicken is crisp on the outside and juicy and flavorful. The parsnips and carrots are roasted perfectly in the chicken drippings.
Ingredients
3 medium carrot, peeled
3 medium parsnips, peeled
4 cloves garlic
1/4 cup white wine
1/4 teaspoon Kosher salt
1/4 teaspoon fresh ground black pepper
2 teaspoons each,chopped fresh thyme and rosemary
2 chicken thighs with legs attached
2 tablespoons olive oil
1/2 teaspoon Kosher salt
1/4 teaspoon smokey paprica
Thyme and rosemary sprigs for garnish
Instructions
Preheat oven to 425°F
Add the carrots, parsnips and garlic to the bottom of the cast iron skillet. Pore the white wine over the top of the vegetables and season with the salt, black pepper and herbs.
Using paper towels, wipe the chicken dry and rub the outside surfaces with olive oil. Place the chicken on top of the vegetables and season with the salt, pepper and paprika.
Transfer the skillet to the middle rack of the oven and roast for 45 minutes.
Remove the skillet from the oven and check the internal temperature at the thickest part of the thigh without touching the bone. It should register between 170°F and 180°F. Remove the chicken and vegetables from the skillet, cover with foil and allow to rest for 10 minutes before serving. Garnish with sprigs of thyme and rosemary.
Nutrition Information:
Yield: 4
Serving Size: 1
Amount Per Serving:
Calories: 282
Total Fat: 16g
Saturated Fat: 4g
Trans Fat: 0g
Unsaturated Fat: 12g
Cholesterol: 83mg
Sodium: 539mg
Carbohydrates: 17g
Fiber: 4g
Sugar: 5g
Protein: 17g
Nutrition information is a guideline only, is calculated automatically by third party software, and absolute accuracy is not guaranteed.