These roasted honey-Dijon chicken quarters are slathered generously with a simple honey- mustard mix that gives this chicken entree a rich, crisp, brown crust. They are melt-in-your-mouth tender and the fragrance, while they are roasting, will set your mouth watering.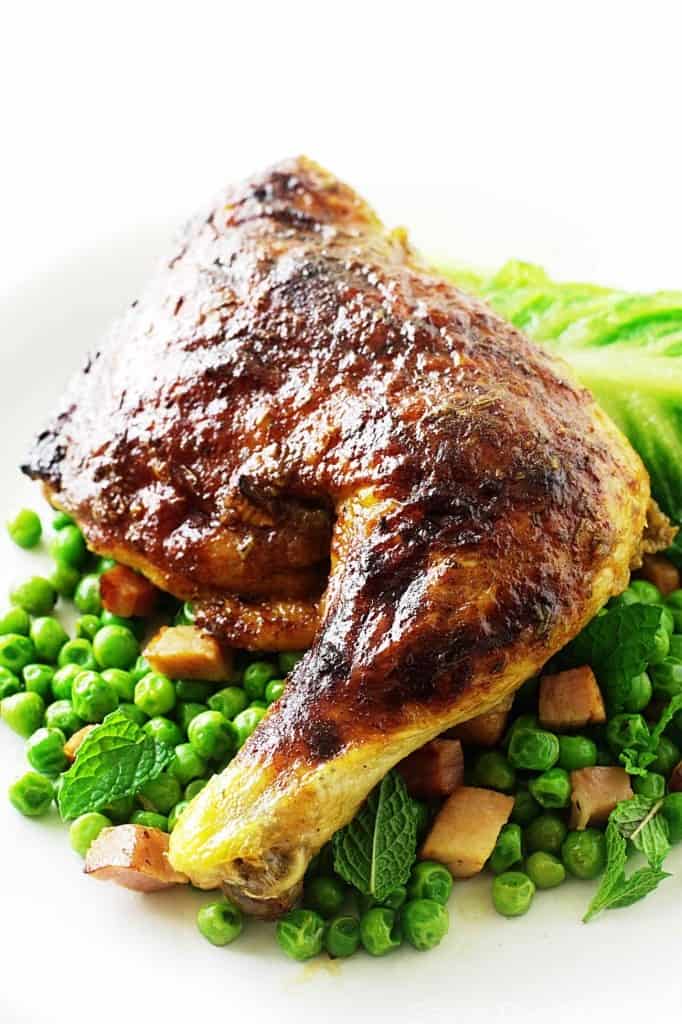 We are serving these chicken quarters with a side of tender green peas. We mixed the peas with crisp diced ham, fresh mint and baby gem lettuce. This is an easy, uncomplicated recipe. Much of the preparation can be done while the chicken is roasting then finished off during the 'rest' time.
This is the season for fresh English peas as I see them in the produce section where I shop. I was really tempted to buy them, however, my pea-shelling patience is non-existent and the frozen peas work just fine for me.
Just thaw them out and they cook in a couple of minutes and are sweet and tender. Easy peasy 🙂 The fresh mint is perfect with green sweet peas.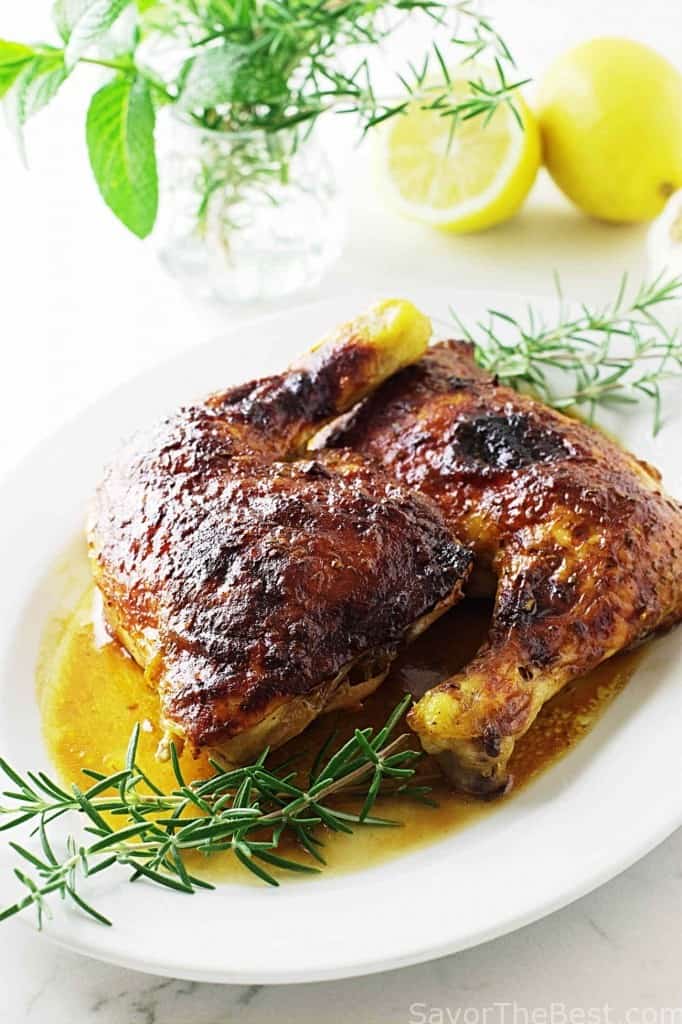 What is Baby Gem Lettuce?
The French name for baby gem lettuce is sucrine or sugar for their sweet taste. They look like small heads of romaine lettuce and the sweetness to them teams well with the green peas and fresh mint.
These mini-lettuce heads make a perfect portion when you cut them in half. If they are not available in your market you could substitute for hearts of romaine. These baby gems are also nice cooked on a grill and drizzled with a vinaigrette. I have also prepared them as a wedge salad with blue cheese dressing. Yum!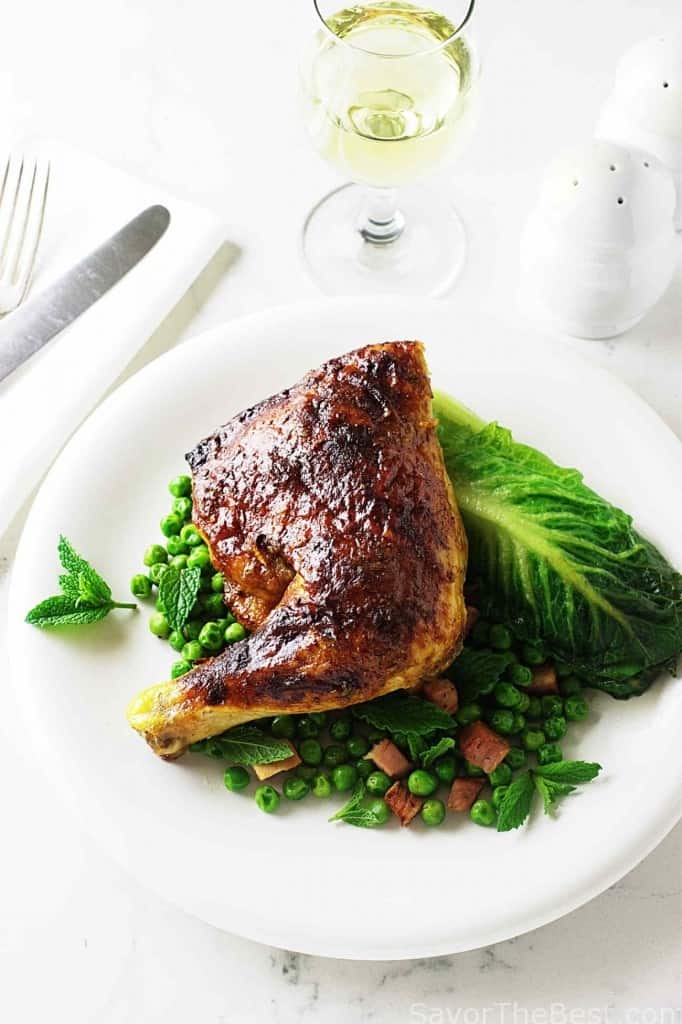 Chicken Quarters
This is the time of the year when we can find those huge packages of chicken quarters in the meat markets and start planning our summer grilling menus.
Chicken quarters are one of the most budget-friendly proteins you can find and a large package of them will feed a crowd on the backyard grill or, as in this recipe, roasted in the oven.
We are using the leg quarters in this recipe. You can find chicken quarters sold as either breast quarters or leg quarters. The breast quarters include half a breast, a wing, and part of the back of the chicken. Leg quarters include the thigh, the leg (or drumstick) and part of the back.
While the breast quarters are composed of mostly white meat, the leg quarters are mostly dark meat. A chicken quarter is approximately one-fourth of a whole chicken, thus the term chicken quarters. This is one of the most economical ways to buy chicken.
You will always find chicken quarters sold bone-in and skin-on.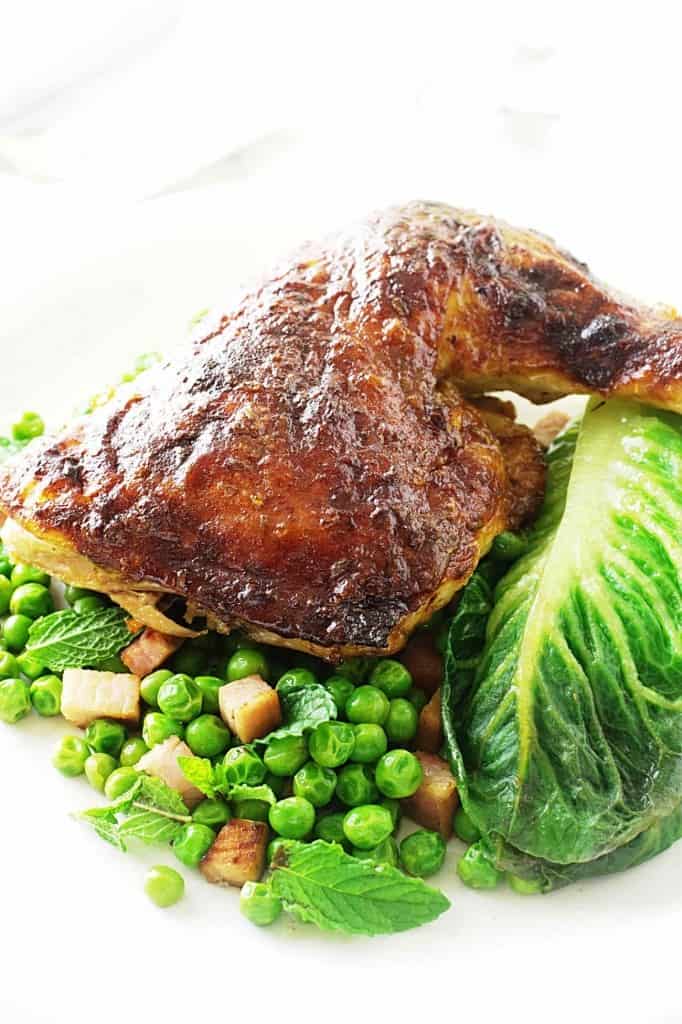 We chose these chicken quarters over chicken breasts. The dark meat of the chicken has a whole lot more flavor than the breast portion. Plus it is much more forgiving if cooked a few minutes longer than planned. Yes, there are more calories in the dark meat but that translates as FLAVOR!
We used chicken quarters with the skin on and the sauce is smeared under the skin as well as on top.
What can I serve with this roasted honey-dijon chicken?
This is such an easy and fast meal. Along with the peas and baby gem lettuce in this recipe, if you throw in a baked potato, you have a complete meal. If you want to go all-out and serve dessert, toss together an easy peach crisp with oatmeal crumble.
I am anxious to also try this honey-dijon mustard sauce on some of those skinless, boneless chicken breasts in my freezer.
More chicken recipes to drool over:
Roast Chicken with Freekeh Stuffing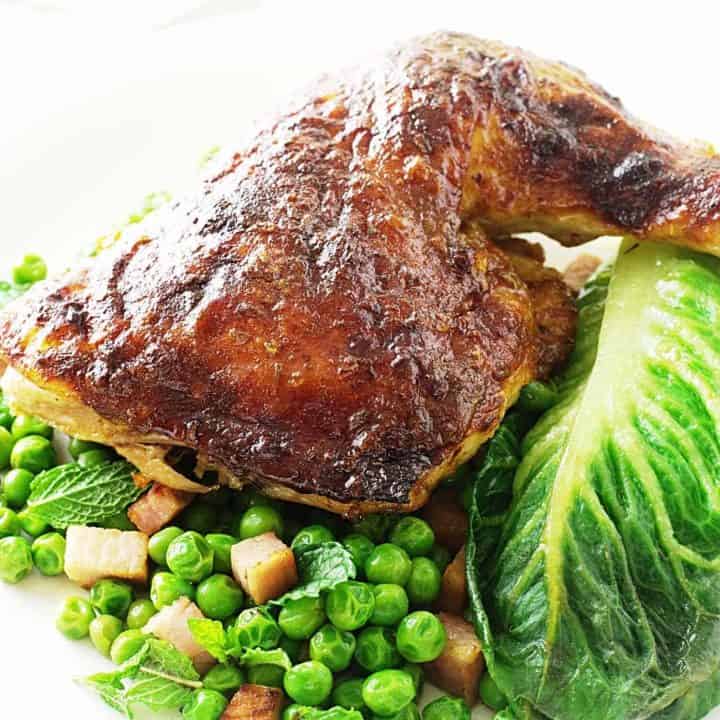 Roasted Honey-Dijon Chicken
Cook Time:
1 hour
15 minutes
Total Time:
1 hour
45 minutes
Rich, crisp, oven-roasted chicken quarters slathered with a honey-dijon mustard sauce and served with green peas, mint and warm baby gem lettuce
Ingredients
For the Chicken Quarters:
1 tablespoon olive oil
2 tablespoon Dijon mustard
4 tablespoons honey
3 garlic cloves, grated or finely minced
1 tablespoon finely chopped fresh rosemary
1/2 teaspoon sea salt
1/4 teaspoon freshly ground black pepper
4 chicken quarters (leg and thigh)
1/4 teaspoon smokey paprika
For the Vegetables:
2 baby baby gem lettuce or small hearts of romaine
1 tablespoon olive oil
4 oz of lean ham, medium dice
1 tablespoon butter
1/4 cup freshly squeezed lemon juice
10 ounces frozen green peas, thawed
1/4 teaspoon sea salt
Few grindings of black pepper
1/2 cup of fresh mint leaves, roughly chopped
Fresh mint for garnish
Instructions
Preheat the oven to 425°F Line a baking sheet with aluminum foil.
In a small dish, whisk together the olive oil, mustard and honey until smooth. Add the garlic, rosemary, salt and pepper and stir together.
Rinse the chicken and pat dry. Trim away any globs of fat and remove any pin feather remains. Brush half of the honey-mustard mix on the underside of the chicken quarters, place them on the foil-lined baking sheet. Brush the remaining mix on the skin side, lifting the skin as much as possible to get the sauce underneath. Dust lightly with paprika.
Transfer the baking sheet to the oven and bake for 60 minutes. When the chicken has roasted for 30 minutes, rotate the pan and tent with foil to prevent over browning, remove the tent the last 5 minutes to crisp the chicken skin. Chicken is done when the internal temperature reaches 165° and juices run clear when the meat is pierced.
When you remove it from the oven, cover with foil and allow to rest 5-10 minutes before serving.
For the Peas and Baby Gem Lettuce:
While the chicken is in the oven prepare the lettuce and reserve:
Fill a large saucepan with water and bring to a boil over high heat. Prepare another large bowl for an ice bath. Cut each baby gem lettuce in half and remove most of the root, making sure that the lettuce remains intact. When the water begins to boil, work in batches, and add the lettuce and blanch for one minute. The lettuce will be bright green, use tongs to remove and place into the ice water bath for 2 -3 minutes to cool and to stop the cooking process.
Remove the lettuce from the ice bath and place on a kitchen towel, cut side down, to drain. Reserve until needed.
While the chicken is resting, proceed with the remaining ingredients.
In a large skillet set over medium heat, add the oil and when heated add the diced ham. Cook, stirring frequently, until they begin to brown and turn crisp. Transfer the ham to a plate and cover with foil to keep warm.
Add the butter to the skillet and when it has melted, pour in the lemon juice, scraping the bottom and whisking together. Add the lettuce halves, cut side down, and cook until barely tender and still bright green, about 1 to 2 minutes.
Push the lettuce to the sides of the skillet and add the thawed green peas and the reserved ham, cook for 1 to 2 minutes. Remove the skillet from the heat and portion the lettuce onto individual plates. Add the chopped mint to the peas and toss together, and add to each plate.
Place one chicken quarter on top of the peas and lettuce and serve.
Notes
Nutrition is based on 1 serving of chicken, 3/4 cup of peas and 1/2 baby gem lettuce
Nutrition Information:
Yield:

6
Serving Size:

1
Amount Per Serving:
Calories:

321
Total Fat:

16g
Saturated Fat:

4g
Trans Fat:

0g
Unsaturated Fat:

10g
Cholesterol:

70mg
Sodium:

655mg
Carbohydrates:

25g
Fiber:

6g
Sugar:

16g
Protein:

22g
Nutrition information is a guideline only, is calculated automatically by third-party software, and absolute accuracy is not guaranteed.