The stuffing for our roast chicken and freekeh stuffing recipe has all the flavors of a bread stuffing. But we substituted cracked freekeh with it's unique smoky flavor and chewy texture for bread. This is a nutritious and healthy stuffing with fresh herbs, mushrooms, carrots and a little white wine.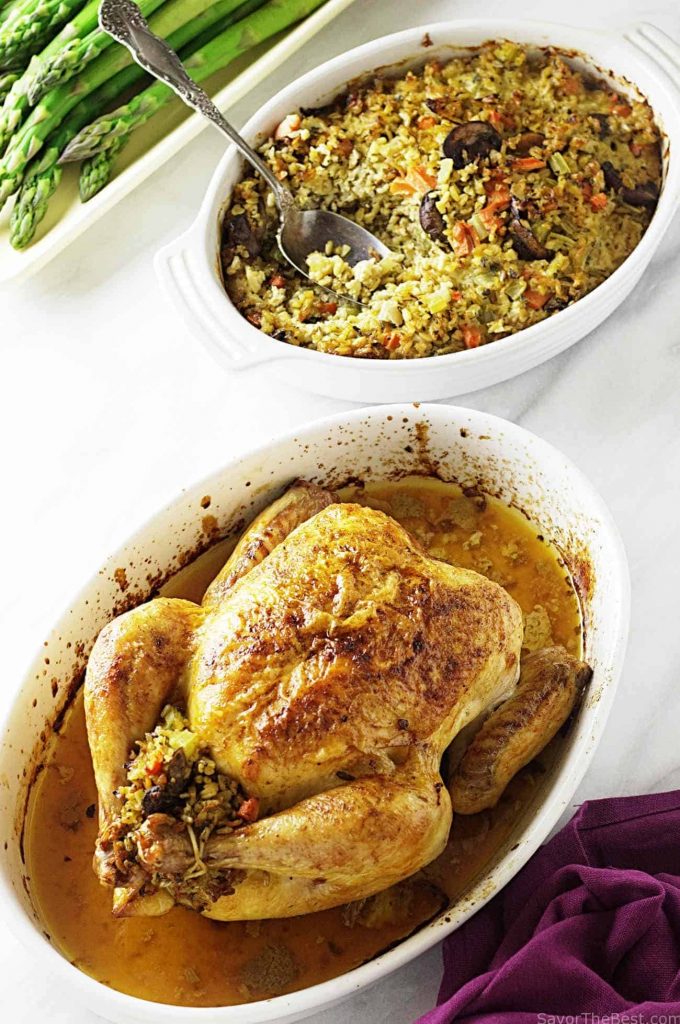 We took an ordinary chicken, an un-ordinary stuffing and created a memorable dinner. You can never go wrong with serving a roast chicken either for an everyday dinner or for company. Our freekeh stuffing is a new approach to a bread stuffing in a classic roasted chicken.
Freekeh Facts:
Freekeh is an ancient grain originating in the Middle East. This grain has been enjoyed as a staple food for centuries in Israel, Egypt, Iran and Syria. Freekeh is becoming more well known in the United States as our focus on health and nutrition increases.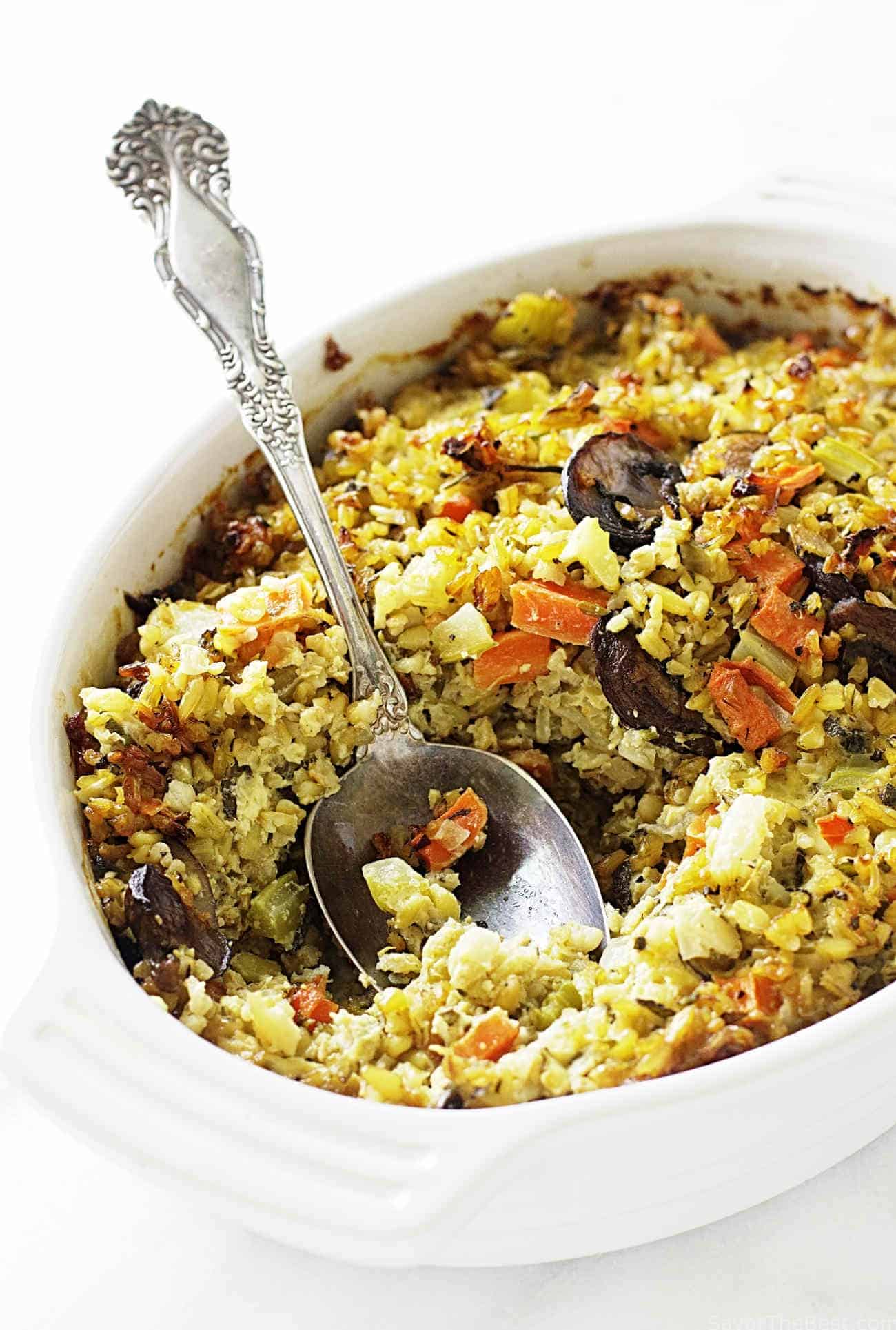 Freekeh is harvested while still young and soft. The harvesters pile it up, dry it and set it on fire and roast it. Next it goes through the standard threshing process.
The burning process adds a smokey, delicious flavor to the grain that is apparent in our stuffing recipe with fresh herbs, mushrooms, carrots and celery.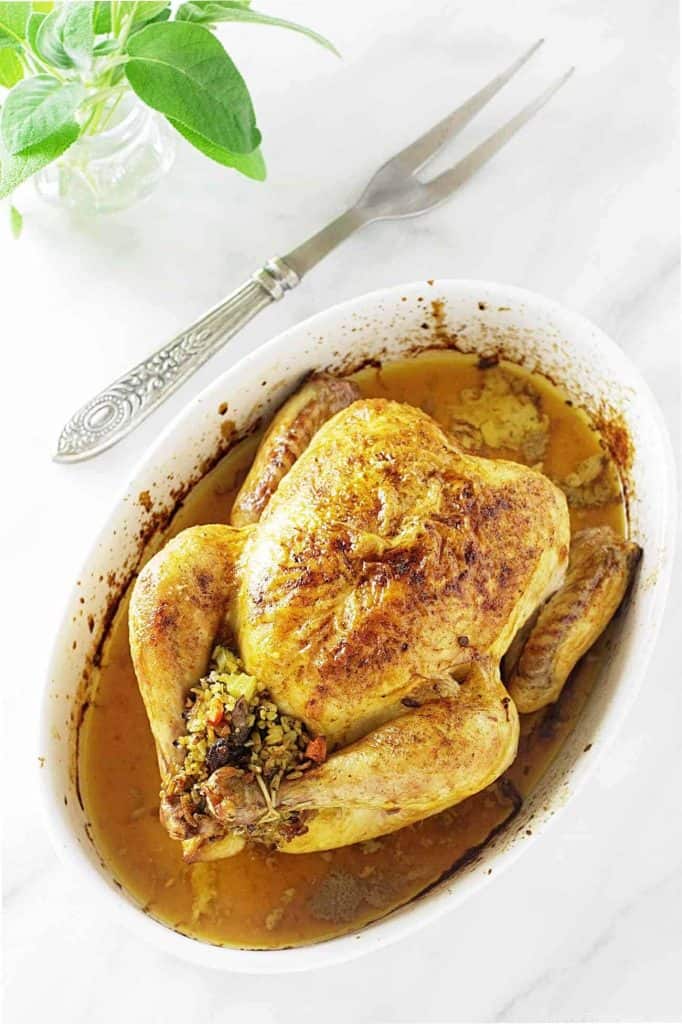 Where to Buy Freekeh:
First off, check the bulk section of your local grocery store. It is available in the whole grain or the cracked grain and we are using the cracked version in this recipe.
The taste is similar to bulgar but a little coarser in texture. It has a delicious smokey flavor. Freekeh can be found in Middle Eastern markets, bulk foods of some grocery stores and online.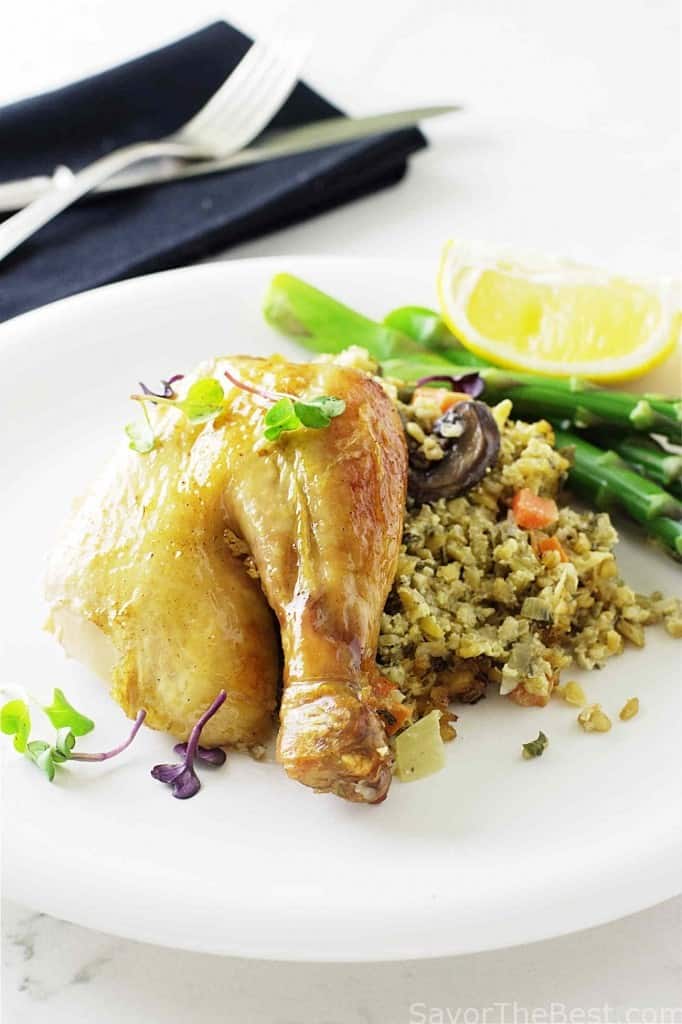 Roast Chicken and Freekeh Stuffing
This recipe is practically a full meal. All you have to do is whip up some fresh vegetables like these roasted asparagus or make a salad and you will be a hero at the dinner table. If you want to serve dessert, try these easy molten chocolate lava cakes, they are amazing.
Along with the sides and dessert, we had enough roast chicken and freekeh stuffing for more than two nights. That was with four people eating the meal. Leftovers are even better because it frees up your time the next day and the flavors get some extra time to absorb into the freekeh stuffing. Everyone wins with leftovers!
The freekeh grain is a powerhouse of nutrition with its high protein, fiber and vitamins. Plus it is low in fat. It also has a low glycemic index of 43 which makes it a great choice for those managing their blood sugar.
Freekeh is as nutritious as quinoa and maybe more so. However, unlike quinoa freekeh is a wheat product and is not gluten-free.
You Might Also Like:
Have you made this recipe? If you did, send us a snapshot or tag us on instagram, we would love to see.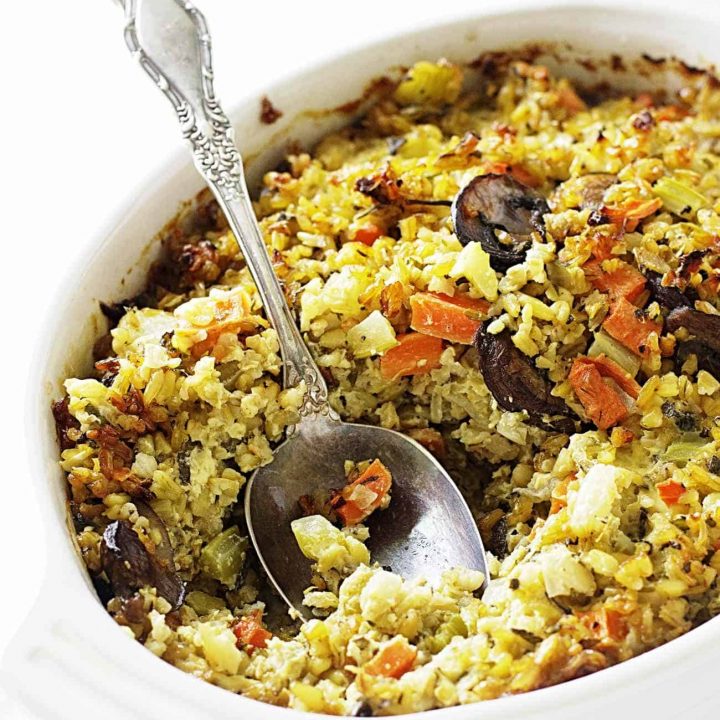 Roast Chicken and Freekeh Stuffing
The stuffing for our roast chicken and freekeh stuffing has all the flavors of a bread stuffing but we substituted smokey cracked freekeh and added mushrooms, fresh herbs and white wine. The chicken is cooked perfectly and crispy on the outside.
Ingredients
For the Freekeh Stuffing:
1-1/2 cups dry cracked freekeh
2 cups water
1/4 teaspoon sea salt
2 tablespoons butter
1 onion, finely chopped
2 cloves garlic, finely chopped
1 cup chopped carrot
8 ounces mushrooms, sliced
1 stalk celery, diced small
2 teaspoons finely chopped fresh sage
1 teaspoon finely chopped fresh oregano
1 egg, lightly beaten
1/4 teaspoon sea salt
1/4 teaspoon fresh ground black pepper
For the Roast Chicken:
1 (4-1/2 to 5 pound) chicken
2 tablespoons butter, melted
Kosher salt
Lemon wedges
Instructions
Preheat the oven to 375°F
For the Stuffing:
In a medium sized saucepan with tight fitting lid, add the cracked freekeh, water and salt, bring to a boil, cover the pot and reduce the heat to low. Cook for 15 minutes, remove from the heat and drain off the remaining water. Transfer the cooked freekeh to a large bowl to cool.
In a medium skillet, melt the butter over medium heat. Add onion and garlic and cook, stirring occasionally, until slightly softened, about 2 minutes. Remove from the heat allow to cool to room temperature, then add to the bowl of cooled freekeh. Add the carrots, mushrooms, celery, sage and oregano, toss to combine. Stir in the lightly beaten egg and season with salt and pepper.
For the Roast Chicken:
With paper towels, pat the chicken dry. Season the inside with salt and pepper. Lightly stuff the cavity with the freekeh mixture, (add remaining mixture to a greased casserole dish and cook separately for about 25-30 minutes). Tie the legs together, and tuck wings underneath. Brush melted butter on the outside of the chicken and sprinkle with salt, pepper and paprika. Place the stuffed chicken in a roasting pan, uncovered and transfer to the middle of the oven.
Roast chicken until an instant-read thermometer inserted into thickest part of the inner thigh registers 165°F or until the juices run clear when you cut between a leg and thigh. About 1 1/4 hours. Let rest 10 minutes before serving. Remove stuffing and carve the chicken. Serve a portion of roast chicken along side of the freekeh stuffing and lemon wedges to squeeze on the stuffing.
Nutrition Information:
Yield: 8
Serving Size: 1
Amount Per Serving:
Calories: 431
Total Fat: 18g
Saturated Fat: 5g
Cholesterol: 125mg
Sodium: 141mg
Carbohydrates: 29g
Fiber: 7g
Sugar: 3g
Protein: 34g