Packed with protein, fiber and healthy nutrients, this salad is a complete meal that won't leave your stomach rumbling. A store bought rotisserie chicken will save you time and the leftovers store well.
I love this salad, it is versatile enough to be either a main course or a side dish and leftovers keep well for 3 to 4 days. It is the kind of salad that does not get wilty so it is the perfect dish to make ahead of time. I will whip this up for dinner then pack leftovers for lunch the next day. It is a great alternative to sandwiches and will keep you filled and satisfied straight through to dinner.
Curly parsley isn't just for garnish, it is indeed an edible herb with a slight peppery taste. The curly variety holds its shape and texture very well and keeps the salad fresh, vibrant and green. Parsley has immune boosting, anti-inflammatory nutrients and is a rich source of anti-oxidants. It is exceptionally high in vitamin K which helps with healthy blood clotting and bone mineralization. Vitamin K has also been shown to be chemoprotective as it not only inhibits cancer cell growth but can actually kill existent cancer cells. A word of warning: if you are taking the blood thinning medication coumadin (warfarin), foods rich in vitamin K will reduce the effectiveness of your medication.
Looking for more salad ideas? Check these out: Black Rice Mango Salad, Autumn Barley-Butternut Squash Salad, and Pineapple Chicken Salad with Curry Dressing.
Yield: 10 servings
Roasted Chicken and Barley Salad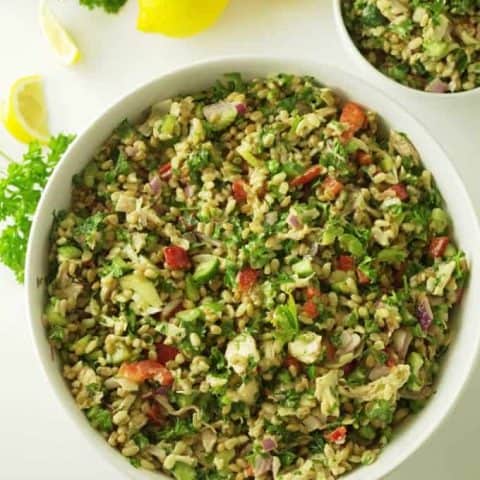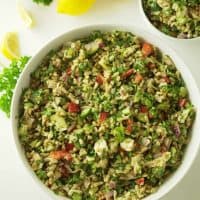 A healthy nutrient dense salad packed with protein and fiber that makes a complete meal in one dish.
Prep Time 15 minutes
Cook Time 45 minutes
Total Time 1 hour
Ingredients
Salad
2 cups pearled barley
5 cups water
1/2 teaspoon salt
3 celery stalks, diced
1 red onion, diced
1 red bell pepper, diced
1 medium cucumber, diced
2 large bundles of curly parsley, chopped (about 3 cups chopped)
2 cups of shredded or chopped roasted chicken
lemon honey dressing
1/2 cup lemon juice
3 tablespoons honey
2 teaspoon dijon mustard
1/4 teaspoon salt
1/4 teaspoon pepper
1/2 cup light olive oil
Instructions
Salad
Combine the barley, water and salt in a large saucepan and bring to a boil. Reduce the heat to a simmer and cover the pot. Cook for 40 to 50 minutes until the barley is tender. Let sit until cool. You can speed the cooling up by spreading the barley on a platter and putting it in the fridge.
In a large bowl combine the cooked barley with the chopped vegetables and chicken.
Dressing
Combine all of the ingredients in a jar, seal tightly and shake until well combined.
Stir the dressing into the salad.