This roasted chicken barley salad hits all the right notes. Vibrant crunchy veggies, chewy barley, lemony dressing, and tender shreds of chicken. Packed with protein, fiber, and healthy nutrients, this salad is a complete meal that won't leave your tummy rumbling.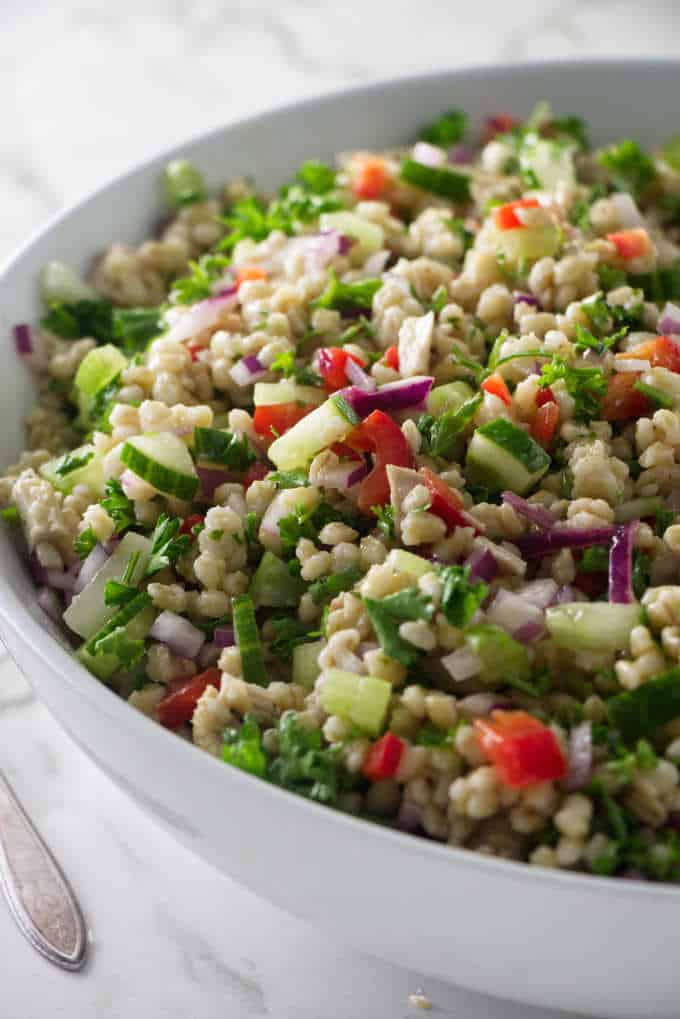 I love this salad, it is versatile enough to be either a main course or a side dish and leftovers keep well for 3 days. It is the kind of salad that does not get wilty so it is the perfect dish to make ahead of time.
I will whip this up for dinner then pack leftovers for lunch the next day. It is a great alternative to sandwiches and will keep you filled and satisfied straight through to dinner.
We used a store-bought rotisserie chicken but you could cook your own chicken if you like. You won't even have to wait for the chicken to thaw if you use this recipe for Instant Pot frozen chicken breast.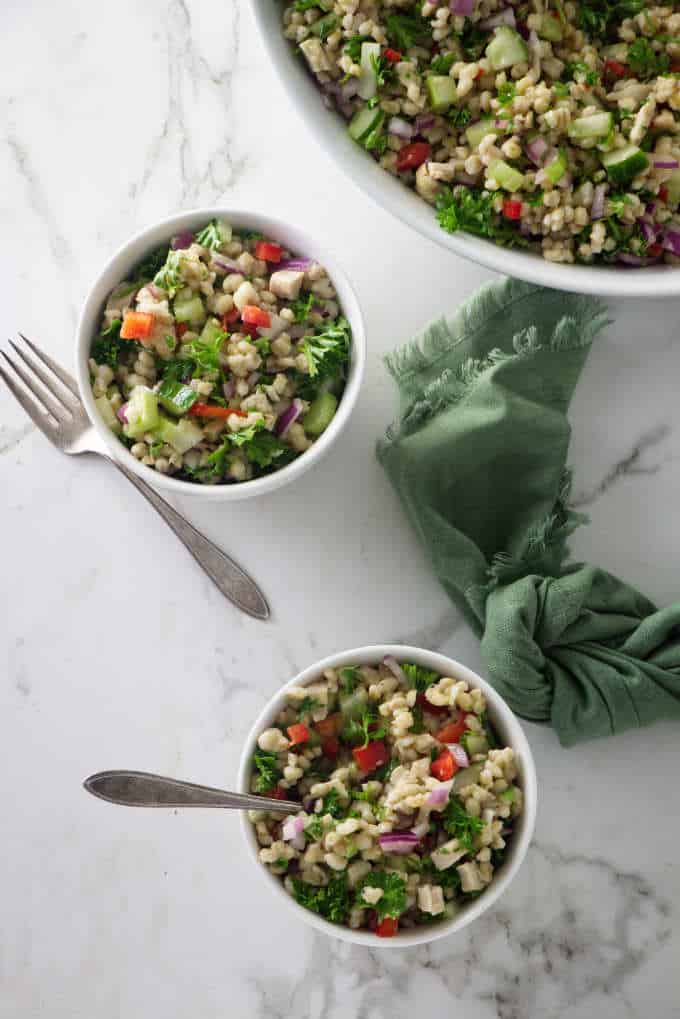 Should you rinse barley before cooking it?
We recommend rinsing barley before you cook it. Even if you can't see any dirt, grains like barley have dirt and debris on them.
Not only should you rinse the barley, but you should also inspect it carefully to make sure it doesn't contain any small pebbles. Pick out any pebbles and give it a good rinse under cold water.
Does barley have gluten?
Barley does contain gluten so if you have gluten allergies or celiac disease, you should avoid barley.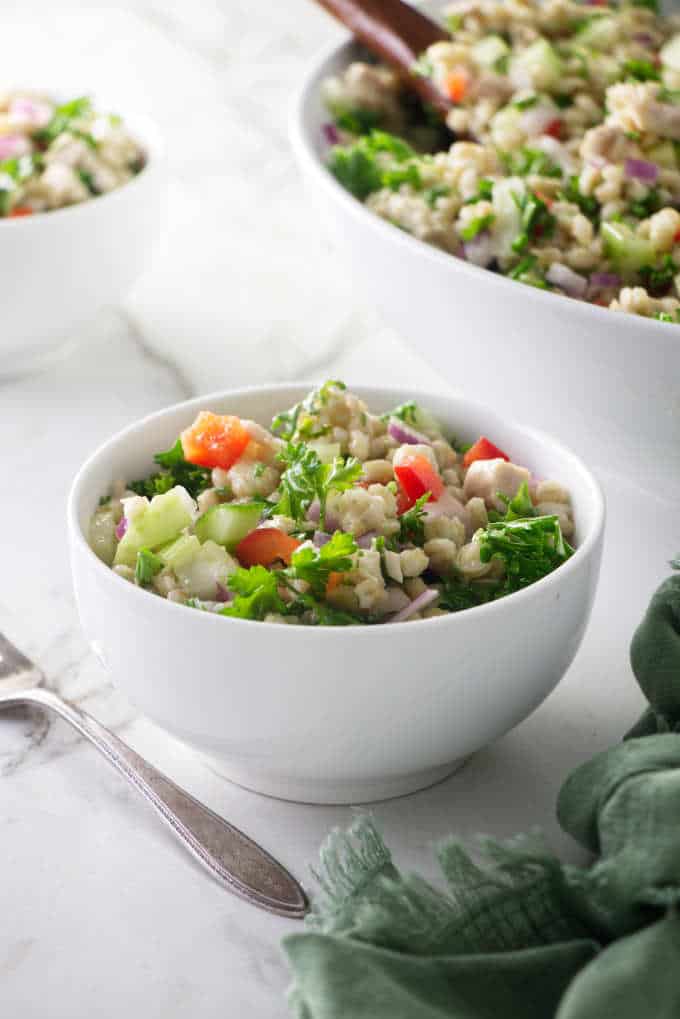 Pearled barley vs hulled barley.
Hulled barley is a whole grain and still has the bran and germ layer intact. The only thing that gets removed from hulled barley is the inedible hull that protects the grain.
By contrast, pearled barley does not have the outer bran and germ layers. Since the outer layers of the grain get removed, it cooks faster than hulled barley. Pearled barley is not a whole grain but it still contains nutrients and plenty of fiber.
We used pearled barley in this recipe but you could easily swap it out for hulled barley. However, you will have to increase the cooking time if you choose to do that.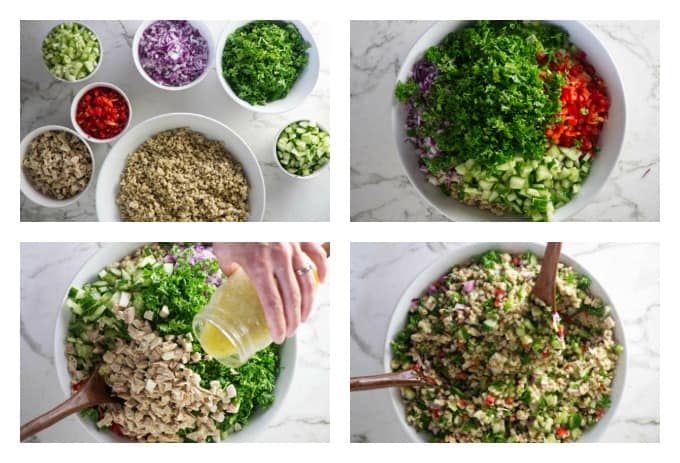 How to make roasted chicken and barley salad:
This is an easy recipe that only requires chopping some vegetables, shredding a store-bought rotisserie chicken and cooking some barley. If you cook the barley in advance, it will only take you 10 to 15 minutes to chop the veggies and throw everything together. The dressing is pretty fast too if you put the ingredients in a sealed jar and give it a good shake.
Cook the barley.

Let the barley cool down.

Chop the veggies.

Shred the chicken.

Make the dressing.

Toss everything together in a large bowl.
If you love this chicken and barley salad, try our butternut squash and barley salad is a great side dish to ring in the Autumn produce. The nutty chew of the barley, creamy butternut squash, and crisp apples give it a great mix of textures and flavors.
Helpful Tips
Rinse the barley and make sure it doesn't have any pebbles.
Occassionally, barley grains need to cook a little longer than expected. Check the barley for donenes before you turn the stove off.
More Barley Recipes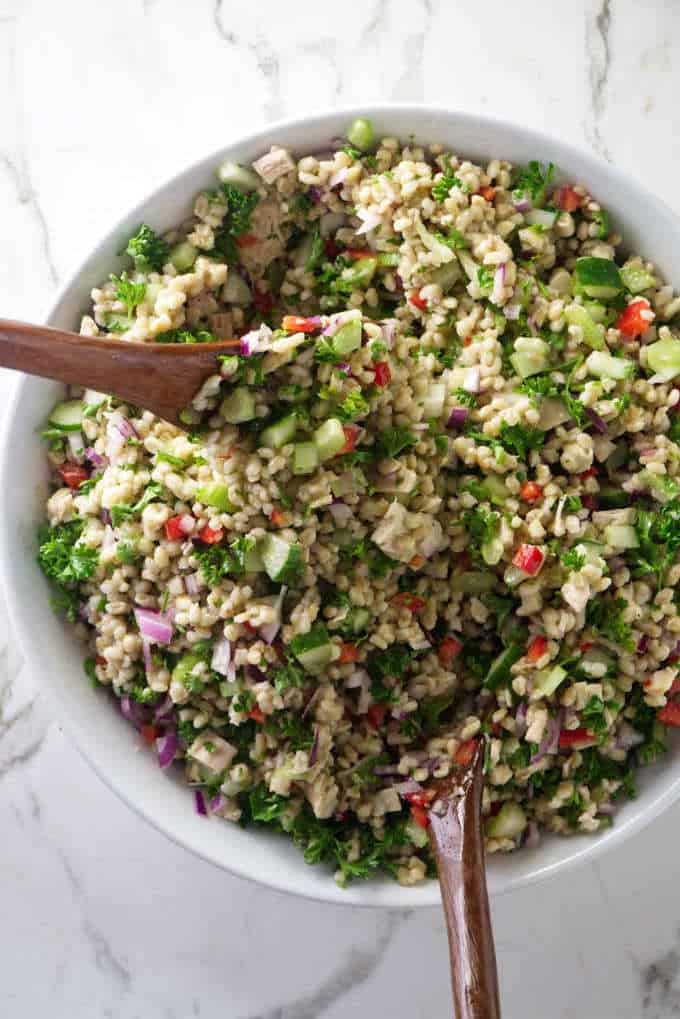 Frequently Asked Questions
How long do you cook barley?
It depends on which type of barley you have. Pearled barley typically takes 35 to 40 minutes (occasionally longer), and hulled barley usually takes 50 to 60 minutes.
Can I cook barley in the rice cooker?
Yes, we recommend you use the "brown rice" function if you cook barley in the rice cooker. It takes about the same amount of time in the rice cooker as it does on the stovetop.
More Recipes You Will Love:
This pineapple chicken salad with curry dressing is a delightful mix of sweet and savory flavors. Serve it inside a hollowed-out pineapple for a great presentation!
Our Instant Pot Spanish rice is fast, easy, and delicious. It makes a great side dish for chicken mole enchiladas or beef chimichangas.
Connect With Savor the Best:
Please follow us on our social media accounts
Facebook * Instagram * Pinterest * Youtube * Twitter
Did you make this recipe? We would love to hear from you. Drop us a comment below.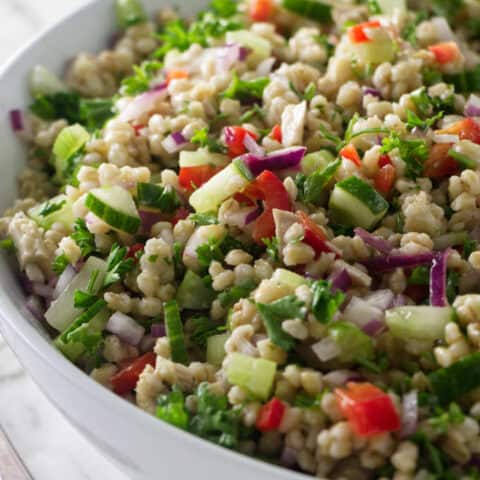 Roasted Chicken and Barley Salad
A healthy nutrient dense salad packed with protein and fiber that makes a complete meal in one dish.
Ingredients
Salad
1-1/2 cups pearled barley
3-3/4 cups water
1/2 teaspoon salt
3 celery stalks, diced
1 red onion, diced
1 red bell pepper, diced
1 medium cucumber, diced
2 large bundles of curly parsley, chopped (about 3 cups chopped)
2 cups of shredded or chopped roasted chicken
lemon honey dressing
1/2 cup lemon juice
3 tablespoons honey
2 teaspoon dijon mustard
1/4 teaspoon salt
1/4 teaspoon pepper
1/2 cup light olive oil
Instructions
Salad
Combine the barley, water and salt in a large saucepan and bring to a boil. Reduce the heat to a simmer and cover the pot. Cook for 35 to 50 minutes until the barley is tender. Let sit until cool. You can speed the cooling up by spreading the barley on a platter and putting it in the fridge.
In a large bowl combine the cooked barley with the chopped vegetables and chicken.
Dressing
Combine all of the ingredients in a jar, seal tightly and shake until well combined.
Stir the dressing into the salad.
Notes
Rinse the barley and inspect it for pebbles before you cook it.
The cooking time for pearled barley varies. Start checking for tenderness at 25 to 30 minutes. Occasionally you will get a batch that takes 45 to 50 minutes.
If you use hulled, whole-grain barley instead of pearled barley, you will need to add an additional 20 to 25 minutes to the cooking time.
Recommended Products
As an Amazon Associate and member of other affiliate programs, I earn from qualifying purchases.
Nutrition Information:
Yield:

12
Serving Size:

1
Amount Per Serving:
Calories:

216
Total Fat:

14g
Saturated Fat:

3g
Trans Fat:

0g
Unsaturated Fat:

11g
Cholesterol:

29mg
Sodium:

198mg
Carbohydrates:

13g
Fiber:

1g
Sugar:

6g
Protein:

10g
Nutrition information is a guideline only, is calculated automatically by third party software, and absolute accuracy is not guaranteed.