A Dublin Coddle is a rich, comforting and humble Irish stew of pork sausage, barley, vegetables and herbs. It is 'coddled', as in slow-cooked, which gives it an intense, delicious flavor.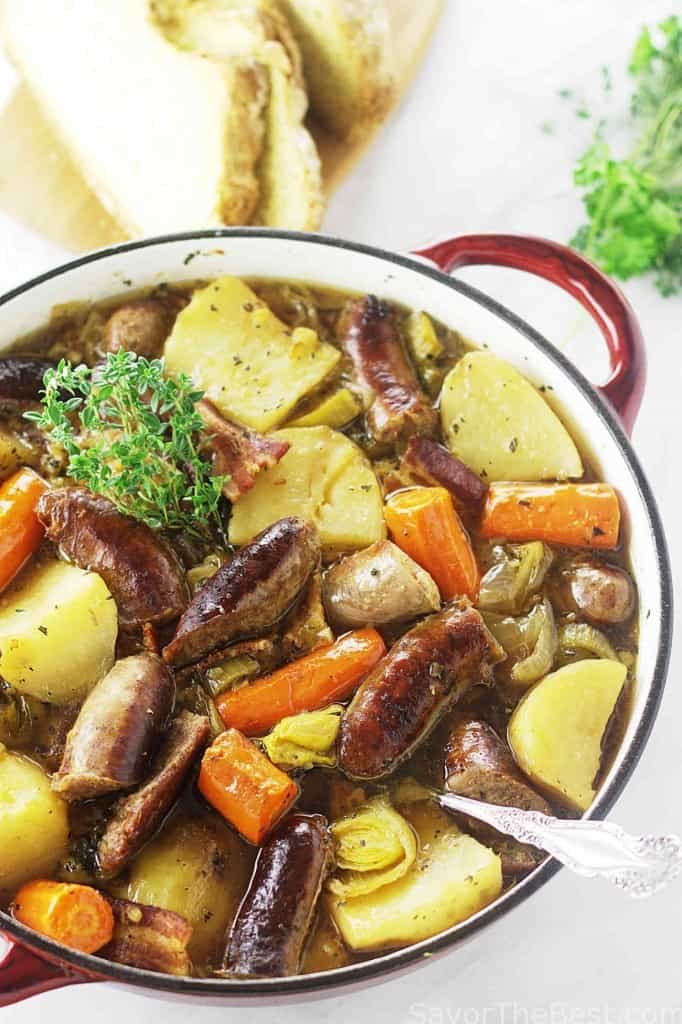 Dublin coddle is a classic Irish dish that dates back to the 17th century and typically was served towards the end of the week to make good use of any extra rashers and bangers. It is hearty and nourishing with simple ingredients found in most kitchens in Ireland.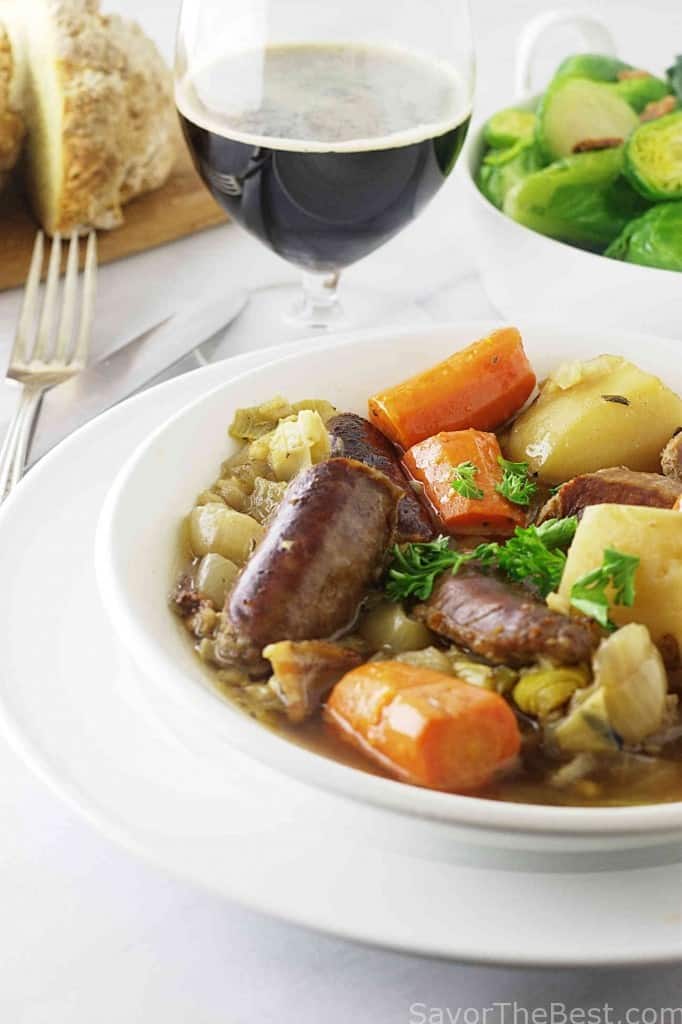 This is a dish that is layered with of onions, pork sausages, leeks and thick slices of crisp bacon, also known as 'rashers'. Fresh thyme, parsley, bay leaves and ground pepper are also included. Potatoes are added on the top layer and some Irish kitchens include carrots and barley as in our recipe.
The barley will slightly thicken the beef broth that is poured over the top. This pot of layered flavors will cook low and slow for as much as three hours either simmering on a back burner or in a low-temp oven until the vegetables are tender.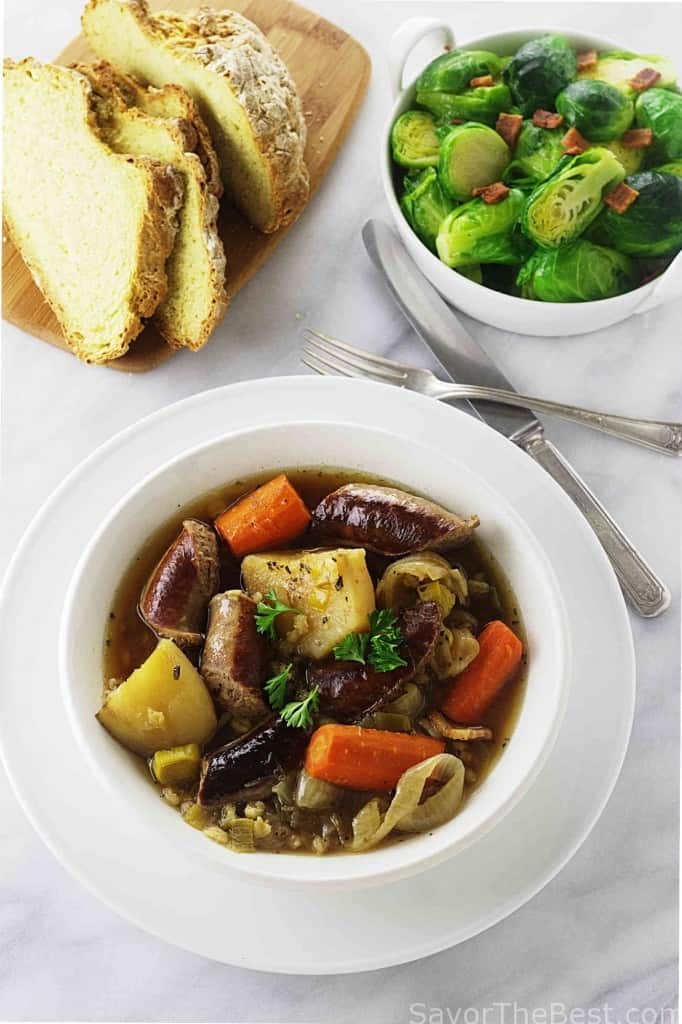 Dublin coddle is traditionally served with Irish soda bread which is used to mop up the thick, rich juices and a cold, frosty glass of Guinness beer.
This recipe has been adapted from: The Complete Irish Pub cookbook
You might also like: Irish Beef and Stout Pies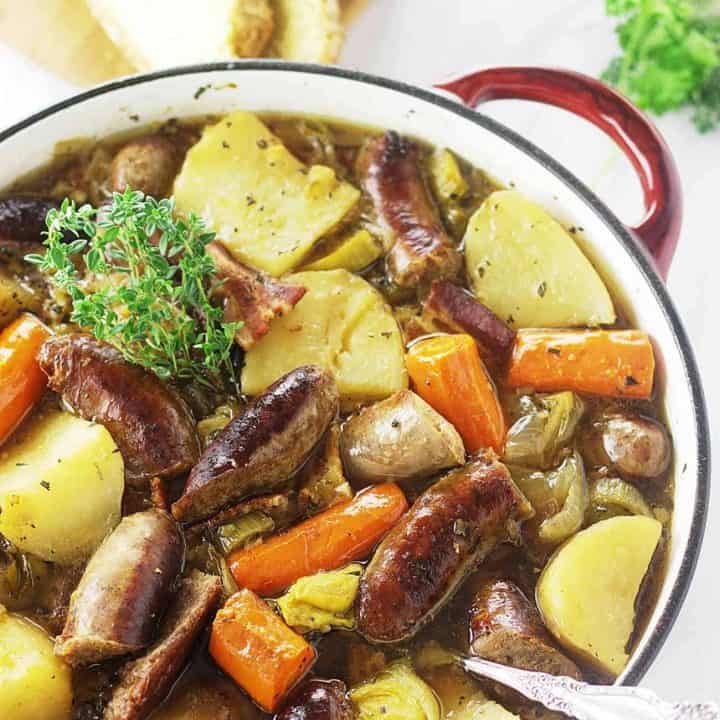 Dublin Coddle with Barley
Yield: 8 servings
Prep Time: 30 minutes
Cook Time: 3 hours
Total Time: 3 hours 30 minutes
A Dublin Coddle is a rich, comforting and humble Irish stew of pork sausage, barley, vegetables and herbs. It is cooked low and slow for several hours to develop an intense, rich flavor.
Ingredients
1 pound of bacon strips
8 pork sausages, British style if possible
3 medium yellow onions, sliced 1/4-inch thick
Black pepper grindings
2 medium leeks, sliced 1/2-inch thick, white and light green
3-4 sprigs of fresh thyme
1/4 cup chopped fresh parsley
3 bay leaves
3 cloves of garlic, coarse chopped
1/2 cup barley hull-less or pearled
4 thick carrots scrubbed and cut into 2-inch chunks
3 pounds potatoes, peeled and cut into large chunks
3 cups beef broth
Instructions
Preheat the oven to 400°F
Line a baking sheet with aluminum foil and place a wire rack on it. Lay the strips of bacon on the wire rack, transfer the rack to the oven and cook the bacon until it is crisp, about 15-20 minutes. Remove and place on a paper towel-lined plate to drain.
Reduce the oven temperature to 275°
In a large skillet set over medium-high heat, add 2 tablespoons of the bacon drippings and the sausages. Cook the sausages, turning them to brown evenly. Transfer the sausages to a plate to cool as they brown and when they are cool cut them in 2-3 pieces each.
Using the sausage skillet, lightly cook the onion slices until they are barely soft but not colored. You may need to add a little more bacon drippings.
Layer the bacon, sausage and onions in the bottom of a large, oven-proof casserole dish or Dutch oven. Add fresh ground pepper to each layer. Add the leeks, herbs and garlic. Sprinkle the barley around the edges and add the carrots and potatoes on the top. Pour in the beef broth and bring the pot to a boil. Cover the pot with the lid and transfer to the preheated oven and cook for 3 hours or until the potatoes are tender.
Nutrition Information:
Yield: 8
Serving Size: 1
Amount Per Serving:
Calories: 412
Total Fat: 19g
Sodium: 1150mg
Carbohydrates: 40g
Fiber: 6.5g
Sugar: 5.8g
Protein: 20g