These individual Irish Beef and Stout Pies have bite-size chunks of lean beef, mushrooms and onions that are nestled in a savory thick, herb and beer sauce. Each serving is covered with a blanket of puff pastry and baked until crisp and golden.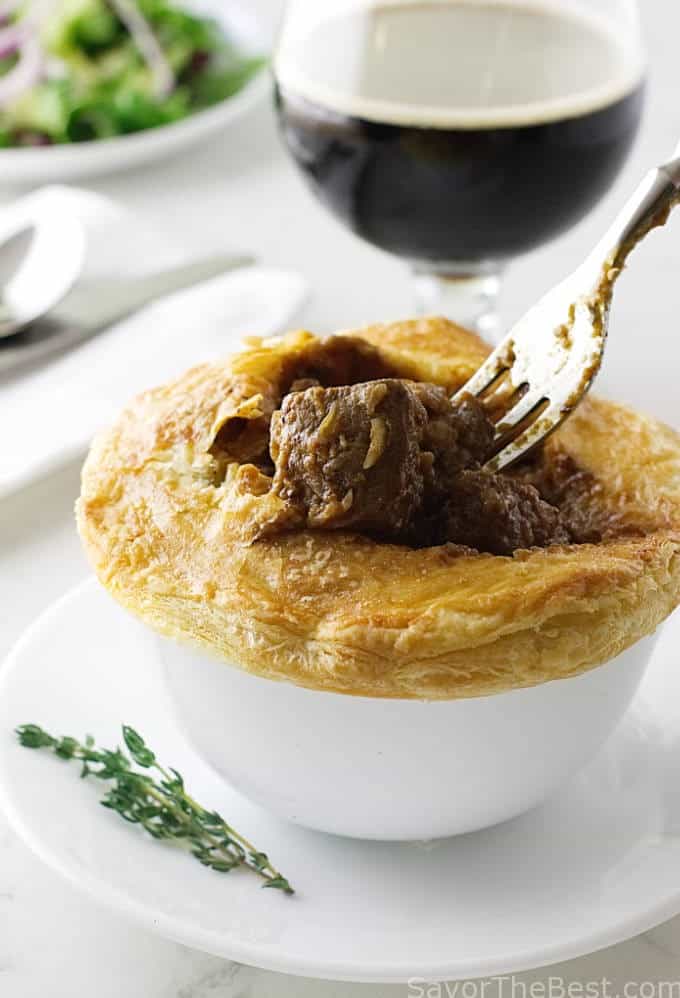 The lovely lady, Gillian, was born and raised in Ireland and has been married to our son, Burl since 2010. We are so blessed to have her and her daughter, Cora, and now four-year-old Sheamus in our family.
As it is almost St. Patrick's Day, and in Gillian's honor, I am preparing these Irish beef and stout pies as part of our St. Pat's Day celebration.
Gillian has some great and interesting stories to tell about living in Ireland and as her parents are still living over there, the family will be taking their bi-annual trip to Ireland again this summer.
They always have a lot of adventure stories and photographs to share with us when they return from their trip. This coming trip should be quite interesting as Sheamus is a typical four-year-old boy and full of energy and curiosity. And mischief!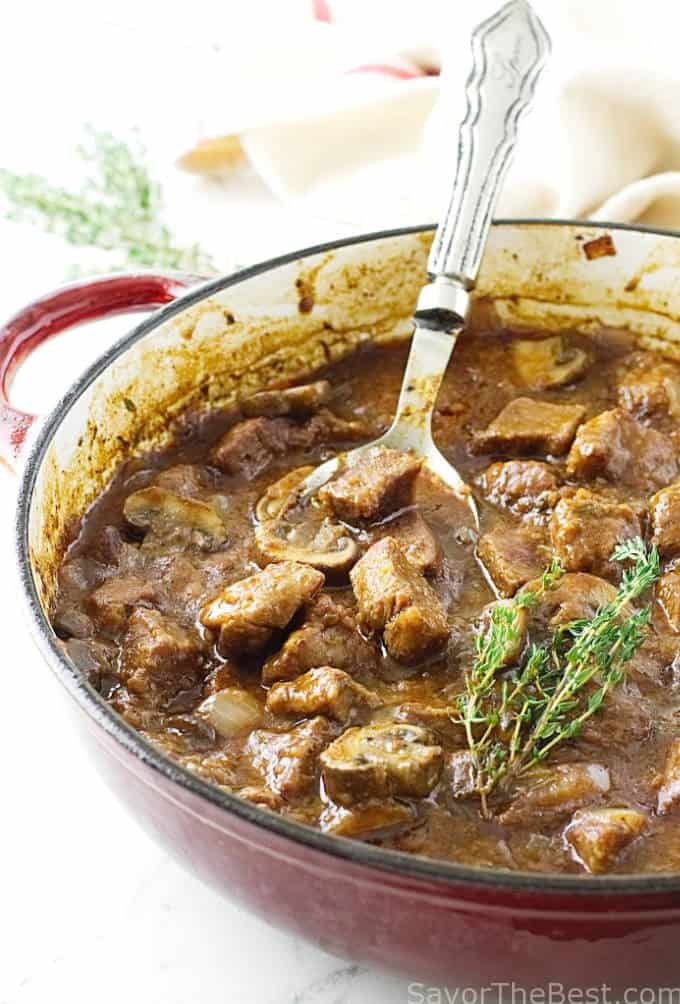 After finishing University, Gillian, worked in London, Germany and Switzerland in the culinary field including some high-end hotels in Europe.
She has a vast knowledge in all things food related and is an awesome cook….oops, I'm changing that to 'chef' as that title fits her exactly. She tells me that beef & stout pies are served as a main entrée in Ireland and usually served with a side dish called champ, which is a dish of creamy mashed potatoes mixed with chives or scallions and lots of butter.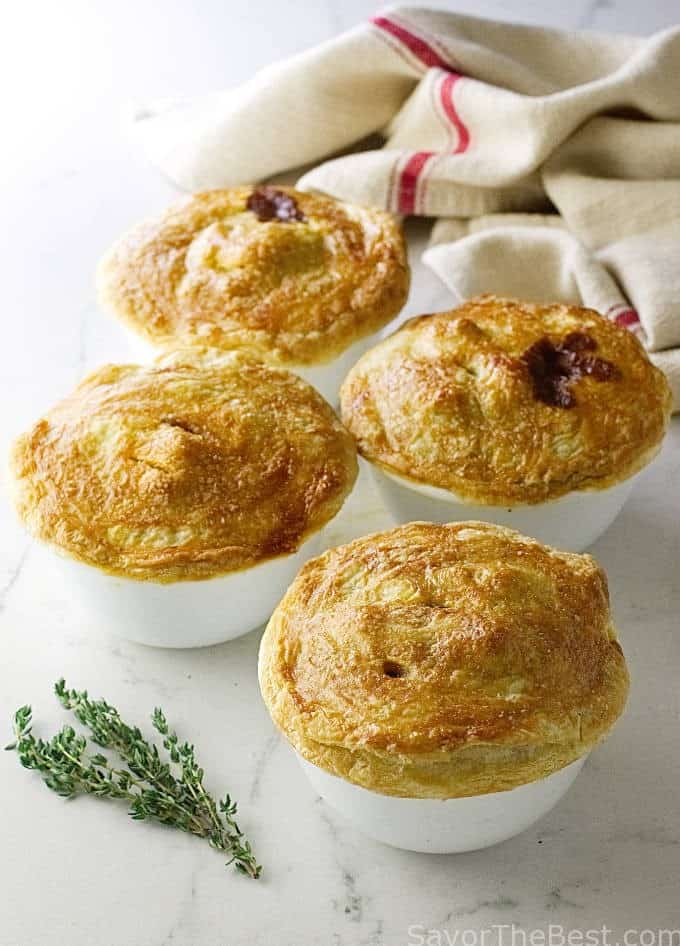 Another dish that is also served with Irish beef and stout pies would be a mix of parsnips and carrots cooked in chicken broth and mashed together with butter.
This is heavy, hearty fare! I will save those recipes for a posting another day but today I am serving these Irish beef and stout pies with roasted root vegetables of parsnips, potatoes and carrots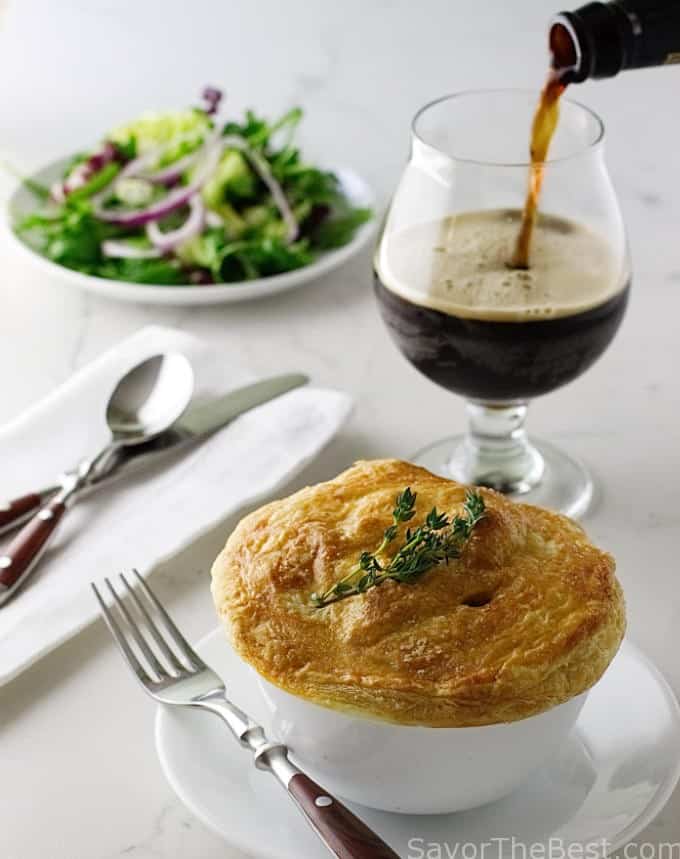 .
Irish beef & stout pies have a heavy beer incorporated into the gravy-like sauce which adds a distinct and delicious flavor to the dish. Stout is a strong dark beer that originated in the British Isles and Gillian tells me that Guinness is the most famous Irish stout beer in Ireland.
Guinness beer is made from roasted, malted barley, hops, yeast and water. The stout beer creates a unique richness to the sauce, enhancing these savory beef pies from an ordinary dish to a sumptuous dish that you will want to include in your repertoire of recipes.
(This is a repost from March 2015 with new photos–recipe is unchanged)
You might also like: Dublin Coddle Irish Soda Bread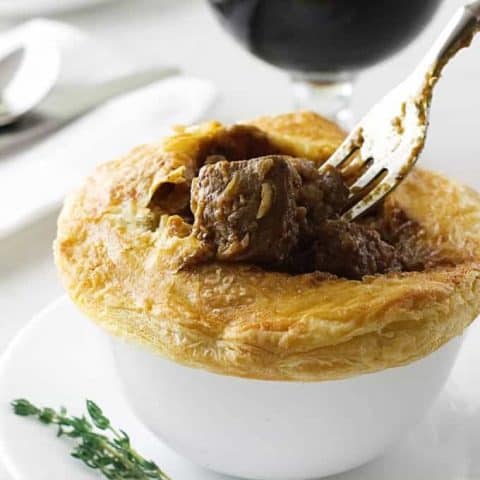 Irish Beef and Stout Pies
Yield: 4 pies
Prep Time: 30 minutes
Cook Time: 1 hour 30 minutes
Total Time: 2 hours
Individual savory Irish beef and stout pies are topped with puff pastry. The thick, rich sauce is made from beef stock, onions, mushrooms and dark stout beer. This is Irish pub food at it's finest!
Ingredients
3 tablespoons all­-purpose flour
½ teaspoon salt
½ teaspoon freshly ground black pepper
2 pounds boneless chuck roast, cut into 1 ­inch cubes
vegetable oil for browning the beef
1 medium onion, coarsely chopped
8 ounces crimini mushrooms, stems removed and caps quartered
2 tablespoons tomato paste
1 tablespoon chopped fresh thyme
1 ­1/4 cups beef stock
1 cup Guinness beer, or other stout, dark beer
1 pound purchased puff pastry
1 egg yolk, mixed with 1 tablespoon cold water
Instructions
In a medium sized bowl, combine the flour, salt, pepper and beef cubes. Toss to coat the meat completely in the flour mixture.
In a large skillet over medium high heat, add 3 tablespoon of oil and when it is hot add 1/3 of the beef cubes. When the beef has become a rich brown, transfer to a dutch oven or heavy- bottomed pot and continue browning the remaining batches of beef.
When all the beef has been browned and transferred, add ½ cup of the beef stock to the skillet, scrapping up all the little bits and pour the rich sauce into the dutch oven with the beef.
To the same skillet, add 2 tablespoons of oil and the onions and mushroom stems/caps. cook the onions and mushrooms for 6-7 minutes, until soft and then add them to the dutch oven with the beef. Add the tomato paste, thyme, beef stock and stout to the dutch oven. Bring to a boil over medium high heat, reduce the heat to simmer and gently cook with the lid on for 1-1/2 to 2 hours or until the beef tests fork tender
Preheat the oven to 425°F
Remove the dutch oven from the heat and pour the beef mixture into a large colander set over a pan or a bowl. Reserve the liquid and allow the beef mixture to cool. when cool, divide the mixture into four individual 12-ounce oven proof bowls. Pour in enough of the reserved liquid to just reach the top of the mixture but do not cover it.
Dampen the outside rim of the first dish with some of the egg mixture. Cut the defrosted pastry into quarters and working with one quarter at a time, roll it out, cut a circle about 1 inch larger than the top of the dish (I used a lid of a saucepan as my pattern), carefully lift the circle of pastry and position it over the top of the dish, pressing the overhanging pastry against the outside of the dish continue this process with the remaining dishes of meat mixture. Brush the pastry tops of the dishes with the egg yolk mixture. Make a small cut in each pie top and place on a baking sheet.
Place the baking sheet with the pies on the middle rack of the oven and bake for 20 to 25 minutes, turning once if necessary to brown evenly
Remove the pies from the oven and serve immediately.
Nutrition Information:
Yield: 4
Serving Size: 1
Amount Per Serving:
Calories: 744
Total Fat: 44g
Saturated Fat: 18g
Cholesterol: 222mg
Sodium: 536mg
Carbohydrates: 15g
Fiber: 1g
Sugar: 2g
Protein: 50g