Beef bone broth is so easy to make and requires hardly any time or effort as it just simmers away while you go about the day with your chores.
We posted a recipe for chicken broth recently but there are many varieties of broth including vegetable and fish broth. But it is chicken broth and beef broth that I use the most frequently. If I don't have homemade on hand or there isn't enough time to make a batch then I reach for the canned variety.
The ingredients of any flavor of a good broth are pretty basic as it is just bones, water and some aromatics such as carrots, celery, onion, garlic, peppercorns, fresh herbs and some bay leaves.
Depending on the type of broth you make will determine how long it takes to cook. For instance fish bone broth will only take half an hour and the vegetables should be cut into small pieces. But beef bone broth will require a much longer time to intensify the rich, deep beefy flavors and the vegetables need to be cut into large chunks.
Most butchers and well-stocked meat sections of the grocery stores will have a supply of beef bones for a modest price. In preparing beef bone broth it will make a richer more flavorful broth if you can find some really meaty bones. In this recipe I used some oxtail bones and chuck short ribs. It will also enhance the beefy flavors and make a nice brown broth by roasting the bones in a hot oven.
Once the bones are roasted they are added to a large stock pot along with the aromatics. Just wash and scrub the carrots and celery and cut them into large chunks. Peel the onions, but I leave them whole, the garlic is just sliced in half and tossed into the pot unpeeled. They should be nice large pieces as they will all be simmering away for a long time and you don't want them going to mush and clouding up your stock. Add the fresh herbs, bay leaves and plenty of peppercorns. Adding kosher salt is optional.
Add enough cold water to cover and bring it to a boil, then reduced to simmer. Beef bone broth will need to simmer for as much as eight hours to extract the full flavors. Do not allow the broth to boil as that will produce a cloudy, bitter broth.
Ideas to use beef broth: Beef with Mushrooms and Barley, Farro, Mushroom and Leek Risotto Irish Beef and Stout Pies
Yield: 3 quarts
Beef Bone Broth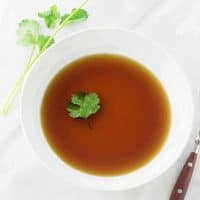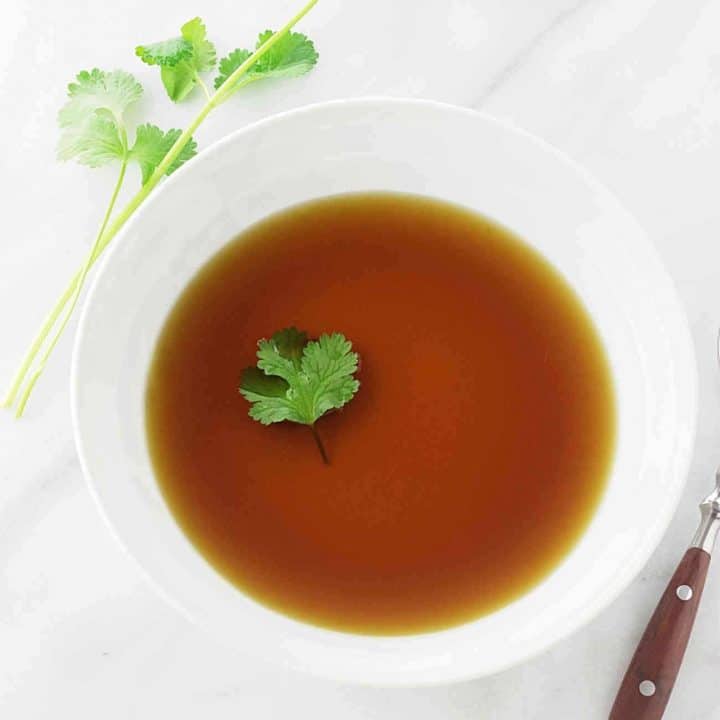 This beef bone broth is a rich flavorful broth made from simmering beef bones, vegetables and herbs for several hours to extract all the nutrients and flavor.
Prep Time 20 minutes
Cook Time 8 hours
Total Time 8 hours 20 minutes
Ingredients
2 pounds oxtails
2 1/2 pounds chuck short ribs
1 large beef soup bone
2 tablespoons olive oil
4 carrots, 8-inches each, trimmed and scrubbed, cut into 3-inch pieces
4 stalks of celery 6-8-inches long, cut into 3-inch pieces
2 medium yellow onions, peeled
1 large head of garlic, cut in half
1 small bunch fresh curly parsley,
1 small bunch fresh thyme
1 small bunch fresh rosemary
2-3 bay leaves
2 tablespoons peppercorns
Kosher salt, to taste (optional)
Instructions
Preheat the oven to 450°F
Brush the bones with olive oil, place on a baking sheet and roast in the oven for 45 minutes. Transfer the bones to a large stock pot, adding the drippings remaining in the baking sheet, scraping in any remaining brown bits.
Add the carrots, celery, onions and garlic. Use kitchen string to tie the bunches of parsley, thyme and rosemary together in one bundle and toss into the pot. Add enough water to cover the bones and vegetables by 2 or 3 inches, bring the pot to a boil, reduce the heat to it's lowest point, cover and simmer for 6-8 hours. Taste the broth frequently until it has a dark brown color and rich, flavorful taste.
Remove from the heat and allow to cool to room temperature, then refrigerate it. When it is cold the fat will rise to the top and harden and can be removed. Strain the broth through a fine mesh strainer and discard the vegetables and herbs. Transfer the strained beef bone broth to containers with lids and either refrigerate or freeze.