This recipe for beef with mushroom and barley only takes a few minutes to put together and then the oven does the rest of the work to deliver a nutritious, delicious dinner.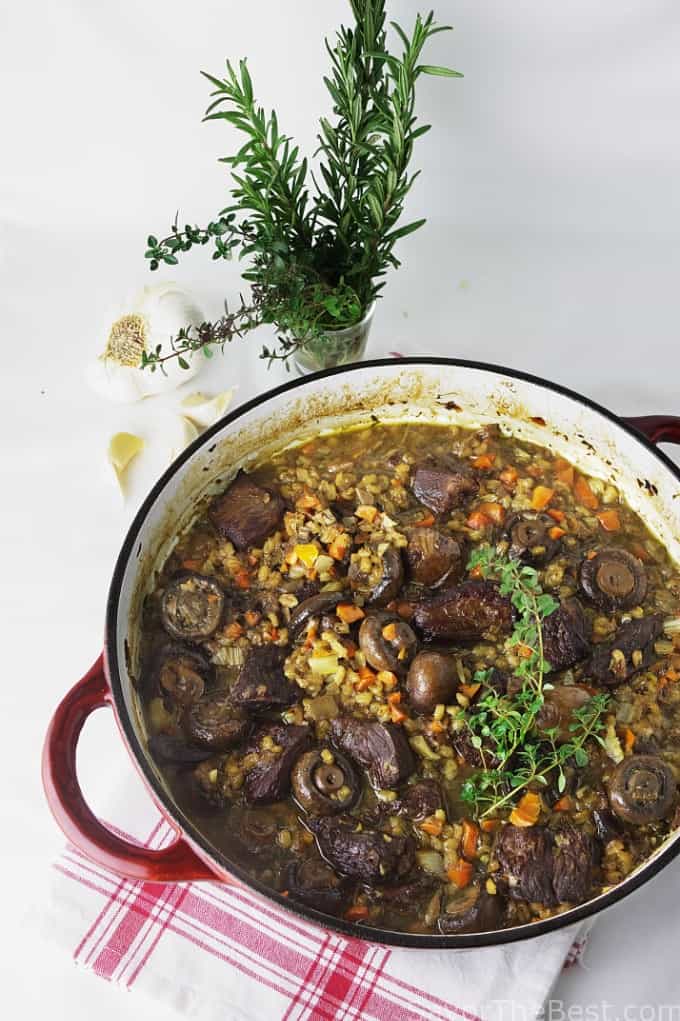 I love one-pot meals, whether it is a stir-fry, crock-pot or casserole and this one-pot meal is full of tender chunks of seared beef, whole meaty mushrooms, firm, chewy grains of barley, fresh vegetables and herbs. A flavorful beefy-wine broth is added and it is all simmered together in a low temperature oven and served at the table directly from the pot.
This recipe would be a good candidate for a crock-pot as well.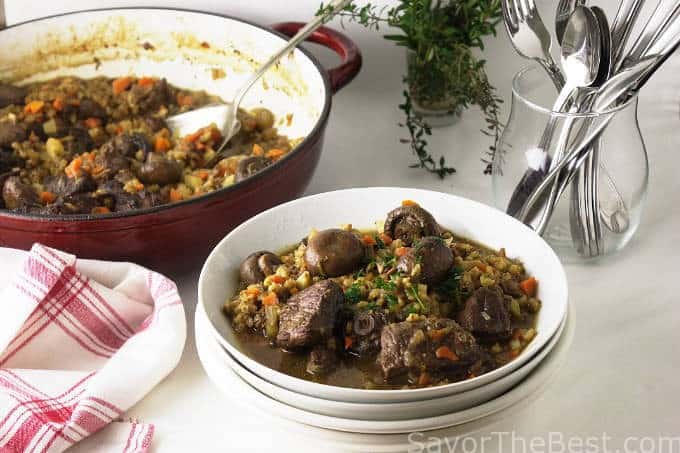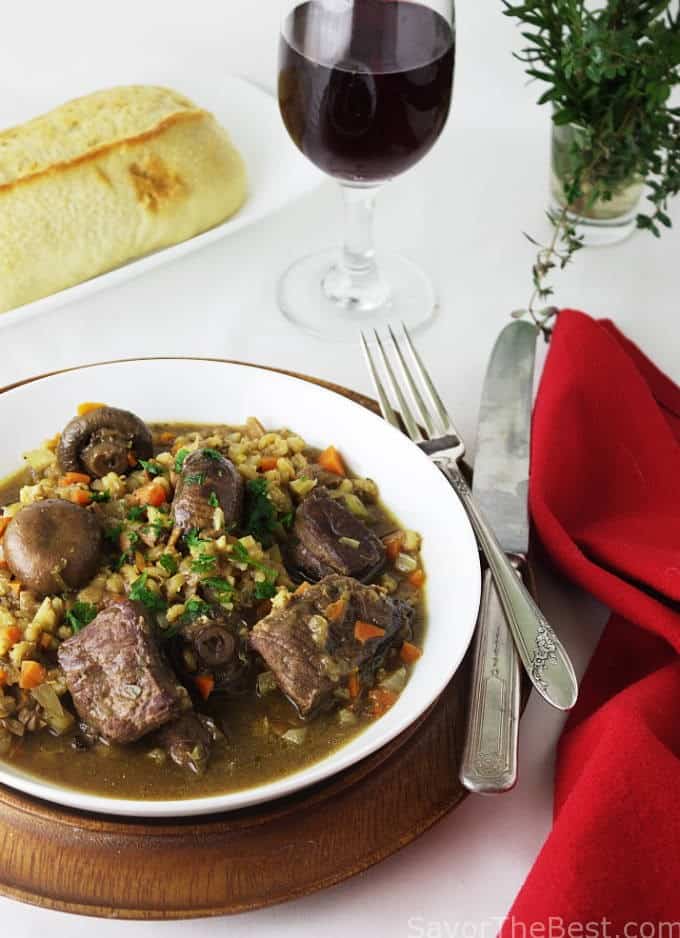 More easy, one-pot meals to explore: Halibut Provencal, Coq Au Vin, Gumbo
This recipe has been adapted from: One Pot of the Day by Kate McMillan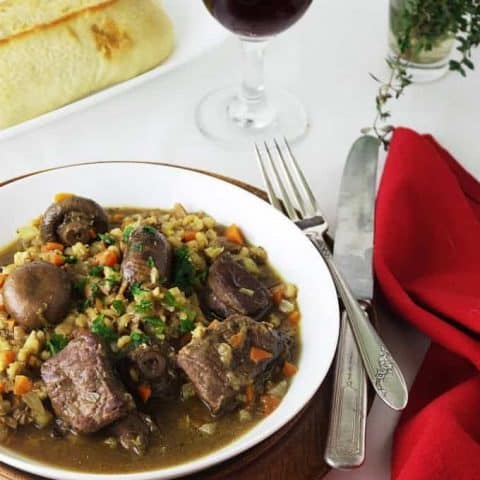 Beef with Mushrooms and Barley
Yield: 6 servings
Prep Time: 30 minutes
Cook Time: 3 hours 45 minutes
Total Time: 4 hours 15 minutes
This one-pot meal is full of tender chunks of seared beef, whole meaty mushrooms, firm, chewy grains of barley, fresh vegetables and herbs.
Ingredients
1 ounce of dried mushrooms
2 cups of boiling water
2 tablespoons coconut or olive oil
2 1/2 pounds beef chuck roast, trimmed of fat and cut into 2-inch chunks
1 large onion, chopped
4 cloves garlic, minced or crushed
1 pound small crimini mushrooms, cleaned and trimmed
2 cups beef broth
1/2 cup red wine
1 tablespoon chopped fresh thyme
1 tablespoon chopped fresh rosemary
1 tablespoon chopped fresh parsley
1/2 cup pearl barley
3 carrots each 6-7 inches long, chopped
1 medium fennel, trimmed, core removed and chopped
Salt and pepper to taste
Fresh rosemary, thyme or parsley for garnish
Instructions
Add the dried mushrooms to a dish and cover them with the boiling water. Allow them to soak and rehydrate for 20 minutes. Drain the mushrooms through a fine mesh strainer into another bowl, reserving the soaking liquid. Rinse the mushrooms under cold water while still in the strainer, drain and give them a medium-chop. Reserve
Preheat the oven to 300°F
In a large heavy-bottomed, lidded pot or Dutch oven over medium-high heat, add the oil and when it has heated add one-third of the beef chunks and sear, turning frequently, on all sides until browned, 8-10 minutes. As each batch browns, transfer to a plate lined with paper towels to drain.
Add the onions and garlic to the pot and cook just until the onions begin to soften, 5-7 minutes. Add the rehydrated mushrooms and the fresh mushrooms. Reduce the heat to medium and cook for another 5 minutes, stirring frequently. Add the reserved liquid from the dried mushrooms, the beef broth, red wine, chopped thyme, rosemary and parsley. Add the seared beef pieces and stir to combine. Cover with the pot lid and transfer to the preheated oven and cook for 2 hours.
Stir in the barley and one cup of water, continue cooking in the oven with the lid on the pot, for 1 hour. Add the carrots, fennel and seasoning and cook for an additional 30 minutes.
Transfer the pot to the table and serve in shallow dishes garnished with fresh herbs.
Nutrition Information:
Yield: 6
Serving Size: 1
Amount Per Serving:
Calories: 570
Total Fat: 32g
Saturated Fat: 13g
Trans Fat: 2g
Unsaturated Fat: 17g
Cholesterol: 157mg
Sodium: 528mg
Carbohydrates: 18g
Fiber: 3g
Sugar: 5g
Protein: 51g
Nutrition information is a guideline only, is calculated automatically by third-party software, and absolute accuracy is not guaranteed.