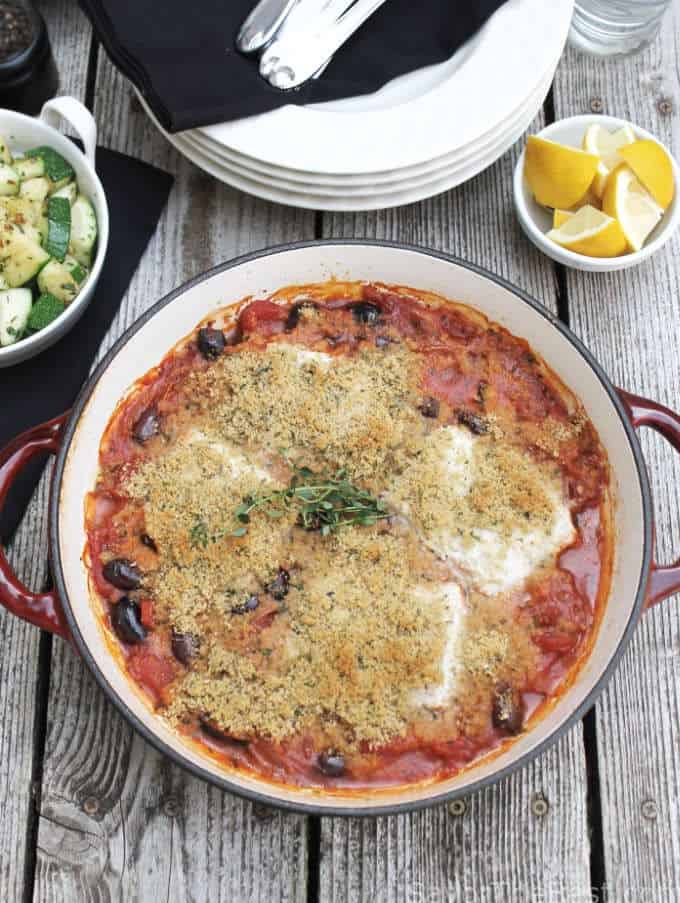 Provence is a large region in the south of France bordering the Mediterranean Sea. The food in the region is sourced from the warm Mediterranean climate with warm summers, mild winters and ample sunshine.
Provencal cuisine is an ode to the Mediterranean diet. It incorporates an abundance of seafood, fresh produce, olive oil, garlic and aromatic herbs. It is a wholesome, heart-healthy way of eating that can substantially reduce your risk of heart disease and type 2 diabetes.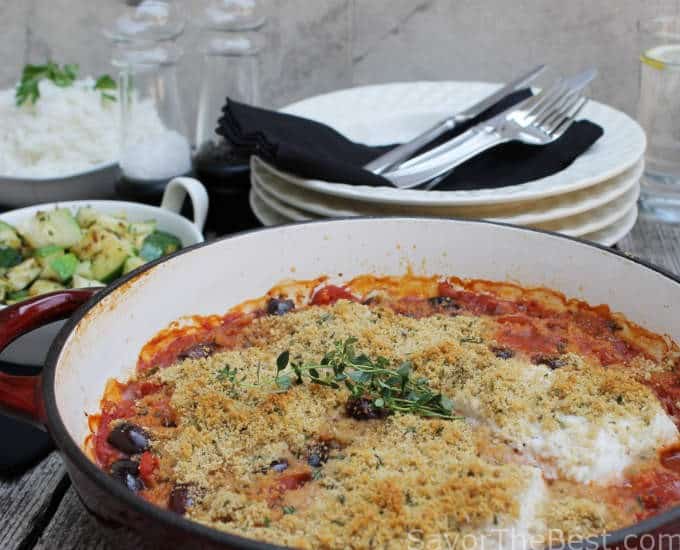 This halibut Provencal is easy and fast to prepare. The entire recipe can be prepared in the same skillet then transferred to the oven to finish cooking.
If you use a pretty skillet, you can transfer the dish to a hot pad on the table and save yourself from washing an extra serving dish. This is a healthy meal seasoned with the bright flavors of the Provence: garlic, tomatoes, olives, olive oil and Herbs de Provence.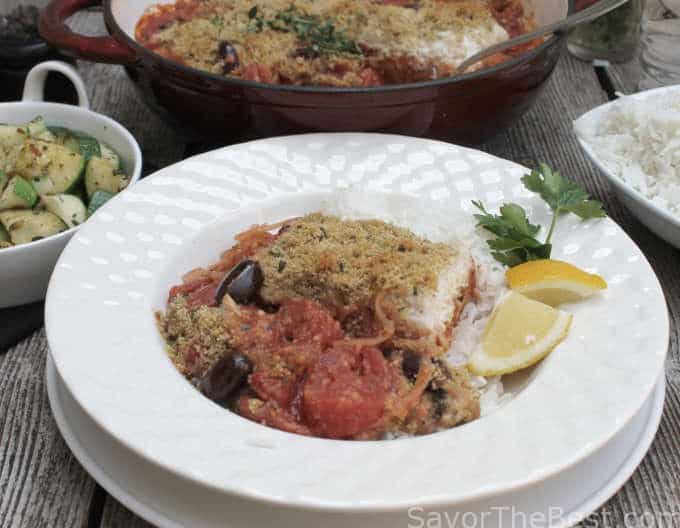 Herbs de Provence is a mixture of herbs used to flavor Provencal cooking and lend a fresh bold flavor the the cuisine. The blend of herbs is used by the handful when they are fresh but the mixture is also good as a dried blend.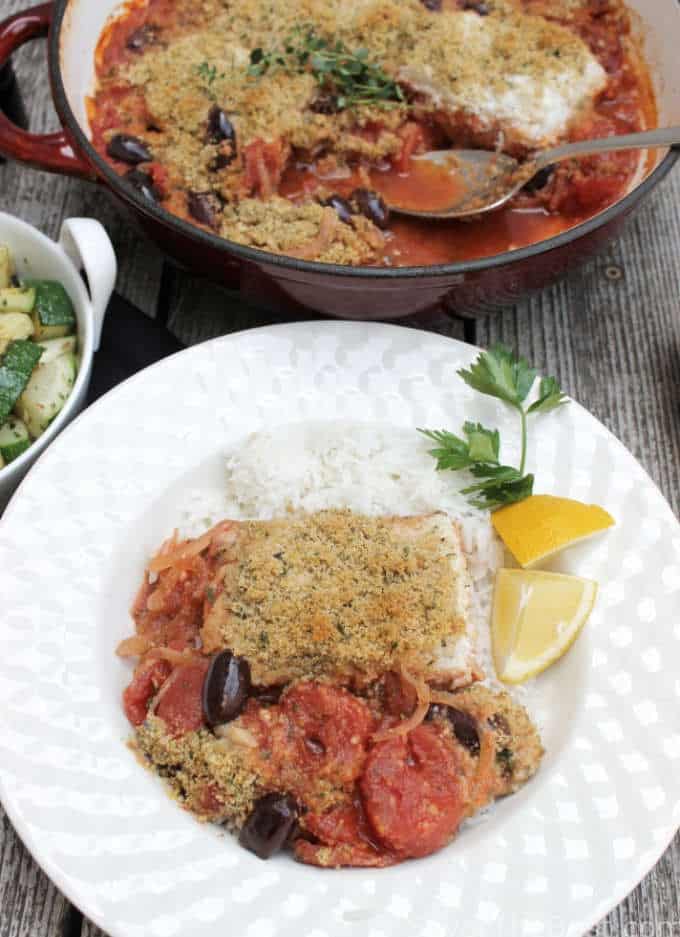 I will often mix the herb blend with some olive oil and use it as a rub for meat or potatoes. It is good on nearly everything and imparts a wonderful aroma in the kitchen as I cook.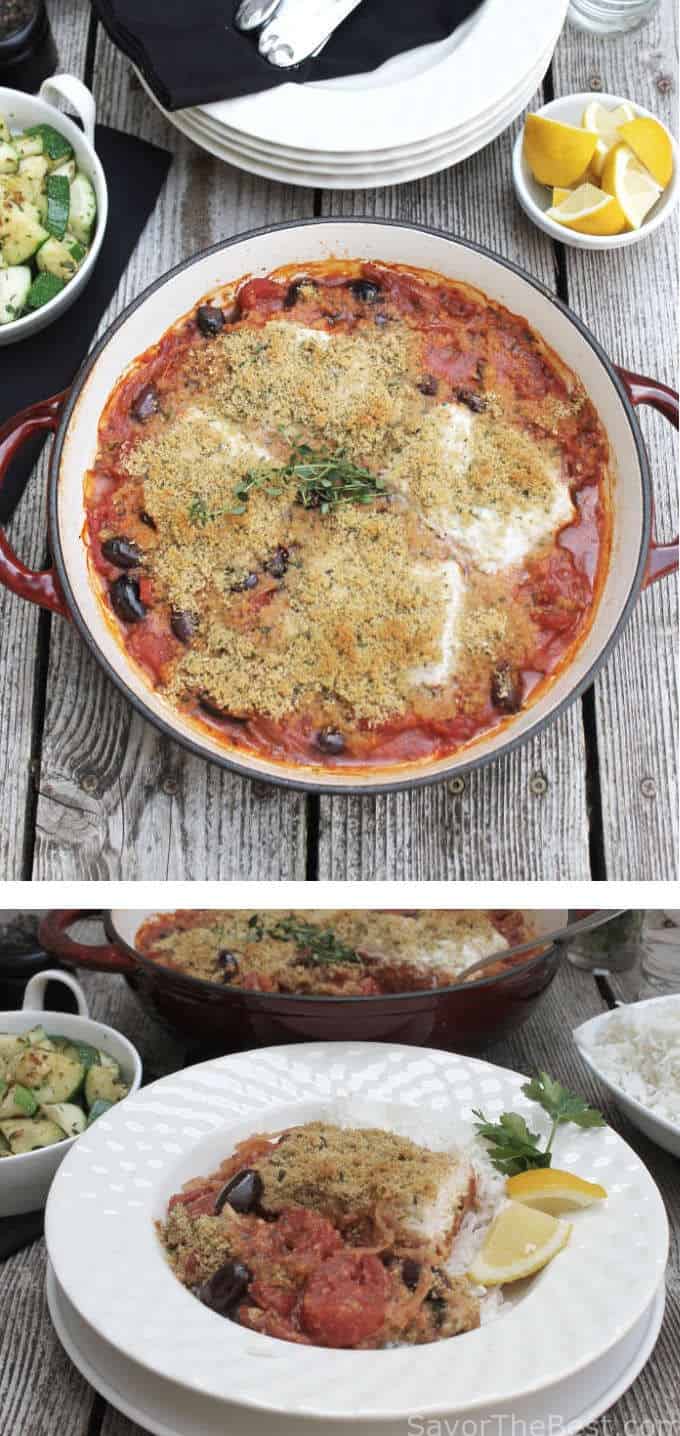 To make your own mixture of Herbs de Provence mix equal amounts of savory, rosemary, thyme, oregano, basil, marjoram, fennel seed and crushed bay leaf.
Dried orange zest and culinary lavender also make a nice addition to the herb blend. I must confess my own blend varies quite a bit in quantities of the different herbs. I keep a jar of the herb mixture in the kitchen that I will occasionally add to when I have some extra herbs on hand.
More delicious fish recipes:
CONNECT WITH SAVOR THE BEST!
Be sure to follow us on our social media accounts
Facebook * Instagram * Pinterest * Twitter * Youtube
Did you make this recipe? We would love to hear from you. Drop us a comment below.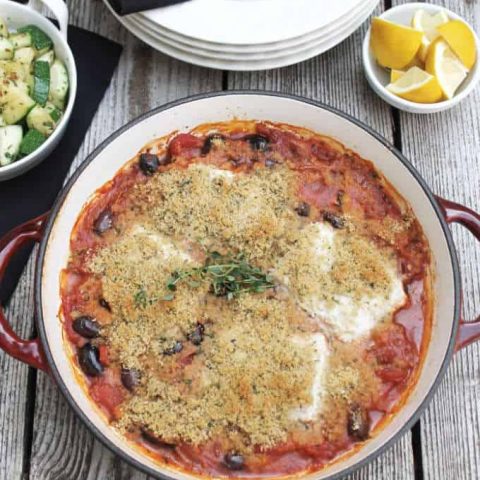 Halibut Provencal
A healthy one-skillet Mediterranean style halibut dish seasoned with the vibrant flavors of Provence.
Ingredients
4 Halibut fillets, 6 to 8 ounces each
1/2 teaspoon salt
1/2 teaspoon freshly ground pepper
1 tablespoon olive oil
1 red onion, thinly sliced
1/4 teaspoon red pepper flakes
2 garlic cloves, finely minced
1/2 cup dry white wine
1/4 cup clam juice
1 (28 ounce) can tomatoes, with the juices
2 tablespoons tomato paste
2 teaspoon Herbes de Provence
1/2 cup kalamata olives, pitted
Bread Crumb Topping
1/3 cup dried bread crumbs
1 tablespoon olive oil
1 teaspoon Herbs de Provence
1/4 teaspoon salt
zest from 1 lemon
Instructions
Preheat oven to 375°. Sprinkle both sides of the halibut with salt and pepper.
Heat olive oil in an oven-proof skillet over medium-high heat. Add the onion and cook about 4 to 5 minutes until slightly browned. Add red pepper flakes and garlic; cook, stirring constantly for 1 minute. Add wine, clam juice, tomatoes, tomato paste and herbs. Simmer for 8 to 10 minutes to reduce the sauce a little then remove from heat and stir in the olives.
Make the bread crumb topping and finish the prep
In a small dish, stir together the bread crumbs, olive oil, herbs, and lemon zest.
Arrange the halibut fillets over the tomato mixture then sprinkle the bread crumb mixture over the top.
Bake for 15 to 20 minutes until the fish is cooked through and flakes easily with a fork. Cooking time will vary depending on the thickness of the fish fillets.
Nutrition Information:
Yield:

4
Serving Size:

1
Amount Per Serving:
Calories:

398
Total Fat:

11g
Saturated Fat:

1.6g
Sodium:

688mg
Carbohydrates:

22g
Fiber:

4g
Sugar:

8g
Protein:

46g