Our Mediterranean halibut Provencal is the perfect choice for a healthy and delicious meal. The fish gets simmered in a fragrant tomato sauce with garlic, onions, and olives. It's a quick and easy recipe that yields impressive results.
The juicy halibut fillets get cooked to perfection and served with a side of wild rice or couscous and a tossed green salad for a complete meal.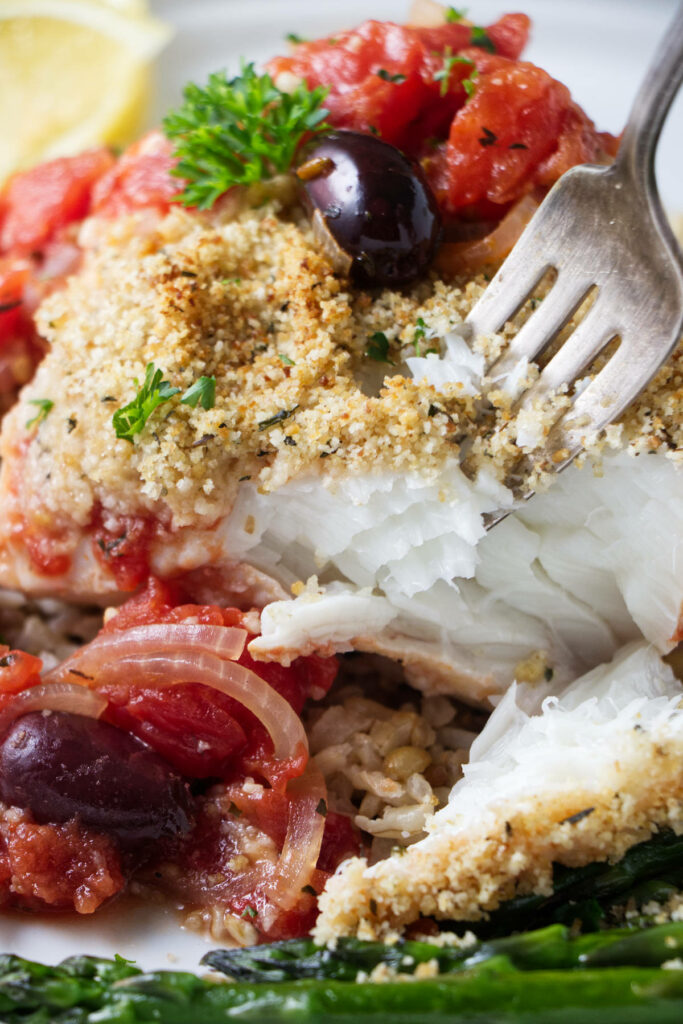 Provencal cuisine is an ode to the Mediterranean diet. Provence is a region in France that borders the Mediterranean sea. The cuisine from this area is healthy and flavorful, highlighting fresh seafood, fruits, and vegetables. This recipe captures the essence of French Provencal cuisine with its light yet fragrant tomato sauce.
Here is Why This Recipe Works
This dish is hearty and comforting but light enough to make you feel good about eating it.

It is an easy one-skillet meal that is fast to prepare and perfect for busy weeknights.

The flavorful sauce is perfect for spooning over rice, couscous, or pasta.

A small amount of anchovy paste adds a rich flavor without being overwhelming.

The baked halibut recipe has all the benefits of a Mediterranean diet with lean protein and healthy fats.
If you use a pretty skillet, you can transfer the dish to a hot pad on the table and save yourself from washing an extra serving dish.
If you like this recipe, you will love our spicy tilapia or our tuna piccata.
The Ingredients
Here is a list of the ingredients you will need for this recipe. Scroll down to the printable recipe card for all the details.
Halibut. You can use fillets or steaks in this recipe.

Seasoning. Salt, pepper, red pepper flakes, Herbes de Provence.

Olive oil. A staple in Mediterranean cooking.

Red onion. White or yellow onions also work.

Garlic cloves. Freshly grated garlic will give you the most flavor, but pre-grated jarred garlic also works.

White wine. If you don't cook with wine, substitute with chicken broth.

Clam juice. You can substitute with chicken broth.

Tomatoes. We used San Marzano tomatoes as we did in our San Marzano sauce, but any tomatoes will work.

Tomato paste. Tomato paste adds a rich, concentrated tomato flavor.

Anchovy paste. It gives a deep, savory, umami flavor. If you can't find anchovy paste, you can smash 1 to 2 whole anchovies.

Kalamata olives. The salty flavor and meaty texture of Kalamata olives balance the sweetness of the tomatoes.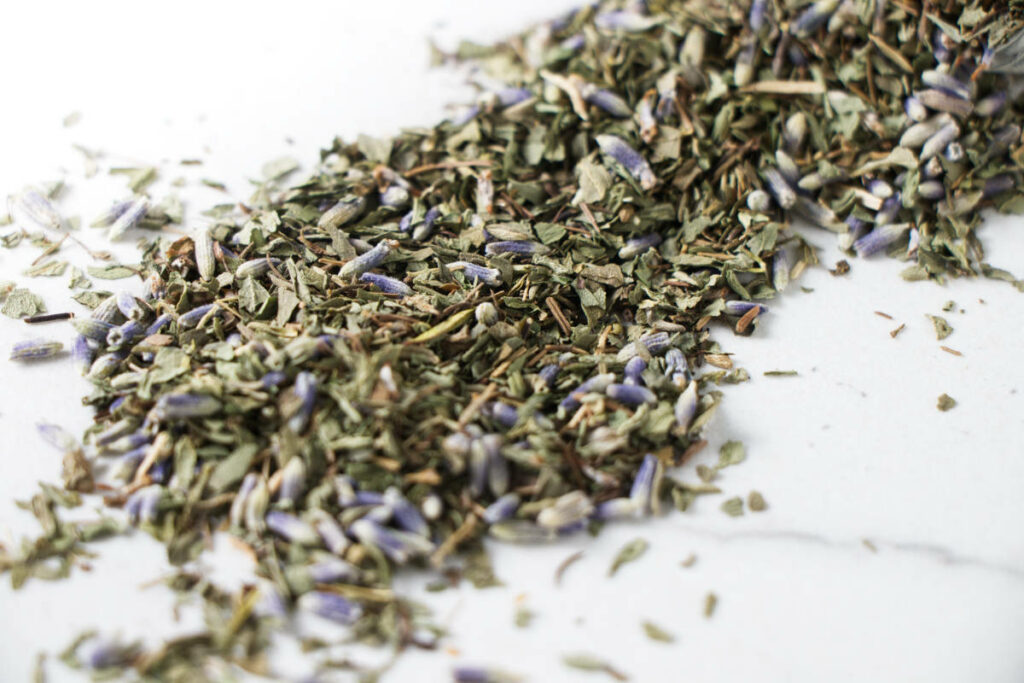 The Herb Blend
Herbs de Provence is a mixture of herbs used to flavor Provencal cooking and lends a fresh bold flavor to the cuisine. The blend of herbs is used by the handful when they are fresh but the mixture is also good as a dried blend.
The blend is perfect for fish and poultry. Here are some other recipes to use it in:
To make your own blend, mix equal amounts of savory, rosemary, thyme, oregano, basil, marjoram, fennel seed, and crushed bay leaf. Dried orange zest and culinary lavender also make a nice addition to the herb blend.
How To Make Mediterranean Halibut
Here is a brief overview to get an idea of what to expect with the recipe. Scroll down to the printable recipe card for all the details.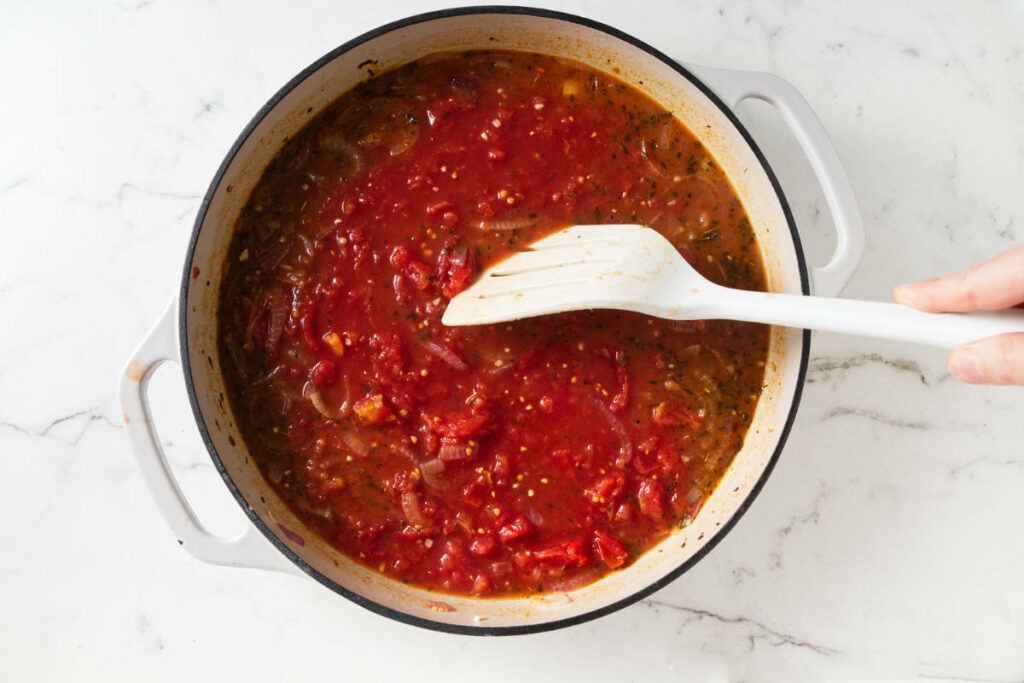 Make the tomato sauce and let it simmer to reduce the juices and concentrate the flavors.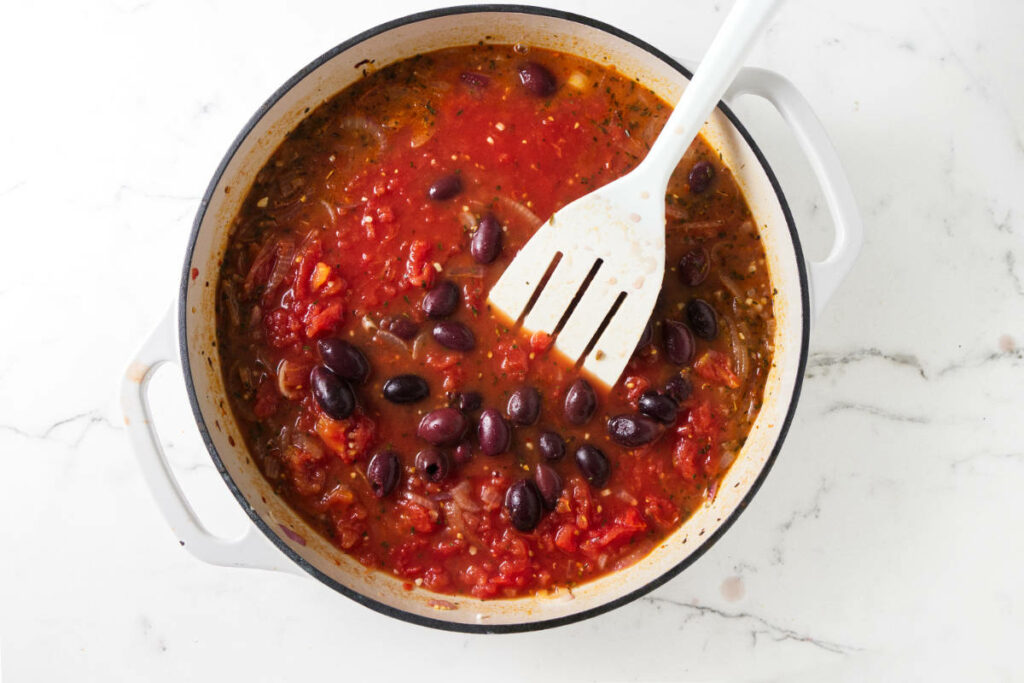 Add the Kalamata olives. If you want some variety and color, you can add green olives as well.
Tip: Tomato paste and anchovy paste will be easier to incorporate if you stir them with a little liquid before adding them to the skillet.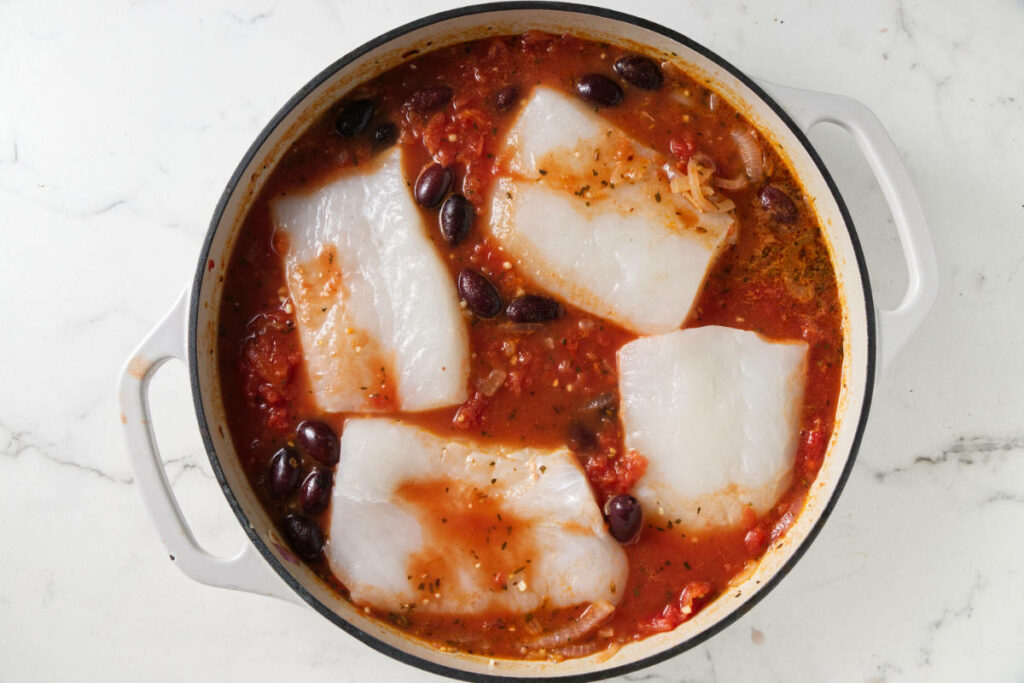 Nestle the halibut in the sauce. We used fillets but you can use halibut steaks as well.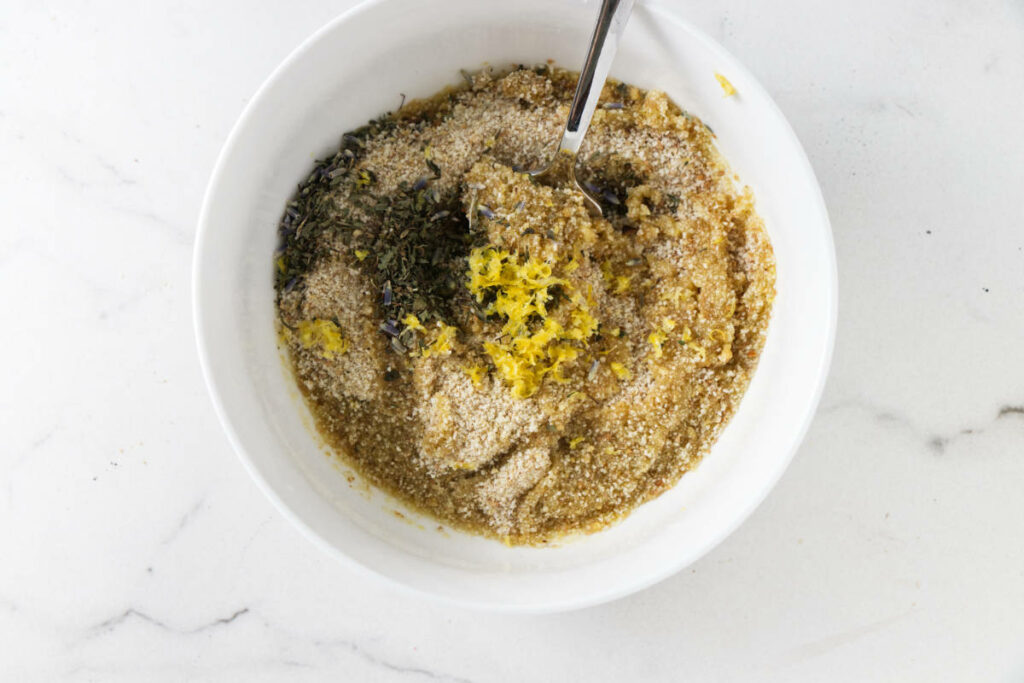 Combine the ingredients for the bread crumb topping. When you mix the olive oil into the bread crumbs, it will look like damp sand.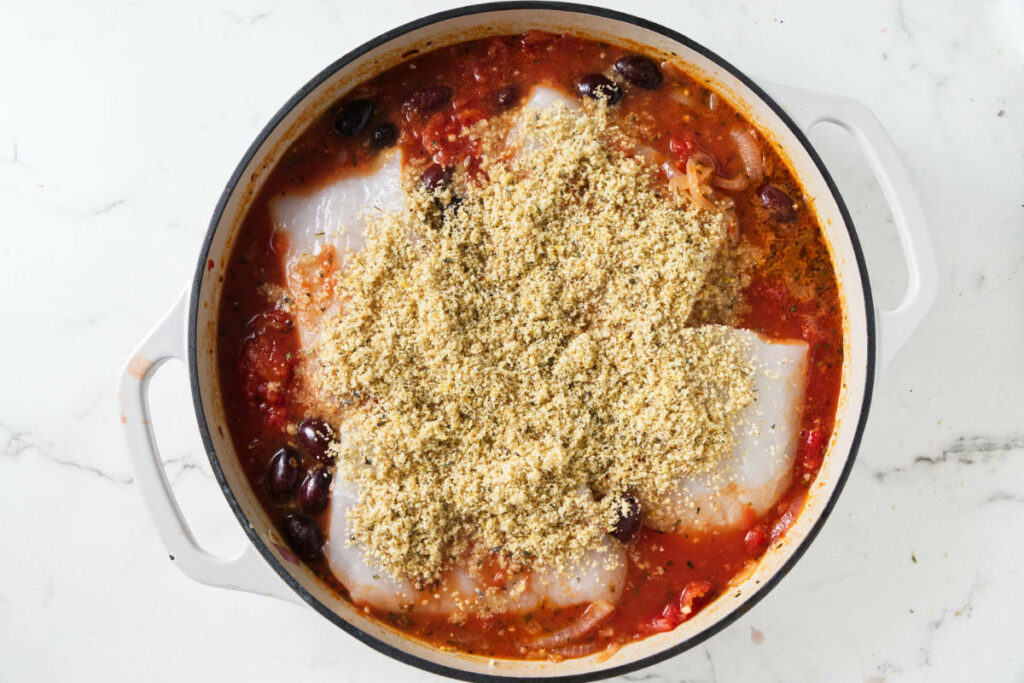 Sprinkle the bread crumbs over the top of the halibut and place the skillet in the oven to bake.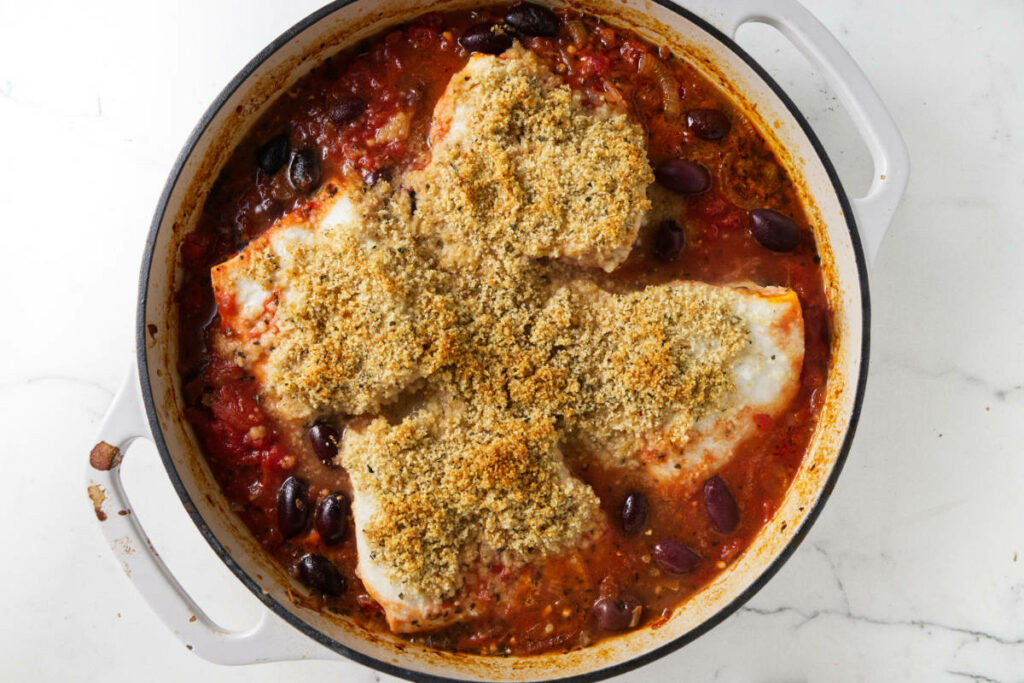 Bake the halibut until it is cooked through and flakes easily with a fork.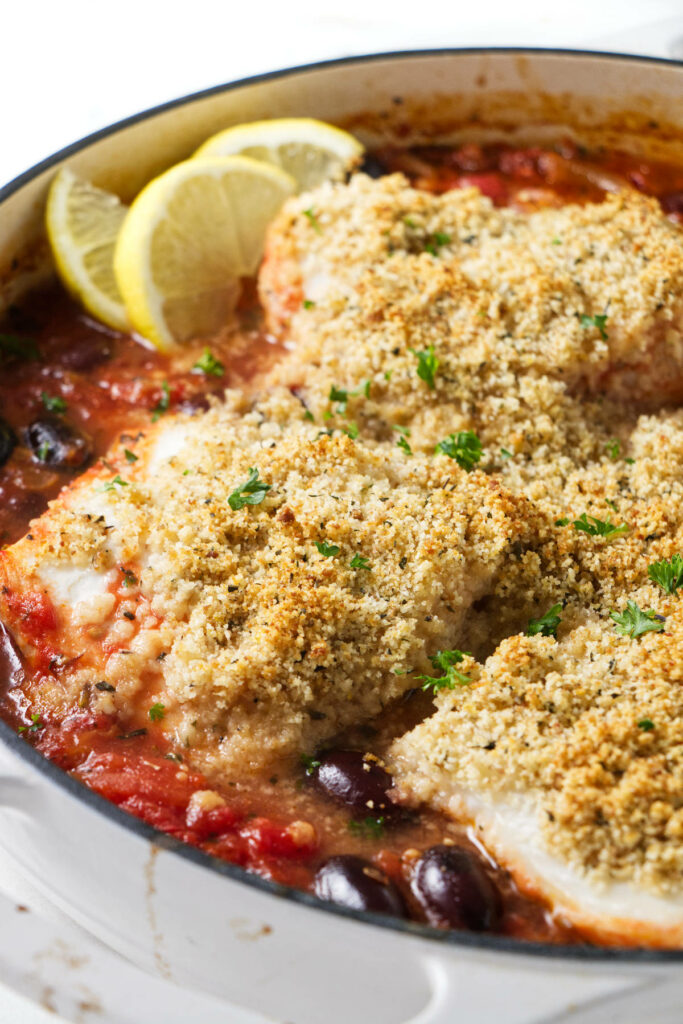 Tips for Success
We use an herb blend called Herbs de Provence in this recipe. You can find this blend at most supermarkets or online. If you can't find it, we have a quick substitute listed in the notes on the recipe card.

Baking time will vary based on the thickness of the fish.

Halibut cooked to an internal temperature of 130°F is tender, moist, and flaky. When cooked to 140°F, it is firm, flaky, and slightly dry.

If you don't have an instant-read thermometer, do a flake test. When the halibut is done, it should flake easily and will not be translucent.
Frequently Asked Questions
Can I use frozen halibut in this recipe?
Yes. Let the frozen fillets thaw in the fridge first.
Can I use fresh tomatoes instead of canned tomatoes?
Absolutely. If you have fresh, ripe tomatoes, chop them or crush them and measure out 3 cups. Choose the ripest, juiciest tomatoes you can find.
Does the recipe work if I double the ingredients?
Yes. If you want to make a larger batch, make the sauce in a deep Dutch oven. When the sauce is finished, transfer it to a 9 x 13 casserole dish or a 16 x 12 roasting pan before laying the fish over the sauce. Bake as usual.
Whether you're looking for a healthy weeknight meal or want to impress guests, this baked Mediterranean halibut Provencal is the perfect dish. For more serving suggestions, try serving it with a Basmati rice pilaf, sautéed zucchini, and a Greek salad.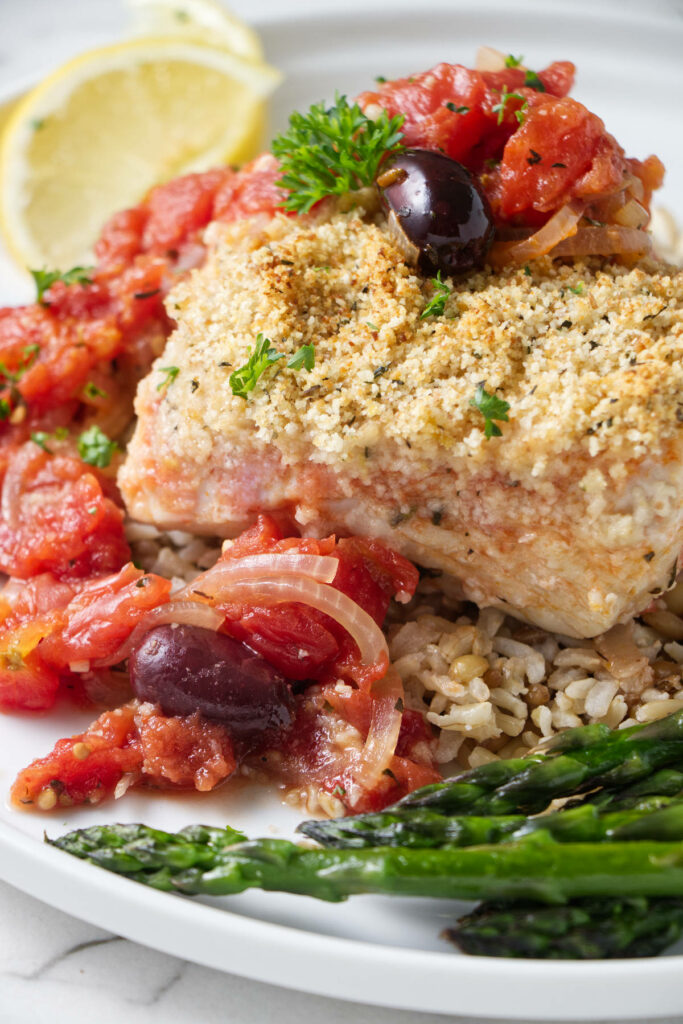 More Delicious Fish Recipes:
Our grilled Mahi-Mahi comes with a zesty mango salsa that complements the meaty fish perfectly. Serve it with roasted baby potatoes for a hearty meal.
This Red Snapper Veracruz has a spicy sauce that tastes amazing with the mild-flavored fish.
This grilled Swordfish Steak gets served with a creamy lemon dill aioli sauce. The firm fish is a perfect match for the grill.
Connect With Savor the Best:
Please follow us on our social media accounts
Facebook * Instagram * Pinterest * Youtube * Twitter
Did you make this recipe? We would love to hear from you. Drop us a comment below.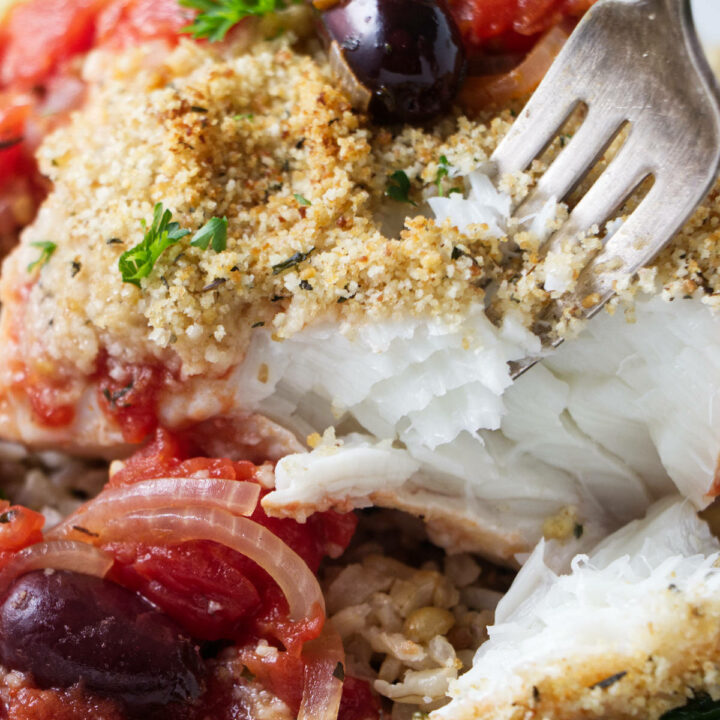 Mediterranean Halibut Provencal
Our Halibut Provencal works well for a casual weeknight or a weekend dinner party.
This one-skillet dinner is not only healthy and delicious, but it's also simple to make. The fragrant tomato sauce with onions, herbs, and olives has a touch of anchovy paste to give the dish even more depth of flavor.
You can serve this Mediterranean halibut over your favorite type of pasta or rice to drench in the rich tomato sauce.
Ingredients
4 Halibut fillets, 6 to 8 ounces each
1/2 teaspoon salt
1/2 teaspoon freshly ground pepper
1 tablespoon olive oil
1 red onion, thinly sliced
1/4 teaspoon red pepper flakes
2 garlic cloves, finely minced
1/2 cup dry white wine
1/4 cup clam juice
1 (28 ounce) can tomatoes, crushed, with the juices
2 tablespoons tomato paste
2 teaspoons anchovy paste (optional)
2 teaspoon Herbes de Provence
1/2 cup kalamata olives, pitted
Bread Crumb Topping
1/3 cup dried bread crumbs
1 tablespoon olive oil
1 teaspoon Herbs de Provence
1/4 teaspoon salt
zest from 1 lemon
Instructions
Preheat the oven to 375°. Sprinkle both sides of the halibut with salt and pepper.
Heat olive oil in an oven-proof skillet over medium-high heat. Add the onion and cook for about 4 to 5 minutes until slightly browned. Add red pepper flakes and garlic. Cook, stirring constantly for 1 minute.
Add wine, clam juice, crushed tomatoes, tomato paste, anchovy paste, and Herbs de Provence. Simmer for 8 to 10 minutes to reduce the sauce a little then remove from heat and stir in the olives. (If you want the sauce thinner, only simmer it for a minute).
Make the bread Brumb Topping and Bake
In a small dish, stir together the bread crumbs, olive oil, herbs, salt, and lemon zest.
Arrange the halibut fillets over the tomato mixture then sprinkle the bread crumb mixture over the top.
Bake for 15 to 30 minutes until the fish is cooked through and flakes easily with a fork. Cooking time will vary depending on the thickness of the fish fillets. If the fillets are 1-inch thick, they will take approximately 22 to 25 minutes. If you have an instant-read thermometer, the halibut will be done when the internal temperature reads 130°F.
Notes
Anchovy paste is optional but adds a rich flavor without making the dish taste like anchovies.
If you can't find Herbs de Provence, blend 1/2 teaspoon each of dried rosemary, thyme, oregano, lavender buds, fennel, and tarragon.
Recommended Products
As an Amazon Associate and member of other affiliate programs, I earn from qualifying purchases.
Nutrition Information:
Yield:

4
Serving Size:

1
Amount Per Serving:
Calories:

398
Total Fat:

11g
Saturated Fat:

1.6g
Sodium:

688mg
Carbohydrates:

22g
Fiber:

4g
Sugar:

8g
Protein:

46g
This recipe was originally published on September 9, 2015. We updated the photos and added some helpful tips. one of the original photos is below.