Oh, how lucky I feel when we score a wild turkey. It isn't something we are lucky enough to get every year. When I do get my hands on wild turkey I am particularly careful about how I cook it. This recipe for Sous Vide wild turkey breast is the best way to cook this super lean and healthy meat.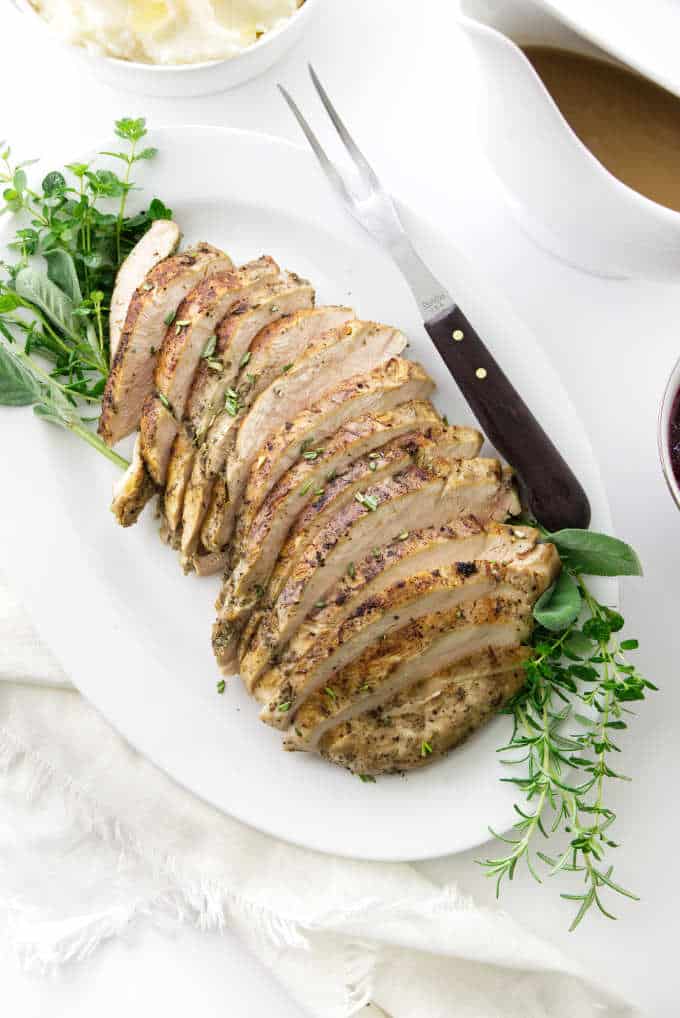 A wild turkey is remarkably leaner than domestic turkeys and the breast is the leanest part of the bird. That means a wild turkey breast will easily turn into dry, chalky leather if it isn't cooked correctly. For the most precise and perfect results, a Sous Vide is the best way to cook your wild turkey breast.
I'm not much of a hunter but my husband and son sure do enjoy hunting. I will tag along occasionally because I love the wilderness and hiking but I leave the hunting to the boys who are patient enough to sit, watch, and wait.
Although we generally keep our freezer stocked with plenty of venison every year, we don't get as much wild turkey so I always consider it a special treat.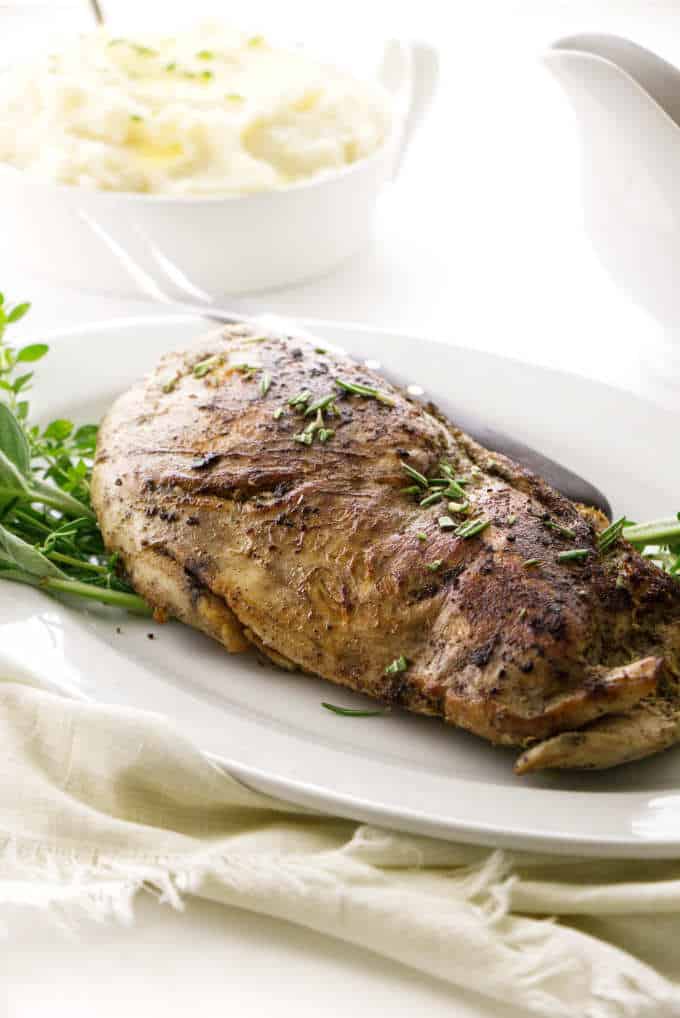 Tips for cooking Sous Vide Wild Turkey Breast:

Use a heat-proof container. A large stockpot works great.
If your countertop isn't heat-proof, place a trivet underneath the pot or put the pot on a heat-proof surface.
Remove as much air from the bag as possible. If you don't have a vacuum sealer, lower the bag into water and let the water push all the air out then seal the bag.
When the turkey is finished cooking in the Sous Vide, give it a quick sear in a hot skillet until it is golden brown. This is an optional step but the caramelization of the outer layer of the meat will give it a deeper flavor.
How to get tender, juicy, wild turkey breast.
If you have every had wild turkey breast, you know how dry it can be. However, with a Sous Vide cooker, you will never have that disappointment again. A Sous Vide will give you EXACT control over the temperature.
If you cook the turkey breast in the Sous Vide at 140°F, the entire turkey breast will eventually get up to that temperature. Wild turkey breast cooked to 140°F is tender, juicy, and melt-in-your-mouth delicious. As a matter of fact, this turkey is tender enough that you can cut it with your spoon.
Don't ruin your hunt by over-cooking your wild turkey breast, cook it in a Sous Vide for perfect results every time.
Is Sous Vide Cooking Safe?
Sous vide cooking is safe if you do it correctly and we have some tips to help you out.
Use food-grade plastic bags. You can use vacuum seal bags, these sous vide bags or even a Ziploc bag. Just make sure they don't have BPA and dioxin. If you choose a resealable bag, Ziploc brand bags are BPA and dioxin free.
Don't cook at temperatures lower than 130°F. Make sure you set the temperature at a minimum of 130°F to reduce harmful bacterial growth.
Do not use fresh garlic in a sous vide. Fresh garlic is susceptible to botulism in anaerobic environments like a sous vide. It is safer to use dried or cooked garlic or add fresh garlic at the end of cooking. The risk is small but it isn't worth taking.
Is it safe to cook food at low temperatures?
The USDA says the danger zone for food is between 40°F and 140° which means bacteria will reproduce if food is held for extended periods of time between those two temperatures.
In reality, there is a buffer built into that danger zone. It definitely keeps the public safe to go by those guidelines. But food pathogens can only multiply between 29.7°F and 126.1°F. You can read more about this at ScienceDirect.
The reason the 'danger zone' for food is set at higher temperatures is that food pasteurization isn't just about temperature. It is a factor of a few things including time and temperature. It takes several hours for food be made safe when held at a temperature just above 126.1°F but it only takes minutes to make food safe if it is held at temperatures above 140°F. The higher you cook the temperature, the less time you need to hold it at that temperature.
Traditional cooking methods are not accurate or precise enough to hold a piece of meat at 140° for several hours. Sous vide cooking, on the other hand, is a game-changer. It allows you to accurately cook food at lower temperatures for extended periods of time.
If you cook a turkey at 140°F for long enough, you will get the same pasteurization as a turkey that you cook to 165°F.
How to cook sous vide wild turkey breast.
Preheat the sous vide cooker.
Season the wild turkey breast.
Place the turkey breast in a bag and remove the air.
Put the sealed bag in the pre-heated water and let the sous vide do all the cooking.
Sear the outside of the turkey breast in a hot skillet.
Sous vide cooking is that easy. The hard part is waiting because sous vide cooking takes a LOT longer than traditional methods. Make sure you plan ahead so the turkey has enough time to cook.
How long does it take to cook wild turkey breast in the Sous Vide?
You will have a perfectly cooked turkey breast in 8 hours. You can cook it longer for even more tender breast meat but we don't recommend going beyond 24 hours. I actually didn't find any benefit to going beyond 12 hours for a wild turkey breast. We have experimented with 8, 12, 16, and 24 hours with our wild turkeys and I felt like 12 hours was ideal.
The picture above shows you what the wild turkey looked like after it was cleaned and prepped for the freezer and/or the sous vide. My husband skinned the turkey because it is faster and easier. Besides that, the skin on a wild turkey is tough and we really don't care for it.
Normally, leaving the skin on the turkey while it cooks will help hold in moisture but it really doesn't matter when you cook in a sous vide. The sous vide does a better job at keeping the turkey moist with or without the skin.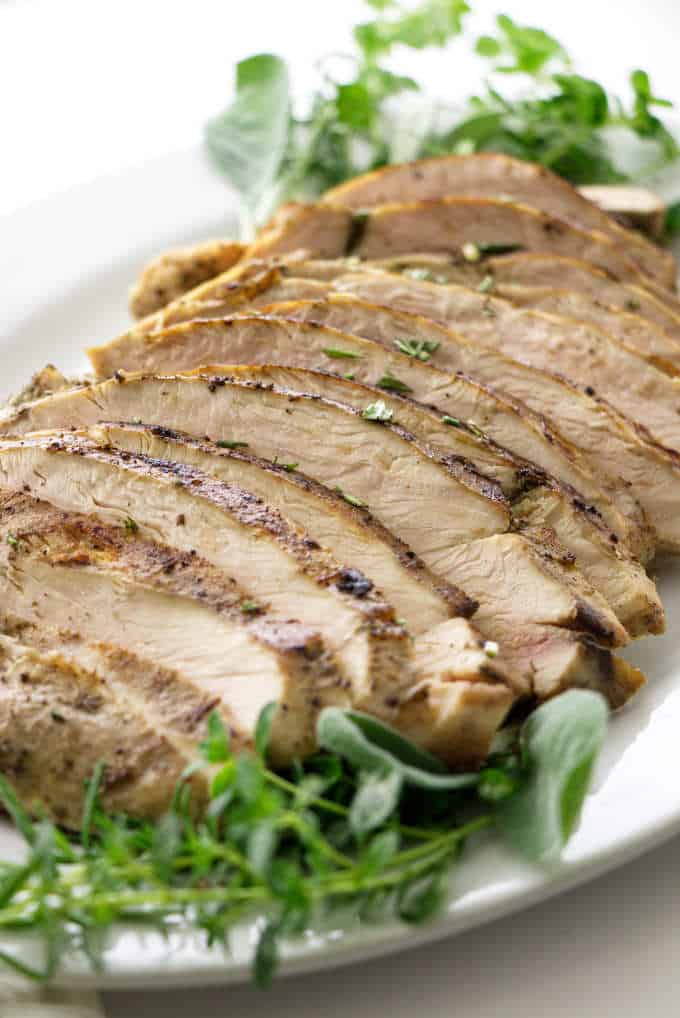 SOME OTHER RECIPES WE ARE SURE YOU WILL LOVE:
If you forgot to thaw your turkey breast and want dinner tonight, you can still cook that bird. This recipe for Instant Pot Frozen Turkey breast will talk you through the process. However, we haven't tried the Instant Pot with a frozen wild turkey breast, we get so precious few of them that I hesitate to experiment. I would love to hear if you try it with a wild turkey breast and if it comes out as tender as the sous vide.
This baked Turkey Burrito Casserole is perfect for your leftover turkey. It tastes great with wild turkey breast too and if you don't care for the gamey flavor of wild turkey then this is a great way to use the meat.
If you like wild turkey, we are sure you will like other wild game meat recipes. This Venison and broccoli with oyster sauce is to die for!! The venison will be so tender with our method.
CONNECT WITH SAVOR THE BEST!
Be sure to follow us on our social media accounts
Facebook * Instagram * Pinterest * Twitter * Youtube
Did you make this recipe? We would love to hear from you. Drop us a comment below.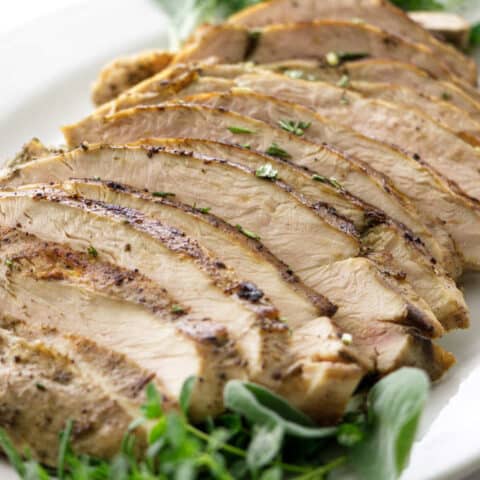 Sous Vide Wild Turkey Breast
Yield: 1 wild turkey breast
Prep Time: 10 minutes
Cook Time: 8 hours
Total Time: 8 hours 10 minutes
This is the best way to cook your wild turkey breast. A sous vide will keep the turkey tender and juicy. So tender you can cut it with a spoon.
Ingredients
1 wild turkey breast (2 to 3 pounds)
salt and pepper
5-6 fresh sage leaves
3 sprigs of fresh thyme leaves
2 sprigs of fresh rosemary
3 tablespoons olive oil
2 teaspoons dried garlic (not fresh garlic, see notes)
Instructions
Fill a large heat resistant pot with water and set your Sous Vide cooker to 140°F.
Season the wild turkey breast generously with salt and pepper. Chop the herbs up very finely then mix them with the olive oil and garlic powder and rub on the turkey breast.
Place the turkey breast in a large sealable plastic bag. Squeeze the air out of the bag then seal the bag.
When the water temperature reaches 140°F, drop in the turkey breast. If the bag floats to the top, place a small plate inside the bag to weigh it down. Clip the bag to the side of the pot and let the Sous Vide cook for 8 to 12 hours. The longer it cooks, the more tender it will get.
Heat a cast-iron skillet over medium-high heat and pour in a little olive oil. When the oil is hot, add the turkey breast and sear for 2 to 3 minutes on each side until it is golden brown.
Let the wild turkey breast rest for 10 minutes before slicing and serving.
Notes
Do not use fresh garlic in this sous vide recipe. Fresh garlic is susceptible to botulism in anaerobic environments like a sous vide. It is safer to use dried garlic or add fresh garlic at the end of cooking.
Recommended Products
As an Amazon Associate and member of other affiliate programs, I earn from qualifying purchases.
Nutrition Information:
Yield: 6
Serving Size: 1
Amount Per Serving:
Calories: 395
Total Fat: 11g
Saturated Fat: 2g
Trans Fat: 0g
Unsaturated Fat: 8g
Cholesterol: 181mg
Sodium: 274mg
Carbohydrates: 1g
Fiber: 0g
Sugar: 0g
Protein: 68g
Nutrition information is a guideline only, is calculated automatically by third party software, and absolute accuracy is not guaranteed.