Venison goulash is one of our favorite ways to prepare venison. Ultra tender venison is smothered in a thick, savory red sauce and makes a delicious, hearty stew.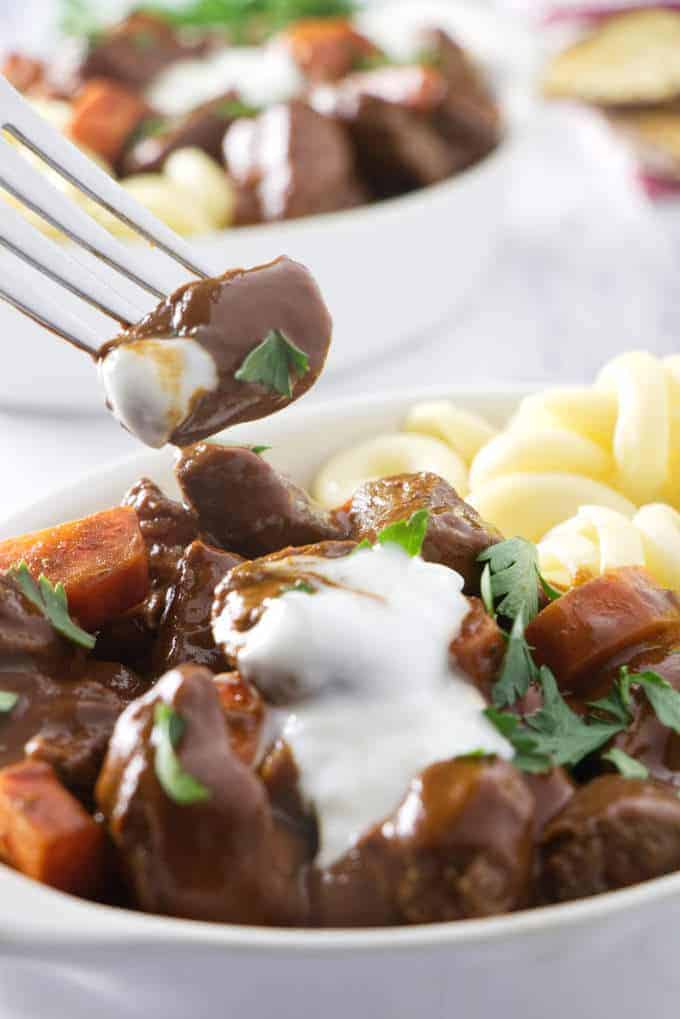 WHAT IS GOULASH
Goulash is a stew that originates from Hungary as an economical beef stew made initially by Hungarian herdsmen. The dish has grown in popularity and multiple variations and spinoffs have been created. We have adapted the recipe from Cooks Illustrated and incorporated venison instead of beef.
Authentic goulash is heavily seasoned with paprika and that is the star of this recipe, along with the venison.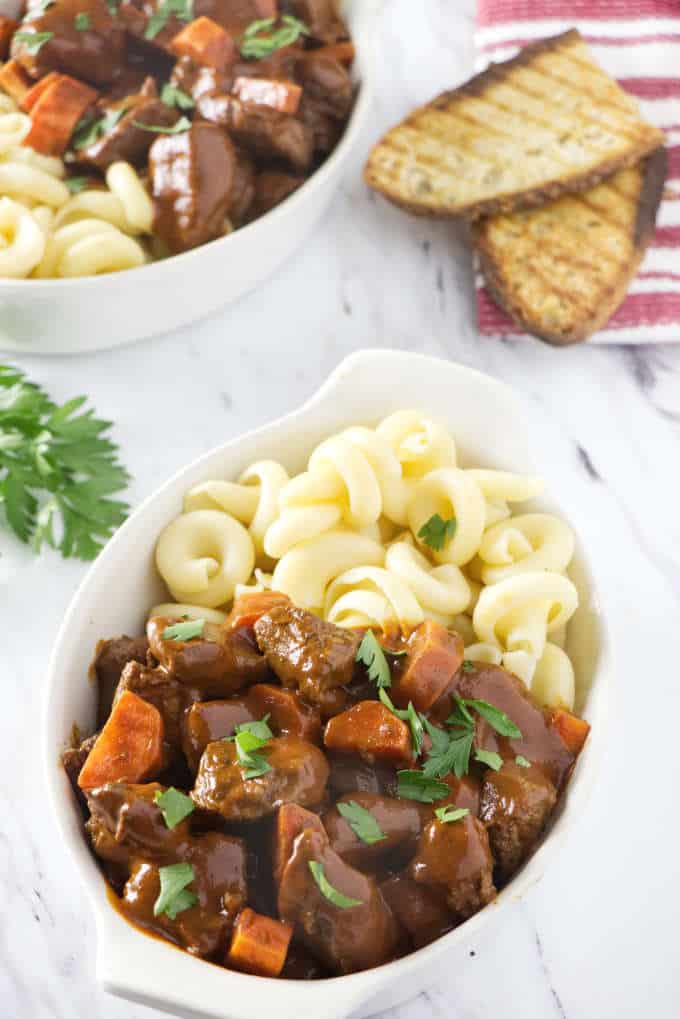 The Ingredients You Need
Here is a list of the ingredients that you will need to gather. Make sure you scroll down to the printable recipe card for all the details and amounts.
Venison
Baking soda
Roasted red peppers
Paprika
Tomato paste
Caraway
Vinegar
Onions and carrots
Bay leaf
Beef broth
Salt
Sour cream
How to Make Goulash with Venison
Here is a brief overview of the recipe. Make sure you scroll down to the printable recipe card for all the details.
Sprinkle the venison with salt and baking soda and let it sit for 15 minutes to tenderize the venison. Rinse the coating off.
Use the food processor to make a puree with the roasted peppers and seasonings.
Saute the onions in a large pot then stir in the roasted pepper puree.
Stir in the rest of the ingredients and let the stew simmer for 2 hours.
Serve with egg noodles, mashed potatoes, or rice and a dollop of sour cream.
What to Serve with Venison Goulash
This venison goulash is incredibly filling and would be plenty to eat all by itself. But you can stretch your dollar, and your venison if you serve it along with these parsley baby red potatoes or some pasta.
A green salad and some crusty sourdough bread will round the meal out and fill you to the brim.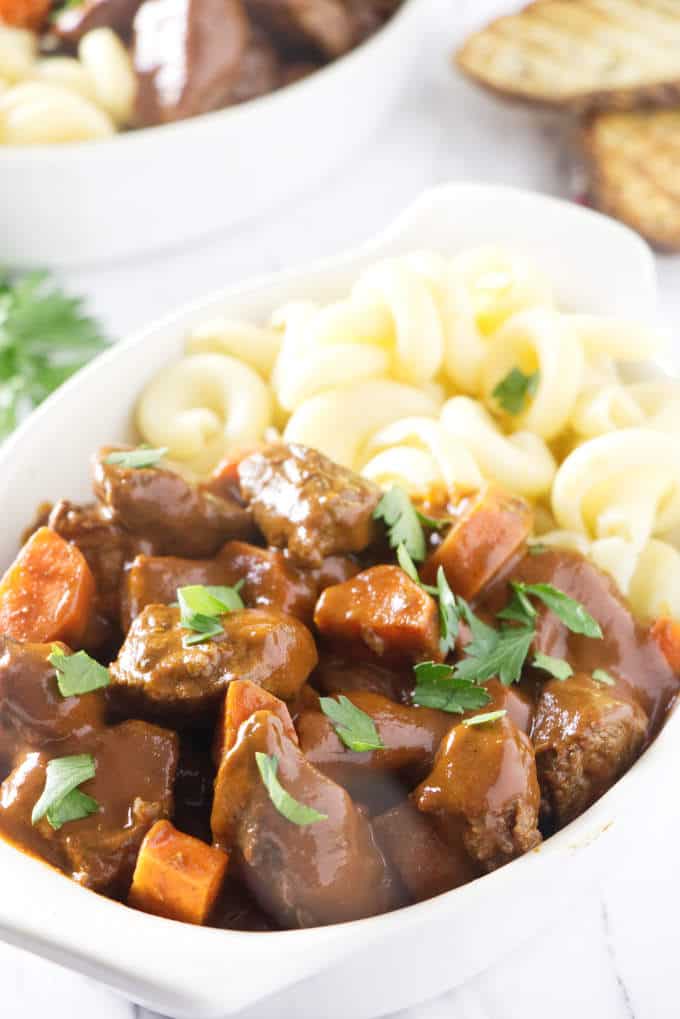 It's All About The Paprika
In America, paprika seems to have been relegated to a non-essential spice that is mostly used as a garnish for deviled eggs and potato salads. Most pantries have a small spice jar of paprika that has been sitting around since the ancient of days. The dateless jar has likely lost all of its flavor and odor, giving a false impression of how much it can add to the flavor of a dish.
But fresh paprika has a delicious flavor. It ranges from sweet and mild with earthy undertones, to downright spicy-hot and smokey.
Paprika is made from ground capsicum or peppers which come in a range of flavors and spices. Hence, the variable flavor profiles among different regional varieties of the spice.
This recipe is all about the paprika and it calls for a heavy scoop of the good stuff. We recommend using a Hungarian paprika or even a Spanish paprika for the best flavor.
Since the recipe calls for a large amount, we don't recommend using the small grocery store jar which will cost you a pretty penny. It is actually more economical to buy the spice in bulk but keep in mind that many bulk spice sections of grocery stores do not have a high rate of turnover. This means you could be buying paprika that has been sitting around for a long time, losing all of its flavors.
For fresh, flavorful paprika, purchase it from a store that has a high volume of sales and replaces the spices frequently.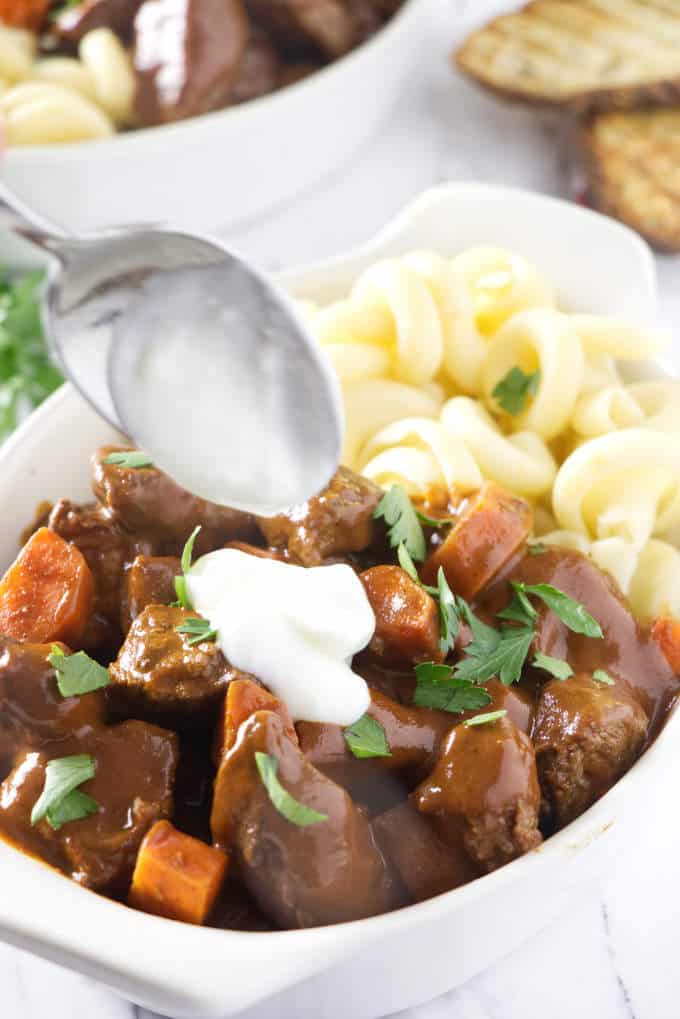 Tips to make this Venison Goulash:
Use good quality sweet paprika. We used Hungarian sweet paprika which has a distinct and robust flavor. It doesn't taste anything like the paprika you will find in the small spice bottles in the grocery store.
Use baking soda to tenderize your venison. Venison is a very lean meat which tends to makes it be a bit tough and dry. We like how baking soda makes the venison fork tender.
When you add the paprika mixture to the dutch oven, saute it over medium heat and make sure it does not get too hot and burn. Heat brings the flavor out of the paprika but burning it will make it bitter.
Some Other Recipes We Are Sure You Will Love:
Our Lamb Stew with Garlic Polenta dish is delicious! The stew is filled with delicate pieces of lean lamb and vegetables floating in a flavorful sauce prepared with wine and fresh herbs.
This venison and broccoli dish has a deep, smoky flavor that is offset by a sweet and salty contrast from the oyster sauce. It's simple and quick to make, and a terrific combination with venison.
Roasted Duck Legs with Dukkah are tender and delicious. A nutty dukkah crust adds tremendous flavor to the dish. At the table, a savory-sweet fig glaze is spooned over the legs.
Connect With Savor the Best:
Please follow us on our social media accounts
Facebook * Instagram * Pinterest * Youtube * Twitter
Did you make this recipe? We would love to hear from you. Drop us a comment below.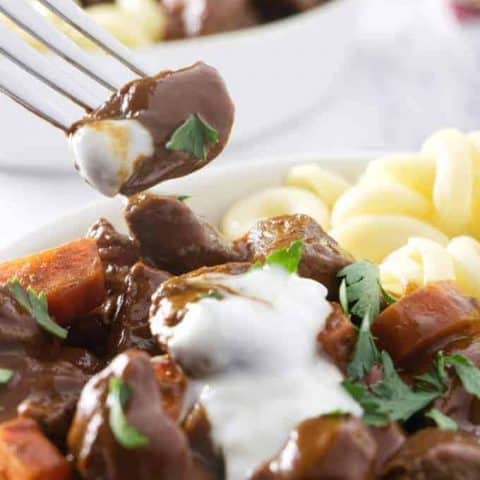 Venison Goulash
Total Time:
2 hours
15 minutes
Ultra tender venison is smothered in a thick savory red paprika sauce. This hearty stew makes a delicious, economical meal.
Ingredients
3 pounds venison stew meat, cut into cubes
1 tablespoon baking soda (to tenderize the meat)
1 (12-ounce) jar roasted red peppers
1/3 cup sweet paprika
2 tablespoons tomato paste
1 tablespoon ground caraway
2 teaspoons vinegar
1/2 teaspoon salt
2 tablespoons vegetable oil
4 large onions, diced
4 large carrots, washed and sliced into 1-inch rounds
1 bay leaf
1/2 to 1 cup beef broth
Topping:
Instructions
Pre-heat the oven to 325°F. Sprinkle the venison with a teaspoon of salt and 1 tablespoon baking soda. Let it sit for 15 minutes then rinse and dry (the baking soda will tenderize the venison)
In a food processor or blender, process the roasted peppers, paprika, tomato paste, caraway, vinegar, and salt until smooth.
Heat the oil in a large pot or Dutch oven over medium heat. Add the onions and a pinch of salt. Cook until the onions are soft.
Stir in the paprika/pepper mixture and cook for 1 to 2 minutes. Make sure the paprika mixture does not burn or it will become bitter. Stir in the venison, carrots, and bay leaf. Cover the pot and place it in the oven. Cook for 2 to 3 hours.
Remove the bay leaf. Add enough broth to bring to the desired consistency and season with salt and pepper. Serve over noodles or roasted potatoes and top with sour cream.
Notes
Use good quality sweet paprika. Buy the paprika in bulk. The small spice bottles in the grocery stores do not have enough paprika for this recipe and would be expensive if you buy several jars. A reputable spice vendor will have fresh flavorful paprika at an affordable price when sold in bulk.
Nutrition Information:
Yield:

6
Serving Size:

1
Amount Per Serving:
Calories:

419
Total Fat:

8g
Saturated Fat:

1g
Sodium:

1211mg
Carbohydrates:

26g
Fiber:

7.6g
Sugar:

12g
Protein:

55g