Yes! Not only can venison taste great, but it can be incredibly tender and juicy. This venison and broccoli with oyster sauce will have you sold on venison.
Tenderizing Meat with Baking Soda
Venison is an incredibly lean meat. As a result, it can sometimes be tough and dry if it is not prepared correctly. Don't give up on this healthy and sustainable meat if you find it too tough. The trick to keeping venison from drying out is to cook it quickly over very high heat.
Another method for tender venison (or any meat for that matter) is to tenderize it with baking soda. As Cooks Illustrated explains, baking soda can be used to tenderize meat remarkably well.
The baking soda raises the pH of the meat making the outside of the meat more alkaline. The chemical reaction makes it more difficult for the proteins inside to bond tightly.
The looser protein bonds create a tender, juicy cut of meat. This technique works especially well with smaller, bite-sized pieces of meat. Our recipe for venison and broccoli with oyster sauce is perfect, and you might find a new love for venison.
Making Venison and Broccoli with Oyster Sauce
This venison recipe has a rich and smokey flavor that is balanced with a contrast of sweet and salty. It is easy and fast to prepare and there is very little to clean up. What a perfect weeknight dinner!
After tenderizing the venison, we seared it quickly over high heat. Cooking it quickly in a hot skillet will caramelize the outer surface of the meat and seal in the juices.
We set the cooked venison aside and used the same skillet to steam the broccoli. Once the broccoli was drained, we cooked the sauce until it was thick and bubbly. Next, we added the venison and broccoli back to the skillet for a quick sauté.
That's all there is to it! Fast, easy and delicious! This venison recipe makes a complete meal served by itself. However, we served it with some sprouted brown rice and a salad and got six hearty servings
Some other recipes you might like:
Yield: 6 servings
Venison and Broccoli with Oyster Sauce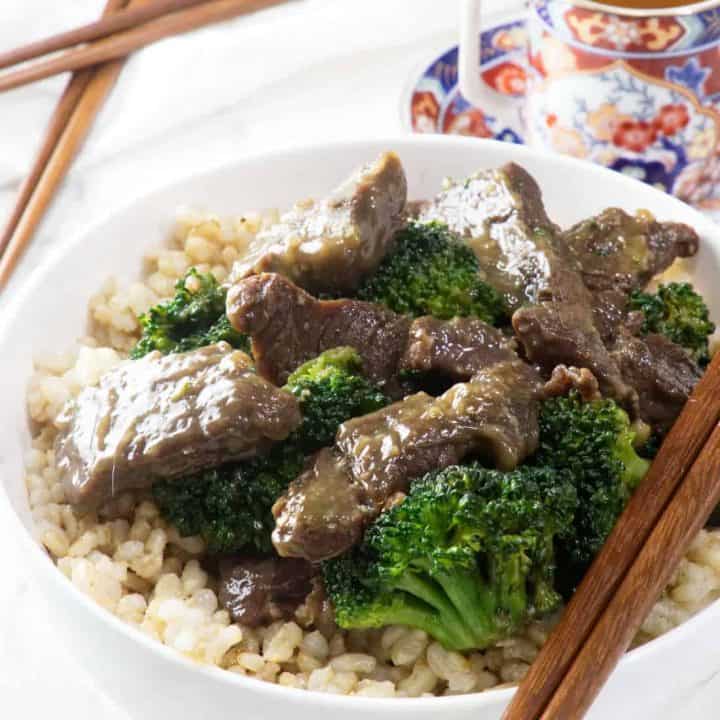 This venison recipe has a rich and smokey flavor that is balanced with a contrast of sweet and salty. It is easy and fast to prepare and there is very little to clean up.
Prep Time 10 minutes
Cook Time 10 minutes
Total Time 20 minutes
Ingredients
Tenderize the Venison
1 tablespoon baking soda
1 pound venison steak cut into bite-size pieces
The Sauce
1/3 cup chicken broth
1/4 cup oyster sauce
3 tablespoons rice wine vinegar
2 tablespoons brown sugar
2 teaspoons sesame oil
6 garlic cloves, minced
1 tablespoon fresh minced ginger
2 teaspoons cornstarch
To Cook the Broccoli
1-1/2 pounds broccoli, cut into bite-size pieces
1/3 cup water
Instructions
In a large bowl, combine the baking soda with 1 cup of cold water. Add the venison to the baking soda mixture and allow it to sit for 10 to 20 minutes to tenderize. Rinse in cold water and pat dry.
In a small bowl, combine the chicken broth, oyster sauce, vinegar, brown sugar, sesame oil, garlic, ginger, and cornstarch and whisk well.
Heat a bit of vegetable oil in a large skillet over high heat. Add the venison to the skillet, spreading the strips out evenly. Cook without stirring for 1 minute then stir and cook until browned. Remove the venison from the skillet and set aside. (If your skillet is small then cook the venison in 2 batches).
Add the broccoli and water to the hot skillet and cover the skillet with a lid. Cook for about 1 to 2 minutes until just cooked and still crisp.
Remove the broccoli and drain the water from the skillet. Give the sauce a good stir and pour it into the hot skillet. Cook the sauce for about 2 minutes until it begins to bubble then add the venison strips and the broccoli. Toss everything to coat well with the sauce.
Remove from heat and serve while hot.
Nutrition Information:
Yield:
6
Serving Size:
1
Amount Per Serving:
Calories: 199
Total Fat: 4g
Saturated Fat: 1g
Trans Fat: 0g
Unsaturated Fat: 2g
Cholesterol: 65mg
Sodium: 1091mg
Carbohydrates: 15g
Fiber: 4g
Sugar: 5g
Protein: 27g
Nutrition information is a guideline only, is calculated automatically by third party software, and absolute accuracy is not guaranteed.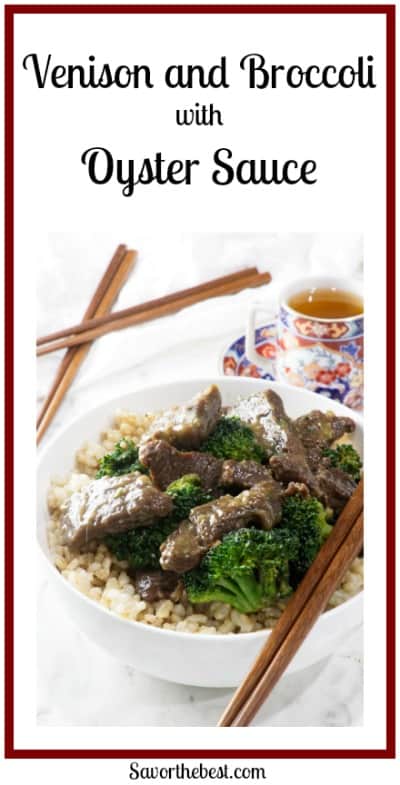 Have you made this venison and broccoli with oyster sauce? We would love to hear from you.
Tag us on Instagram.
Like us on Facebook.