Rouladen, German Style Braised Beef Rolls is a classic recipe from Germany. These thin slices of beef are rolled up jelly-roll fashion with a simple stuffing of spicy German whole-grain mustard, flavorful bacon slices and surprisingly…a dill pickle.
However odd that pickle sounds in this recipe, I can assure you that it is the 'magical' ingredient in this traditional German recipe.
How To Make German Style Braised Beef Rolls:
These beef rolls are not complicated to make and you probably have most of the ingredients right on hand in your kitchen. I used a 3-pound slab of London Broil that was 2 1/2 inches thick, 4 1/2 inches wide and about 7 or 8 inches long.
I partially froze the meat which made the slicing into quarter-inch thick pieces much easier. Better yet would be to have the butcher make the slices for you. I trimmed the slices into rectangles and saved the scraps for another purpose.
How Do These German Style Braised Beef Rolls Taste?
Our 24-year old grandson, Aidan, was watching as I was preparing these little packages of beef with mustard, onions and bacon. When I added the dill pickle and started to roll he commented, "a dill pickle? that is just weird".
But… he surely ate a hefty serving for dinner that night. He remarked how delicious it was and so much better than what he had expected. He loves his grammy's cooking…:)
How To Cook The German Style Braised Beef Rolls
The stuffed beef rolls are slow-cooked in beef broth, wine and vegetables until they are tender. A sauce made from the cooking liquids intensifies these German-style braised beef rolls.
To leave out serving the sauce would be equivalent to going to the fanciest of restaurants dressed in your finest, your hair perfectly done up, then leaving off your beautiful earrings. The sauce is the 'finishing touch' to this rich, savory dish.
Sides To Serve With German Style Braised Beef Rolls:
This recipe for German Style Braised Beef Rolls is one example of the wonderful flavors of Germany. A braised red cabbage-apple side dish traditionally accompanies these tender beef rolls along with a delicious savory wine based sauce. We included the red cabbage for a side dish but roasted the baby Yukon potatoes.
What To Serve With German Style Braised Beef Rolls:
My first taste of these German-style braised beef rolls was on a visit to Germany in 2009 and a 7-day cruise down the Rhine river. One night the menu included beef rolls. A wonderful beefy sauce covered the rolls. Sides of fluffy dumplings and a sweet-sour red cabbage-apple mix called Rotkohl mit Apfeln. Yum….
That was a memorable cruise! Each day of the trip our boat would dock at a different city along the river. We would spend the day walking along the cobblestone streets of charming villages, visiting castles and historic places. We tasted a wide range of German cuisine. Savory and sweet dishes and also sampled their beers and wines.
It was like a huge smorgasbord of spicy sausages, meats, mustards, crusty pieces of bread and pretzels, creamy cheeses, and some wonderful desserts. And did I mention beer??? They have some of the world's best beers!
Sauerbraten, Another Traditional German Dish:
I love German cuisine! Have you ever tried their beef Sauerbraten? It is a beef roast marinated for several days in red wine, vinegar, spices and herbs. Then roasted and served with a most delicious gravy made with gingersnaps. It is one of my favorite German recipes and you can get the recipe here.
Is German Cuisine Rich and Heavy?
If you are thinking that German food is rich and heavy you are partly correct but they also have some of the best tasting foods in Europe!
You can find a wide variety of fresh fruits and vegetables, creamy cheeses, crusty bread and lovely wines to enjoy that will balance out the 'heavy and rich' foods. It is all a matter of choices, just like we have here in America!
More German Recipes We Are Sure You Will Love:
CONNECT WITH SAVOR THE BEST!
Be sure to follow us on our social media accounts
Facebook | Twitter | Youtube | Pinterest | Instagram
If you make one of our recipes, snap a photo and tag it @savorthebest on Instagram and hashtag it #savorthebest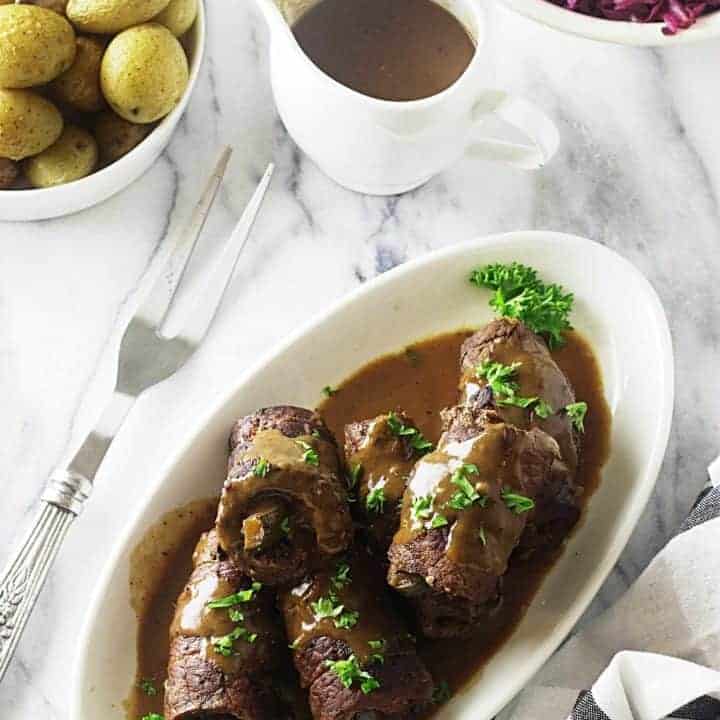 German Style Braised Beef Rolls
Yield: 8
Prep Time: 1 hour 30 minutes
Cook Time: 2 hours
Total Time: 3 hours 30 minutes
German Style Braised Beef Rolls are thin slices of beef rolled up with whole-grain mustard, onion bits, bacon slices and surprisingly,... a dill pickle. A rich, savory sauce is made from the braising liquid and served over the beef rolls
Ingredients
3 or 3 1/2 pounds of top round steak, cut lengthwise into 1/4-inch thick slices
8 teaspoons Dusseldorf-style prepared mustard or whole grain mustard
1 medium yellow onion, finely chopped onions
8 slices of lean bacon
2 dill pickles, brine rinsed off, cut into quarters, lengthwise
4 tablespoons avocado, grapeseed or other oil with high smoke point
2 1/2 cups beef broth
1 cup red wine
2 leeks, thinly sliced-white part only
1 parsnip, 6-inches long, peeled and chopped
2 medium carrots, thinly sliced
1 celery stalk, chopped
1/2 cup chopped fresh parsley, divided
2-3 bay leaves
For the Sauce:
3 tablespoons butter
2 tablespoons flour
Instructions
Preheat the oven to 350°F
Cut 16 pieces of kitchen twine at 6 or 7-inches each, reserve.
For the Beef Rolls: *See Notes
Cut the steak into 8 rectangles of about 4-inches wide by about 6-inches long. Use a meat pounder to flatten each piece of the meat to an even thickness. Working with one beef rectangle at a time, place a slice of beef on a work surface with the narrow end facing you. Spread the beef slice with a teaspoon of mustard and sprinkle with 2 teaspoons of the chopped onions. Add one slice of bacon down the center. Add a dill pickle stick across the narrow end closest to you, and begin rolling the meat like a jelly-roll into a firm cylinder. Using two pieces of the prepared kitchen twine, tie each end about 1/2-inch from each end. Trim the excess twine close to the knot and set the prepared beef roll aside on a plate. Proceed with rolling the remaining slices of beef.
Add the oil to a heavy-bottomed skillet or a Dutch oven set over moderate heat and when it has heated but not smoking, add half of the beef rolls and brown on all sides. Adjust the heat as needed to prevent them from burning. Transfer the browned rolls to a platter and brown the remaining batch of beef rolls, transferring as they brown.
Pour the beef broth and wine into the skillet, scraping up the brown bits stuck on the bottom. Add the leeks, parsnip, carrots, celery, half of the parsley, bay leaves and any/if the chopped onions that may be left over. Add the beef rolls, turning them to moisten. They should be almost covered in the liquid. Bring to a boil, cover the pot and transfer to the middle rack of the oven, cook for 1 hour. Turn the beef rollsl half-way through the cooking period. Transfer the pot from the oven and remove the beef rolls to a platter and cover with foil to keep warm while making the sauce.
For the Sauce:
Strain the liquid in the pot through a fine-mesh strainer, pressing down on the solids before discarding them. Measure the liquid it should be about 2 cups, if less add enough beef broth to bring it to 2 cups. Reserve
Over medium-low heat, melt the butter in the same pot and sprinkle in the flour, stirring constantly until the flour turns light brown. Gradually add the reserved 2 cups of cooking liquid, whisking until the sauce is smooth and slightly thickened. Taste and adjust seasoning if needed. Return the beef rolls to the pot, turning them to coat with the sauce. Simmer over low heat just long enough to heat the rolls, about 5 minutes.
Remove the beef rolls to a serving platter. Pour the sauce into a small serving pitcher, pour half of the sauce over the rolls and sprinkle with the remaining chopped parsley. Pass the pitcher of sauce to guests.
Serve with red cabbage and roasted potatoes.
Notes
I used a 3-pound slab of London Broil that was 2 1/2 inches thick, 4 1/2 inches wide and about 8 inches long. Ask the butcher to slice the steak into 1/4-inch slices. Any remaining portions of the beef can be reserved for another use.
Recommended Products
As an Amazon Associate and member of other affiliate programs, I earn from qualifying purchases.
Nutrition Information:
Yield: 8
Serving Size: 1 roll
Amount Per Serving:
Calories: 409
Total Fat: 16.7g
Saturated Fat: 5.8g
Sodium: 911mg
Carbohydrates: 9g
Fiber: 1.6g
Sugar: 2.6g
Protein: 48g