This sous vide bison ribeye steak is outrageously tender and flavorful. The sous vide is the only way to guarantee perfect results for an incredibly special cut of meat.
We served this ribeye with a creamy peppercorn sauce that takes your steak to a whole new level. This is a fine dining experience that you can have any night of the week because home cooking is so much more affordable.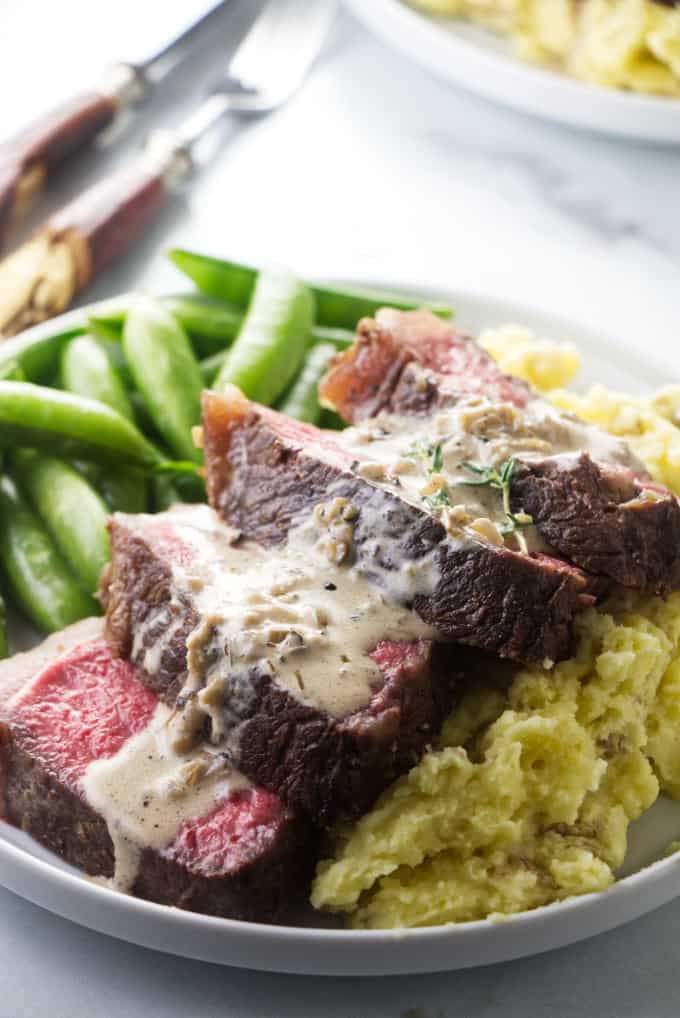 Bison ribeye isn't easy to find and it costs a bit more than a standard beef ribeye. Since bison is leaner than beef, it cooks quicker and it can dry out faster if it gets over-cooked. When you find bison, you want to cook it right and enjoy every bite.
That's why we recommend a sous vide cooker. You seriously can't overcook your steak when you use a sous vide. If you like your steak cooked to a perfect medium-rare, set the sous vide to 132°F, plop the steak in and walk away.
Even if your schedule changes and you end up leaving the steak in the sous vide cooker for several hours too long, it will still be a perfect 132°F. Do you like your steak cooked more well-done? Set the temp to 147°F. It will never cook beyond that temperature in the sous vide.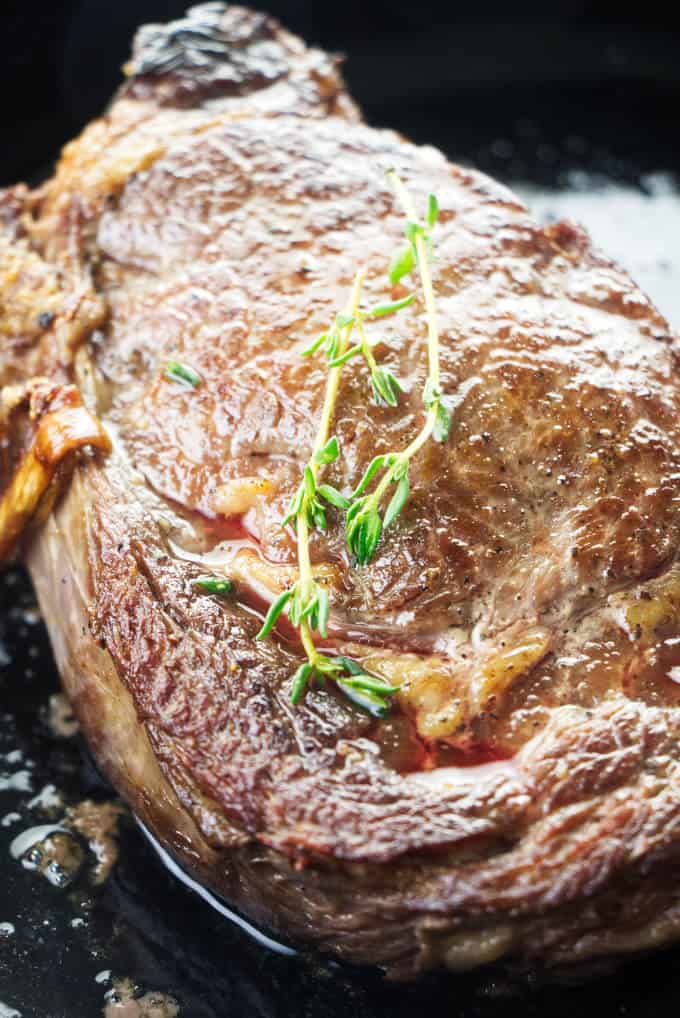 Ingredients needed for this recipe
Here is the shopping list you will need for this sous vide bison ribeye with a creamy peppercorn sauce.
Bison ribeye steaks.
Salt and pepper. Enhances the flavor of the meat.
Olive oil. Added to the bag along with the bison ribeye and herbs for enhanced flavor.
Thyme and bay leaves. These herbs compliment the bison ribeye but you can substitute with other fresh herbs you might have on hand. Rosemary and sage also taste great with the bison steak.
Butter. Adds flavor and richness to the black peppercorn sauce.
Whole black peppercorns. An essential ingredient for a black peppercorn sauce. 🙂
Shallot. Adds flavor and texture to the peppercorn sauce
Garlic. Adds depth and flavor to the sauce.
Brandy. Adds a depth of flavor to the sauce but you can replace it with extra beef broth if you prefer.
Beef Broth. The base liquid for the peppercorn sauce.
Cream. Gives the sauce body, thickness, and a creamy luxurious taste.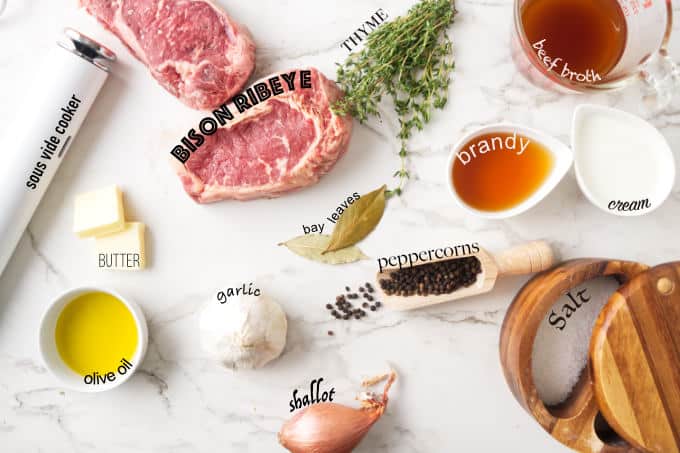 How to cook bison in a sous vide
Here is a breakdown and some tips for the recipe but make sure to scroll down to the printable recipe card for all the details.
Preheat the sous vide to the temperature that you want your steak cooked. See the temperature chart below.
Season the steaks with salt and pepper then place them in a sealable bag.
Add the olive oil and herbs to the bag then remove the air from the bag and seal it.
Place the bag in the pre-heated water and let it cook to your desired doneness. See the chart below for the minimum cooking times.
Remove the steaks from the bag and dry them with a paper towel.
Get a skillet smoking hot and heat some oil that has a high smoke point. Sear the steaks on each side for 1 minute or until it has a brown crust
Make the peppercorn sauce in the same pan that you sear the steaks in.
Helpful tips
You can use any large container that is able to hold enough water for the steaks to be completely submerged. The container should be heatproof. We used a stockpot but there are other containers that you can use.
We used a vacuum-seal bag but you can use any food grade bag that is sealable. If you don't have a vacuum sealer then remove as much air from the bag as possible before closing it. You can also place a spoon in the bag to keep it weighted down.
Make sure you dry the steaks completely before you sear them.
Get the skillet as hot as possible. When it is time to sear the steaks, you don't want to cook them any longer, you just want to get a crust on them. A very hot skillet will allow you to brown the steaks quickly without cooking them any further.
Use an oil that has a high smoke point such as coconut oil, peanut oil, or avocado oil to sear the steaks. If you want to use butter, we recommend clarified butter as it has a high smoke point as well.
Temperature chart for steak doneness level
Check the temperature chart below to see what temperature you want your steak done. Set the sous vide cooker to heat the water to that temperature.
| Doneness level | Temperature |
| --- | --- |
| Rare | 122-126°F |
| Medium rare | 129-132°F |
| Medium | 133-138°F |
| Medium-well | 140-146°F |
| Well-done | 147-150°F |
| VERY well-done | 154-160°F |
How long to cook bison ribeye in a sous vide
After you set the temperature on the sous vide, use the chart below to figure out the minimum cooking time. The steaks can stay in the water longer than the referenced time but not less.
| Thickness of steak | Time to cook |
| --- | --- |
| 1/2 inch | 30 minutes |
| 3/4 inch | 45 minutes |
| 1 inch | 1 hour |
| 1-1/2 inch | 1-1/2 hours |
| 2-inch | 2 hours |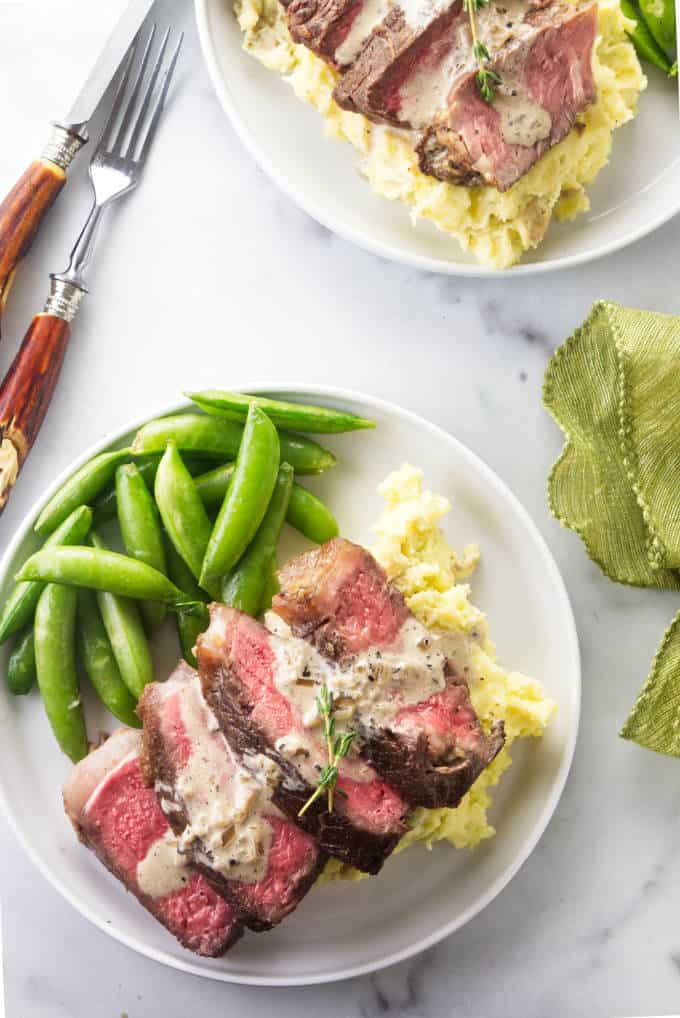 SOME OTHER RECIPES WE ARE SURE YOU WILL LOVE:
When you don't have time to use a sous vide you can cook a ribeye steak in the oven in no time at all.
This sous vide tomahawk steak makes an impressive presentation. Since it costs a bit more than a standard steak, you don't want to mess it up. Use the sous vide for perfect results.
This wild turkey breast gets cooked to perfection in the sous vide. It makes a hearty meal that requires minimal effort.
CONNECT WITH SAVOR THE BEST!
Be sure to follow us on our social media accounts
Facebook * Instagram * Pinterest * Twitter * Youtube
Did you make this recipe? We would love to hear from you. Drop us a comment below.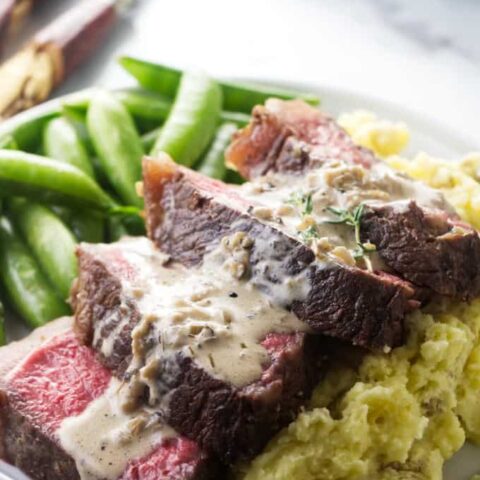 Sous Vide Bison Ribeye with Peppercorn Sauce
Yield: 2 servings
Prep Time: 10 minutes
Cook Time: 1 hour
Total Time: 1 hour 10 minutes
Bison ribeye gets perfectly cooked every single time when you use a sous vide. Add a creamy peppercorn sauce to compliment the bison steak and dinner will be better than a fine dining restaurant at a fraction of the cost.
Ingredients
2 bison ribeye steaks about 1 inch thick, see notes if yours is a different thickness
2 teaspoons salt
1 to 2 teaspoons black pepper
2 tablespoons olive oil
2 to 4 sprigs of fresh thyme
1 or 2 bay leaves
To finish the steaks
2 tablespoons coconut oil or any other high heat cooking oil
fresh thyme sprigs
For the peppercorn sauce
2 tablespoons butter
1 tablespoon whole black peppercorns, coarsely crushed
1 small shallot, finely minced
1 garlic clove, finely minced
1/2 cup brandy
3/4 cup beef broth
2/3 cup cream
1/8 teaspoon salt
Instructions
Preheat the sous vide to your desired temperature (The level of doneness you like your steak, see the notes for a guide.)
Season the steaks on both sides with salt and pepper.
Place the steaks in a sealable bag and olive oil, thyme, and bay leaves.
Drop the bag into the preheated sous vide water and let it cook for 1 hour. (if your steak is thinner or thicker than 1 inch, see the notes for the cooking times)
Finish the steak:
Remove the steaks from the bag and pat them completely dry.
Preheat a skillet over high heat, get it smoking hot. Add the coconut oil (or any other high heat oil) and let it melt then drop in the thyme. (you may want to turn the vent fan on for this step so the smoke doesn't alert your smoke detector).
Add the steaks and sear for 1 minute on each side until they have a golden crust. Remove the steaks right away. Don't let them stay in the skillet too long since they are already perfectly cooked from the sous vide. This final step is just to give them a crust, not to cook them longer. If the heat is turned up high then they will brown quickly without cooking further on the inside.
Make the peppercorn sauce
Melt the butter in a skillet over medium heat. Add the shallot and crushed peppercorn. Cook for 2 minutes until the shallot is soft and light golden brown. Add the garlic and cook for 30 seconds.
Pour in the brandy and simmer for 1 or 2 minutes.
Pour in the broth and simmer for about 5 minutes until reduced by almost half.
Turn down the heat to medium-low and add the cream, and salt. Gently simmer for 3 to 4 minutes. Do not let the sauce boil.
Notes
If you don't have a vacuum seal bag then a ziplock-style bag will work just fine. Try to remove as much air as possible before you seal the bag. If the bag floats you can drop a spoon in the bag to way it down.
You can make the peppercorn sauce while the steaks are in the sous vide then refrigerate and rewarm later when the steaks are finished. If you make the sauce right after you sear the steaks then the sauce will have some extra flavor from the searing juices in the pan.
Different thickness steaks will need to cook for different times.
1/2 inch thick cook for 30 minutes
3/4 inch thick cook for 45 minutes
1-1/2 inch thick cook for 90 minutes

Temperature guide for steak doneness:
very rare 122-126°F
medium rare 129-132°F
medium 133-138°F
medium-well 140-146°F
well-done 147-150°F
VERY well-done 154-160°F

Nutrition value does not include the sauce.
Recommended Products
As an Amazon Associate and member of other affiliate programs, I earn from qualifying purchases.
Nutrition Information:
Yield: 2
Serving Size: 1
Amount Per Serving:
Calories: 632
Total Fat: 55g
Saturated Fat: 23g
Trans Fat: 0g
Unsaturated Fat: 29g
Cholesterol: 105mg
Sodium: 2204mg
Carbohydrates: 2g
Fiber: 1g
Sugar: 0g
Protein: 32g
Nutrition information is a guideline only, is calculated automatically by third-party software, and absolute accuracy is not guaranteed.