We have been cooking with our sous vide immersion cookers for several years and we think it is about time to share some of our fun recipes with you. This sous vide ribeye steak with chimichurri sauce is our latest feast created with a water-bath immersion cooker. We cooked it to a perfect medium-rare then gave it a stovetop-sear for a crisp crust and drizzled it with a zesty chimichurri sauce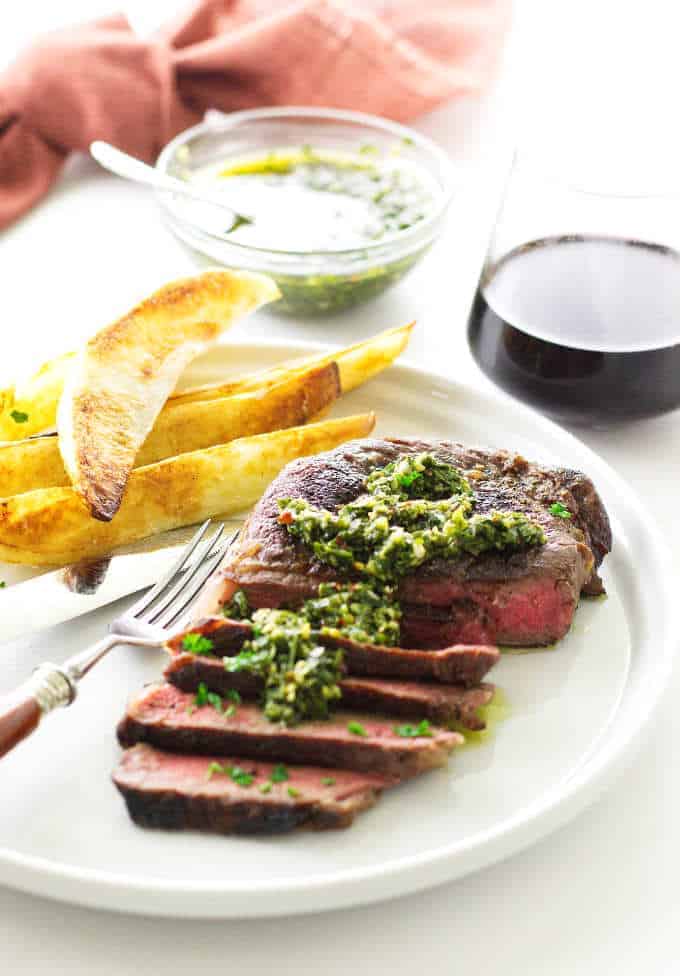 This ribeye steak with chimichurri sauce will transport you to the hills of Argentina where the gauchos love their beef and chimichurri sauce!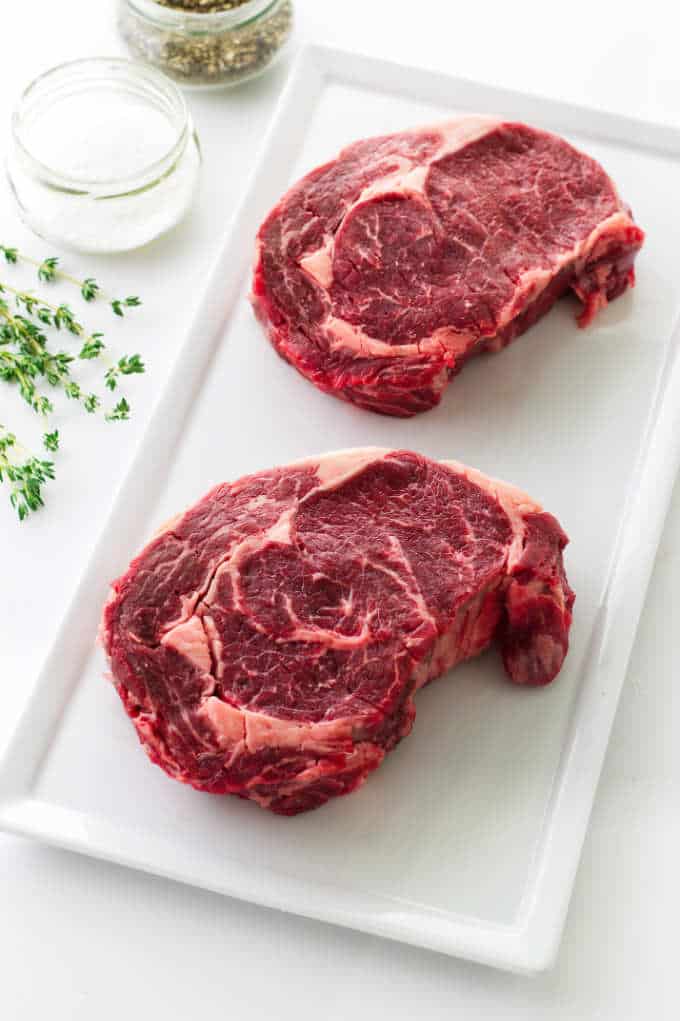 It is not just those Argentina gauchos that love a juicy, beef steak! Did you know the United States was the largest consumer of beef in the world in year 2018. But the gold star for the most beef steak consumption goes to Argentina. And where there's beef, there's chimichurri sauce!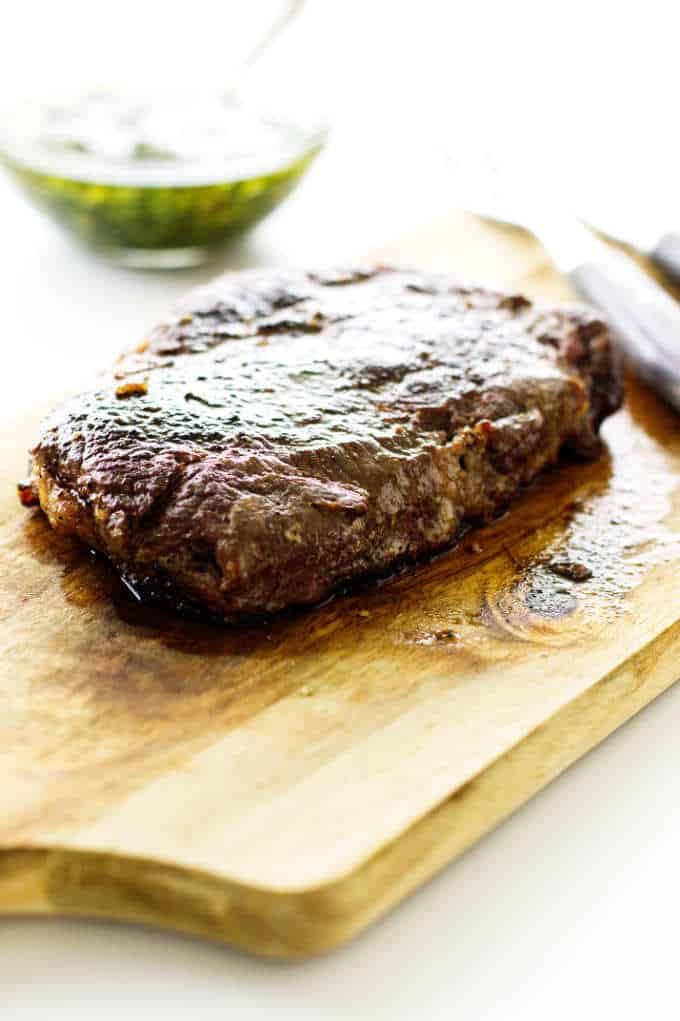 How do you cook a ribeye steak with the sous vide method?
This is a brief rundown on cooking the steak. For full instructions and tips be sure to scroll to the recipe card below and the accompanying notes.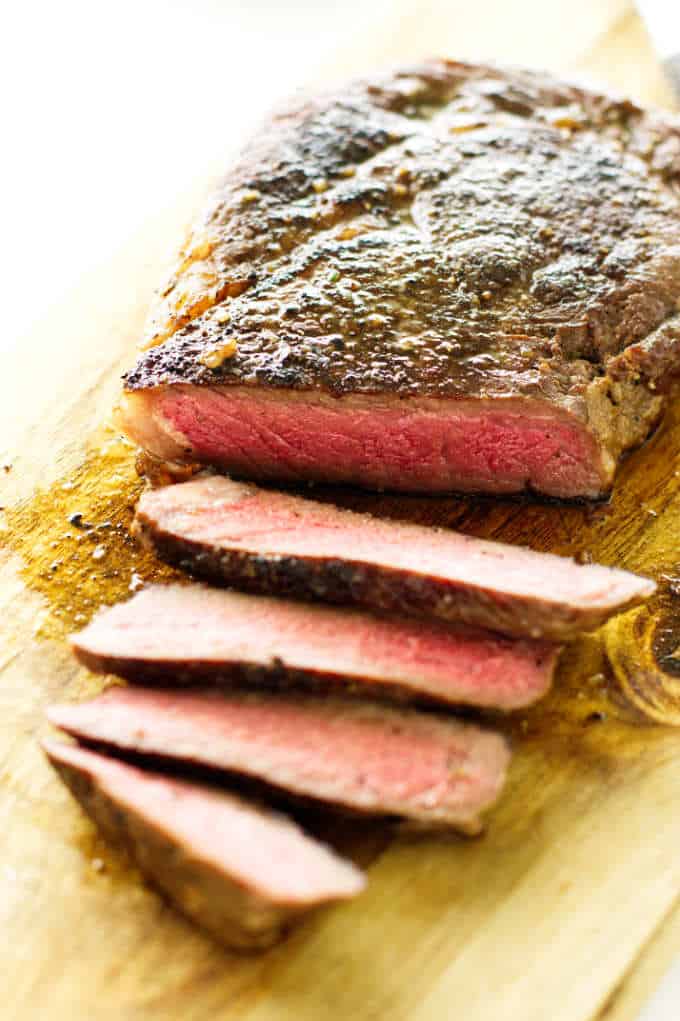 First, fill a container with the correct depth of water. Attach your sous vide immersion cooker and set the control to the desired temperature.
Season the steak and place it into a re-sealable bag or a vacuum-sealed bag.
Seal the bag with the vacuum sealer or use the water displacement method.
Place the sealed bag into the water bath and cook according to your preferred doneness. See the table below for reference.
Transfer the bag from the water bath and remove the steak from the bag.
Sear the steak in a smoking hot skillet on each side.
Alternatively, you can fire up your charcoal or gas grill to get a nice crust.
While the steak is in the sous vide cooker you will have time to prepare your side dishes and make the chimichurri sauce.
What Temperature Do You Set The Sous Vide at?
Set the temperature on your sous vide to the temperature/ level of doneness you want your steak. Check the chart below and find the level of doneness you prefer then refer to the temperature range of that doneness level.
If you like a medium-rare steak, set the sous vide to a temperature between 129°F and 132°F. If you prefer your steak more well-done then the sous vide temperature should be between 147°F and 150°F.
Whatever temperature you set the sous vide to is the exact temperature the steak will finish cooking. Even if you leave the steaks in the water immersion bath longer than necessary, it will not over-cook.
For example, if you like your steak medium-rare as we do, set the temperature to 130°F. If the steak is finished cooking after 1-1/2 hours but you leave it in the water bath for 3 hours, it will still be cooked to a perfect medium-rare of 130°F.
Set the Sous Vide to The Temperature You Like Your Steak Cooked:
| Doneness level | Temperature |
| --- | --- |
| Rare | 122-126°F |
| Medium rare | 129-132°F |
| Medium | 133-138°F |
| Medium-well | 140-146°F |
| Well-done | 147-150°F |
| VERY well-done | 154-160°F |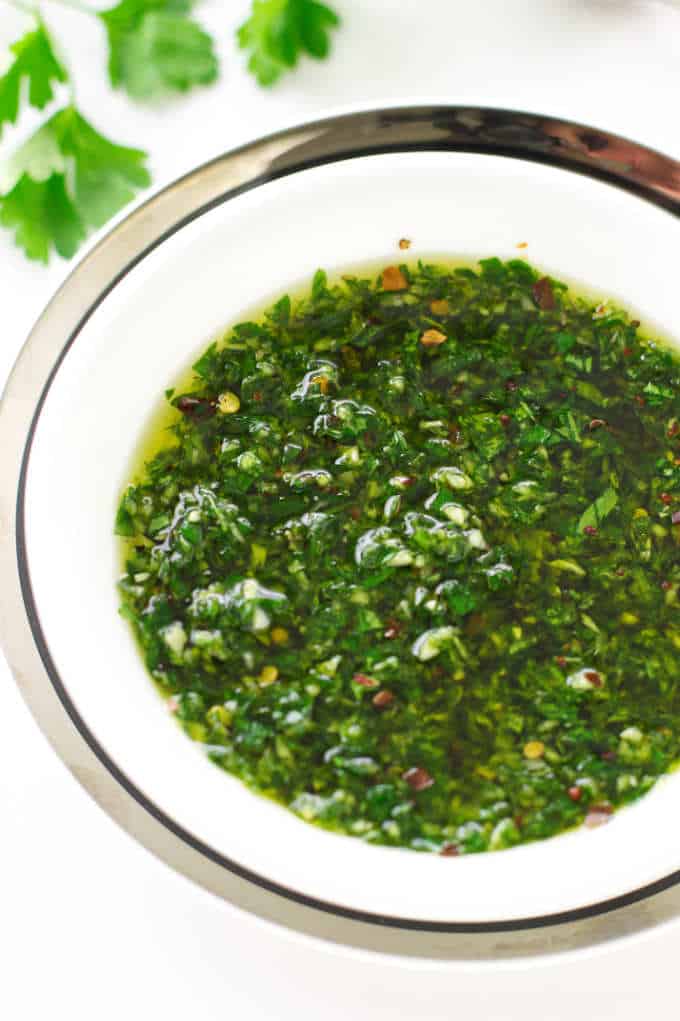 How Long Do You Cook a Ribeye Steak in a Sous Vide?
The length of time you cook your ribeye will depend on the thickness of your steak. It will take 30 minutes for every half-inch of thickness. That's easy enough to figure out but I provided a chart for a quick reference.
| Thickness of steak | Time to cook |
| --- | --- |
| 1/2 inch | 30 minutes |
| 3/4 inch | 45 minutes |
| 1 inch | 1 hour |
| 1-1/2 inch | 1-1/2 hours |
| 2-inch | 2 hours |
You can leave your steak in the sous vide cooker for much longer and it will still be PERFECTLY cooked. However, there is a maximum time. The connective tissues start to break down if you cook the steak for longer than 4 hours. So even though the steak doesn't get over-cooked, the texture will start to change and become mushy.
Some cuts of meat can cook for much longer without ruining the texture. Our sous vide wild turkey breast actually gets better with a long 8 to 12 hour cooking time.
Once you get familiar with the sous vide you will want to cook all your steaks this way. Try this method with our steak and lobster.
What type of container do you use for sous vide cooking?
Choose a container that is large enough to hold the steaks and give plenty of room for the water to circulate around them. You can choose a container that is specifically designed for a sous vide or you can use a large pot. Make sure it is heat-proof and place it on a surface that can withstand the heat.
We used a large stockpot for these steaks. It was just big enough for 2 steaks and the water heated up pretty quick. If you cook more than 2 steaks you will want a larger container.
What is chimichurri sauce?
Chimichurri sauce is undoubtedly Argentina's prize condiment. There are many versions of this delightful sauce, click on over to our Chimichurri Sauce post for a traditional version of this zesty condiment. The main ingredients of chimichurri sauce are fresh parsley, garlic, olive oil, fresh oregano, vinegar and chili pepper.
To serve the ribeye steak, cut it into slices, place on a platter and spoon the chimichurri sauce over the top. We served a crisp green salad and oven-roasted french fries with our ribeye steak.
By the way….We recommend a good bottle of Malbec red wine with this steak dinner. 😋
SOME OTHER RECIPES WE ARE SURE YOU WILL LOVE:
Garlic and Rosemary Roasted Potatoes: This is an easy recipe that you can throw together in no time. It is the perfect side dish to any dinner.
Watermelon, Feta and Mint Salad: The sweetness of the juicy watermelon, the creamy-salty feta and minty taste of this salad is so refreshing and light. We gave each serving a squeeze of lemon and a drizzle of EV olive oil.
No-Bake Chocolate Covered Strawberry Cheesecake: A sweet strawberry puree gives this cheesecake a bright pink color. More of the strawberry puree gets swirled into the cheesecake and leaves beautiful red ribbons and a delicious strawberry flavor. When the cheesecake is firm, a rich chocolate ganache covers it like a blanket. This is a delicious spin on a chocolate-covered strawberry.
CONNECT WITH SAVOR THE BEST!
Be sure to follow us on our social media accounts
Facebook * Instagram * Pinterest * Twitter * Youtube
Did you make this recipe? We would love to hear from you. Drop us a comment below.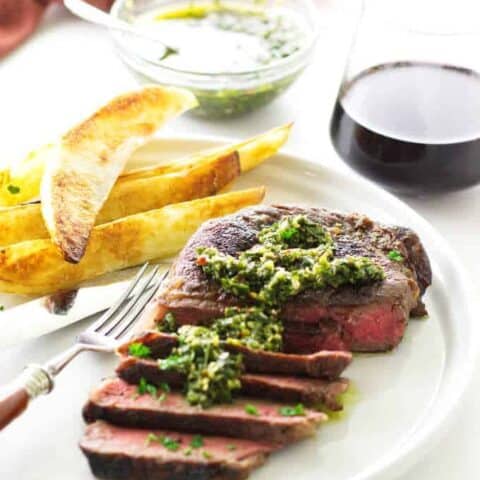 Sous Vide Ribeye Steak with Chimichurri Sauce
Yield: 4 Servings
Prep Time: 5 minutes
Cook Time: 1 hour 30 minutes
Total Time: 1 hour 35 minutes
Sous vide ribeye steak with chimichurri sauce is cooked to perfection with minimal hands-on. The sous vide guarantees you will have precise results. We served this with fresh chimichurri sauce and oven fries.
Ingredients
2 ribeye steaks 1-1/2 inches thick and about 16 ounces each
Kosher salt and freshly ground black pepper
1 teaspoon garlic powder
4 sprigs thyme
2 tablespoons avocado, grapeseed or canola oil for pan searing
Instructions
To Cook the Steaks:
Fill a container with water. Place your immersion cooker in the water and preheat it to the desired temperature of your steak (see chart below).
Season the steaks with salt, pepper, and garlic powder and place into individual sealable bags with the thyme. (see notes). Seal the bags with either a vacuum sealer or the water displacement method. Try to remove as much air as possible.
When the water reaches the correct temperature, place the steaks into the water bath and cook 30 minutes for every inch of thickness. See the chart below for temperatures. We cooked our 1-1/2 inch steaks to a medium-rare of 130°F for 1-1/2 hours.
Pan Sear the Steak:
Remove the steaks from the water bath and open the bags. With paper towels pat the moisture from the steaks. Place them on a platter and brush each side with oil.
Heat a cast-iron skillet or stainless steel skillet on high heat until smoking hot. Turn on the stove vent to ventilate the smoke.
With tongs, place the steaks on the hot skillet and sear for 30 to 60 seconds on each side. Don't sear them for too long, the steaks will be completely cooked when they come out of the sous vide bath. This step is only to brown the steaks and get a nice crust.
To Serve the Steaks:
The sous vide steaks do not need resting time.
Transfer the steaks to a cutting board, slice into portions and serve with chimichurri sauce.
Notes
To get a good seal on the vacuum bag fold the top of the bag over creating a 4-inch cuff, place the steak into the bag, fold the cuff back in place and seal with the vacuum sealer.
If using the water displacement method to seal the bag, place the steaks into a closable heavy-duty freezer bag and close it halfway. Push the bag into the water bath to the bag opening allowing the air to be forced out. Close the bag completely.
Get as much air out of the bags as possible. If there is still air in the bags then they will float. If they start to float, place a spoon in the bags to weigh them down.
Temperature guide for ribeye steak:
Rare = 122°F to 126°F
Medium rare = 129°F to 132°F
Medium = 133°F to 138°F
Medium well = 140°F to 146°F
Well done = 147°F to 150°F
Very well done = 154°F to 160°F
Cooking times for a ribeye steak:
Cook 30 minutes for every 1/2 inch of thickness.
You can leave the steak in the sous vide for up to 4 hours without changing the texture of the meat.
See the chart in the post for a quick reference.

Food safety recommendations:
If you cook your steak under 130°F, do not keep it in the immersion cooker for longer than 2-1/2 hours.
We do not use fresh garlic while cooking with an immersion cooker. Since the immersion cooker creates an anaerobic environment, there is a small risk of botulinum toxins if you use fresh, raw garlic.
Nutrition Information:
Yield: 4 servings
Serving Size: 1
Amount Per Serving:
Calories: 188
Total Fat: 16g
Saturated Fat: 4g
Trans Fat: 0g
Unsaturated Fat: 11g
Cholesterol: 33mg
Sodium: 99mg
Carbohydrates: 1g
Fiber: 1g
Sugar: 0g
Protein: 11g
Nutrition information is a guideline only, is calculated automatically by third-party software, and absolute accuracy is not guaranteed.