This cajun seasoning mix is the perfect all-purpose dry rub, the spice level is moderate with just a bit of bite and it finishes off with a slightly sweet smokiness. I use this dry rub on literally everything. It is especially great on chicken and pork. Just the other night, I sprinkled some of this on some buttered popcorn, which was a genius idea!
You can try some of the store-bought varieties of cajun seasoning but I usually find them to be too salty. I like a good level of spice in my food. In order to get enough seasoning my food always turns out to be over-salted when I use a store-bought cajun rub.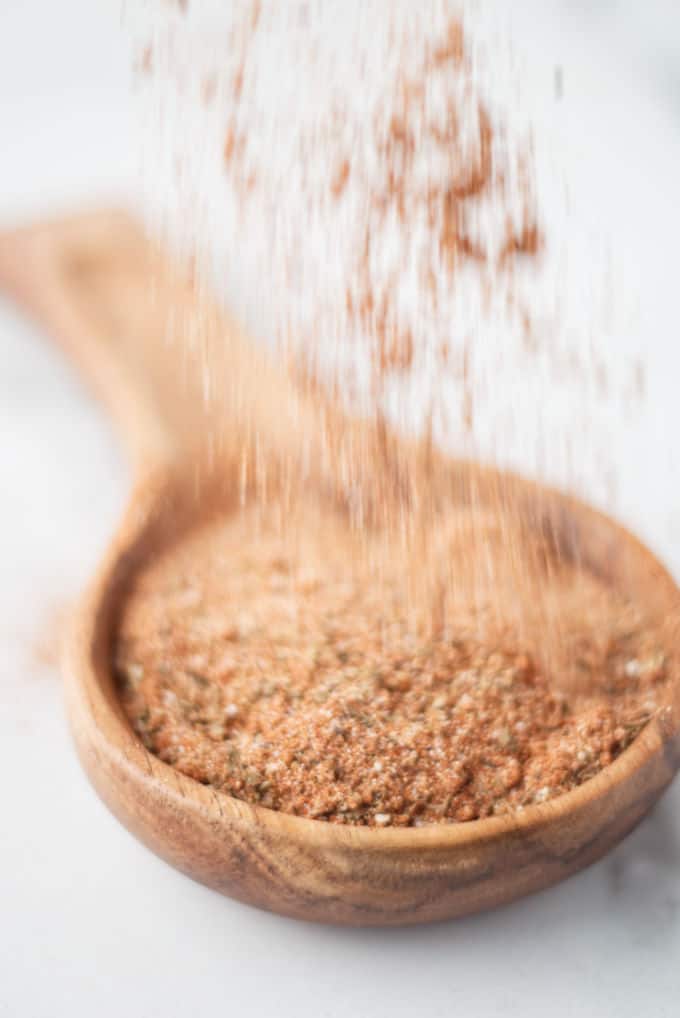 Give this rub a try and let me know your thoughts!
What is Cajun seasoning mix made of?
Cajun seasoning is an aromatic blend of spices distinct to the Cajun comfort food of rural Louisiana. Cajun food is not necessarily extremely spicy and this Cajun spice mix is low on the heat level but it is easy to adjust to your taste if you like things super hot. Here are the spices you will need for this blend.
Smoked paprika
Garlic powder
Salt
Black pepper and white pepper
Onion Powder
Cayenne
Oregano
Sweet basil
Thyme
Brown sugar
This is a warm blend of flavorful spices that has just a bit of heat and the perfect balance of sweetness. If you like things more or less spicy, adjust the ratio of black and white pepper and the cayenne powder.
If you blend the spices together and you find it is a bit too spicy then add a bit more of all the spices except for the pepper and cayenne.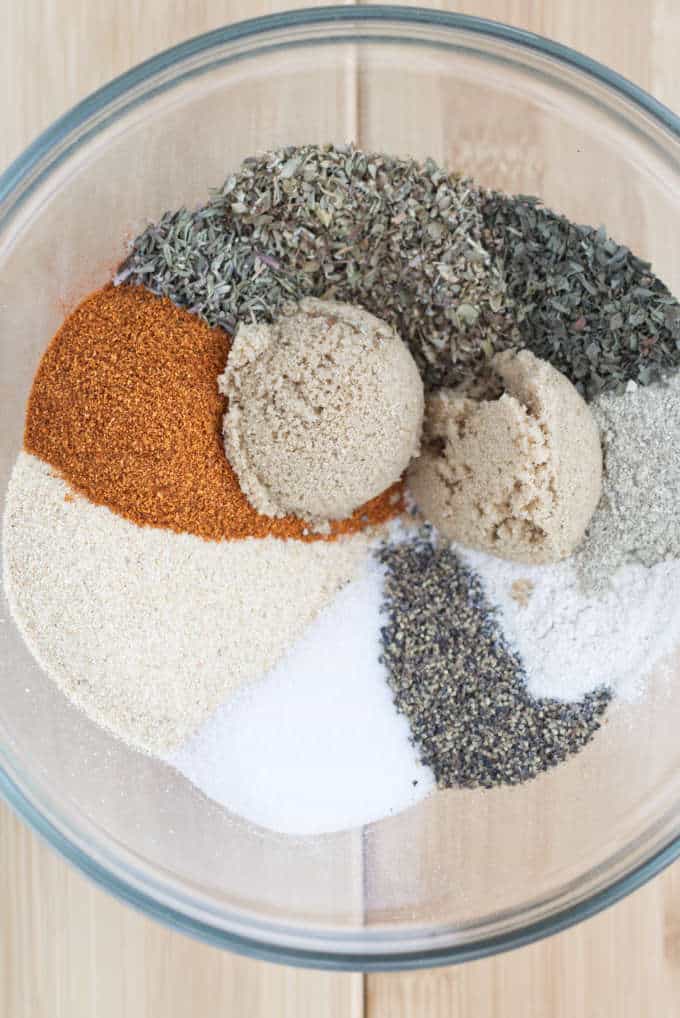 Is Creole seasoning the same as Cajun seasoning?
Creole and Cajun seasoning are similar and can be used interchangeably, however, there are slight differences. There is some smokey flavor in this Cajun seasoning mix which is reminiscent of the rustic backyard grilling in Cajun cuisine.
how long can you store spices?
In general, you can keep this dry rub in your pantry for about 1-3 years. Make sure you mark the date on your spice containers so you can keep track of how old they are. Once this spice rub starts to lose its pungent, delicious fragrance you can toss it and make a new batch.
Ground spices: 2-3 years
Dried herbs: 1-3 years
Whole spices: 4 years
here are some tips for storing your spices:
Spices should be sealed airtight
Keep spices in the dark and away from sunlight exposure
Store spices in a cool area away from heat
Keep spices stored in a dry area away from moisture
Keep track of the age of your spices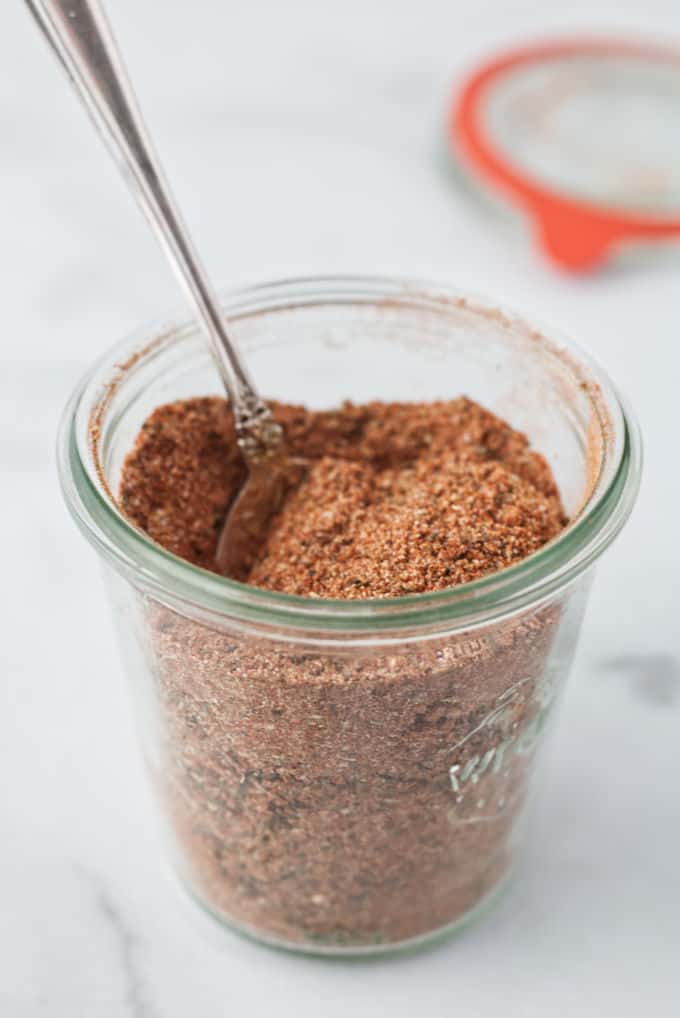 white pepper vs. black pepper
Black pepper and white pepper are both the fruiting berries from the pepper plant. The black peppercorn is picked when it is just about ripe. When it is ripening then the outer layer of the peppercorn turns black. In order to get a white peppercorn, the black layer is removed once the peppercorn is dried. The white peppercorn is just the inner portion of the black peppercorn berry.
White pepper is not as common as black pepper but it is worth keeping this stocked in your pantry. White pepper is quite a bit more spicey and packs a bit of a punch to your mouth. Use white pepper for its distinctive, mild flavor but for a bit more spice. White pepper is also used in certain dishes for an aesthetic reason when you don't want specks of black pepper in your white sauce or other light-colored dishes.
I'm adding white pepper to this Cajun seasoning mix because it gives the spice blend more depth and an extra layer of flavor.
Black pepper is quite a bit milder and has a more complex flavor than white pepper. I always have black pepper on the pantry and lots of it. I almost always use black pepper unless I am making a white sauce or have any reason to not want black specks of pepper to show.
some recipes to try this cajun seasoning mix with
This Traeger smoked turkey breast (wrapped in bacon) would go extremely well with a cajun dry rub! After injecting the turkey breast, rub it down with this cajun dry rub and then wrap it in bacon.
When I think of cajun spice, I think of chicken wings! Try these air fryer honey mustard chicken wings. Remove the onion powder, garlic powder and salt from the recipe and replace it with 2 tablespoons of this cajun spice dry rub.
The sister of Cajun cuisine is Creole so we can't leave without mentioning this cheesy shrimp and grits recipe. It is Southern comfort food at it's best!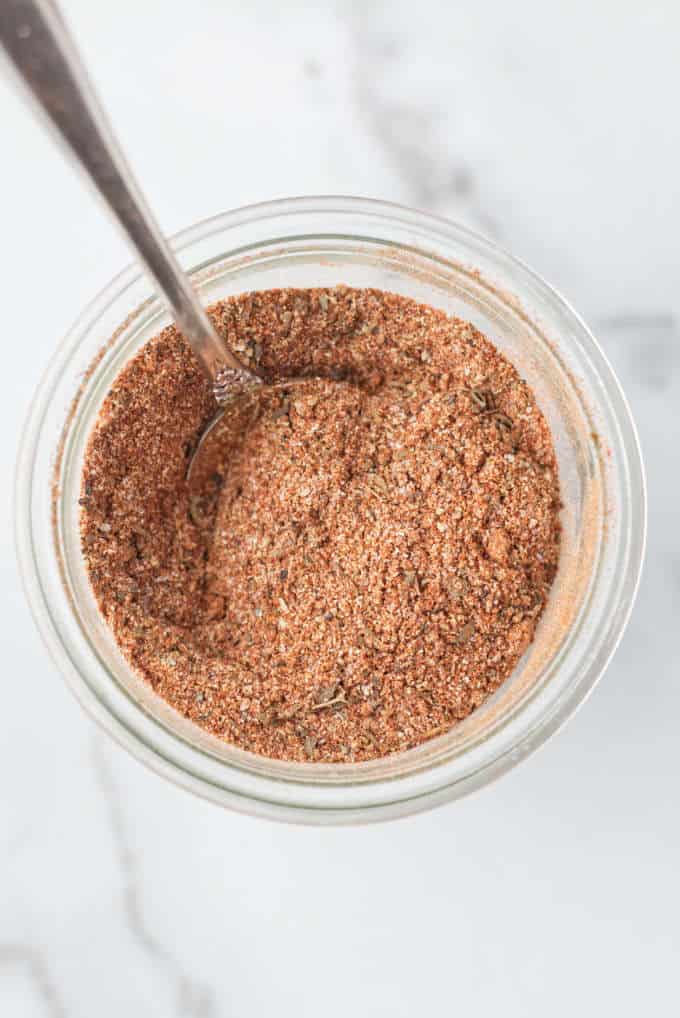 CONNECT WITH SAVOR THE BEST!
Be sure to follow us on our social media accounts
Facebook * Instagram * Pinterest * Twitter * Youtube
Did you make this Cajun seasoning mix? We would love to hear from you. Drop us a comment below.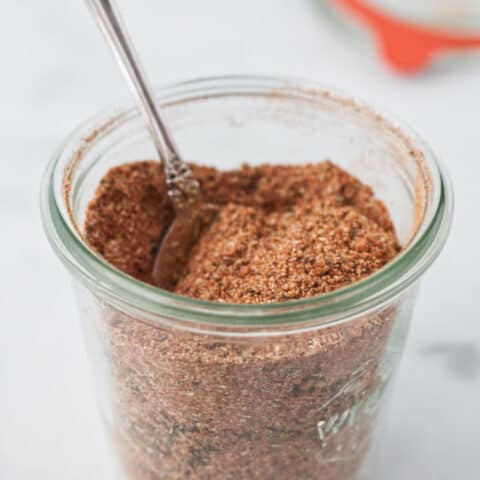 Cajun Seasoning Mix
Yield: 16 Tablespoons
Prep Time: 5 minutes
Total Time: 5 minutes
A delicious Cajun seasoning mix which is the perfect amount of hot and has a bit of sweetness. I use this all the time for pork or chicken on the barbeque. The smoked paprika really compliments the smoke flavor of the wood chips in the grill. Store it in an airtight container and use it over and over again!
Ingredients
3 tablespoons smoked paprika
3 tablespoons garlic powder
1 tablespoons table salt
1 tablespoon ground black pepper
1 tablespoon ground white pepper
1 tablespoon onion powder
1 tablespoon cayenne
1 tablespoon dried oregano
1 tablespoon dried sweet basil
1/2 tablespoon dried thyme
2 tbsp brown sugar
Instructions
Combine all ingredients into a large mixing bowl.
Thoroughly combine all ingredients with a fork.
Then transfer the dry rub spice blend into an airtight container and store for later use.
Notes
I used my hands to combine all the spices and ensure the blend didn't have any clumps. It may work better to get your hands dirty.
Nutrition Information:
Yield: 48
Serving Size: 1
Amount Per Serving:
Calories: 7
Total Fat: 0g
Saturated Fat: 0g
Trans Fat: 0g
Unsaturated Fat: 0g
Cholesterol: 0mg
Sodium: 133mg
Carbohydrates: 2g
Fiber: 0g
Sugar: 1g
Protein: 0g
Nutrition information is a guideline only, is calculated automatically by third-party software, and absolute accuracy is not guaranteed.
About Joshua
Joshua is the griller, cook, photographer, and writer behind A License To Grill. He loves cooking and hanging out with friends and family and has a passion to share his grilling and smoking knowledge with everyone.