Garlic and rosemary roasted potatoes make a fast and easy side dish for any meal. They get crisp and toasty brown on the outside and creamy soft on the inside. If you want an easy side dish for practically any meal, make these roasted potatoes.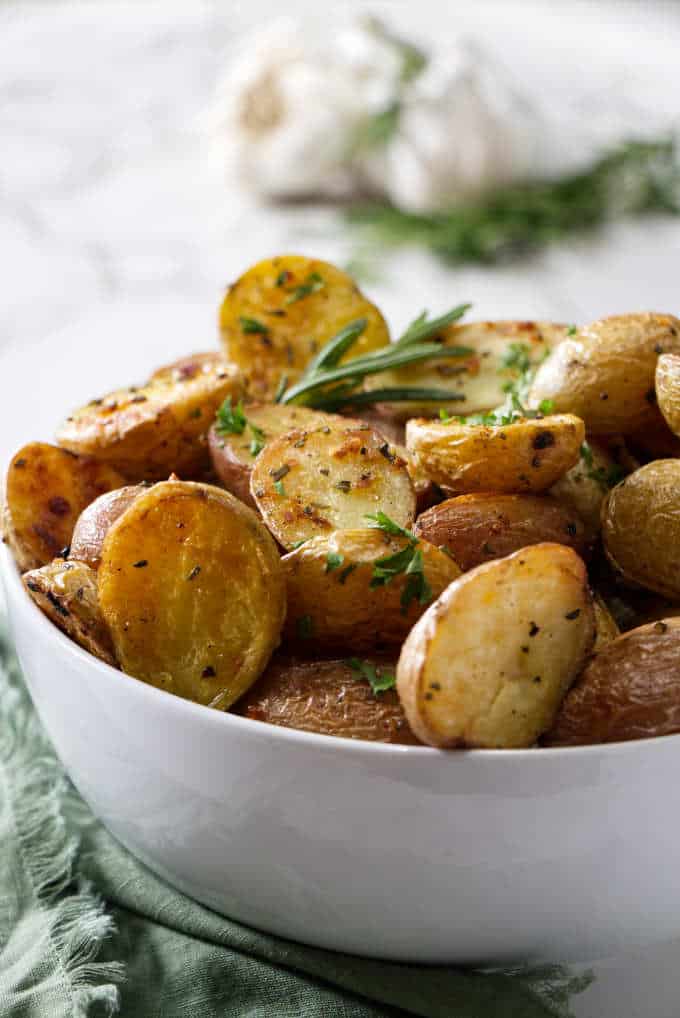 This recipe is difficult to mess up but you will need to make some adjustments depending on the size of the potato chunks. Obviously, smaller cubes of potatoes will cook faster than larger ones.
I cut the potatoes into approximately 1-inch chunks. At that size, the potatoes only need about 30 minutes to cook. Adjust the roasting time if you slice larger chunks of potatoes.
About the garlic
Garlic burns really easily and when it burns it gets bitter. The instructions in our recipe card tell you to leave the fresh garlic out during the long roasting time.
You will add it when the potatoes are finished roasting then return the potatoes to the oven for about 1 to 2 minutes to finish cooking the garlic. Keep an eye on it though because sometimes it takes less than 1 minute to cook off the rawness of the garlic.
You could skip the fresh garlic entirely if you want because the dried garlic gives these potatoes plenty of garlic flavor. I personally love the more vibrant flavor that the fresh garlic gives to this side dish.
I will admit that I sometimes add fresh garlic at the beginning of the roasting time. After 30 to 40 minutes in a hot oven, some of the bitterness starts to mellow out and the little bits of garlic get really crisp. But with the extended roast time there are also some pretty charred bits of garlic. I might be the only one that likes crispy burned garlic in my potatoes though so I won't recommend doing that. 😉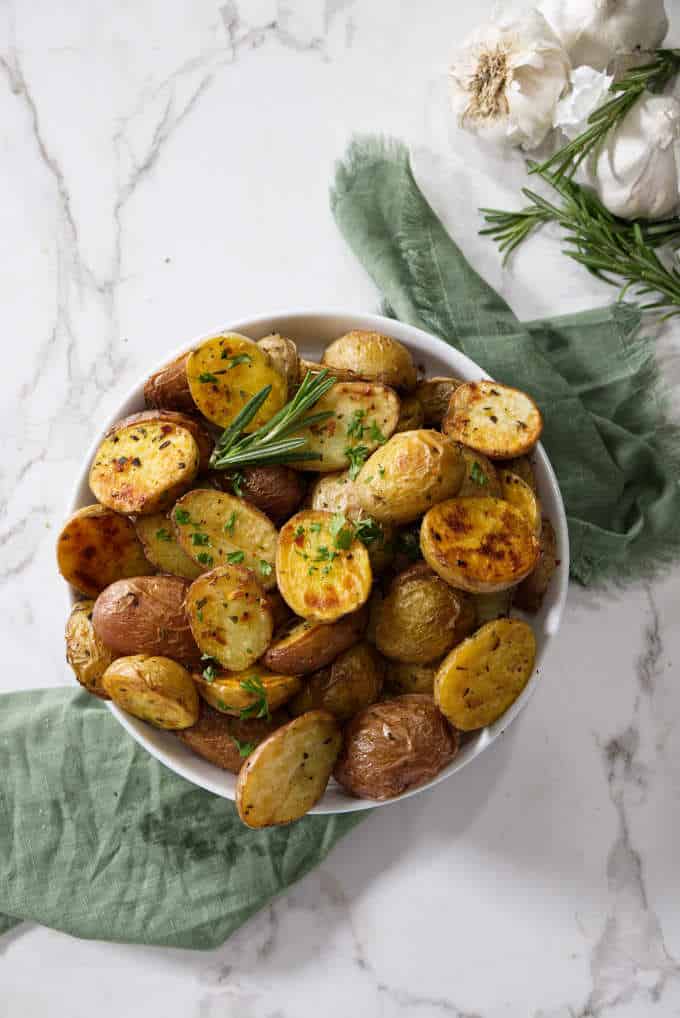 About the rosemary.
Rosemary has a fairly strong flavor and a rough texture. You don't want to eat a whole leaf so chop them up pretty finely. Finely chopped rosemary will also help disperse the flavor more evenly over the potatoes.
You can use dried rosemary instead of fresh but keep in mind that dried herbs lose their potency the longer they are stored. If you have dried rosemary that has been sitting in your pantry for longer than a year then it is probably pretty bland tasting.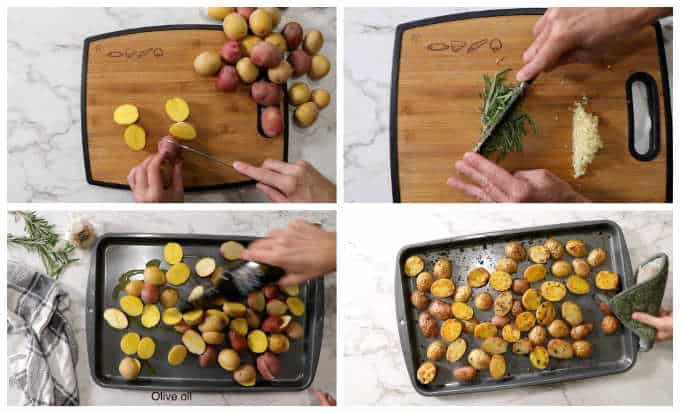 What kind of potato to use.
You can use any type of potato here. Different varieties will give you different textures and flavors so change it up each time you make these easy garlic rosemary roasted potatoes.
Potatoes basically fall into 3 categories:
Waxy: Fingerlings and large red-skinned potatoes are waxy.
Starchy: Russet and Idaho potatoes fall into this category
All-purpose: (kind of in-between waxy and starchy) Kennebec and Yukon Gold potatoes are all-purpose.
The important thing about choosing the potatoes is to make sure they are fresh and firm. Avoid potatoes that have soft spots, green skin, or sprouts.
If potatoes have a green tinge to them, they were exposed to too much light and produced excess amounts of solanine. Solanine is a toxin that will give you mild to severe gastrointestinal issues and can even cause headaches.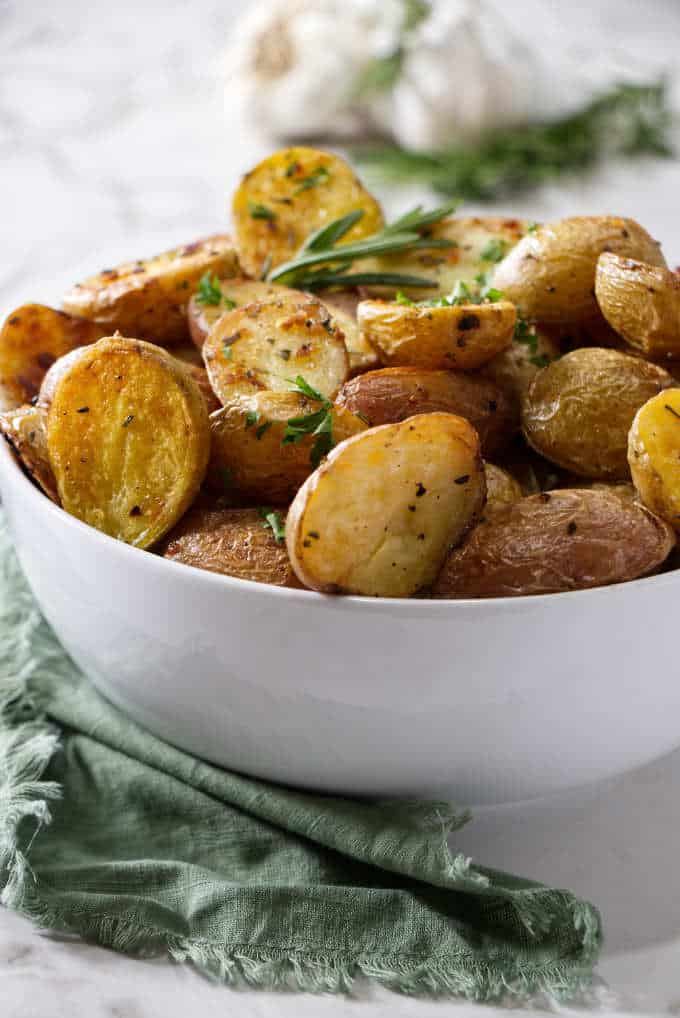 SOME OTHER RECIPES WE ARE SURE YOU WILL LOVE:
Oven Roasted Sweet Potatoes become even sweeter as they roast. We gave these sweet potatoes a sprinkling of fresh thyme and a twist of lemon to brighten up the flavors.
These braised fondant potatoes take a little extra time an effort but the results are worth it. The potatoes are creamy and smooth on the inside and have a rich flavor.
These pan-fried potatoes are a favorite for breakfast but we make them for any meal. Fast, easy, and no-fuss: all you need is a little oil and some salt and pepper
CONNECT WITH SAVOR THE BEST!
Be sure to follow us on our social media accounts
Facebook * Instagram * Pinterest * Twitter * Youtube
Did you make these garlic and rosemary roasted potatoes? We would love to hear from you. Drop us a comment below.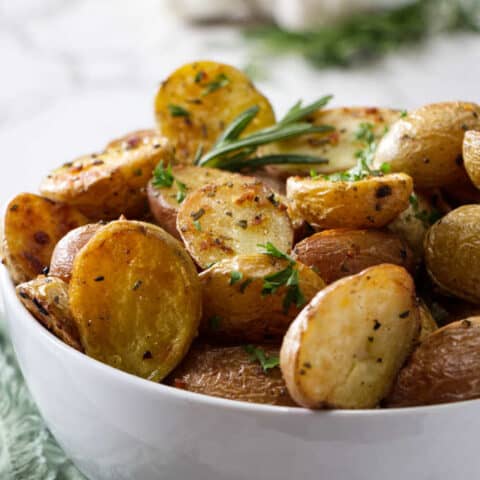 Garlic and Rosemary Roasted Potatoes
Yield: 4 servings
Prep Time: 10 minutes
Cook Time: 40 minutes
Total Time: 50 minutes
Garlic and rosemary roasted potatoes is an easy recipe that you can throw together in no time. It is the perfect side dish to any dinner.
Ingredients
2 pounds potatoes (cut into bite-sized chunks)
3 tablespoons olive oil
2 sprigs of fresh rosemary, chopped
1 teaspoon dried garlic
1/2 teaspoon salt
fresh cracked pepper
2 fresh garlic cloves, finely minced
Instructions
Preheat oven to 425°F.
Toss all the ingredients except the fresh garlic together and spread out on a large rimmed baking sheet.
Roast until golden brown and crispy, about 25 to 40 minutes (depending on the size of the potato chunks). Stir once or twice during the roasting time.
When the potatoes finish roasting toss them with the fresh garlic and return to the oven for 30 seconds to 1 minute until the garlic is fragrant and the raw flavor cooks out.
Notes
The roasting time will vary depending on the size of the potatoes. We cut the potatoes in small bite-sized pieces so they would roast faster. 
Try to cut the potatoes the same size so they cook evenly. 
Check for doneness by stabbing the potatoes with a fork. They will be tender on the inside when they finish roasting. 
The high heat of the oven will burn the garlic and turn it bitter. Add the fresh garlic when the potatoes are finished roasting and give them another 30 seconds to a minute of roasting time to cook the garlic.
Nutrition Information:
Yield: 4
Serving Size: 1
Amount Per Serving:
Calories: 306
Total Fat: 10g
Saturated Fat: 2g
Trans Fat: 0g
Unsaturated Fat: 9g
Cholesterol: 0mg
Sodium: 288mg
Carbohydrates: 49g
Fiber: 5g
Sugar: 3g
Protein: 6g
Nutrition information is a guideline only, is calculated automatically by third party software, and absolute accuracy is not guaranteed.