This is an easy, no-fuss preparation for crispy Pan Fried Potatoes. No soggy, mushy potatoes with burn spots. Just plain, delicious, golden, crispy potatoes for your eggs and bacon.
These pan-fried potatoes are the ultimate, old-fashioned comfort food! They are also known as Cottage Fries and Home Fries.
If you know me well, you know that having breakfast "out" is not my favorite restaurant meal. With that said, it was my husband's birthday and his wish…how could I not agree, right? So, off we went to an upscale restaurant and the fried potatoes, bacon and eggs on the menu seemed to be calling my name.
Maybe I am a 'food snob' but it was a disappointing experience. But on a good note, my husband enjoyed his pancakes and that was the whole point.
So…the next morning, I couldn't resist making my own breakfast of fried potatoes, bacon and eggs. These skillet fried potatoes are crispy on the outside and creamy inside. Nothing mushy about these pan fried potatoes. The poached egg is hot, and the bacon is crunchy. It was a good breakfast!
I remember how my dad would fry up the crispest, most delicious fried potatoes. He liked his potatoes and favored those big brown Russets. I think his secret was using an age-old cast-iron skillet and a glob of Crisco® vegetable shortening. Good potatoes! Good memories!
What is the best oil to use for pan fried potatoes?
Well, we all know about trans-fats nowadays and I don't use Crisco® for my skillet fried potatoes. But….. they are just as yummy as dad's.
There are a lot of oils and fats to choose from but the healthiest oils are those high in monounsaturated and polyunsaturated fats. Good examples would be olive oil and vegetable oils. They help to lower your risks of heart disease.
However, not all oils are created equal. Some oils can handle the heat, and some can't. For these pan pan-fried potatoes we are using avocado oil which has a high smoke point.
What is a 'Smoke Point?
An oil's smoke point is the temperature at which it starts to smoke. When it begins to smoke it loses some of its nutritional value and even give your food an unpleasant taste.
Oils with high smoke points are good for high-heat frying. These include:
Avocado 520-570 (un-refined 480 so even unrefined is good for high smoke points)
Ghee– 485light (refined)
Olive oil– 468
Soybean– 450-460
Peanut– 450
Safflower– 450
Refined coconut oil —450
Oils with moderately-high smoke points are good for sautéing over medium-high heat. Examples include:
Corn– 440-460sunflower– 440-450
Almond– 430
Canola– 400-445
Virgin coconut oil– 350
EVOO– 375
Butter– 250
Examples of low smoke point oils would be nut and seed oils such as walnut, hazelnut and flaxseed. These oils are best for salad dressings and dips. If you are curious about other oils and their smoke points, here is a chart with over 40 types of oils and their smoke points.
Do you have to boil potatoes before frying them?
You don't have to boil these potatoes before you fry them. If you get the pan hot enough and keep the potatoes in a single layer, they will get crispy on the outside and soft on the inside.
If you saw our post for Air fried potatoes, you saw that we have an option to boil the potatoes first. You can certainly do that with this recipe but since we are using more oil in these home fried potatoes (and direct heat) you will get really great results.
Do your potatoes stick to the pan?
If you struggle with potatoes sticking to the pan it may be because you put the spuds in the skillet before it was hot enough. You also need to make sure you use enough oil.
Which potatoes are best for home fries?
Russet, Idaho, Yukon gold and Kennebec potatoes are great choices for these cottage fries. They all have a good amount of starch which helps the potatoes swell up when they cook. That creates a lighter, fluffier texture.
Red potatoes and fingerlings won't give you that same fluffy texture because they have less starch. However, they still make tasty home fries. Experiment and see what you like the best.
How to Make Crispy Pan Fried Potatoes:
I used the Russet potatoes which have a slightly higher starch and fry up crisp and tender. Yukon golds are another of my favorites and make a creamy, buttery texture. Experiment and try using different kinds of potatoes. Unpeeled baby reds and the purple fingerlings taste great and add color but they won't be as fluffy on the inside.
Peel the potatoes and slice them in 1/4-inch slices.
If you have a mandoline slicer it will make fast work of the slicing and the slices will all be of uniform thickness. A slicing blade to the food processor also does a good job.
Set your skillet over medium-high heat and add a couple of tablespoons of oil. Swirl the oil around so it covers the entire bottom of the skillet. You can tell when the oil is hot as it will look shimmery. Add the potatoes in a single layer and give them a generous sprinkle of salt.
Watch the potatoes closely and do not move them until you see the edges beginning to turn golden. Flip each potato round with a spatula. Cook the other side until the potato slices are tender al dente. It should take about four or five minutes for the first side to turn golden brown and two or three minutes for the second side.
Serve these pan fried potatoes for breakfast with crisp bacon strips, poached eggs, and buttered toast. Pretty up the plate with fresh fruit and enjoy! ❤️
MORE BREAKFAST RECIPES WE ARE SURE YOU WILL LOVE:
CONNECT WITH SAVOR THE BEST!
Be sure to follow us on our social media accounts
Facebook * Instagram * Pinterest * Twitter * Youtube
Did you make this home fries recipe? We would love to hear from you. Drop us a comment below.
We are also curious what you call these in your home. Do you call them pan-fried potatoes, cottage fries, or home fries? Maybe you call them skillet potatoes? We would love to hear from you.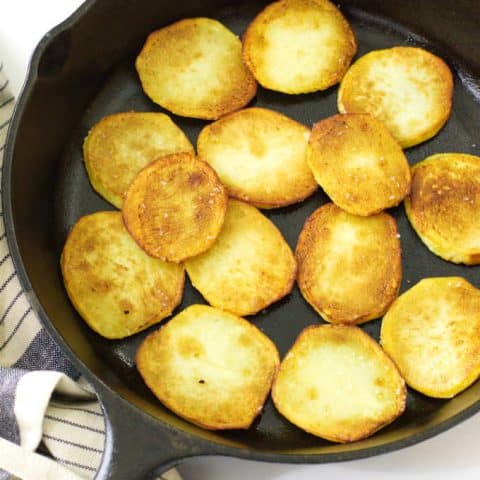 Pan Fried Potatoes
Yield: 4 Servings
Prep Time: 5 minutes
Cook Time: 10 minutes
Total Time: 15 minutes
Pan Fried Potatoes are the ultimate, old-fashioned comfort food! Delicious, golden, crispy potatoes for your eggs and bacon. They are also known as Cottage Fries and Home Fries.
Ingredients
1 lb. Russet potatoes
2-3 tablespoons avocado oil or any oil with a high smoke point
Salt
Freshly ground black pepper (optional)
Fresh chopped parsley for garnish
Instructions
In a large skillet set over medium-high heat, add the oil and heat until shimmering.
Add the potatoes in one layer, season with salt and pepper if using.
Cook, undisturbed, until potatoes form a crust underneath that is visible at the bottom edges 4 to 5 minutes.
Flip potatoes and cook until golden on other side, 3 to 4 minutes more or until tender-al dente. Serve warm.
Notes
A cast iron skillet or stainless steel fry pan is best. Cast iron will give you an even cooking surface and retain heat the best.
Do not cover the potatoes while they are cooking as that will steam them and make them soggy.
Add fresh chopped herbs such as rosemary, thyme and tarragon at the same time as when salting.
Add spices cumin, chili or garlic powder after flipping the slices.
If you are cooking more than one batch of potatoes, transfer to a plate and keep warm in the oven on its lowest heat setting.
Recommended Products
As an Amazon Associate and member of other affiliate programs, I earn from qualifying purchases.
Nutrition Information:
Yield: 4
Serving Size: 6 ounces
Amount Per Serving:
Calories: 198
Total Fat: 10g
Saturated Fat: 8g
Trans Fat: 0g
Unsaturated Fat: 1g
Cholesterol: 0mg
Sodium: 157mg
Carbohydrates: 24g
Fiber: 3g
Sugar: 1g
Protein: 3g
Nutrition information is a guideline only, is calculated automatically by third party software, and absolute accuracy is not guaranteed.