This sous vide filet mignon recipe requires very little effort for a dish that delivers big – big in taste and presentation! By using the simplest of ingredients, fresh thyme, butter and oil, salt and pepper, along with the steak itself, we have successfully created a dish that is guaranteed to wow every palette.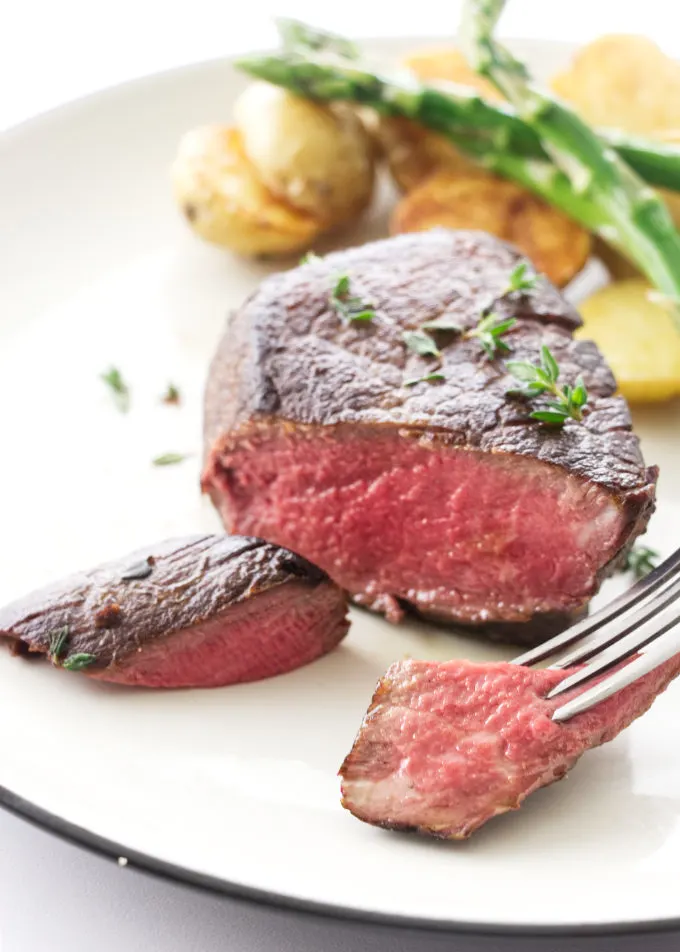 Best Sous Vide Filet Mignon Recipe
This recipe and cooking technique for Filet Mignon will reduce any stress and anxiety you may have in preparing a fine dining meal in your own home. We've taken the classiest cut of beef and combined it with a foolproof method of preparing it to give you the ultimate steak experience!
By using the sous vide method of cooking, nothing gets left to chance. It will ensure the steak is evenly cooked by giving you greater control of the cooking temperature and locking in the moisture. The result will be a succulent piece of meat that will cut like butter.
This is the best way, the only way, to cook a steak to absolute perfection. If you have tried our sous vide bison ribeye or our sous vide tomahawk steak, you already know how great this cooking technique is.
Filet Mignon Sous Vide:
You don't need to save this recipe only for your special occasions. Here is why you will want to prepare sous vide filet mignon any time of the week.
It has a short and simple ingredient list.
The recipe requires minimal preparation, making it quick and easy.
It's a great date night meal.
It is easy to prepare. Even a novice cook can have great success with this sous vide filet.
Keto friendly!
The sous vide method of cooking provides flexibility. The steak can stay in the water for up to 4 hours after it finishes cooking (with some exceptions).
Using the sous vide method to cook steak guarantees consistency and precision every time.
This sous vide filet mignon is mostly hands-off, giving you time to do other things, like preparing really great side dishes like Hasselback Potatoes and Roasted Asparagus.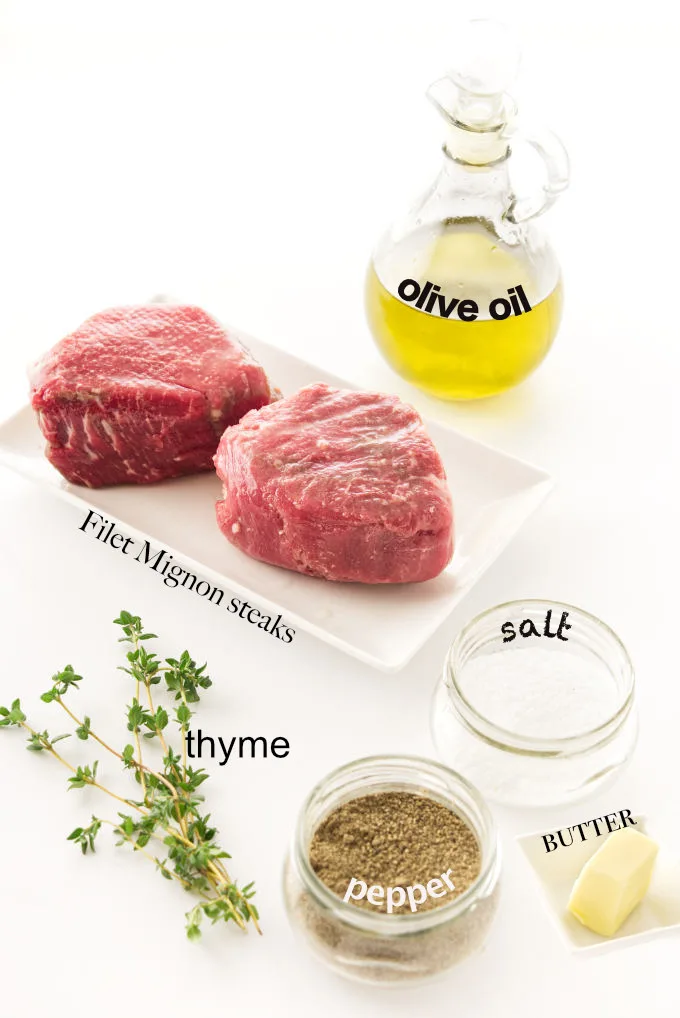 The Ingredients for Sous Vide Fillet Mignon:
The shopping list for sous vide filet mignon isn't very long. This recipe lets the beef shine and only uses a few ingredients to enhance the flavors. When you cook a steak to this kind of perfect precision, you don't need many extras.
Filet mignon steaks. Have them hand trimmed by your butcher (or trim them yourself) so that very little to no fat remains on the sides.
Salt and pepper to season.
Olive oil. Olive oil is a great all-purpose cooking oil (do not use the extra virgin variety due to its low smoke point). You could also use avocado oil or any other oil that has a high smoke point.
Butter
Fresh sprigs of thyme
How to Make The Best Filet Mignon:
Here's a quick overview of just how easy it is to make a filet mignon in the sous vide. Make sure you scroll down to the printable recipe card for all the details.
Choose which temperature you want your steak cooked to and set the sous vide apparatus to that temperature. The cooking and timing chart is below.
Place the sealed bag containing seasoned steaks and thyme into the water bath.
Cook for the recommended length of time. Remove them from the bag, dry them off, and brush them with oil.
Get a cast-iron skillet smoking hot and quickly sear the filet mignon steaks on each side.
Serve with some great side dishes for a complete meal. The list of side dishes to complement this dish are endless, but here are some tried and tested suggestions we have: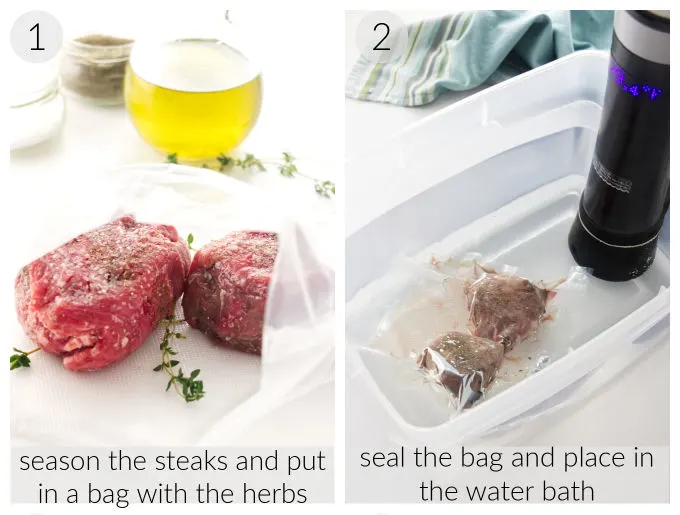 Tips for Sous Vide Success:
Sear the Steak
When it is time to take the filet out of the water bath, it will be completely cooked but it won't look very appetizing. Your Filet Mignon cooked in the sous vide will not have a nice brown crust on the outside of it.
You will want to sear the Filet Mignon in a hot skillet in order to get a caramelized brown crust which will give it more flavor and make it look delicious.
Since the steak is already cooked to perfection, you don't want to cook it any further when you sear it. That is why you need to sear the steak as quickly as possible so that only the outside of the steaks get brown.
In order to brown the Filet Mignon without cooking the interior, you need to get your skillet extremely hot. A smoking hot skillet will quickly sear the steak on the outside without cooking it on the inside.
Ensure the cooking area is well ventilated by opening windows and turning on stove vents or range hoods.
Use the Right Oil:
Since you want to sear the steak in a smoking hot skillet, you will want to use an oil that has a high smoke point. Some examples of oil with a high smoke point are:
Safflower oil
Light/refined olive oil
Refined Avocado oil
Soybean oil
Peanut oil
Wait to Add the Butter:
Butter has a low smoke point and it will burn quickly. Don't add the butter to the skillet until you are ready to add the filet mignon steaks. Wait until the oil and the skillet get hot then add the butter and the steaks. If you add the butter while the skillet is heating up then it will burn before you get a chance to cook the steaks.
Dry the Filet Mignon off Before You Sear :
Make sure you pat the meat dry with paper towels before you coat it with oil and sear it. If you leave moisture on the steak then it will just steam the surface and you won't get a brown crust.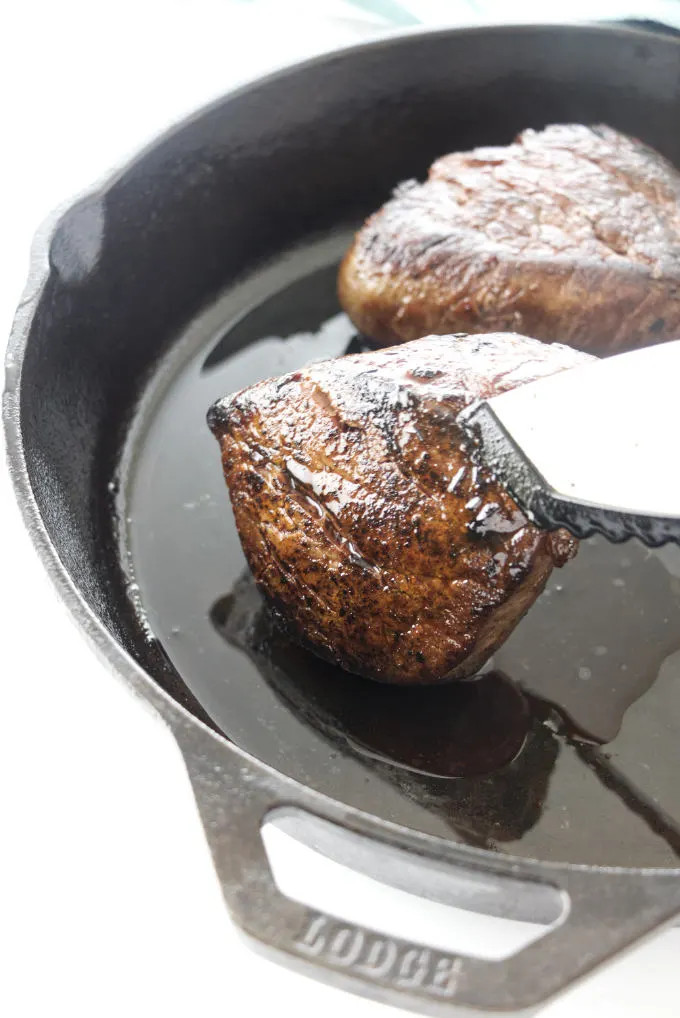 Frequently Asked Questions:
We anticipated that you might have questions, so here's our answers to them:
What is Sous Vide?
Sous vide is the French term meaning 'under vacuum.' It is the process of cooking food that is in a vacuum-sealed bag or pouch in a temperature-controlled water bath.
Why would I want to cook a steak, or any other type of food, this way?
The machine used in sous vide cooking is called an immersion circulator. This machine controls the temperature with absolute precision, so food does not over or under cook your food.
What if I don't have a Sous Vide?
You could place your food pouch in a large pot filled with water and attach a digital thermometer to the side of the pot to gauge the temperature of the water.
What if I don't have a vacuum sealing machine and corresponding bags?
Use high-quality food storage zipper bags. We recommend Ziploc ™. Remove as much air as you can from the bag and then seal it securely.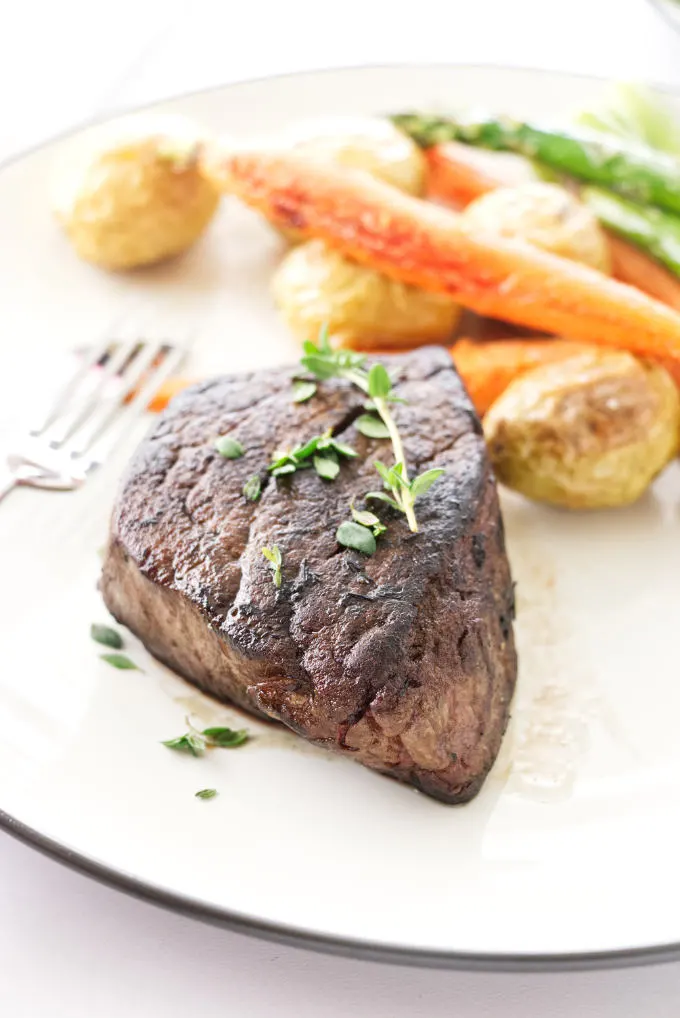 Helpful Tools for Sous Vide Filet Mignon:
Some of the following are affiliate links. If you click on these links and purchase something, we may receive a small commission. You don't pay any extra but it will help us keep the lights on.
Some Other Recipes We Know You Will Love:
Sous Vide Tomahawk Steak: This long-bone Tomahawk Steak is beyond amazing. Perfectly cooked in the sous vide results in a rich, juicy steak tender all the way through.
Sous Vide Wild Turkey Breast: You will be amazed at how tender and juicy this turkey breast is and may decide to cook your next turkey in the sous vide.
Sous Vide Ribeye Steak with Chimichurri Sauce: This ribeye steak is so tender and it cooks up perfectly using the sous vide. Serve this with a fresh chimichurri sauce and totally wow! your dinner guests.
Connect With Savor the Best:
Please follow us on our social media accounts
Facebook * Instagram * Pinterest * Youtube * Twitter
Did you make this recipe? We would love to hear from you. Drop us a comment below.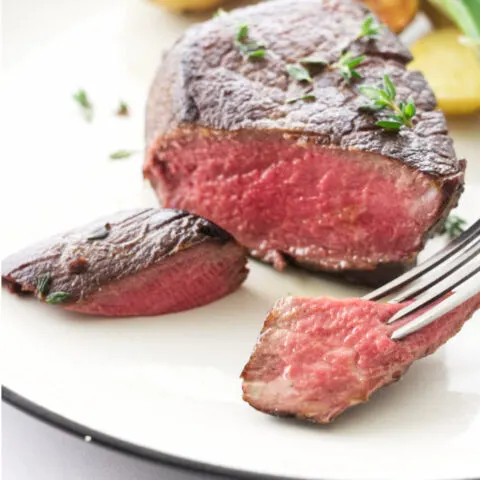 Sous Vide Filet Mignon
Total Time:
1 hour
5 minutes
There is a rich, seared crust on this medium-rare Sous Vide Filet Mignon steak. It is tender, juicy and and perfectly cooked.
Ingredients
2 filet mignon steaks, 2 to 2/1/4- inches thick each
Salt and pepper
4-6 fresh thyme sprigs
2 tablespoons olive oil or avocado oil
2 tablespoons butter
Instructions
Set the sous vide to your desired temperature (127°F for medium-rare).
Fold over the top of the plastic bag and make a wide cuff on the vacuum-sealing bag. This will allow you to insert the steaks and keep the sealing area free from moisture and allow for a good seal.
When the water has reached the desired temperature, season the steaks well and place them in the bag. Add 2 or 3 fresh thyme sprigs. Unfold the cuff of the bag. Vacuum seal the bag with a food sealer and place in the water bath.
Cook for 1 hour or up to four hours. *(See Notes)
Remove bag from water bath and transfer the steaks to a plate. Pat the steaks with paper towels to remove as much moisture as possible and lightly brush with oil.
Preheat a cast iron skillet over high heat. Add the oil and let it get hot. When the oil is hot, add the butter and the steaks. Sear for 1 minute on each side. While the filets are searing, tilt the pan and spoon butter over the steaks as they cook. Hold the steaks with tongs and sear the edges.
Remove the filet mignon steaks and serve immediately.
Notes
If you don't have a vacuum sealer you can use the water displacement process.
*2-1/2 hours max if under 130°F
The final searing will produce a lot of smoke, be sure to turn on the stove venting system and open the doors.
Since you will sear the steak very quickly on an extremely hot skillet, use an oil that has a high smoke point like avocado oil or refined olive oil. Other oils that will work are: Peanut oil, soybean oil, and canola oil.
TEMPERATURE AND TIMING CHARTS FOR SOUS VIDE STEAK
Very Rare to Rare: 120°F to 128°F : 45 minutes to 2 1/2 hours
Medium-rare: 129°F to 134°F : 45 minutes to 4 hours*
Medium: 135°F to 144°F : 45 minutes to 4 hours
Medium-well: 145°F to 155°F : 45 minutes to 3 1/2 hours
Well done: 156°F and up: 1 to 3 hours
Nutrition Information:
Yield:

2
Serving Size:

1
Amount Per Serving:
Calories:

349
Total Fat:

28g
Saturated Fat:

8g
Trans Fat:

0g
Unsaturated Fat:

18g
Cholesterol:

82mg
Sodium:

194mg
Carbohydrates:

1g
Fiber:

0g
Sugar:

0g
Protein:

23g
Nutrition information is a guideline only, is calculated automatically by third-party software, and absolute accuracy is not guaranteed.