Oh, yum! These juicy beef tenderloin steaks with garlic-herb compound butter are cooked to a perfect medium-rare and the garlic-herb butter enhances the flavors of this tender cut of beef.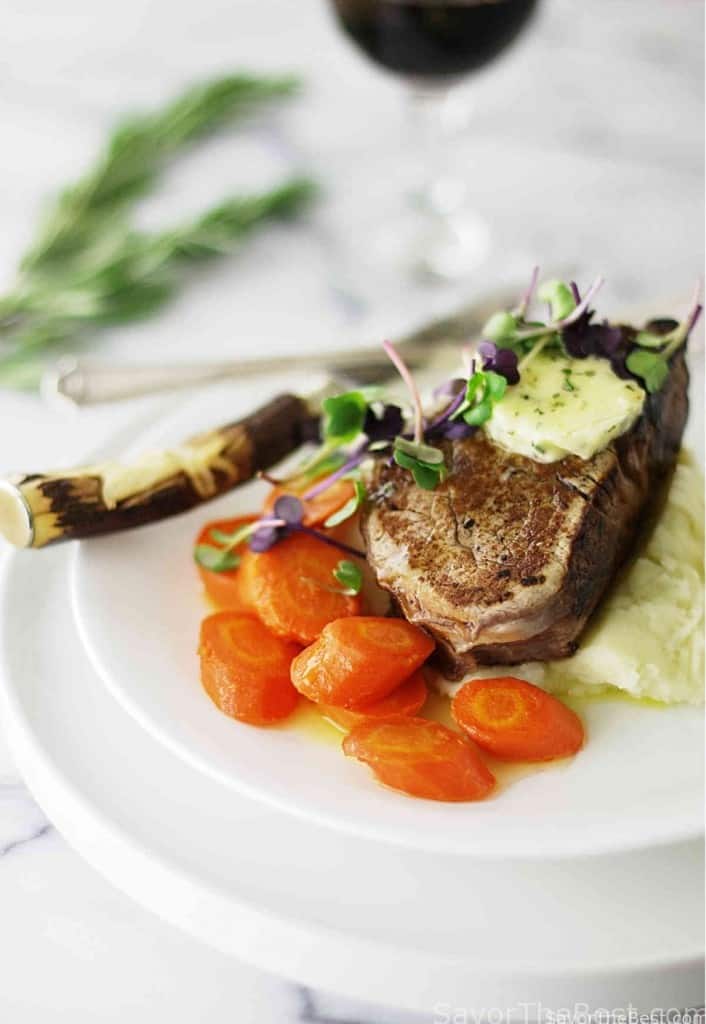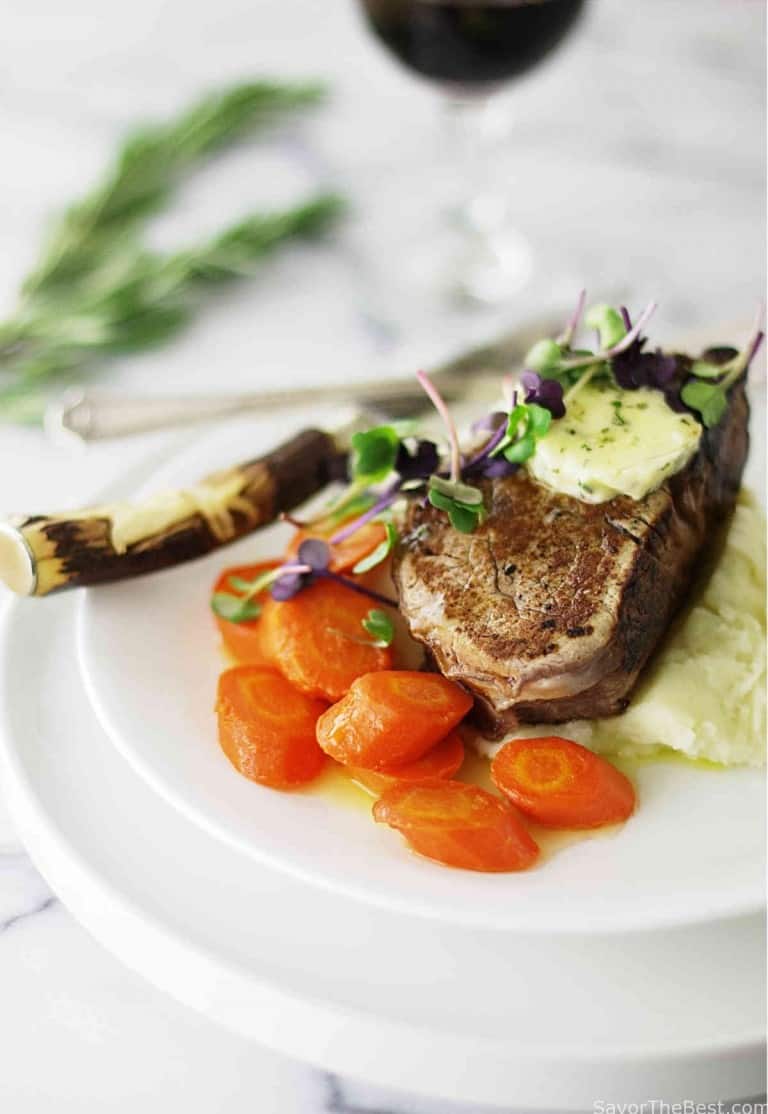 Beef tenderloin is an elegant cut of meat and probably the most tender cut on the entire animal and it has very little fat to it. It is a flavorful, juicy cut of beef and since there is very little fat the addition of a sauce or herb rub will enhance the flavor.
We added a garlic-herb compound butter that just oozes flavor.
How to Cook Tenderloin Steaks
Here is a quick overview of the process for these steaks. We seared them on the stovetop first, then finished them in the oven until perfectly cooked. Scroll down to our printable recipe card for all the details.
Preheat the oven and heat a cast-iron skillet on the stove.

Sear the steaks: The beef tenderloin steaks were first seared for three minutes on a really hot, cast iron griddle then they are flipped over and seared for an additional one minute.



Cook in the oven: Next, pop the entire griddle and steaks into a preheated oven at 450°F and cook

them until done in the center. We cooked our steaks until they were a nice medium-rare

. If you don't want a medium-rare steak, refer to our doneness chart below.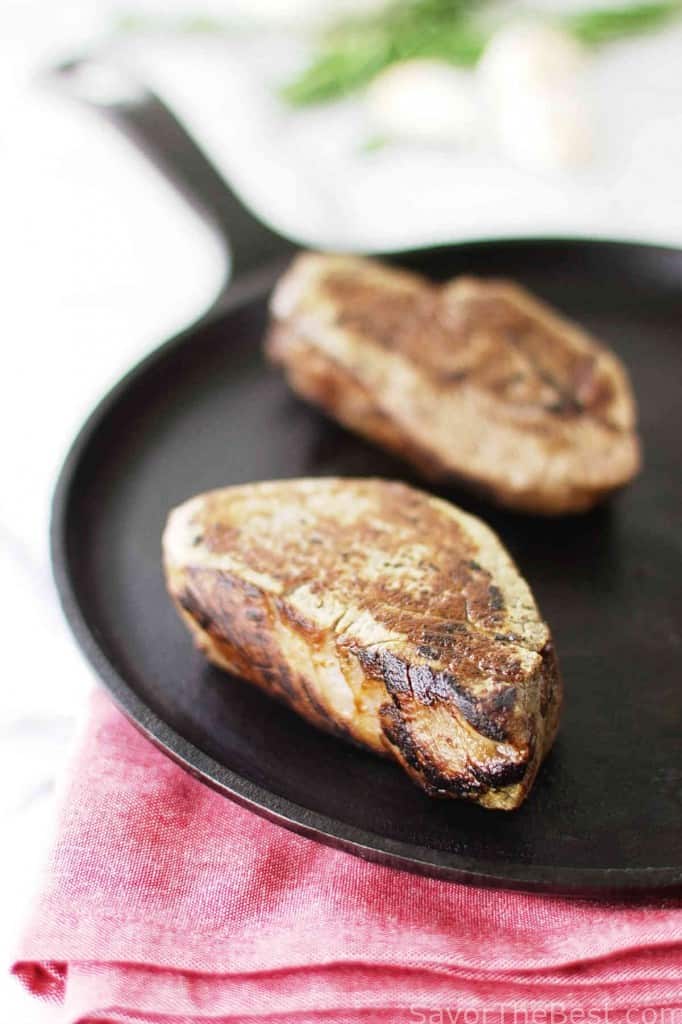 Steak Doneness Temperature Chart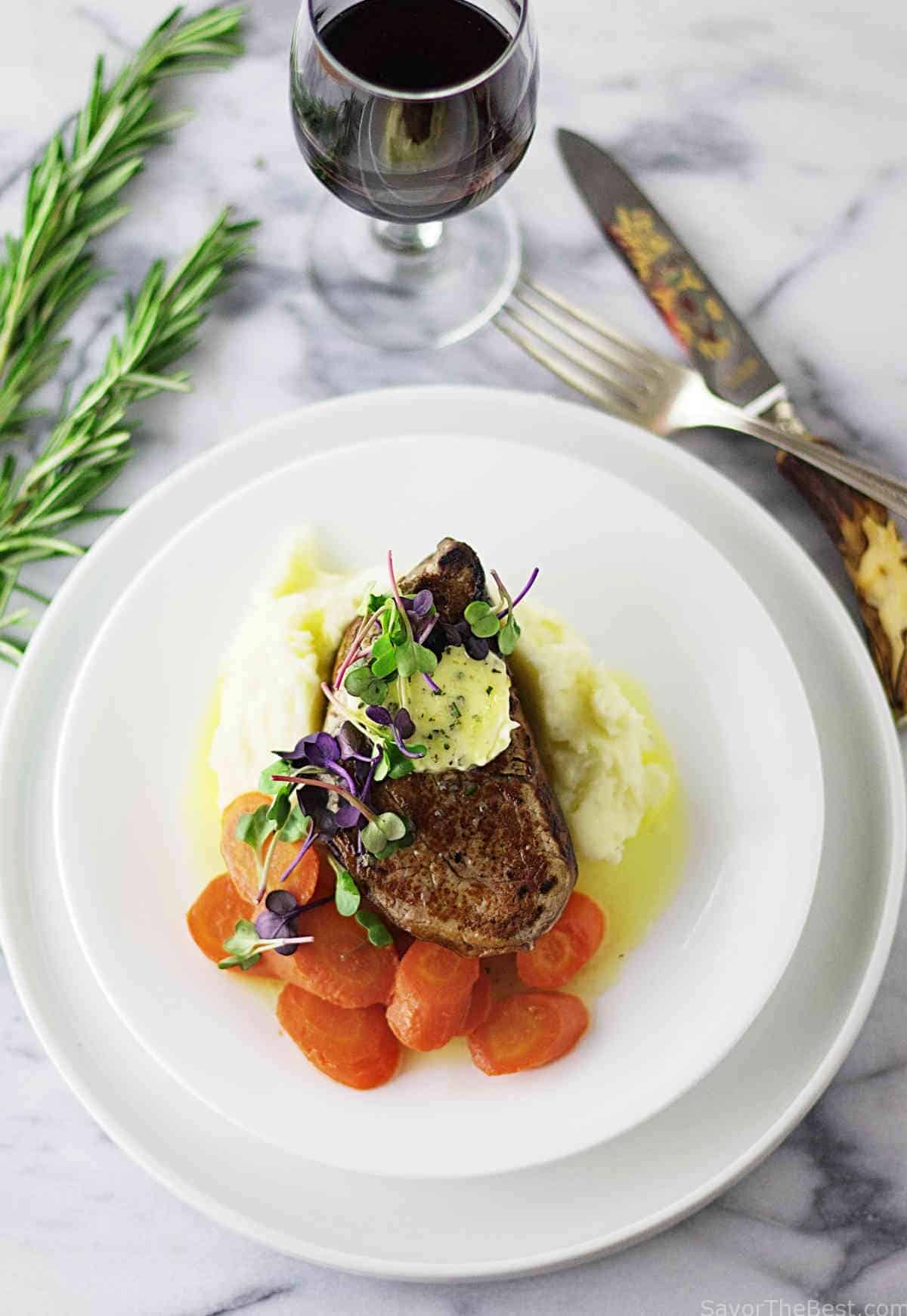 There are many variations to making compound butter, I have blended lemon zest and fresh herbs to top off vegetable dishes as well as baked fish.
In this recipe for beef tenderloin steaks, we mix garlic, fresh thyme, and fresh rosemary, form it into a log, wrap it with parchment paper and chill it. While the finished steaks are resting, a thin slice of the butter is added to the top.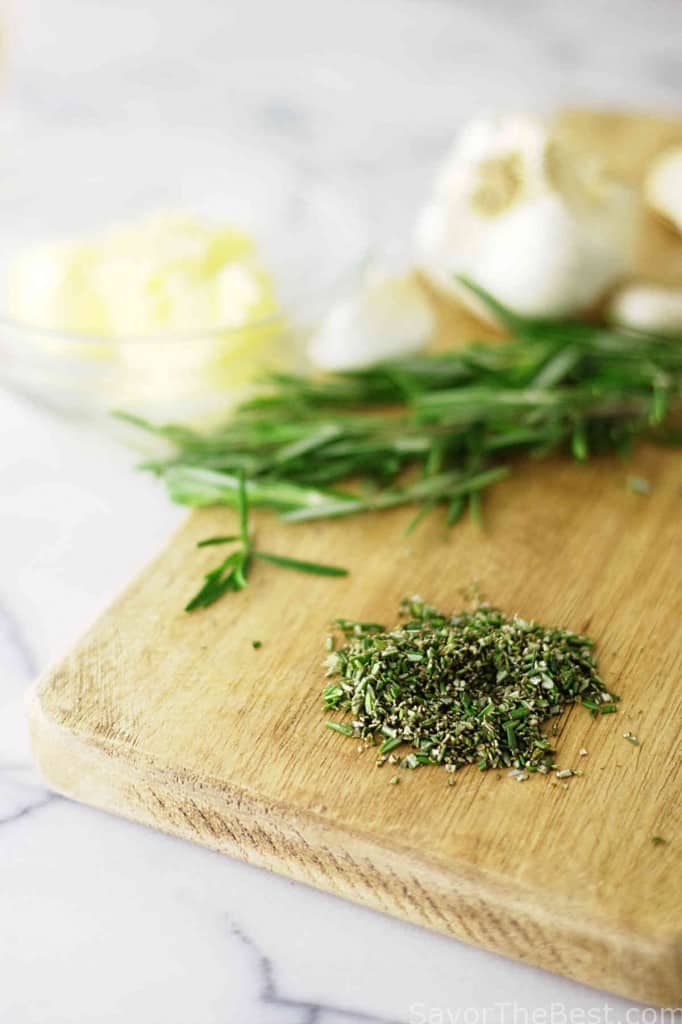 I recently learned from The World's Healthiest Foods that if you let your crushed/chopped/grated garlic sit at room temperature for 10 minutes before cooking it, the anti-cancer power, anti-inflammatory and other health benefits develop.
That is because the crushing/chopping/grating preparation activates garlic's enzymes. If the garlic is cooked before this, the enzymes are destroyed.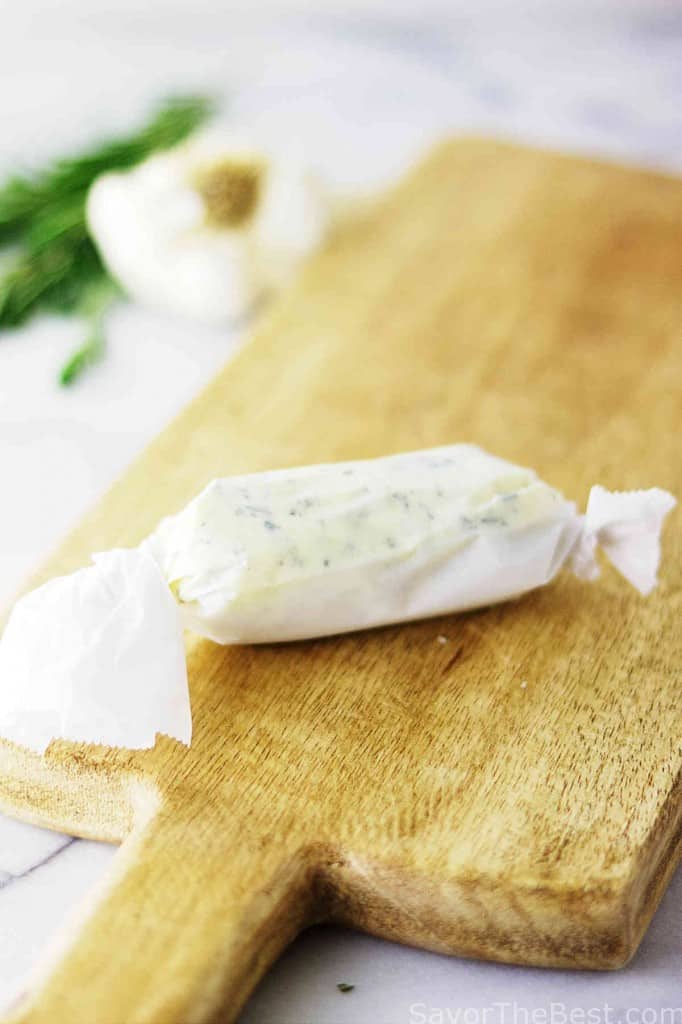 You might also like…..
Roasted Cornish Game Hens make a great Sunday dinner. Serve it with some steamed veggies rice for a healthy meal.
Pork Roast with Garlic Ginger Glaze is another great meal to make when you have a little extra time on the weekend. The glaze adds so much flavor to the pork and the leftovers are great for making pork fried rice.
If you are looking for something a little different and perhaps adventurous, try our Sake-Red Miso Glazed Sablefish with Wasabi Emulsion. The flavors are beyond delicious.
Connect With Savor the Best:
Please follow us on our social media accounts
Facebook * Instagram * Pinterest * Youtube * Twitter
Did you make this recipe? We would love to hear from you. Drop us a comment below.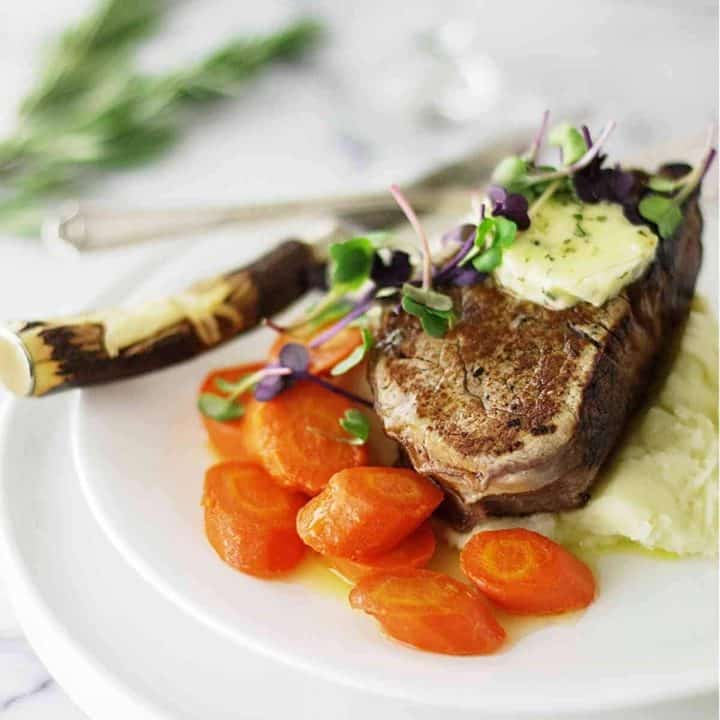 Beef Tenderloin Steaks with Garlic-Herb Compound Butter
Juicy beef tenderloin steaks cooked to a medium-rare and served with garlic-herb compound butter. The compound butter enhances the flavors of this tender cut of beef.
Ingredients
To Make the Garlic-Herb Butter
8 ounces butter, softened
3 garlic cloves, minced or grated
1 tablespoons finely chopped fresh thyme
1 tablespoons finely chopped fresh rosemary
For the Steaks:
2 tenderloin steaks, 8 oz each and 1 to 1 1/4-inch thick
1 tablespoon olive oil
Salt and freshly ground black pepper
Fresh herbs or microgreens for garnishment
Instructions
For the Garlic-Herb Compound Butter:
In a small dish, add the butter, garlic, thyme, and rosemary. Use a spatula to combine all of the ingredients well. Transfer the mixture onto a small piece of parchment paper. Roll into a log and twist the ends shut. Place in the refrigerator for 2 hours, or until the butter is firm.
For the Tenderloin Steaks:
Remove the steaks from the refrigerator and place them on the kitchen countertop for 30 minutes prior to cooking.
Preheat the oven to 450°F
Place a cast-iron griddle or heavy-bottomed, oven-proof skillet on the stove-top over medium-high heat and allow it to preheat for about 5 minutes. Season both sides of the steaks generously with salt and pepper. Add the oil to the griddle and tilt the pan to distribute it a little. Place the steaks on the oily pan and do not move them for 3 minutes, let them sear to get a good crust. Flip the steaks and sear the other side for 1 minute.
Transfer the pan to the preheated oven and cook for 5 minutes or until the temperature reaches 125°F with an instant-read thermometer for medium-rare. Transfer the pan from the oven and place the steaks on a platter, cover with foil and allow to rest for 2-3 minutes.
While the steaks are in the oven: Remove and unwrap the chilled log of garlic-herb butter from the refrigerator, cut two thin slices, reserve until steaks have rested.
To serve:
Add a mound of hot mashed potatoes to each serving plate, place a tenderloin steak on each mound with a slice of the garlic-herb butter on top of the steak, garnish with fresh herbs or microgreens. Add accompanying vegetables to the plate and serve immediately.
Recommended Products
As an Amazon Associate and member of other affiliate programs, I earn from qualifying purchases.
Nutrition Information:
Yield:

4
Serving Size:

1
Amount Per Serving:
Calories:

811
Total Fat:

77g
Saturated Fat:

41g
Trans Fat:

2g
Unsaturated Fat:

29g
Cholesterol:

218mg
Sodium:

504mg
Carbohydrates:

1g
Fiber:

0g
Sugar:

0g
Protein:

28g
Nutrition information is a guideline only, is calculated automatically by third-party software, and absolute accuracy is not guaranteed.