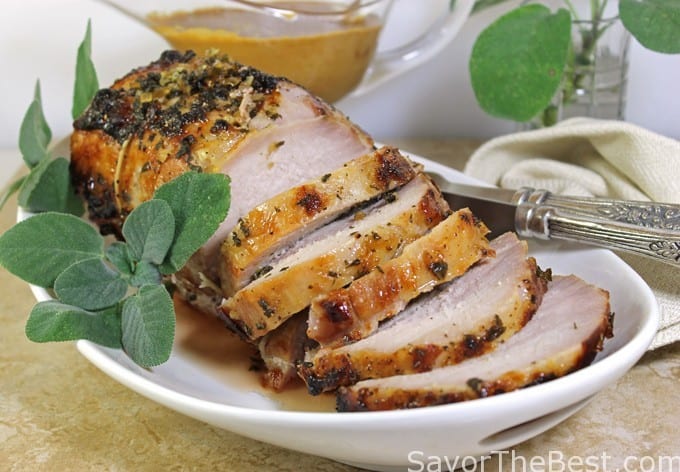 It isn't often that I cook pork. Maybe some pork chops occasionally and of course in the summer we do spareribs on the grill but it isn't on my 'radar screen' and not a protein that usually comes to mind when searching for something to cook.
Several weeks ago at the market I spotted this lovely looking boneless top pork loin and deciding to give it a go, I tossed it into the grocery cart. It will be perfect for dinner next weekend when Dahn and John, plus Burl, Gillian, Cora and Sheamus will be here for dinner.
One thing I really like about cooking is that there are so many creative ideas to incorporate and flavors to experiment with. Quite often I have seen pork paired with apples, prunes or cranberry sauce but this recipe has my own take on it with ginger preserves.
Ginger preserves, also called ginger marmalade, is sometimes difficult to locate in the grocery stores and it is usually during the holiday season that I buy it. I have found that our local Central Market almost always has it on the shelf. It comes in a 12-ounce jar for under $6 which is a little pricey for preserves but I splurge and hoard it, Don is in trouble if he uses it on his toast. It is usually available in specialty food stores as well as online but more money. It isn't difficult to make, Dahn has an easy recipe she will have to post but that will be for another day.
The old-school thought of cooking pork long and at high temperatures has been instilled in my brain for many years. Of course, that is probably one reason why pork has never been too popular with me as it would result as dry and tough. My pork chops still tasted good though because I would smother them with a can of Campbell's mushroom soup.
Gone are those days, as the new USDA guidelines for cooking pork chops, roasts and tenderloins can now be safely cooked to medium rare with a final internal temperature of 145°F, followed by a short rest time.
I am going roast this pork loin low and slow at 225°F and baste it with chopped fresh sage, minced garlic and ginger preserves. I have an electronic thermometer which I will use and just before it registers 140°F, the temperature will be raised to broil to brown it and then it is coming out of the oven. A short 10-15 minute rest and the thermometer should reach 145°F and it will be ready to slice and serve. The finished product will be juicy, tender and delicious with a sauce from the drippings. It will be served with roasted root vegetables, (listed in our recipe index) and a green salad. Mmmmm good!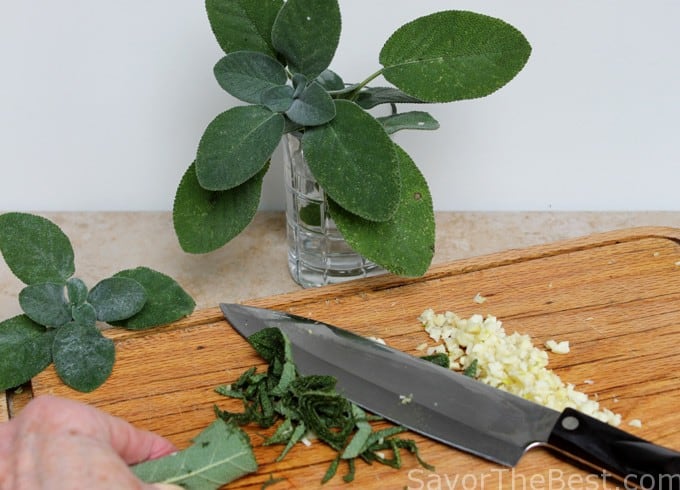 Minced garlic and chopped fresh sage are included in the glaze.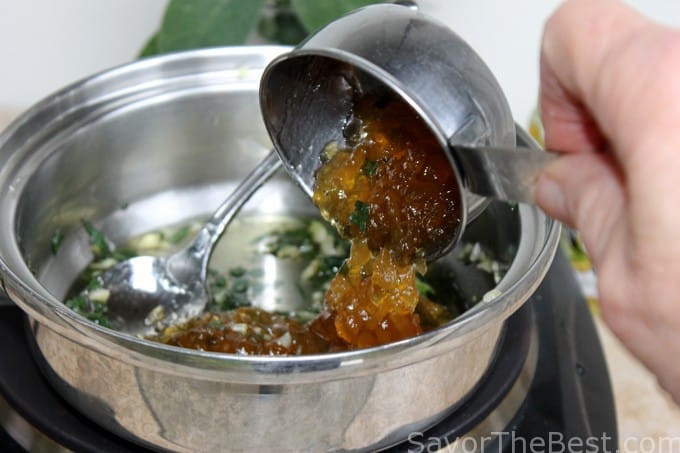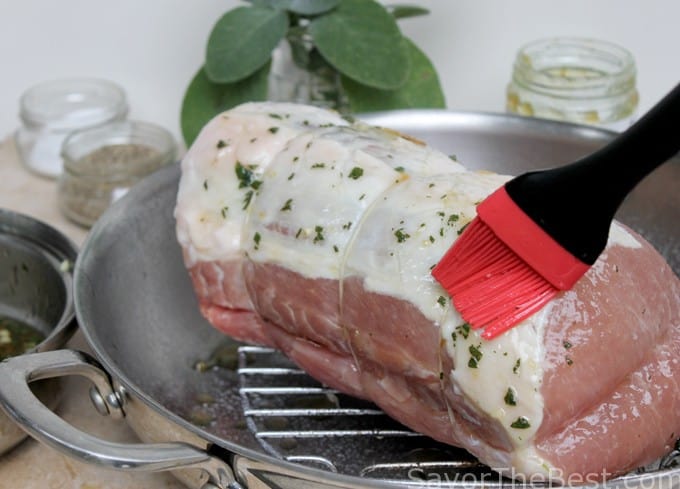 Brush the pork roast with the glaze and baste it every 30 minutes while it is roasting.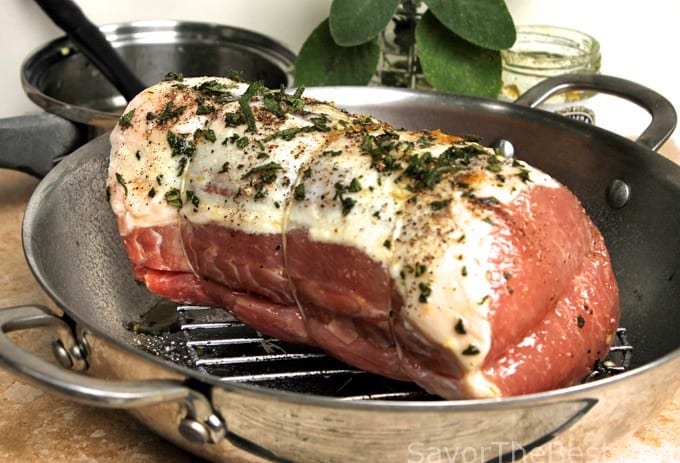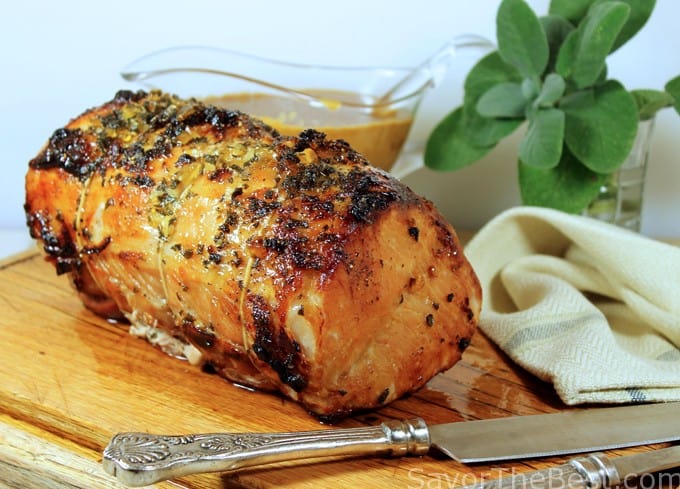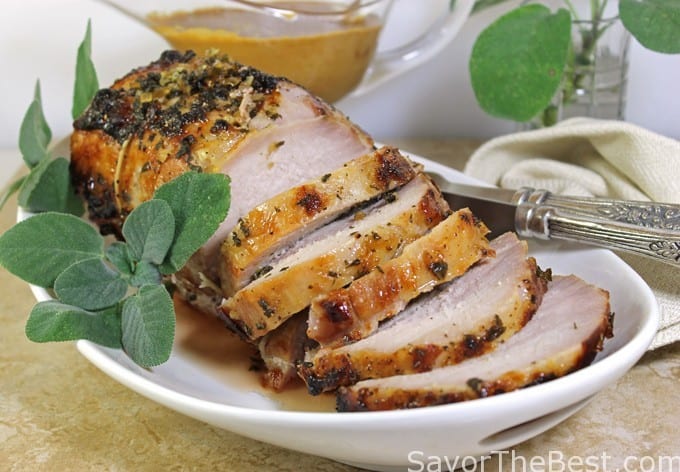 CONNECT WITH SAVOR THE BEST!
Be sure to follow us on our social media accounts
Facebook * Instagram * Pinterest * Twitter * Youtube
Did you make this recipe? We would love to hear from you. Drop us a comment below.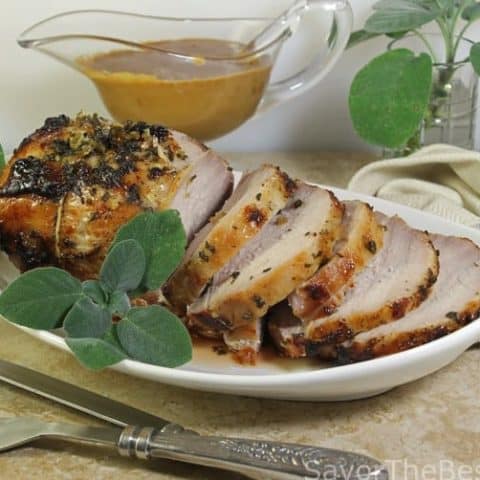 Pork Roast with Garlic-Ginger Glaze
Yield: 8 servings
Prep Time: 30 minutes
Cook Time: 1 hour 30 minutes
Total Time: 2 hours
A succulent pork roast basted with a glaze made from garlic, fresh sage and ginger preserves and served with a sauce made from the pan drippings.
Ingredients
Pork Roast:
1-Boneless top loin pork roast 5-5.5 pounds
1 tablespoon kosher salt
1/4 teaspoon freshly ground black pepper
2 tablespoons olive oil
3 tablespoons fresh sage, finely chopped, divided
2 cloves garlic, minced
1/3 cup ginger preserves
Sauce:
Pan juices
1 cup chicken broth
2 tablespoons butter
2 tablespoons all-purpose flour
1 teaspoon dijon mustard
1 cup of white wine
1/2 cup of heavy cream
Instructions
Preheat oven to 225°F
Carefully, without cutting into the meat, score the fat on top of the pork roast just 1/8 of an inch deep in a diagonal or diamond design. Sprinkle the surface with the salt and pepper, rubbing it into the scored area. Place the roast on a rack set in a roasting pan and insert a meat thermometer.
In a small skillet or saucepan, over medium-low heat, add the oil, 2 tablespoons of the chopped sage and the minced garlic and sauté just until the garlic is soft and fragrant. Add the ginger preserves and stir until it is melted and syrupy.
Using a pastry or silicon brush, lightly baste the top and sides of the roast with the sage-garlic-ginger glaze and transfer to the preheated oven.
Roast until the internal temperature reaches 140°F, basting with additional glaze every 30 minutes. When the temperature reaches 140°F turn the oven to broil to give the roast a rich golden brown and the internal temperature reaches 145°F. Check it frequently so it does not burn. Remove the roast from the oven and transfer it to a cutting board and tent it with foil and let it rest for 10-15 minutes. The heat will carry over and the temperature will continue to rise a few more degrees. When ready to serve, slice just the amount needed into 3/4-inch thick slices.
Sauce:
Remove the rack from the roasting pan and place the pan on the stovetop over medium heat.
Add the chicken broth to the pan with the drippings and deglaze the pan scraping up the browned bits from the bottom of the pan. Pour the liquid off into a small dish and reserve.
Add the butter to the pan and when it is melted, sprinkle in the flour, and cook, stirring for about 1 or 2 minutes to cook the flour. Add the reserved drippings/broth, mustard, wine and cream, stir until smooth and slightly thick. Serve with the pork slices.
Nutrition Information:
Yield: 8
Serving Size: 1
Amount Per Serving:
Calories: 210
Total Fat: 16g
Saturated Fat: 7g
Trans Fat: 0g
Unsaturated Fat: 7g
Cholesterol: 44mg
Sodium: 968mg
Carbohydrates: 6g
Fiber: 0g
Sugar: 2g
Protein: 6g
Nutrition information is a guideline only, is calculated automatically by third-party software, and absolute accuracy is not guaranteed.