You don't have to dine out to enjoy incredible pork yakisoba! Our Pork Yakisoba recipe is a classic Japanese stir-fry dish that is made with tender noodles, an assortment of vegetables, and flavorful pork (plus, BACON!). It's a fantastic noodle dish that's so surprisingly easy to make. In fact, we're certain you'll come back to this yakisoba recipe again and again!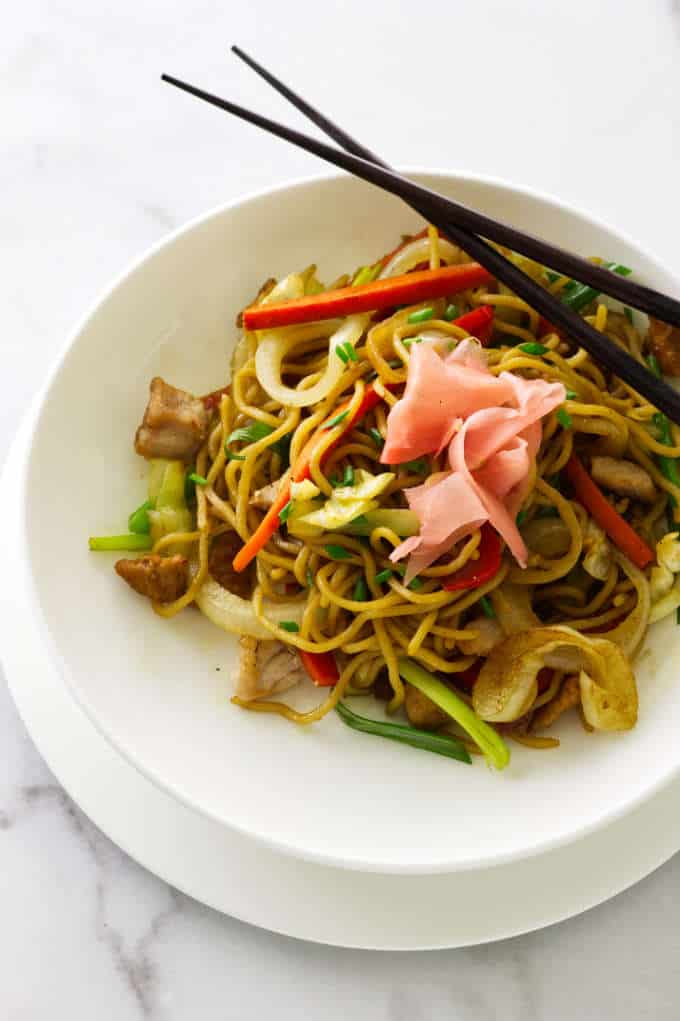 what is yakisoba?
Yakisoba (pronounced Yaa-key-sow-buh), also called Japanese Fried Noodles, is made by stir-frying noodles with meat and vegetables. The "secret" ingredient to this popular Japanese street food (and what gives yakisoba its delicious, unique flavor) is a Japanese-style Worcestershire sauce that is quite simple to make! You can find different versions of yakisoba all across Asia, along with many restaurants in the U.S.
how to make it
Our pork yakisoba recipe includes a homemade sauce that calls for easy-to-source ingredients you might already have in your cabinets! It has a sweet, tangy flavor that we can't get enough of.
ingredient list
To make the sauce, you will need:
Worcestershire sauce
oyster sauce
ketchup
honey
sake (optional)
white pepper
toasted sesame oil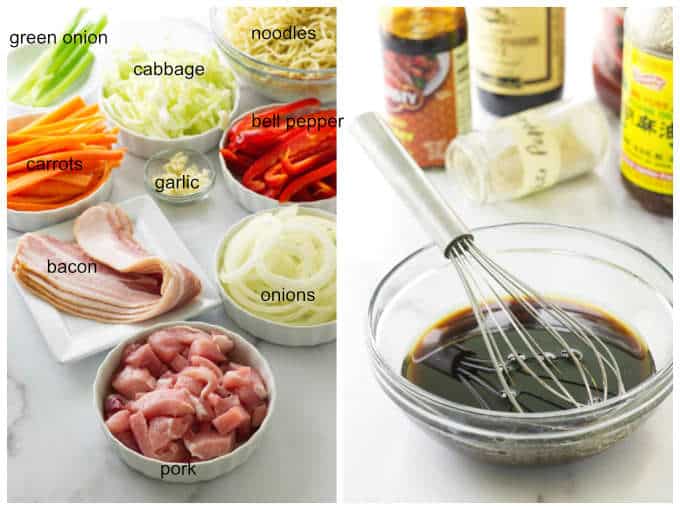 And for the Yakisoba, you will need to gather the following ingredients:
Yakisoba noodles
bacon, cut into 1/4-inch pieces
pork, cut into small pieces
onion, sliced
minced or grated garlic
cabbage, sliced
thin strips of carrot
red bell pepper, thinly sliced
scallions, sliced lengthwise
pickled ginger and snipped chives (for garnish)
the process
This pork yakisoba recipe is a three-step process. We summarize it here but you can find all the details, including ingredient amounts, at the bottom of the page in the recipe card. Be sure to check it out!
Cook the noodles: Boil the noodles according to the instructions on the package. Drain and rinse with cold water and dry them with paper towels. Return them to the pot and toss them with oil.
Make the sauce: In a small dish, whisk together all of the sauce ingredients and set it aside.
Make the Yakisoba: Cook the bacon bits, frying until it begins to crisp. Add the pork and cook 1-2 minutes. Toss in the onions, garlic, cabbage, carrots and red bell pepper, cooking the vegetables until they begin to wilt. Add the noodles to the vegetable stir-fry. Drizzle the sauce over the noodles and toss the Yakisoba until the noodles and vegetables are evenly coated in the sauce. Serve immediately, garnished with the pickled ginger and snipped chives.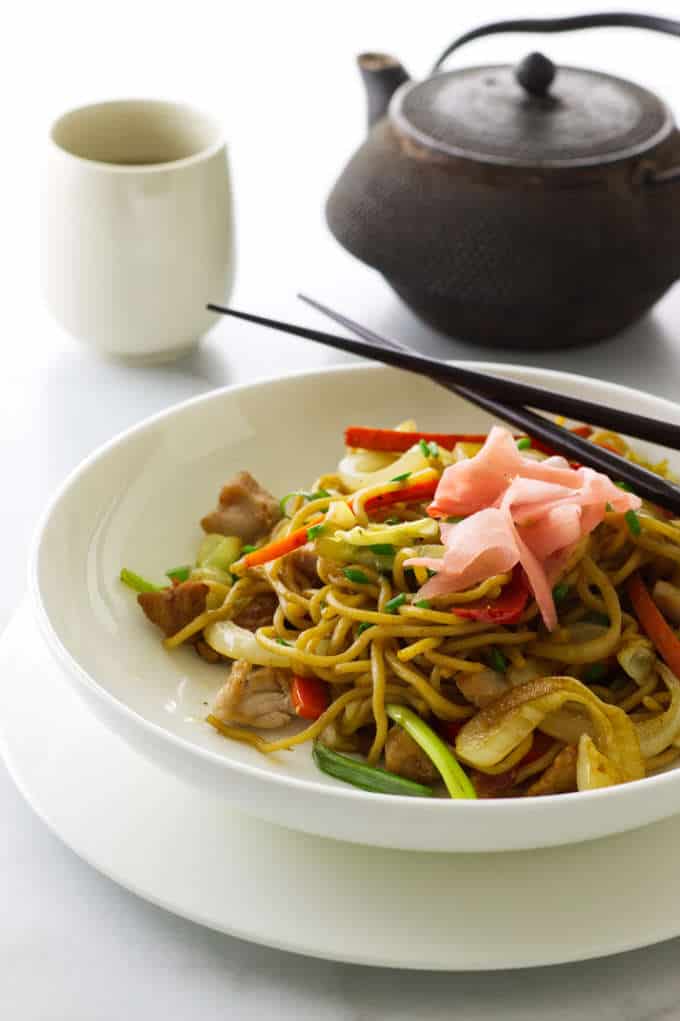 What is the difference between Yakisoba and Chow Mein?
Yakisoba and chow mein are similar– both are stir-fried noodles with vegetables and (often) a type of meat. The biggest difference is in the sauce used as well as the way the noodles are prepared. Yakisoba is Japanese fried noodles that are served soft, while chow mein is a Chinese dish made with wheat noodles that are cooked until crisp or nearly crisp.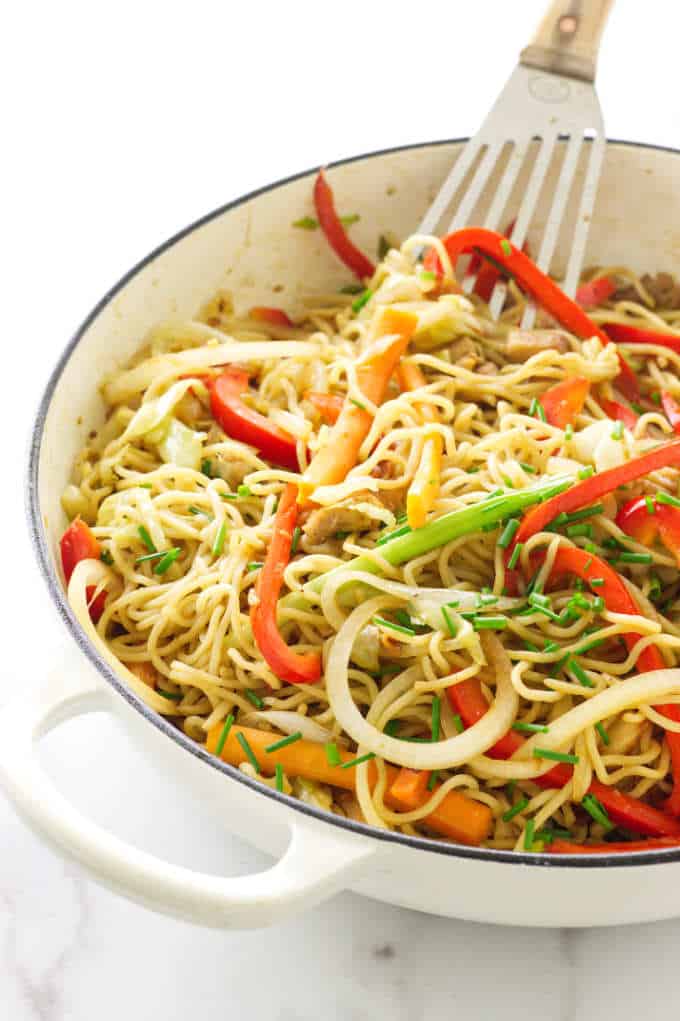 why you will love this yakisoba recipe
This dish comes together so quickly and is perfect for busy weeknights! You can even make the sauce ahead of time and keep it in the fridge to cut down the prep time. We love the combination of the veggies and noodles covered in that zesty sauce, plus the bacon and pork add a whole new flavor factor!
We're sure the whole family will love this classic, Japanese-inspired meal!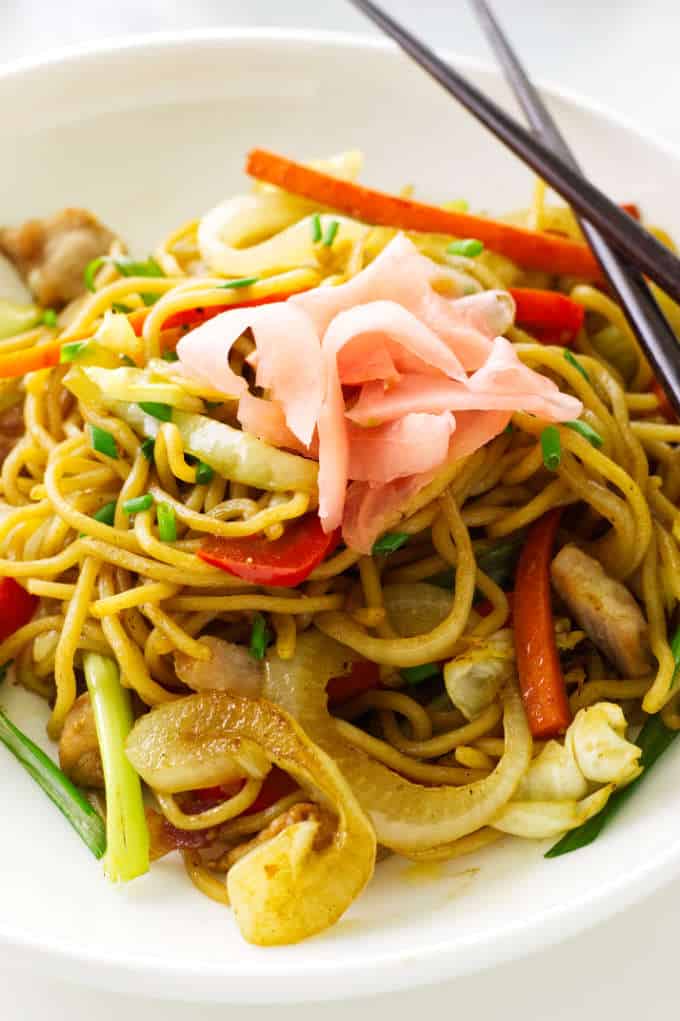 SOME OTHER RECIPES WE ARE SURE YOU WILL LOVE:
Buckwheat Noodle Salad with Shrimp: A chilled buckwheat noodle salad with shrimp, morel mushrooms and sweet green peas. The creamy miso-tahini vinaigrette has a complexity that balances all the flavors.
Ahi Tuna Poké Bowl: Fresh, sushi-grade tuna cut into cubes and lightly marinated in a zesty sauce. Served with sushi rice, avocado cubes and sweet-tangy pickled ginger. Yum!
Pork Fried Rice: A delicious mix of pork, rice, eggs and vegetables with sesame oil and soy sauce for an Asian taste. This is a fast and easy recipe that works well for lunch or dinner.
CONNECT WITH SAVOR THE BEST!
Be sure to follow us on our social media accounts
Facebook * Instagram * Pinterest * Twitter * Youtube
Did you make this recipe? We would love to hear from you. Drop us a comment below.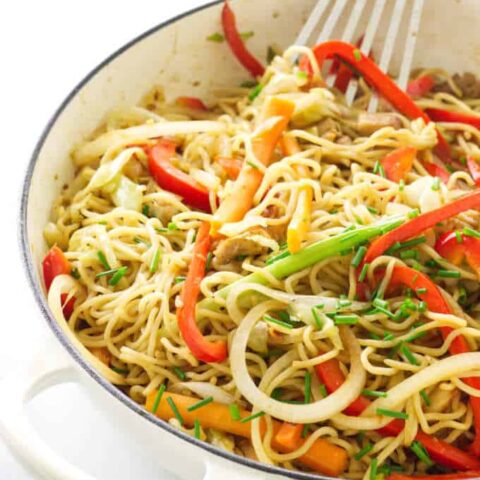 Pork Yakisoba
Yield: 4 Servings
Prep Time: 20 minutes
Cook Time: 20 minutes
Total Time: 40 minutes
Our Pork Yakisoba is a classic Japanese stir-fry dish made with noodles, vegetables and pork. The dish is popular throughout Asia and has many variations. The secret to yakisoba is stir-frying the noodles and ingredients with a Japanese-style Worcestershire sauce.
Ingredients
16 ounces yakisoba noodles
For the Sauce:
3 tablespoons Worcestershire sauce
1 tablespoon oyster sauce
2 tablespoon ketchup
1 tablespoon honey
2 tablespoons sake (optional)
1/4 teaspoon white pepper
2 tablespoon toasted sesame oil
For the Yakisoba:
3 slices bacon, cut into 1/4 inch pieces
4 ounces pork, cut into small pieces
1 medium onion, sliced
2 cloves garlic, grated or minced
3 ounces cabbage, sliced
1 medium carrot, cut into thin strips
1/2 red bell pepper, thinly sliced
3 scallions, sliced lengthwise
Pickled ginger and snipped chives for garnish
Instructions
Cook the Noodles:
Boil the noodles according to package instructions, drain and rinse with cold water. Spread the noodles on a double thickness of paper towels and blot with a handful of paper towels. Return the noodles to the cooking pot and toss with oil. Cover with lid and reserve.
Make the Sauce:
In a small dish, whisk together the Worcestershire sauce, oyster sauce, ketchup, honey, sake (if using) and white pepper. Set aside.
Stir-Fry the Yakisoba:
In a large heavy-bottomed fry pan set over medium heat add the bacon bits. Fry until the bacon begins to crisp, add the pork and cook 1-2 minutes.
Add the onions, garlic, cabbage, carrots and red bell pepper and stir-fry until the vegetables begin to wilt.
Give the pot of noodles a stir to loosen them up and add them to the vegetables.
Drizzle the sauce over the noodles and toss with the vegetables until the noodles are heated and coated with the sauce.
Divide equally into 4 serving dishes and garnish with the pickled ginger and snipped chives. Serve immediately
Notes
Choose your favorite Asian noodles for this recipe. I like the Fortune Yaki-Soba noodles as it has 3 packs of 5.3 oz. each. Because... I can use just one pack of noodles to make a small stir fry if needed. In our recipe we used all three package for a family size dinner. Each package has a small envelope of sauce mix....toss it and make your own from our recipe. It tastes much better ♥️
Recommended Products
As an Amazon Associate and member of other affiliate programs, I earn from qualifying purchases.
Nutrition Information:
Yield: 4
Serving Size: 1
Amount Per Serving:
Calories: 251
Total Fat: 14g
Saturated Fat: 3g
Trans Fat: 0g
Unsaturated Fat: 10g
Cholesterol: 33mg
Sodium: 544mg
Carbohydrates: 18g
Fiber: 2g
Sugar: 11g
Protein: 12g
Nutrition information is a guideline only, is calculated automatically by third-party software, and absolute accuracy is not guaranteed.