The buckwheat noodles are the star in this buckwheat noodle salad with shrimp, morels and sweet green peas. We are presenting it as a cold salad but this recipe could very easily be served as a hot entree. The creamy miso-tahini vinaigrette has a complexity that balances the flavors perfectly.
The Japanese people have been enjoying buckwheat noodles, known as the soba noodle, for eons as buckwheat is an ancient grain/seed. Buckwheat is gluten-free and it is good news for anyone that is on a gluten-free diet.
When buying buckwheat noodles check the label to make sure they are made with 100% buckwheat flour as many manufacturers mix buckwheat and wheat flour. Buckwheat noodles can be found in most grocery stores or Asian markets or online.
The buckwheat seed is milled into flour which can be used to make not only noodles but pancakes and baked goodies. We recently posted a savory tart with the pastry crust made from 100% buckwheat flour.
Buckwheat noodles can also be substituted for traditional wheat pasta and have about half the calories and more protein than traditional wheat pasta. Be creative and try them with a variety of sauces, add them to a stir-fry or soups and casseroles.
This chilled salad includes spicy, succulent shrimp, fresh morel mushrooms and sweet green peas. The creamy-smooth miso-tahini dressing with it's is tangy, nutty flavor is super easy to prepare. Tahini has many uses besides hummus and this miso-tahini vinaigrette can be used as a marinade for fish or slathered on slices of eggplant or drizzled over steamed veggies.
Check out these other gluten-free recipes:
Strawberry Pie with Chocolate Teff Crust
Seared Sea Scallops, Snow Peas and Soba Noodles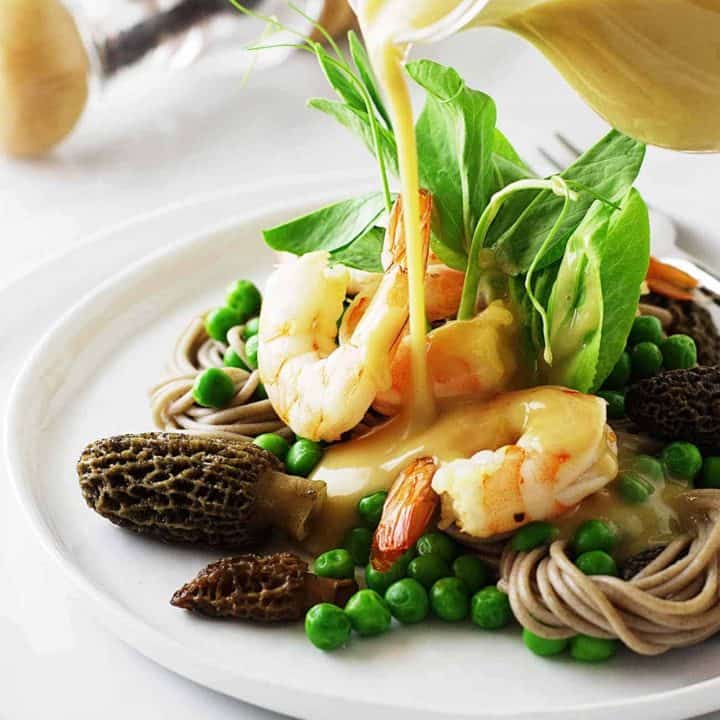 Buckwheat Noodle Salad with Shrimp
Yield: 4 servings
Prep Time: 30 minutes
Cook Time: 15 minutes
Total Time: 45 minutes
A chilled buckwheat noodle salad with shrimp, morels and sweet green peas. The creamy miso-tahini vinaigrette has a complexity that balances all the flavors.
Ingredients
For the Salad:
4 ounces dry buckwheat noodles, (1 bundle)
1 pound medium shrimp, about 20 p/pound
2 tablespoons olive oil
2 tablespoons hot chili oil
1/2 teaspoon sea salt
1/4 teaspoon red pepper flakes
10 ounces green peas, thawed if frozen
6 ounces morel mushrooms, rinsed and brushed clean
Fresh pea shoots for garnishment
For the Miso-Tahini Vinaigrette:
3 tablespoons white miso
3 tablespoons tahini paste
1 garlic clove, grated
1/2 cup rice vinegar
1/4 cup vegetable oil
1 tablespoon honey
Sea sal
Instructions
For the Salad:
Cook buckwheat noodles according to the package instructions. Drain and rinse with cold water and set aside.
In a large skillet, over medium heat, add the olive oil, chili oil and red pepper flakes and when it has heated add the shrimp, sprinkle with the salt and cook, stirring constantly until the shrimp have turned bright pink and almost closed. Transfer to a plate lined with a paper towel and allow to cool.
Bring a medium saucepan of salted water to a boil over medium-high heat. Prepare a bowl of ice water and reserve. Add the thawed green peas to the boiling water and cook just until tender and bright green, about 1 minute. Scoop out the peas with a small strainer or slotted spoon and place into the prepared ice water for 10-15 seconds to chill. Remove the chilled peas and place on paper towels to drain. Repeat the process with the morel mushrooms, cooking them 30-45 seconds.
Arrange the noodles on 4 individual chilled salad plates and add equal portions of the shrimp, morels and peas. Garnish with the fresh pea sprouts, pour on the vinaigrette and serve.
For the Miso-Tahini Vinaigrette:
In a small dish, add the miso, tahini paste and garlic, mash together until smooth. With a whisk, slowly add the vinegar and oil and honey. Continue to whisk until the vinaigrette is smooth and creamy. This vinaigrette can also be made in a blender or a Mason pint jar and will keep refrigerated for up to 2 weeks.
Notes
Nutrition Value is based on 1 tablespoon vinaigrette per serving
Nutrition Information:
Yield: 4
Serving Size: 1
Amount Per Serving:
Calories: 421
Total Fat: 18g
Sodium: 503mg
Carbohydrates: 35g
Fiber: 6g
Sugar: 5g
Protein: 31g