Strawberry pie with Jello is an easy, No-Bake pie piled high with fresh strawberries on a chocolate covered graham cracker crust. The strawberry Jello glaze holds everything together for a delicious slice of summer!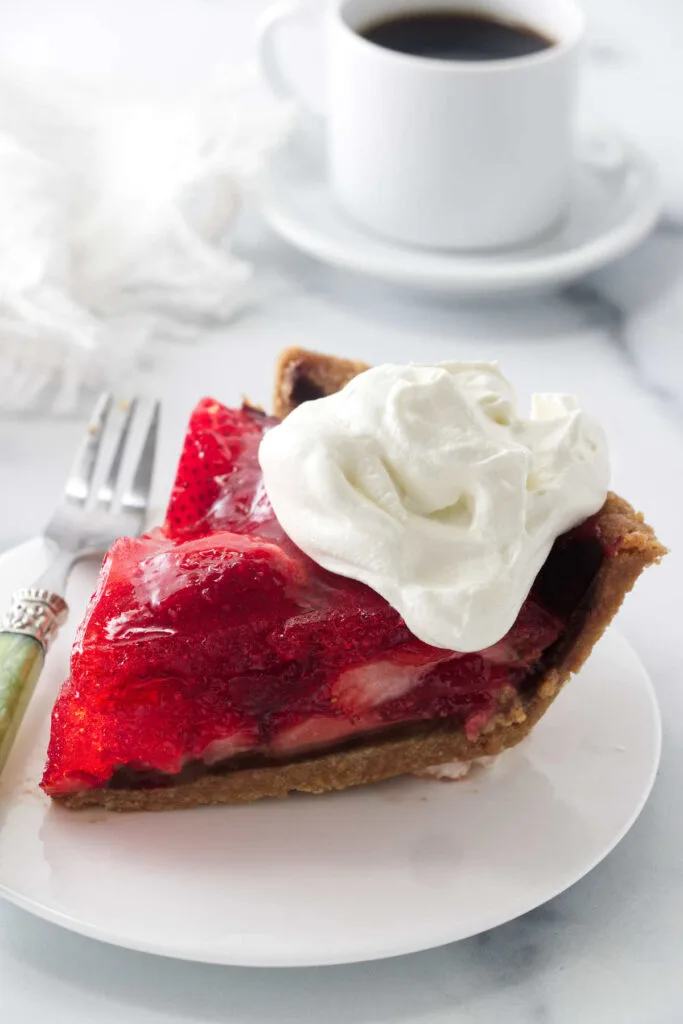 This easy strawberry pie comes together in just three steps that don't require any special baking skills – coat a homemade or store bought graham cracker pie crust with chocolate, layer with fresh strawberries, and then glaze with strawberry jello.
The result: a delicious dessert that's perfect for a hot summer's day or any time of the year.
Why This Recipe Works
Our strawberry Jello pie is sweet and tart, with a chocolate coating on the graham cracker crust that will surprise your guests. It's an easy recipe that can be made ahead of time, making it a perfect dessert for busy families or parties.
Easy No-Bake recipe that is a great make-ahead dessert.
A layer of rich chocolate coats the crust and adds a delicious contrast to the tart, sweet strawberry filling.
Fresh, juicy strawberries in every bite.
Flexible, you can make a graham cracker crust from scratch, or purchase one ready-made for even easier prep!
Perfect for summer strawberry season.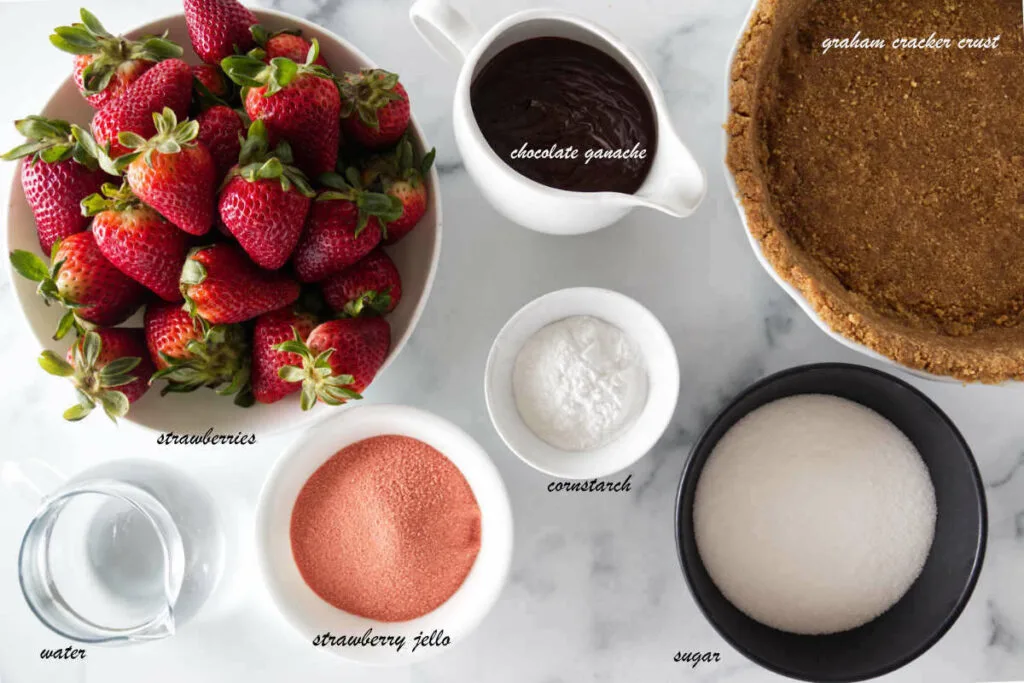 The Ingredients For Jell-O Strawberry Pie
Here are the simple ingredients you will need for this recipe. For all the details, scroll down to the printable recipe card.
Chocolate Ganache Layer
Semisweet chocolate. You can use a bar of chocolate or chocolate chips.
Heavy cream. Look for cream that has at least 36% fat content.
For the Strawberry Pie
Our quick jello pie only has 5 ingredients (aside from the ganache layer).
9″ Graham Cracker Crust. You can use a premade graham cracker crust or make a homemade crust.
Strawberries. Unlike a lot of fruit, strawberries don't ripen further after you pick them, so choose bright red, ripe strawberries.
Sugar. Regular granulated white sugar is all you need.
Cornstarch. The cornstarch helps thicken the pie filling and gives it a glossy finish.
Strawberry gelatin. Good old-fashioned strawberry Jell-o holds the filling together and gives it a fruity flavor.
This fresh, no bake strawberry pie couldn't be simpler to make. From prepping the crust and assembling the pie, we'll show you how easy it can be to create this beautiful, delicious fresh strawberry Jello pie.
Recipe Highlights
Here is a brief overview of this recipe for Strawberry Jello Pie, but make sure you scroll down to the printable recipe card for all the details.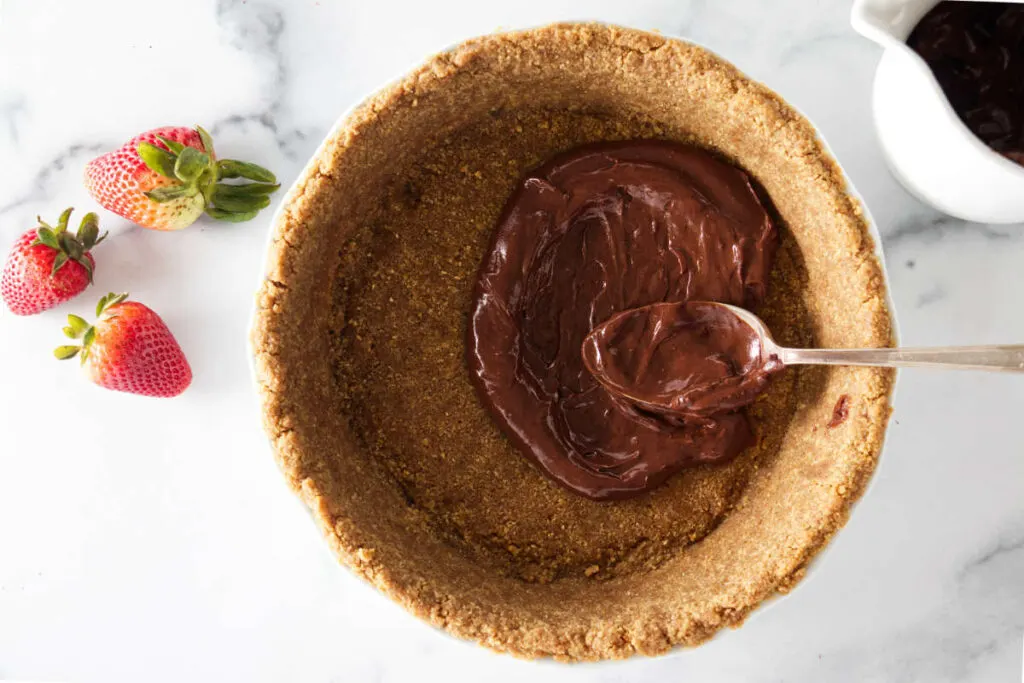 Make the chocolate ganache and spread it over the graham cracker crust. Let the crust chill in the fridge.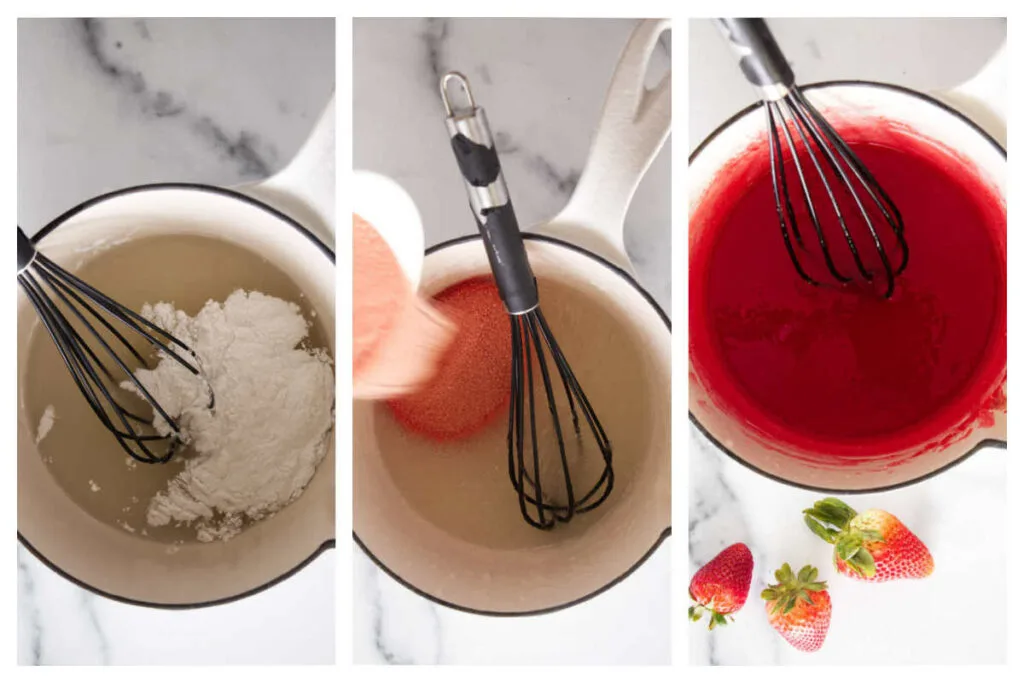 Make the gelatin mixture: heat the cornstarch, water, and sugar in a saucepan until it thickens. Remove from heat and add the strawberry jello powder. Let the mixture cool slightly.
PRO TIP: Chocolate ganache is a perfect coating for the graham cracker crust, as it prevents the juicy strawberries and Jello from getting a soggy crust. You can also use Smucker's Magic Shell Chocolate Flavored Topping for a similar effect.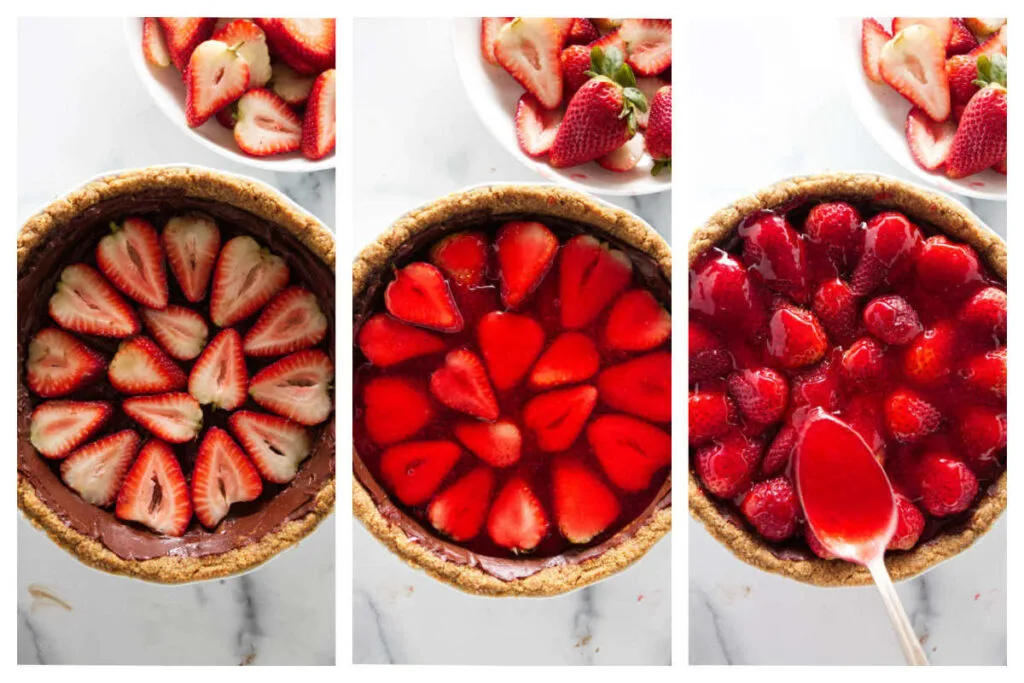 Arrange a layer of sliced strawberries on the bottom of the chocolate coated crust. Add ⅓ of the Jello over the strawberries, then arrange another layer of berries. Repeat the layers two more times.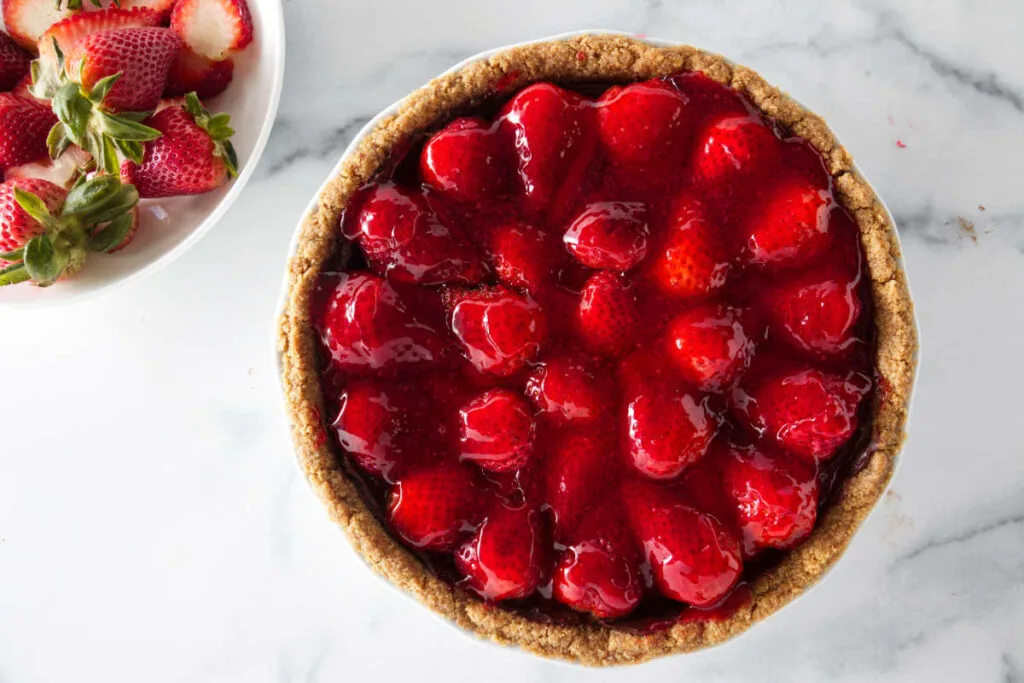 Chill in the fridge until the strawberry pie filling sets up. Serve with a dollop of whipped cream and a sprig of mint.
Serving Suggestions
Whether you're eating this stunning dessert as a family gathering's dessert or taking it on picnics, this easy strawberry Jello pie recipe is sure to be a crowd-pleaser. Fresh strawberry pie with graham cracker crust is one of those classic recipes that stands the test of time, with a flavor profile that leaves everyone asking for seconds.
Serve this delicious strawberry jello pie with homemade whipped cream and chocolate-covered strawberries for an extra special treat.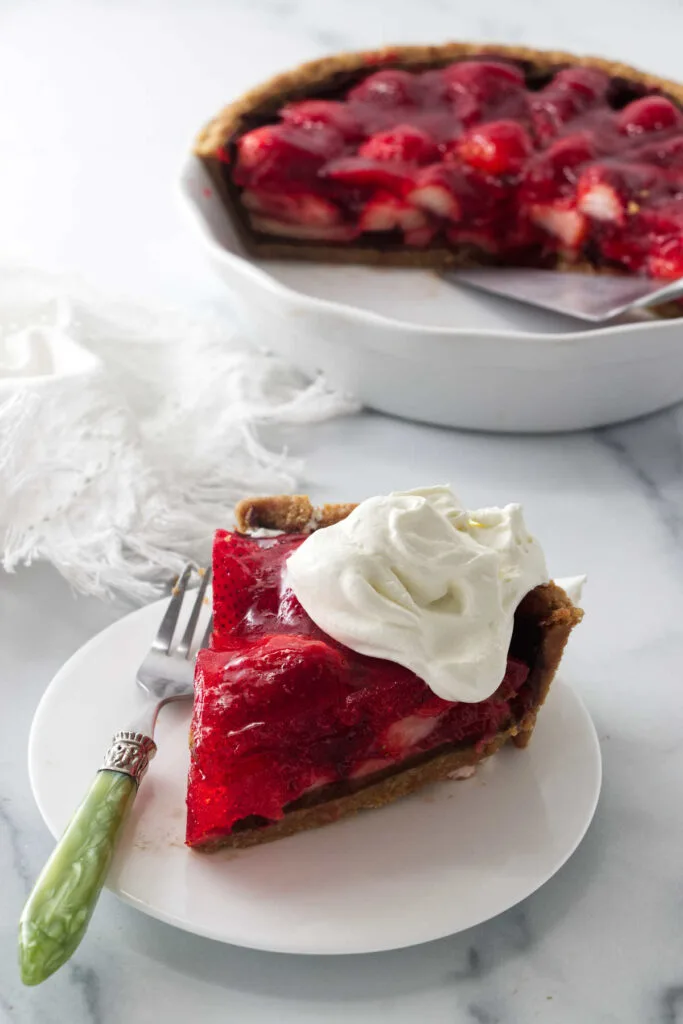 More Chilled or Frozen Desserts
? Tips for Success
Use a Strawberry Huller to process the fresh, ripe strawberries faster.

Don't skip lining the graham cracker crust with chocolate ganache. This prevents having a soggy crust, and the chocolate elevates the flavor of the strawberry pie.

Use fresh strawberries. Frozen strawberries will not work well with this recipe because they will add too much liquid to the pie.

Don't slice the pie until you are ready to serve it. The fresh strawberries will start to weep their juices when you slice the pie.

For best results, let the chocolate ganache layer cool and thicken up before adding the strawberry jello pie filling.

For a crispier crust, pre-bake a homemade graham cracker crust.

If you use a prepared pie shell, you may have extra filling as some storebought pie pans are slightly more shallow.

✅ Substitutions and Variations
More Strawberry Recipes
We have a great list of desserts featuring this sweet and juicy fruit if you want more strawberry recipes. Whether you're in the mood for a strawberry poundcake shortcake, an impressive strawberry crunch cake, or a fun twist on cheesecake (like our strawberry stuffed cheesecake), our selection of delicious desserts will have something for everyone.
⏲ Storage
Store this fresh strawberry pie covered with plastic wrap in the fridge for 1 to 3 days maximum. Do not freeze the pie, as the strawberries and jello will get watery when thawed.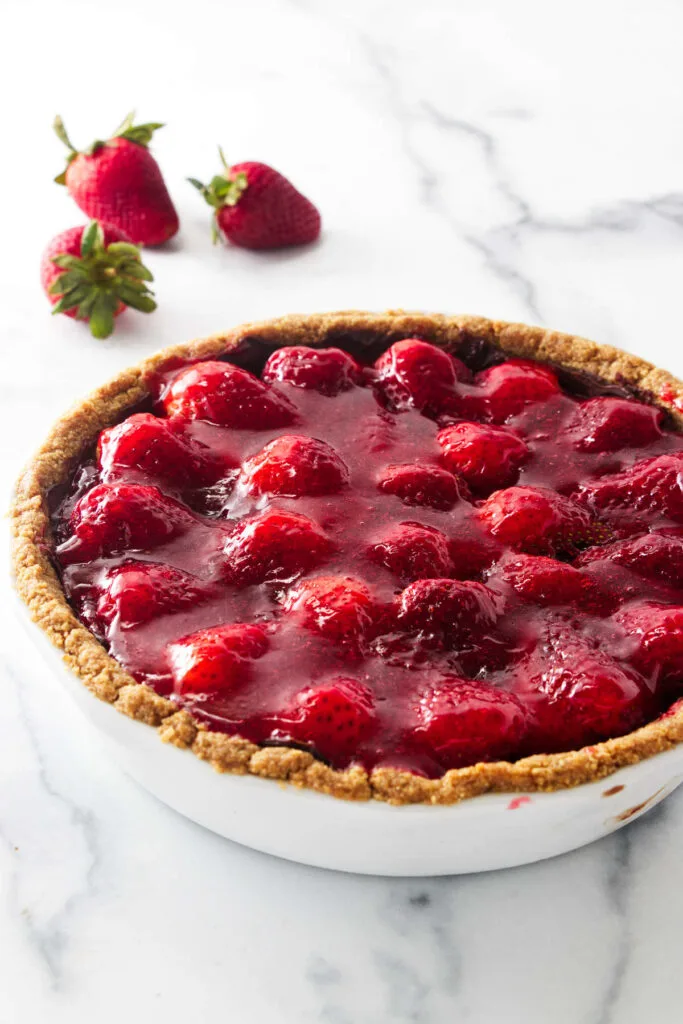 ⭐️ Helpful Tools
Some of the following are affiliate links. We may receive a small commission if you click on these links and purchase something. You don't pay any extra, but it will help us keep the lights on.
Frequently Asked Questions
Can I use a different type of crust?
Yes, you can use any type of crust you like for this strawberry pie recipe with Jello. Some popular options include shortbread pie crust or Oreo cookie crust.
Can I make this pie ahead of time?
This strawberry pie with Jello can be made up to 2 days ahead of time and stored in the refrigerator. The chocolate coating over the graham cracker crust will prevent the crust getting soggy also.
Can I freeze strawberry pie with Jell-O?
No, this no bake dessert will not freeze well. Freezing will cause both the Jello glazing and the fresh berries to change in texture and make the pie runny.
Why is my strawberry pie soupy?
There are a few reasons why your strawberry pie with Jello may be soupy:
Overheating the Jello mixture: If you overheat the Jello mixture, the gelatin will break down and lose its ability to set.
Using too much water: If you use too much water, the Jello mixture will be diluted and will not set properly.
Not letting the Jello mixture cool: If you pour the Jello mixture over the strawberries while it is still hot, the heat will cause the strawberries to release their juices, resulting in a soupy pie.
Whether you're looking for a refreshing treat on a hot summer's day or a make-ahead dessert for a party, this strawberry pie with Jello is perfect for any occasion. With its easy, no-bake recipe and delicious combination of fresh strawberries and chocolate, it's sure to impress your guests.
? More Recipes You Will Love:
Strawberry rhubarb pie is a summertime favorite. With a buttery, flaky crust and sweet-tart filling, it's a delicious way to enjoy this seasonal treat. Top it with a scoop of lavender vanilla ice cream for a decadent combination.
Our old-fashioned blackberry pie is a deep dish pie that doesn't skimp on blackberry filling. You can make it gluten free with our gluten-free pie crust.
This mixed berry pie blends three summertime berries to make a deliciously fruity dessert. Serve it with passion fruit ice cream.
Connect With Savor the Best:
Please follow us on our social media accounts
Facebook * Instagram * Pinterest * Youtube * Twitter
Did you make this recipe? We would love to hear from you. Drop us a comment below.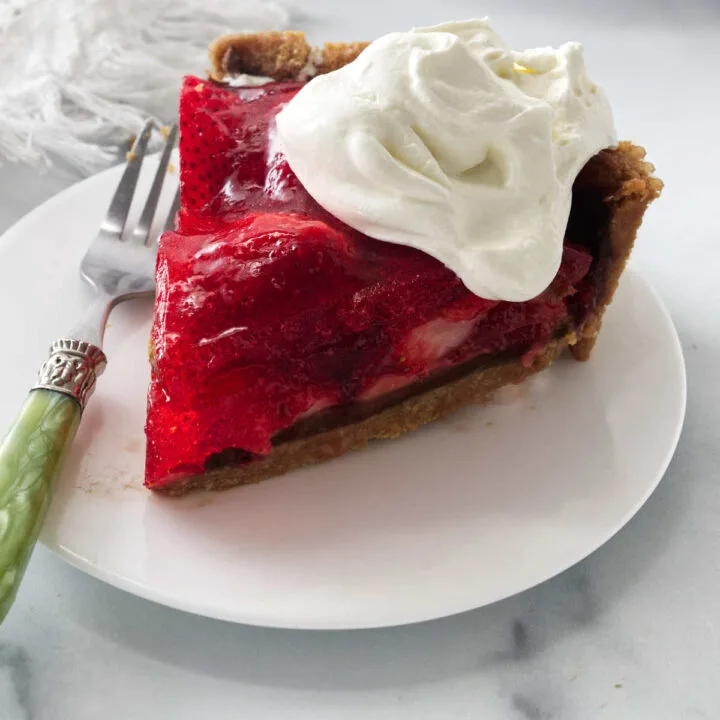 Strawberry Pie with Jello
This fresh strawberry pie with jello is an easy no-bake dessert. A layer of chocolate ganache covers the graham cracker crust, and the juicy strawberries and sweet jello finish it with just the right amount of sweetness.
Ingredients
Chocolate Ganache Layer
6 ounces semisweet chocolate, finely chopped
¾ cup heavy cream (6 ounces)
For the Strawberry Pie
4 pints fresh whole strawberries
1-½ cups water
¾ cup granulated sugar
3 tablespoons cornstarch
3 oz. package of strawberry Jello
1 cup sweetened whipped cream (optional)
Instructions
Prepare the graham cracker crust or use a store bought crust.
Make the Chocolate Ganache
Add the chopped chocolate to a heatproof bowl.
Heat the cream in a saucepan or in the microwave until it gets steaming hot but don't let it come to a boil.
Pour the cream over the chocolate and let it sit for 3 to 4 minutes. Stir the mixture until it is smooth an all the chocolate melts. Let the ganache sit for 10 to 15 minutes to thicken up a bit.
Make the Pie
Spoon the chocolate ganache into the baked crust, spreading up the sides of the crust and across the bottom. Transfer to the refrigerator and allow to set up.
Rinse the strawberries under cold water, then pat dry and remove the green hulls. Slice the strawberries ¼-inch thick and place in a dish.
In a small saucepan set over medium heat, whisk together the water, sugar and cornstarch. Cook the mixture, whisking frequently until the mixture thickens. Remove from the heat and add the strawberry Jello, whisking until completely dissolved. Allow the mixture to cool down until it is thick enough to be spoonable but not completely cold.
Transfer the pie crust from the refrigerator and arrange a layer of strawberry slices on the bottom of the chocolate coated crust. Spoon about ⅓ of the Jello over the strawberries, then arrange another layer of berries pressing them into the Jello. Repeat with two more layers of strawberries and jello. Transfer the strawberry pie to the refrigerator until set, about 2 hours.
Serve with a heaping dollop of whipped cream.
Notes
The finer you chop the chocolate, the easier and faster it will melt in the hot cream.
For ease in serving the pie slices, coat the pie dish with non-stick oil spray before pressing the graham cracker crumbs into the dish.
If you want the pie to look similar to the one in the photos, reserve the two outside, rounded slices of each strawberry for the top of the pie and arrange them cut side down.
Nutrition Information:
Yield:

8
Serving Size:

1 Slice
Amount Per Serving:
Calories:

355
Total Fat:

10g
Sodium:

150mg
Carbohydrates:

62g
Sugar:

40g
Protein:

3g