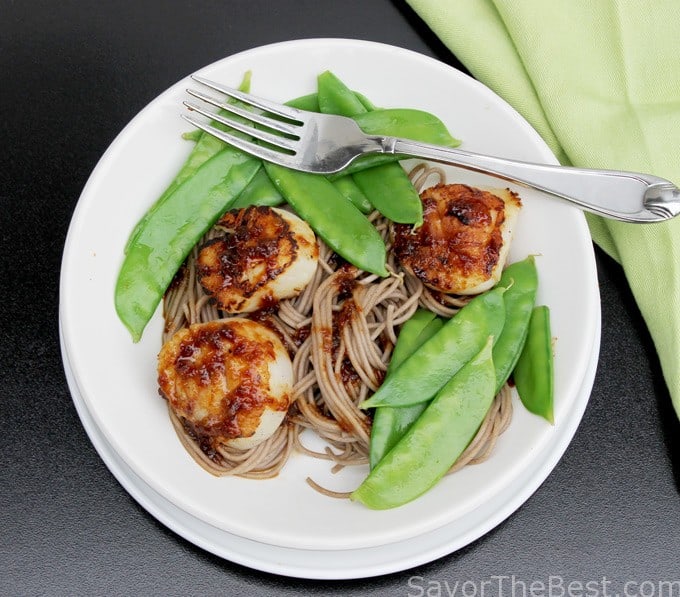 I love scallops, either the small bay or the large sea scallops prepared any which way but I am partial to the large sea scallops. Especially when they are seared to a crisp, golden brown on the outside while the inside is creamy with a mild sweetness to the flesh. This recipe for seared sea scallops, snow peas, and soba noodles make a full meal that has a luscious sauce with an Asian flair.
Today was a work-day in the yard, raking up the winter leaves and I burned up a few calories wielding that rake so I was looking for something quick, easy and delicious for dinner. This recipe for seared sea scallops, snow peas and soba noodles was perfect.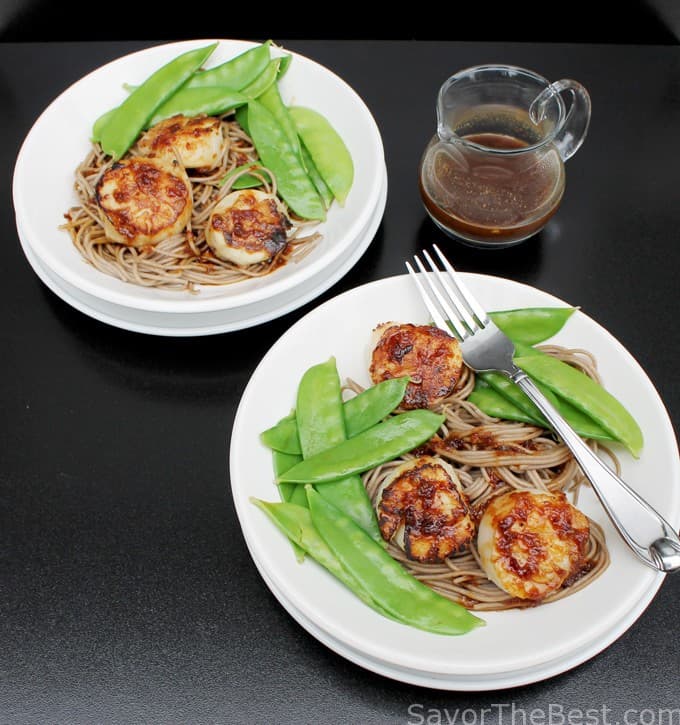 Soba is the Japanese word for buckwheat and, incidentally, there isn't any wheat involved in buckwheat which means they are 'gluten-free'. They are also low-calorie and low-fat which makes this dish especially attractive to me in my on-going battle of the bulge.
I have a cast-iron griddle that I like to use when searing scallops and the secret to getting a nice caramelized crust on them is to pat them dry with a paper towel, brush each one with a high-heat oil such as peanut, coconut or avocado oil. When that griddle is smoking-hot, put half of them on the griddle and do not move them.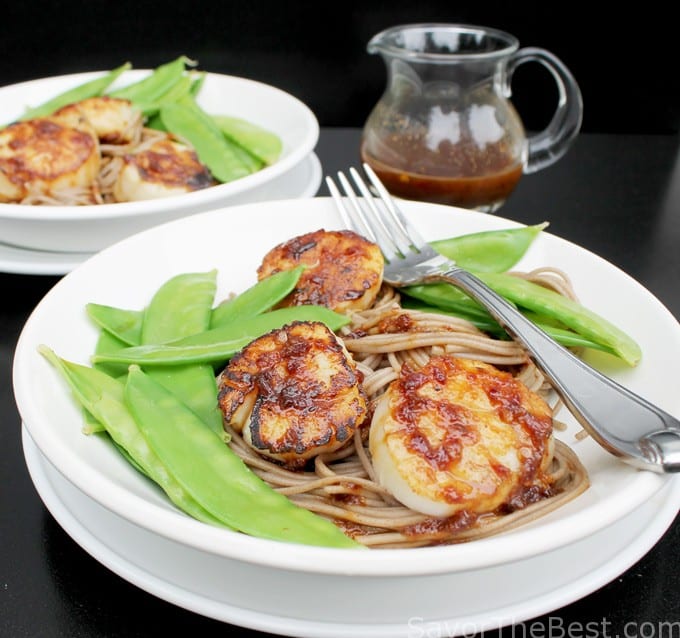 When you can see the bottom edges turning brown, gently push on the scallop, if it moves, flip it over and sear the other side and when that side is seared, sear the next batch. They should be ready to turn in about three minutes.
Sear the flipped side for about two minutes, check for doneness by making a small cut in one scallop with a sharp knife and it will be opaque when cooked.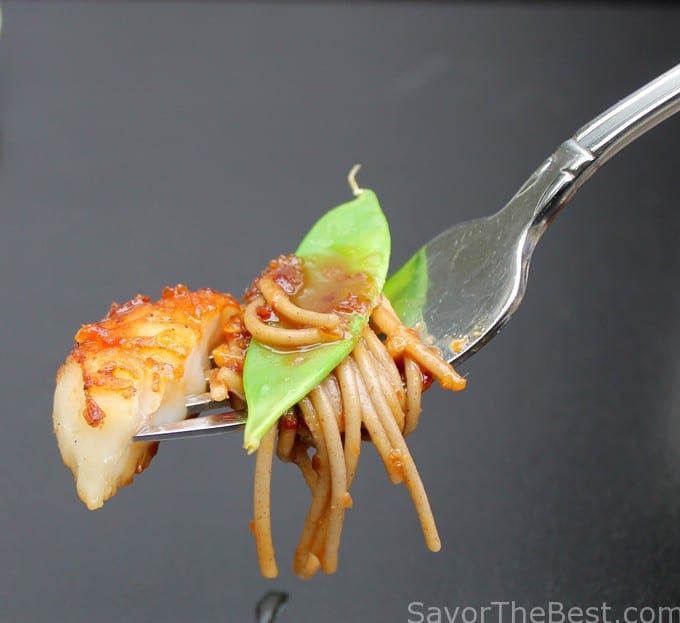 The hot snow peas are so crisp and crunchy with this dish and the luscious sauce has just enough 'kick' from the chile-garlic sauce to highlight the creamy scallops.
This recipe has been adapted from my cookbook: Cooking Light.
SOME OTHER RECIPES WE ARE SURE YOU WILL LOVE:
CONNECT WITH SAVOR THE BEST!
Be sure to follow us on our social media accounts
Facebook * Instagram * Pinterest * Twitter * Youtube
Did you make this recipe? We would love to hear from you. Drop us a comment below.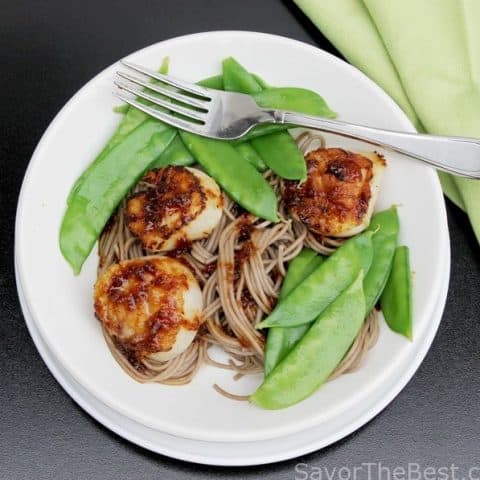 Seared Sea Scallops, Snow Peas and Soba Noodles
Yield: 4 servings
Prep Time: 30 minutes
Cook Time: 15 minutes
Total Time: 45 minutes
This recipe for seared sea scallops, snow peas and soba noodles make a full meal that has a luscious sauce with an Asian flair. This is a low-calorie, low-fat, gluten-free, one-dish meal.
Ingredients
8 ounces soba noodles
2 tablespoons dark sesame oil (divided)
3 tablespoons soy sauce
2 tablespoons freshly squeezed lime juice
1 tablespoon rice vinegar
2 tablespoons honey
1 tablespoon finely grated peeled fresh ginger
1 teaspoon chile-garlic sauce
1 pound large sea scallops
1/4 teaspoon sea salt
12 ounces fresh snow peas
Instructions
Fill a large saucepan with water and when it begins to boil add the soy noodles. Cook 6-8 minutes until tender, drain them and toss them with the sesame oil. Put a lid on the pan and set aside to keep warm.
In a small saucepan, over medium heat whisk the soy sauce, lime juice, vinegar, honey, ginger and chile-sauce. Reduce the heat to simmer and reserve.
Heat a cast-iron skillet, fry pan or heavy-bottomed skillet set over high heat.
While the skillet is heating, prepare the scallops by wiping/blotting them with a paper towel, brush one side with oil and when the skillet is smoking hot add half of the scallops, oiled side down and sear for three minutes without moving them. Brush oil on the top side of the scallops. When a nice brown crust forms on the bottom they loosen from the skillet, flip to the other side and sear for an additional two minutes. Remove from the skillet and keep warm on a plate covered with foil and proceed with searing the remaining scallops.
While the scallops are searing, add 1/4 cup of water to a saucepan and when it begins to boil, add the snow peas, place a lid on the pan and steam for one minute. Remove from the heat and drain off any remaining liquid. The peas will be bright green, hot and crunchy. Keep them warm.
To serve:
Divide the hot noodles between 4 bowls, add equal amounts of scallops and snow peas to each bowl and spoon the hot sauce over the top of each serving. Enjoy
Nutrition Information:
Yield: 4
Serving Size: 1
Amount Per Serving:
Calories: 326
Total Fat: 8g
Saturated Fat: 1g
Trans Fat: 0g
Unsaturated Fat: 6g
Cholesterol: 47mg
Sodium: 1653mg
Carbohydrates: 35g
Fiber: 3g
Sugar: 13g
Protein: 30g
Nutrition information is a guideline only, is calculated automatically by third party software, and absolute accuracy is not guaranteed.